Introducing Our New Shop Analytics Tools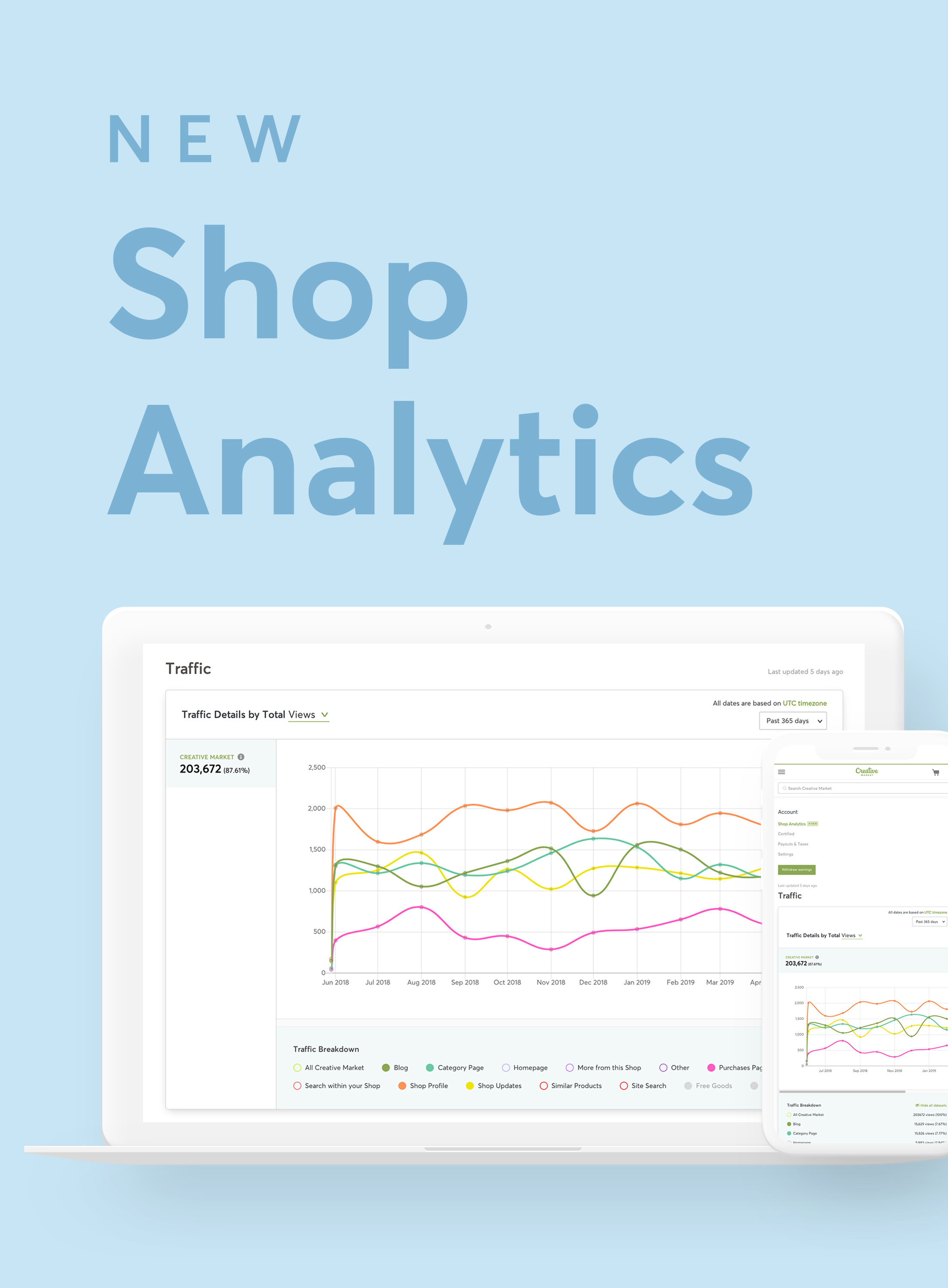 Ever wondered which areas of the Creative Market platform drive the most traffic to your shop? We've got you covered. Today, we're excited to announce a brand new suite of analytics tools for Creative Market shop owners.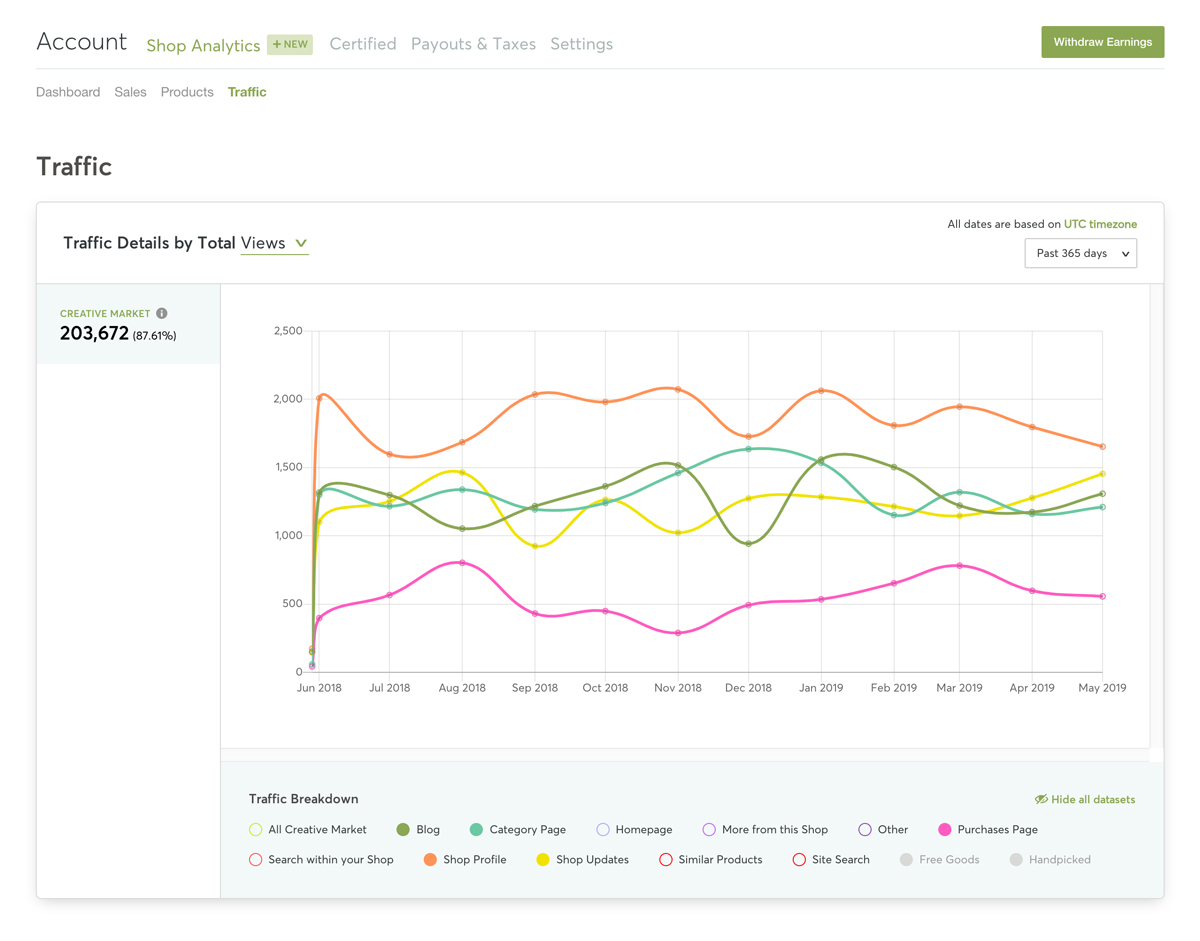 Moving forward, you'll be able to see what areas of the Creative Market platform are driving the most traffic and sales to your shop and products. We want to help you make informed decisions about your business and have been hard at work building a new dashboard packed with actionable insights. When you know where your visitors are coming from, you can double down on the right content and tactics to draw them in. We're starting with traffic sources within the Creative Market platform but, rest assured, this is the first step of many.
Get Started!
To see this feature, click on the new "Shop Traffic" link in your account dropdown.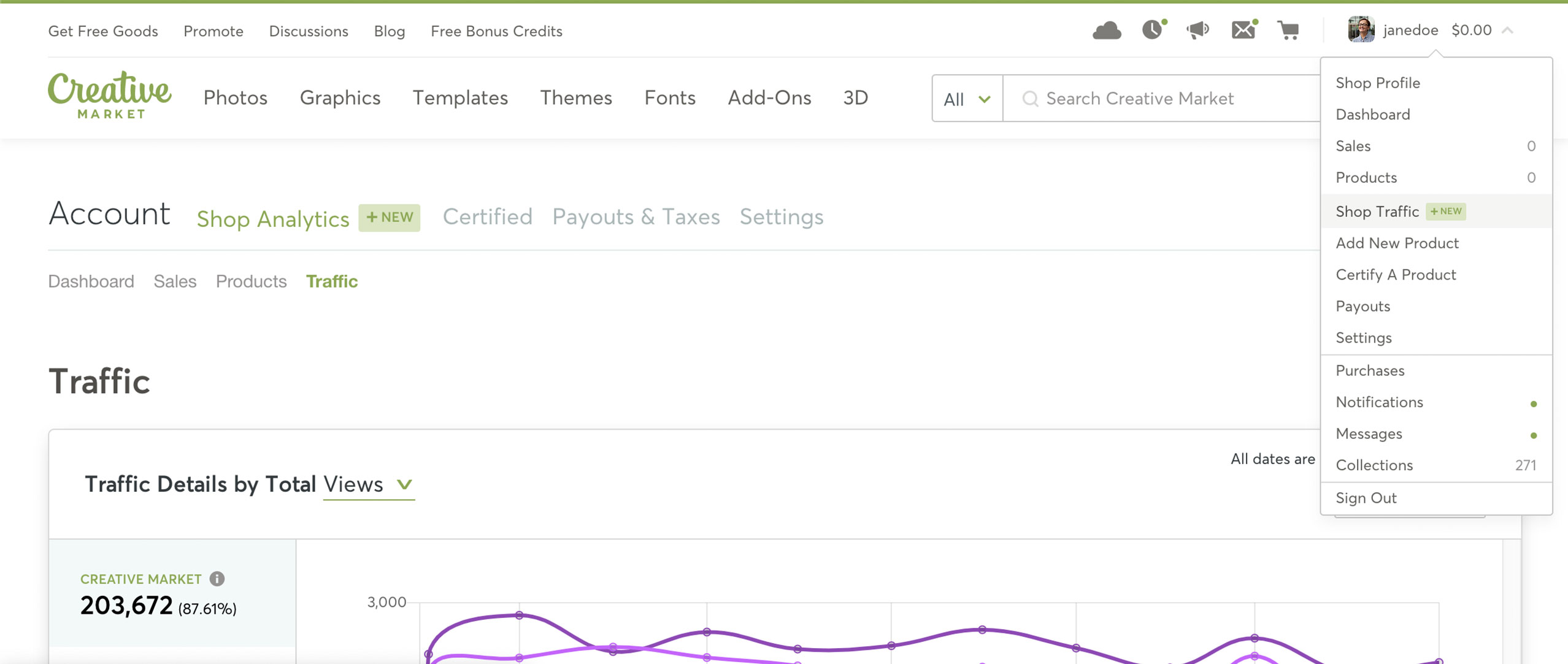 5 Ways to Use this Data to Grow Your Shop
Look through this data and learn which areas of the Creative Market platform are critical to driving views and sales to your shop. Then, use this information to make strategic decisions. To get you started, here are just 5 of many questions you can answer and act on based on the new data at your disposal:
1. Are Category Pages not driving much traffic?
Take a second look through your product listings and make sure they're in the best possible category for what you're offering. Have you been skipping adding subcategories for your products? Update your listings to include a more specific subcategory, then check back later and see how your traffic / sales have changed.
2. Is the Shop Updates feature driving a large number of sales to your shop?
That's an area you want to double down on. Make creating regular Shop Updates a high priority. Try setting a goal to launch at least one Shop Update a day. After a few weeks, come back to see how your traffic and sales from Shop Updates has changed.
3. Are you seeing a large number of views, but a low number of sales from site search?
It may be time to think about ways you could increase conversions from people who land on your product pages. You're getting a lot of foot traffic, but you may just need to take things one step further to convert that traffic into sales. Look through your product listings: have you answered your most frequently asked customer questions near the top of each product's description? Do your screenshots clearly show customers how to use your asset, and showcase examples of what kinds of end products they could create?
4. Are you not seeing much traffic or sales from onsite search?
This could be a sign that you should take a good look at your product listings, and consider what keywords customers would be using to search for your items. Make sure any important keywords are included in your product title, tags, and description – yes, all three! Each of these areas carries its own individual weight in Creative Market's search algorithm, so if there's an important keyword your product should be ranking for, make sure it's included in all three places.
5. Are you seeing a spike in views and sales around the time you offered a free good?
That's great! Did you know, on average, shop owners who offer a free good see an over 98% increase in their other product sales while their free good is on offer, and a continued 21% increase in sales for the 30 days following? Creative Market's Free Goods of the Week holds huge marketing potential. If it's been a while since you've offered a Free Good (or maybe you've never done so), this is a great time to submit a product to be considered for the Free Goods program, and then watch your new traffic analytics tool to see the views and sales pour in.
How can we make this even better?
We'd love to hear your feedback. We're excited to keep building on this tool, so let us know if there are things you absolutely want us to keep, or something else you hope to see in the next iteration. Share your thoughts in this quick form, and stay tuned for more features.
Our Shops Team is committed to giving you the best experience on this platform and helping you reach customers who need your products to bring their creative projects to life.

---
Getting started with hand lettering?
Free lettering worksheets
Download these worksheets and start practicing with simple instructions and tracing exercises.
Download now!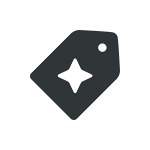 Creative Market