Design Trend Report: Jazz Style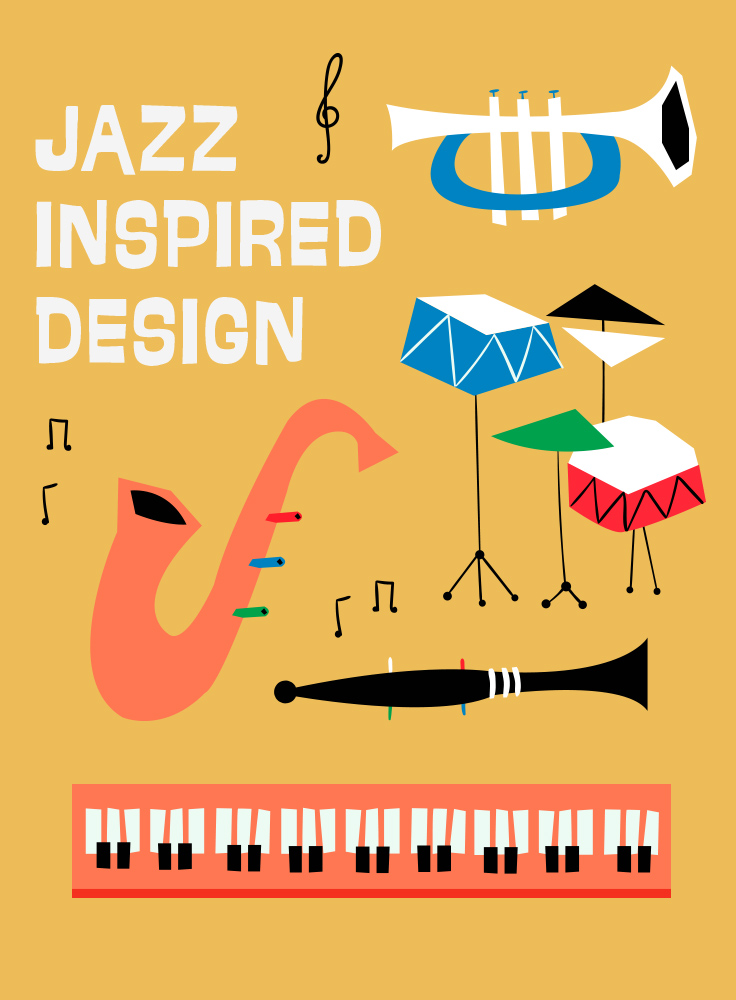 The word jazz mainly evokes musical connotations, but the jazz style is a very real take on design and aesthetics. Whereas the musical genre is, of course, intangible, its promoters and fans still had to be able to visually represent it to communicate its sounds and ideals. That's where designers and artists come into the picture, taking the intangible values of this aesthetic and giving it its own visual language. Thanks to their efforts, when we say the word "jazz," we now automatically associate specific styles and images with the word. Jazz-inspired design came into its own in the 1920s and 1930s, so, appearance-wise, it shares a lot of elements with design movements that were in full swing at the time, such as Art Deco. As you'll soon find out, there's so much more to this trend than music. Its visual component is equally interesting, whether you're a full-fledged designer or just a connoisseur who has an appreciation for detail.
The History of Jazz Style
No thorough look at this jazz-inspired aesthetic is complete without also taking a quick look at the history of the musical genre itself. This is a highly thought-provoking art form because of its uniquely American perspective. Regarded by many as an American original, jazz grew out of ragtime and blues influences in the African-American neighborhoods of New Orleans, circa the late 19th and early 20th centuries, but that's not all. It also counts European military band music and West African musical and cultural expression as influences.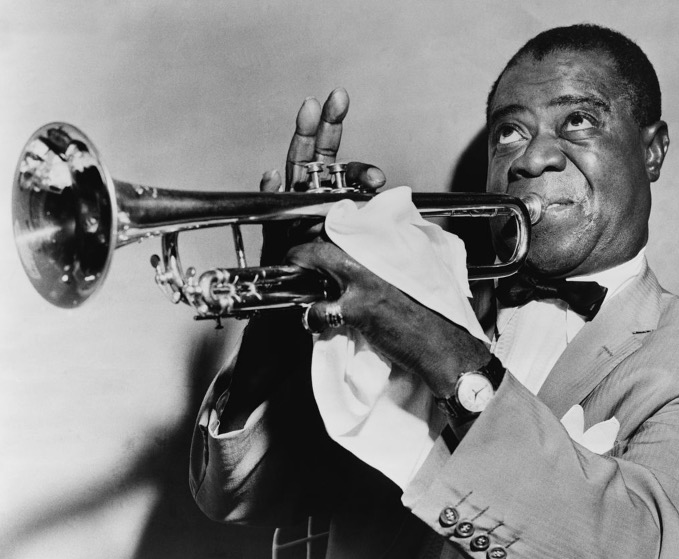 Image Source: Library of Congress Prints and Photographs Division From the very beginning, this musical genre trailblazed an unmistakable sound that's typified by the following elements:
Polyrhythms (the utilization of at least two, usually conflicting, rhythms)
Improvisation
Call-and-response vocals
Blue notes (notes that are played or sung at a different pitch from normal)
The presence of swing
The curious thing about it is its ability to assimilate a plethora of local, regional and even national musical cultures, thereby giving rise to a host of different approaches to jazz. Some of its strains include:
Cool
Free
Kansas City
New Orleans
Gypsy
Bebop
Hard bop
Modal
Jazz-rock fusion
Afro-Cuban
Latin
Smooth
Suffice it say, this musical genre is eclectic.
Art Deco Makes Its Mark
However, to understand jazz style from a visual-design perspective, we have to look at the decade in which it truly became popular in the U.S. We define popular as the moment in time when this music achieved nationwide success in America, which is a feat that's particularly impressive when you consider the absence of the Internet in the early 20th century! Only a few decades after its humble beginnings at approximately turn-of-the-century New Orleans, jazz had become very big during the 1920s and 1930s, not just in African-American culture. In fact, the Roaring Twenties—that iconic period of post-World War I American expansion and prosperity—is virtually synonymous with this musical style. And that's precisely where we get our first clue as to the visual design language of jazz. You see, during the Roaring Twenties, the design trend that was sweeping the country was Art Deco, in all its geometric, technology and machine-obsessed glory. Naturally, the most famous design trend of the time had to rub off on the most famous musical phenomenon of its day. This is generally how pop culture works. Art Deco actually originated in France before the outbreak of World War I. By the end of the war and most definitely by the mid-1920s, when jazz was already in vogue in the U.S., Art Deco had spread to most of Europe and also made its way across the Atlantic to the shores of America. Around this timeframe, the Chrysler Building, perhaps the most iconic tall building of its time, became a glorious homage to Art Deco architecture. It's in this context where we have to evaluate the look of jazz style. To help us along, it's useful if we look at a few, noteworthy examples of Jazz Age graphic designs to see this connection. First up is artist and writer Albert Gleizes' Composition for "Jazz." While a Cubist work, it also overlaps with some notable elements of Art Deco. Released in 1915, it was a precursor of where jazz style would be headed in the next decade.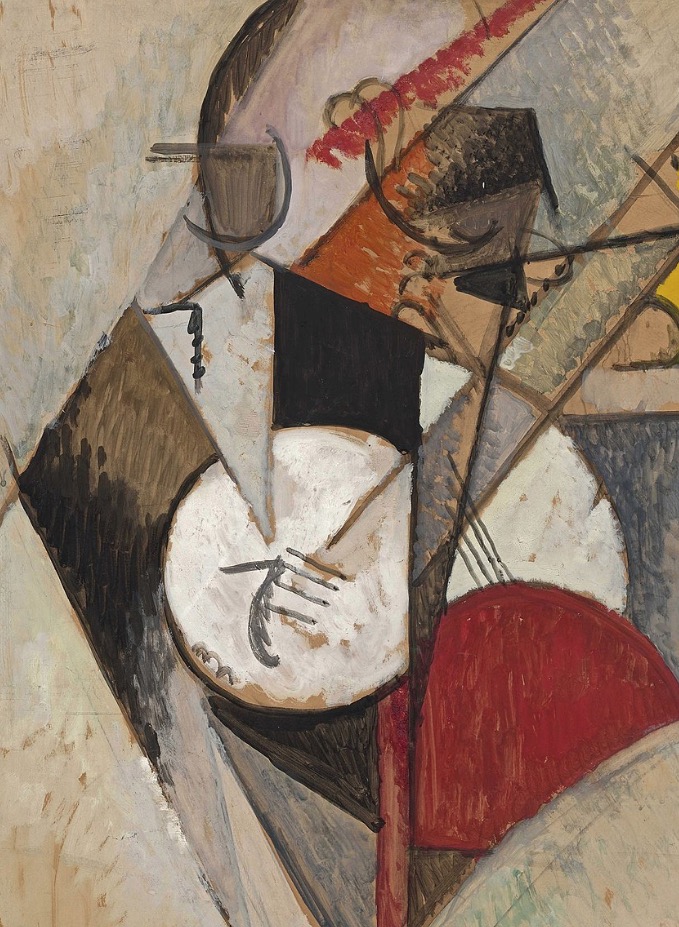 Image Source: Solomon R. Guggenheim Museum For instance, there are many straight and curved lines, along with geometric shapes (triangles and rectangles) in the piece. Of course, these are trademark features of Art Deco. Next up is a 1929 cover from the French weekly magazine called Vu, with American jazz singer Adelaide Hall on the cover.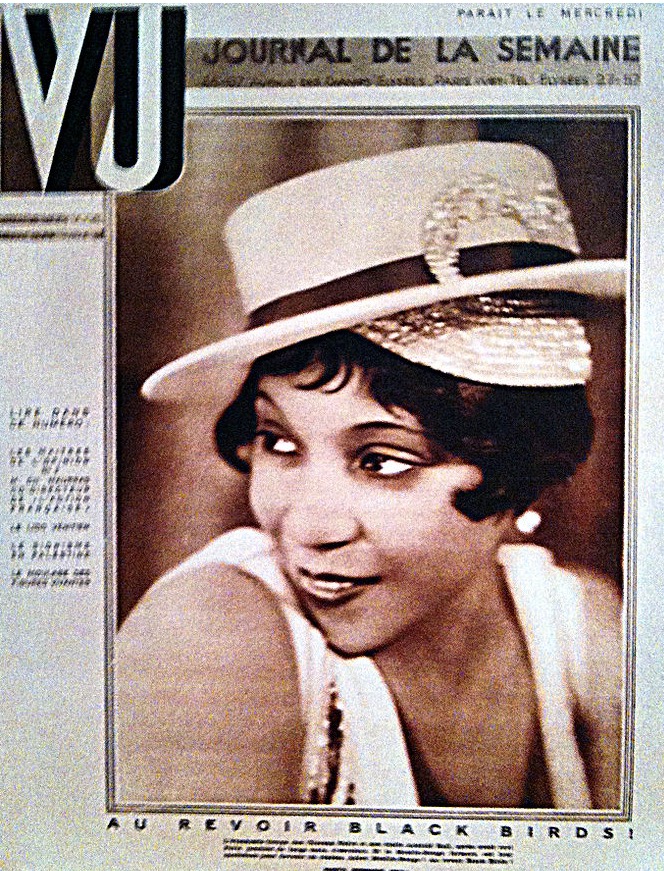 Image Source: Spiessens Note the stylized presentation of the typeface in the magazine's name, in the top left. Its sleek, shadow-casting, and geometrically influenced fonts are right at home with the Art Deco aesthetic. Then, there's the long-defunct magazine called The Chicagoan. Long forgotten by anyone who's not a history buff, this magazine was published at the height of the Jazz Age and aimed to be Chicago's answer to New York's The New Yorker. Unfortunately for it, it was only published from 1926 to 1935, but fortunately for us, it gives us a further window into the link between jazz style and Art Deco.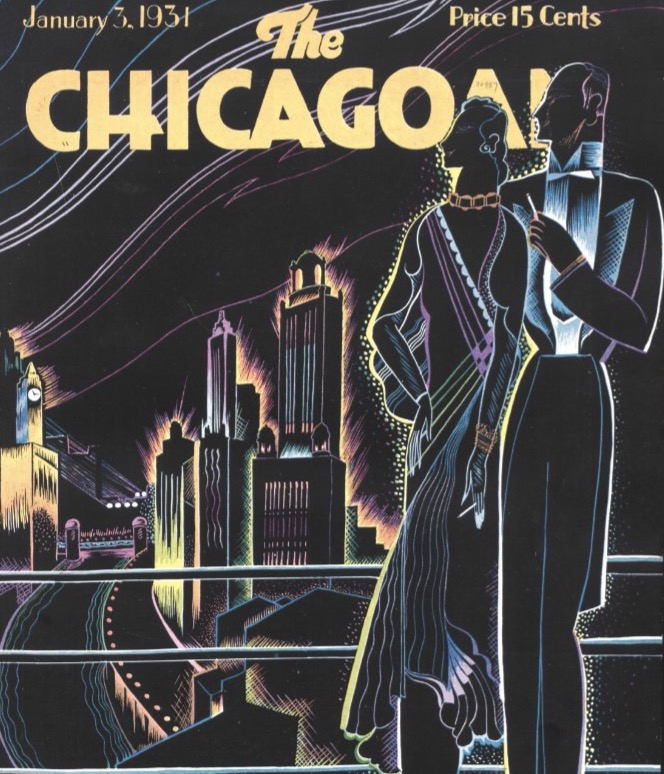 Image Source: Copyright The Quigley Publishing Company, a Division of QP Media, Inc. The magazine shows off its love affair with Art Deco in its January 3, 1931 cover, as some of the buildings depicted as part of the Chicago skyline are obviously drawn in the Art Deco style. Also notable is the heavy use of black as a way to create a mood of mystery. The link between jazz style and Art Deco is so strong that this connection is being made even today. Let's fast-forward all the way to the cover of the 2017 book, The Jazz Age: American Style in the 1920s, which uses numerous Art Deco elements that are apparent to any fan of the design trend:
Geometric shapes (circles, curves, etc.)
Floral patterns that are stylized
Well-defined lines
Very streamlined and sleek forms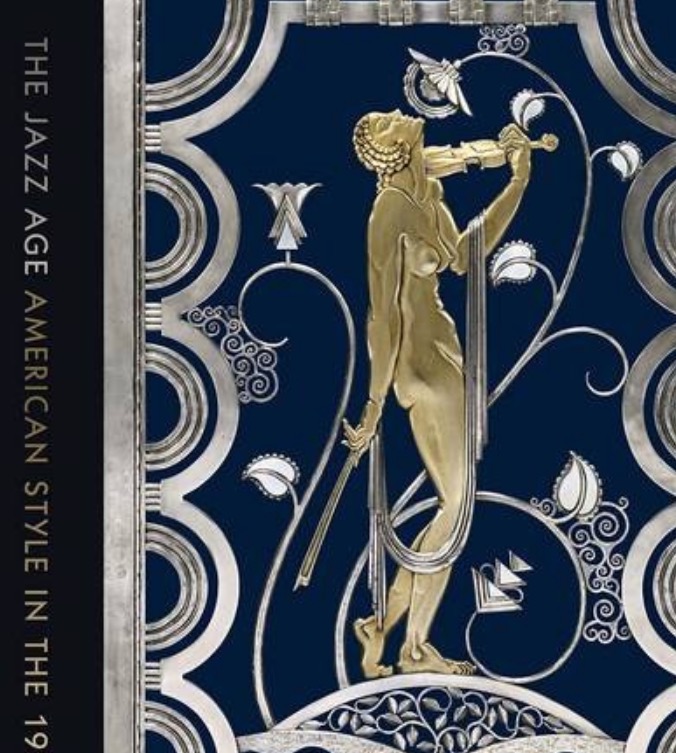 Image Source: The Cleveland Museum of Art Jazz style and touches of Art Deco are forever interlinked in the language of design.
The Characteristics of Jazz Style
To further explore this design trend, we have to home in on what makes this aesthetic stand out from all the rest. As mentioned, there are strong Art Deco influences in anything that's been inspired by jazz, but it still needs to be stressed that jazz style and Art Deco aren't one and the same. With that in mind, here's how to recognize this trend:
Stylization (of typography, illustrations, etc.)
Evocative qualities (harkening back to times gone by, such as through vintage elements)
Sleekness
Suaveness
Good use of color contrast
The presence of golden hues and tones
Neutral colors, in particular, black
Musical and simple shapes and icons
Diverse typefaces (slabs, scripts, sans serifs, etc.)
Geometric figures and shapes
Streamlined shapes
Silhouettes
Monochromatic (especially black and white) elements
Conservative (at least in fashion)
The best way to get even more familiar with this design trend is to take a close look at several graphic-design assets to spot these various elements in action.
Jazz Style in Graphic Design
Jazz | Vintage Newspaper Poster
This is a great example of how this design trend's roots are in the old-fashioned, vintage look. This digital asset plays up the old-timey look in such a way that recalls images of turn-of-the-century newspaper boys selling dailies for 5 cents a piece.
What makes this poster special is its great attention to the unmistakable details of the broadsheets of old. From the worn edges and corners to the classic, small fonts and the attention-getting, large headlines that cry out for sensationalism, this old newspaper poster enables designers to recapture the media feel of the Roaring Twenties, when this musical genre, and jazz style, was all the rage in the U.S. and beginning to spread to other parts of the world, too. Use this old newspaper format to faithfully represent how the media of its time helped to spread this music far and wide.
Sketches of Jazz Musicians
A digital asset that shows off the illustrative side of jazz style, this set of jazz-inspired designs features drawings of jazz musicians in a host of different poses, perfect for any creative project. These vector sketches, 15 elements in total, feature fedora-topped and tuxedo-wearing jazzmen playing the trumpet or saxophone.
The beauty of this set is its rough nature: the sketches are the epitome of minimalist, yet they still manage to convey the passion and energy that jazz musicians in the 1920s and 1930s would've displayed while on stage. Designers are able to adjust each sketch to the color they want or scale it to the size they envision.
Golden Jazz Flyer Template
For those designers who want to use jazz-inspired print materials in their marketing projects, there's no better selection that this collection of print-ready flyers. Showcasing the beautiful gold-and-black color contrast of the trend, it gives creatives an inspiring idea of what's possible with the right template.
Its geometric design divides the flyer into quadrants, allowing for a visually balanced advertising effort. With a slab serif typeface and a completely customizable option, this template treats the viewer to the glory days of jazz.
1920 Art Deco Seamless Patterns
An ode to the design style that helped to give jazz its visual language, this group of 40 vector patterns shows off the sleek and streamlined typography and patterns of Art Deco. From golden, elegantly curved strokes and sleek stems of typefaces to the geometric curves, arches, and chevrons of the style, this collection is a feast for the eyes.
Its attractive patterns are perfect for all sorts of uses like:
Brochures
Websites
Flyers
Templates
Invitations
This set also puts control into the hands of designers, allowing you to scale any pattern into the size you want, adjust the colors to your liking, and come up with a nearly limitless assortment of unique arrangements for these creative patterns. With aesthetic colors like copper, rose gold, antique gold, platinum, white gold, gold, and silver from which to choose, your design projects will ooze sophistication.
Set of Vector Jazz Icons
Whether you have a web, app, or print project ahead of you, this set featuring jazz-inspired icons is a smart addition to any design scheme. With a host of illustrations that you can customize to fit the specific direction of your graphic design brief, it offers a versatile collection of musical icons to help you impress and please your clients.
Any of the icons work well as either a straightforward logo or an illustration that can draw the eye and liven up an email, flyer or business card. With the heavy presence of geometric shapes galore and smooth and curved lines, there are also a few Art Deco influences here that continue to solidify the artistic relationship between it and jazz style in general.
Jazz Style in Typography
Life Is Jazz Script
Combining the best worlds of vintage and hand-drawn fonts, this script is a monoline offering to optimize your typography roster. Perfect for a myriad of projects—posters, flyers, emails, the web, and everything in between—it also includes a range of special characters like decorative swash elements to give you additional options.
The font's smooth, sleek lines, and curves feature a plethora of personality, just like the smooth sounds of jazz. Its thicker stems and strokes embrace the confidence of slab serifs while exuding a certain retro style that will prompt your audience to reminisce about the heyday of the Jazz Age.
JAZZ – SVG Color Font
For an entirely new approach to jazz-inspired typeface, try this vibrant font that seems to have been inspired by the limitlessness of free jazz. Its significantly stylized and vivid characters also seem to have taken inspiration from graffiti fonts, especially due to the larger-than-life presentation of the individual letters and numbers, which makes for a very eclectic typeface.
The versatility of this color font is also something to get excited about, with it being perfect for:
T-shirt prints
Musical posters
Book and album covers
Retro placards
Logos
Photo overlays
Designers have two uppercase fonts with which to experiment: JAZZ font color and JAZZ font black.
GISBERT Font + Vector Background
Art Deco is on full display in this gorgeous and cool font that espouses the vibe of The Great Gatsby, itself a work published at the height of the Jazz Age in 1925. Showing the flashy and glitzy splendor of Art Deco with the period-heavy influences of jazz, GISBERT comes in three styles: thin, sans-serif, and serif.
Beautiful at work with any design project, GISBERT is especially ideal for things like:
Vintage and retro product décor
Leaflets
Logos
Flyers
Booklets
Gift certificates
Posters
Web projects
Along with the font, you'll get a series of attractive vector graphics done up in the Art Deco style, which is a sweet complement to the font's aesthetics. The two are perfect together in numerous creative projects.
Jazz Style in Web Design
JazzRadio
A repository of 35 channels of this musical genre for its fans on the web, JazzRadio features an eclectic lineup that includes everything from bebop and smooth jazz to bossa nova and gypsy jazz.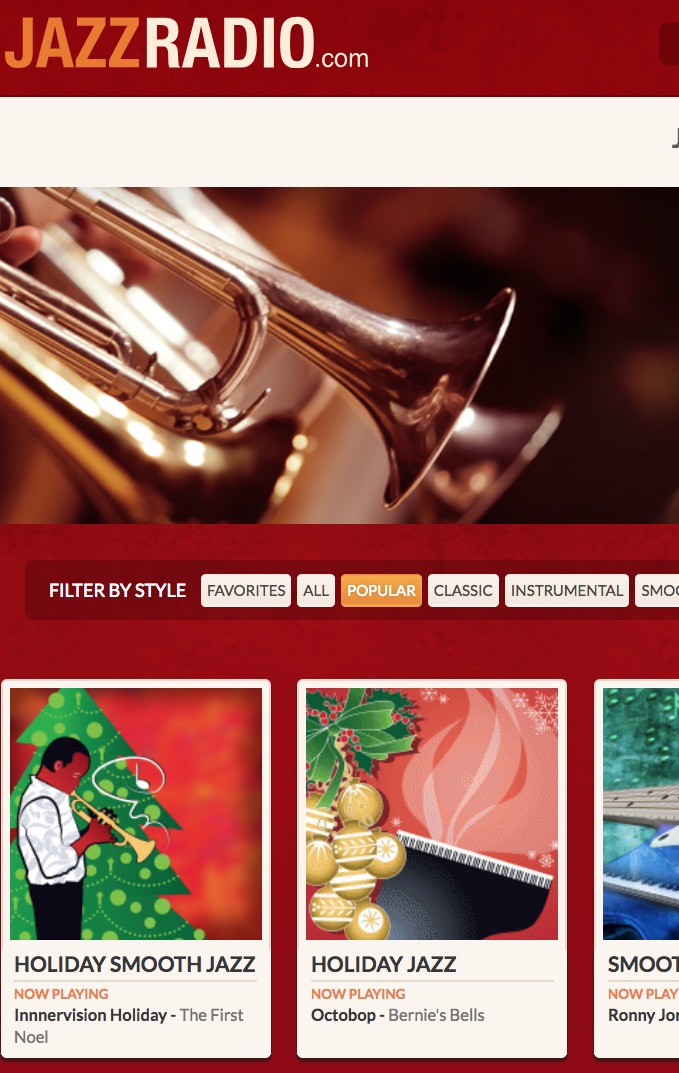 Image Source: JazzRadio.com The website's main color is a deep, vivid red that evokes the smoothness and passion of jazz, while the website's imagery is full of close-ups of jazz musicians and creative illustrations of instruments and jazz players. A layered dropdown menu provides a great user experience, and rich filtering options make it easy for fans to find the channel they want.
Classic Jazz Online
This retro-looking website is a jazz anthology whose mission it is to preserve the memory of early jazz music in the 20th century. A lot of the recordings made available for the listening pleasure of fans on the website are from shellac discs. Visitors to the website can listen to the works of pioneers like:
Artie Shaw
Louis Armstrong
Jelly Roll Morton
Tommy Dorsey
Bertha Chippie Hill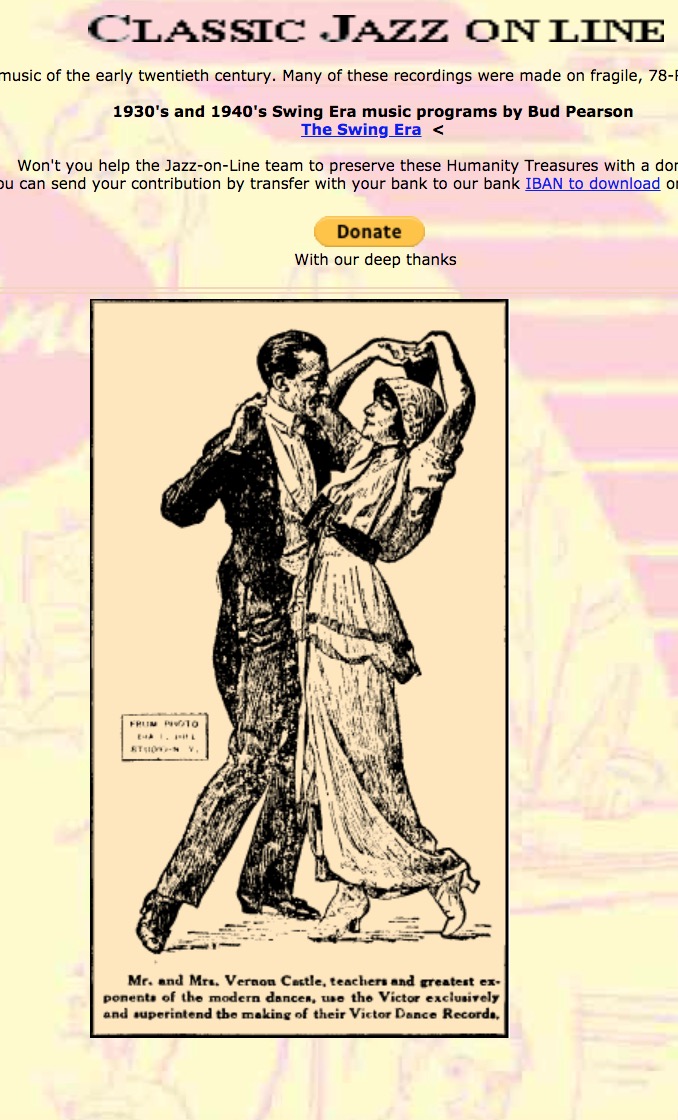 Image Source: Jazz-on-Line.com Design-wise, the website is a fascinating study in harsh simplicity and utilitarian design choices, making it a prime example of brutalism in web design. Not only does the font in the website's headline use an old-school font that makes you think of 1980s Mac computers, but its reliance on a pale color scheme and grainy illustrations and backgrounds emphasizes function over form—to the extreme.
TheJazzPage
Another vintage-inspired website that dovetails with the old-school roots of what we call jazz style, TheJazzPage uses a Flash intro or splash page that brings back fond memories of the Internet aesthetics of the late 1990s. Its color contrast between the silhouettes of the jazz musicians and the deep blue background gives off a soothing vibe that's consistent with the smooth sounds of the musical genre.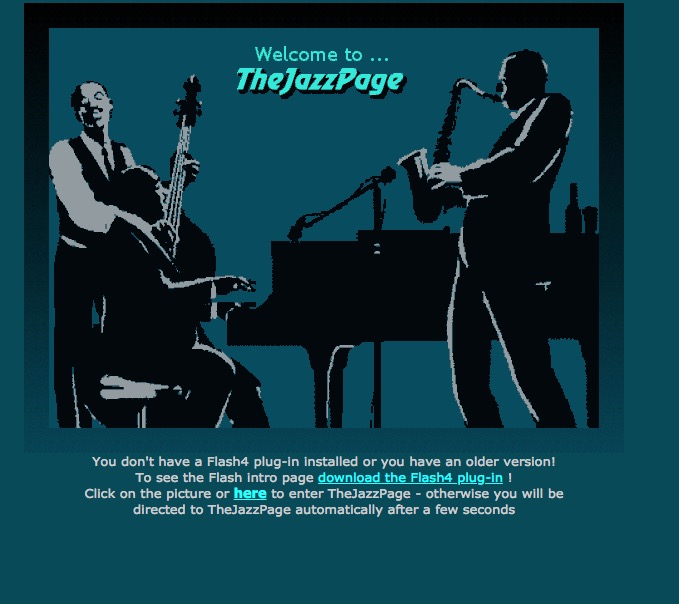 Image Source: TheJazzPage.de The website itself hasn't had any new content added since 2004, though it's still maintained and live. A fan page, it reflects the creator's interest in primarily guitar and hardcore jazz. It offers all the midis, videos, and pictures you can handle…from a 2004 web-design standard. UX-wise, it's also an interesting look at design from almost 15 years ago, where the homepage logo is still represented by an actual house, there is no dropdown navigation for better efficiency, and left-hand navigation is still in style (plus, there are no social-media buttons to speak of!).
Music Meets the Visual
The beauty of jazz style is reflected in its relationship with the smoothness and prosperity of its era. During the Roaring Twenties, Art Deco was the design heavyweight, making it natural for the visual language of jazz to be so significantly touched by it. That's not to say that jazz style didn't develop its own, unique characteristics. It did as well. All you have to do is look at its soul, rhythm, and vintage elements to see a design trend that's quite timeless, full of personality now as it was back in its heyday.
---
Products Seen In This Post:
Getting started with hand lettering?
Free lettering worksheets
Download these worksheets and start practicing with simple instructions and tracing exercises.
Download now!
Marc Schenker
Marc is a copywriter and marketer who runs The Glorious Company, a marketing agency. An expert in business and marketing, he helps businesses and companies of all sizes get the most bang for their ad bucks.
View More Posts