Licenses Update: Changes and Timeline
Since my last post describing the high-level license changes we've been working to make, we've received a ton of feedback from our new Community Feedback Group (add yourself if you want to be a part of it in the future!) on some of the proposed options we've been considering.
We've spent the last few weeks putting together a number of different proposed license changes and options, sharing them with a diverse mix of Creative Market members (from shops to customers to Partners, and many subgroups in-between), pouring over dozens of thoughtful, in-depth responses, and aggregating detailed survey results. And through it all, we've heard your voices, perspectives, and concerns loud and clear.
So while we know that we can't please everyone all the time (especially since many community members have opposing viewpoints on licensing), we've tried our best to identify the changes that would be in the best interests of the community as a whole. Here are the specific changes we're working to make:
Small Business Customers
The most important fix we've been working on is that we want to move most small business customers from the Extended License tier back down to the Standard License tier. We're doing this by adding limited selling to the Standard License, so you can sell an end product up to 500 times without needing an Extended License. This should cover most small business use cases. And in the event that you're making money from more than 500 sales of an end product that you've created, your success should allow for you to purchase an Extended License (or an additional Standard License) to properly compensate the shop.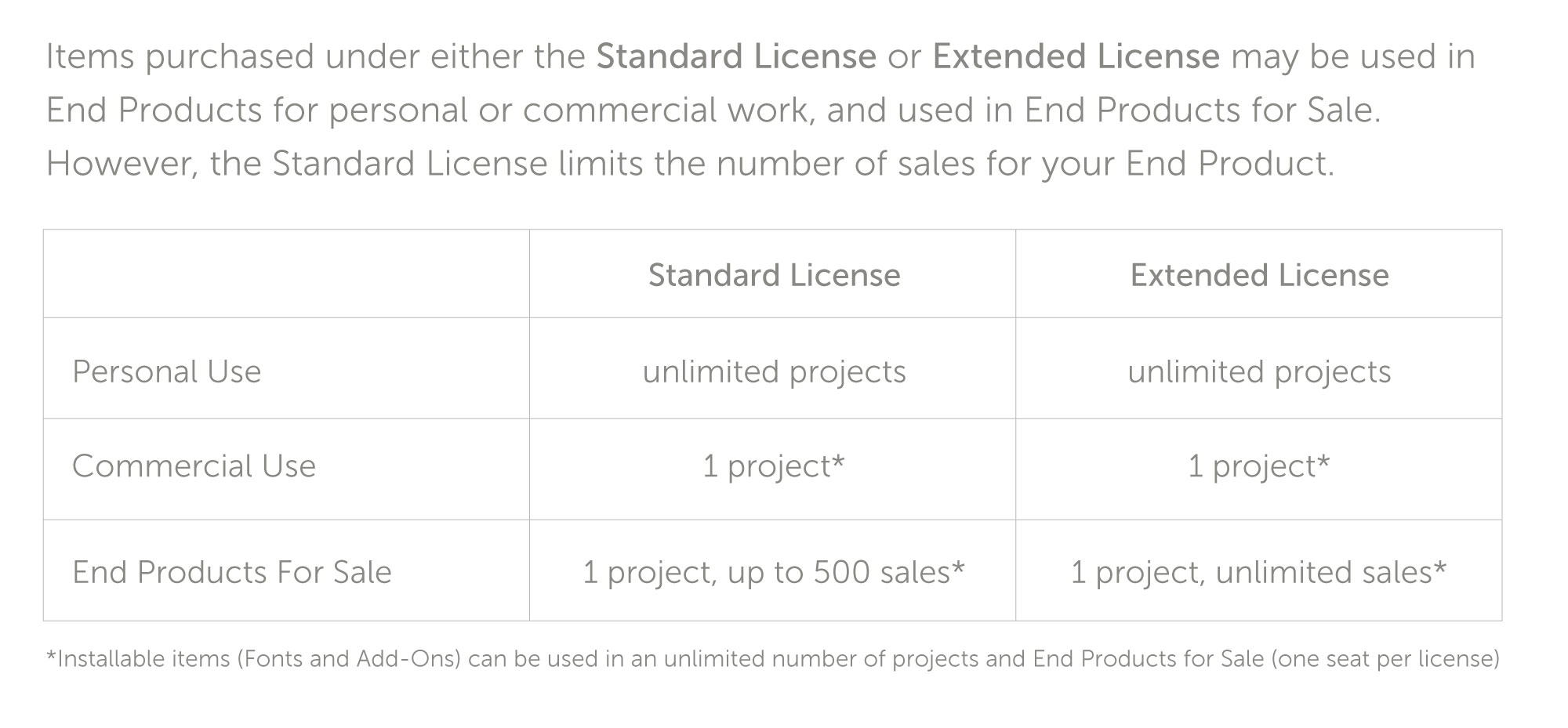 Font Licensing
Both font shops and customers told us that they greatly preferred a single license setup without the "for sale/not for sale" restrictions we imposed around font usage. As a result, we'll be removing the Extended License option for all fonts, and upgrading the Standard License with the ability to use a font in an end product for sale. Further, embedding purchased fonts into websites, ebooks, and apps will not be permitted unless these rights are explicitly included by the shop owner.
The same single-license setup and rights will also apply to the Add-Ons category, as we consider fonts and add-ons to be "Installable Items" with special per-seat licensing considerations.
Extended License Opt-Out
For all products except for Installable Items, the Extended License will remain as a crucial tool for shops to earn proper compensation for their work, especially from larger customers. But we also recognize that not all shop owners want their products to be sold under this license. So in the spirit of giving shops more control over their products, we're working to build an option to allow them to opt out of offering an Extended License for their products.
Defining Terminology More Clearly
We're taking special care to define several potentially confusing terms in our license copy, to make sure that everyone reads and interprets them the same way. Terms like End Product, End Product For Sale, Personal Use, and Commercial Use, for example, will have clear definitions that are easy to find and understand.
We're also tweaking several terms and phrases that our users felt had significant potential to be misunderstood or abused, and clarified other points that were lacking. For example, we're changing the current terms that read "You may use the Item in a new end product so long as it is not used alone, but instead as elements or parts of a new design (regardless of how much the item has been modified or how much of the new design it makes up)." to remove the concept around "regardless of how much the item has been modified or how much of the new design it makes up".
We're also updating the line from the current terms that says "You may not sublicense, resell, share, transfer, or otherwise redistribute the Item on its own (e.g. as stock, in a tool or template, with source files, and/or not incorporated into an end product) under any circumstances, not even for free." to remove the phrase "on its own".
Bulk Price Editor
As we work to roll out our next update to licensing on Creative Market, we recognize how difficult it is for shops with lots of products to respond to these changes with pricing tweaks. It simply takes too long to update a bunch of products one at a time. To help, we're building a brand new bulk editor that will make it easy for shops to update pricing and other properties on several products all at once. We plan to roll this out ahead of our upcoming license updates, to give shops an opportunity to edit their prices before the new license terms go live.
Core Value and End Products
Core Value is a term that comes from our original SimpleLicense, but despite its best intentions, it has always caused a lot of confusion for both shops and customers. We tried doing away with it in the current license terms, but we've heard from the community that this didn't clear up the confusion either. So we're bringing back a similar concept, but approaching it in an improved way by saying that all Items purchased on Creative Market must be used in an "End Product," which we are very specifically defining in order to protect the hard work and creativity of our shops. Everything customers create using Creative Market products must fall under these definitions, and they're identical for both the Extended and Standard licenses:
End Products: End Products must be significantly different than the original Item and require time, effort, and skill to produce. End Products must not be used or sold in a way that is directly competitive with the original Item you purchased. End Products must not redistribute the original Item to any third parties in a manner that allows for the extraction of the original Item.
Installable Items (Fonts and Add-Ons): Here, an End Product is simply a unique implementation of the Item. For example, you may purchase a font and use it to make unique word art, or purchase and use a brush to create an illustration, but you must not redistribute the original files in any way.
Templates and Themes: Here, an End Product is a unique implementation of the Item, often requiring limited copy and content changes. For example, if you purchase a resume template, you may use the Item for yourself or a client after having input personal information (you may not resell it as stock).
We're also working on an extensive FAQ that will clearly address specific use-cases that we see pop up a lot, so everyone will easily understand what's ok vs. not ok, without having to contact support for clarification (we'll include visual examples as well).
Defamation Clause for Photos
Photographers want to protect the models in their images from being used in potentially compromising ways. As a result, we're working closely with our internal legal team to write a defamatory use clause that addresses these concerns, and gives both photographers and models the protection that they deserve.
Timeline
We've been hard at work on these changes since receiving all of the community feedback over the last couple of weeks, and we plan to roll out the new bulk price editor and finalized terms to shops early in February, and then officially launch the new licenses to the entire community in mid-February.
And as always, thanks so much for all of your thoughtful feedback and patience as we work to improve our licensing for everyone who depends so much on Creative Market.
Getting started with hand lettering?
Free lettering worksheets
Download these worksheets and start practicing with simple instructions and tracing exercises.
Download now!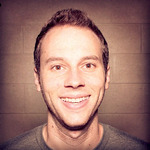 Aaron Epstein
Creative Market cofounder. Jack of all trades, master of none. Designer/developer hybrid in a previous life. Powered by Cheerios and avocados.
View More Posts