10 Simple Tips to Design a Standout LinkedIn Profile
LinkedIn is the world's largest professional network, with some 500 million people using the service. That number represents
a lot
of opportunities for designers and other creative professionals to network, prospect, and make connections with new clients. Ironically, one of the things people don't automatically think about with LinkedIn is design, which is a shame.
How
you design your
LinkedIn profile
has a massive impact on your success on this professional network. Consider this for a moment. How your profile
looks
to people searching to hire a new designer for a project or a longer-term contract plays a big part in whether or not those people will actually contact you. Based on what elements you decide to include or exclude in your profile, you're sending potential, new business a positive or negative message about the kind of
design professional
you are. Take control of your profile and use your penchant for great design to build up your profile to be the most attractive, lead-generating magnet that it should be. Here are 10 simple tips to design a standout LinkedIn profile.
Tip #1: Use a Real and Professional Headshot for Your LinkedIn Profile
You only get to make a first impression once. For most people searching through LinkedIn, that impression is made with your profile's headshot. It's basically the first thing that people's eyes naturally focus on when they land on your profile page, whether that's on desktop, tablet, or mobile. Because of our society's cultural training to size a person up based on their photo, it's a good idea to make it count. Research also supports the reality that attractive, good photos of people on websites boost the site's conversion rate. To wit, Visual Website Optimizer concluded that human images:
Increase trustworthiness
Raise the emotional connection
Create a better first impression
They also cited two studies where the introduction of human faces on two different sites
raised their conversion rates by greater than 95 % and 48%
, respectively. So if you're not using a headshot on your profile, change that immediately by getting a professionally done headshot. Your professional marketability will drastically increase. Sometimes, people unfortunately use inappropriate kinds of headshots in their LinkedIn profile, too. In general, here are the types of headshots to avoid:
Too casual (like at a bar)
No smile and too serious
The goal of your LinkedIn profile is to establish an appealing, trustworthy, and overall
professional impression
with your leads and clients. Here are some great examples of headshots from our marketplace that would be worthy of a professional profile:
Tip #2: Be Clear With Your Headline
Headlines aren't just for newspaper articles and web pages anymore. Your LinkedIn profile has a headline, too: look for it just below your headshot and your name. Besides your headshot, this is the most important element of your profile because it occupies premium real estate right at the top of your profile. Your headline is essentially a description of what your specialty is as a professional. If you're a designer, it could be "graphic designer for SMBs" or "typographer for millennial brands." Try to avoid using just a terse, one-word description, as this is too generic and fails to provide more insightful information on what it is that you do.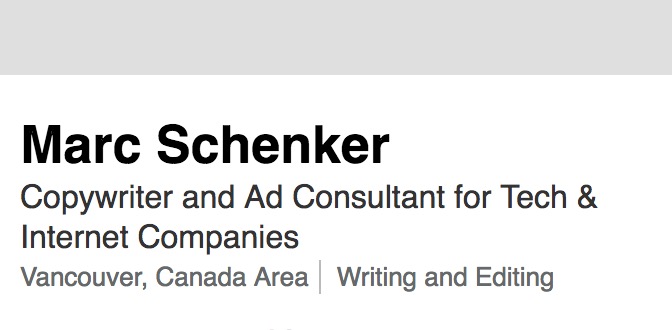 In my case, as a professional working in marketing,
my headline
reads: "copywriter and ad consultant for tech & Internet companies." It doesn't get any more crystal clear as to
exactly
what it is that I do. Avoid ambiguity in your headline, and you'll have made it much easier for your leads looking through your profile to make a decision about you. If your headline is ambiguous, leads will have a hard time immediately understanding what you're about and will be tempted to move on to the next profile whose headline is much clearer and therefore easier to understand.
Tip #3: Impress With Your Summary
Your summary is your shot to tell your prospects a bit more about why you're the best designer that they absolutely need for their next project. It should include
What you do (expanding from your aforementioned headline)
What you specialize in (getting more specific about projects you've worked on or services you provide
A call to action for leads to get in touch with you
Your summary is located right underneath your headshot and headline. Depending on whether your viewers are signed into LinkedIn or not, they may have to click on "see more" to look at the entirety of the summary of your profile. If people are signed in, they'll only see the first few sentences of your summary, but if they're not signed in, they'll get to see the whole thing.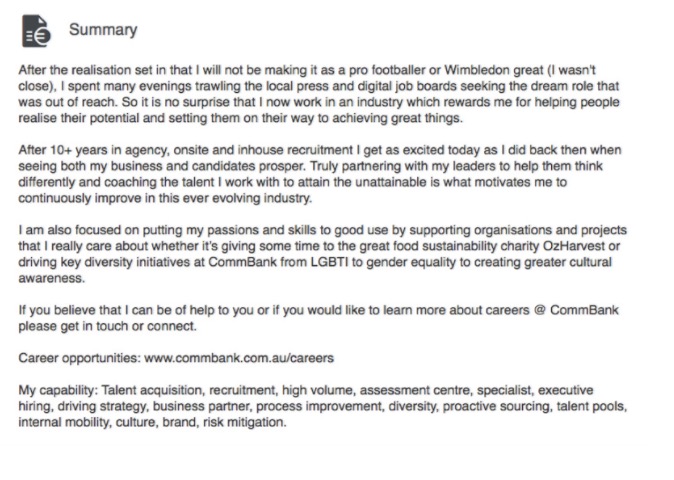 Therefore, you have to impress with your summary in the first few sentences. Dispense with the formality of the usual greeting (Hi or Hello!) and instead go right into what you're about as a designer, being certain to lead off with your
unique value proposition
that tells leads and anyone interested in working with you what about your specialty makes you better and different than all the other designers on LinkedIn.
Tip #4: Make Adjustments for SEO Implications
There are
SEO implications
in how you design your LinkedIn profile. You can affect how likely people are to find your profile. When I say SEO implications, I don't just mean on Google—I mean how likely your profile is to appear at the top of LinkedIn search results when leads are searching for a particular keyword. For example, if users are searching for either "logo designer" or "brand designer," your objective should be to at least be on the first page of results and possibly near or at the very top. Sound impossible? Hardly. One thing to tweak your profile involves using keyword-rich job titles and being as descriptive as possible without lying or embellishing. It also involves using the | symbol to separate the descriptive words in your job titles.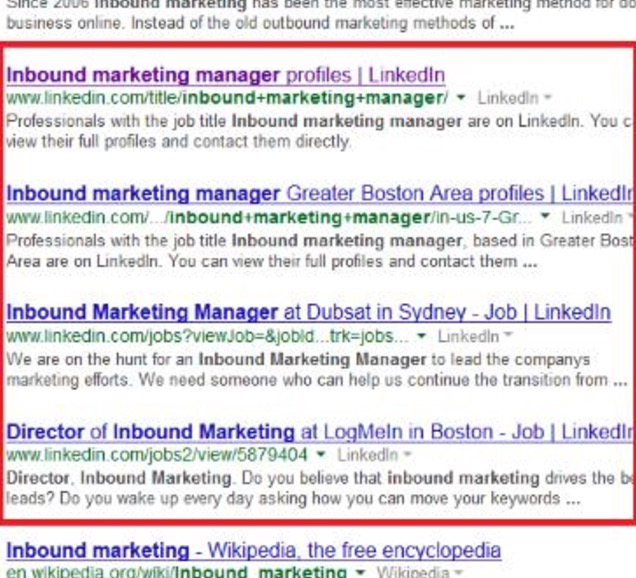 Returning to the "logo and brand designer" example above, this means filling out an SEO-friendly job title in the following way: Logo designer: brand design | branding | marketing consulting | SMBs Note how this title is much more descriptive than just using the original "logo designer" or "brand designer." Other
SEO strategies
on this platform include:
Include keyword-rich titles for any websites you link to on your profile
Optimizing your job description with the relevant keywords (this is your summary section), but using brevity with lists or bullet points
Post your LinkedIn profile's URL everywhere you think is appropriate
Tip #5: Make Your Contact Info Easy to See
Almost a no-brainer, you'd be surprised at how many profile's force leads to scroll down too long instead of making the contact info easy to spot at the very top of the page. The way the contact section appears on LinkedIn is somewhat puzzling: Searchers can only see it in full when they're signed into the platform and then only if they click on the "Show More" link. If they happen to find your profile when they're not signed in—say an organic
Google search
showed your profile to them—they actually won't be able to see
any
of your contact info. That's why it's highly recommended that you include your contact info—at least your phone number and email address—in the summary section, right from the beginning, before searchers even have to click on "See More" to find it.

That's the way I have it designed on my profile. This came about because a client for whom I was writing a brief for a job presentation to her university's deans told me that she
couldn't
find my contact info. Puzzled, I told her that it's there; she just had to either click on "Show More" on desktop or scroll down to the bottom of my profile on tablet or mobile. To my surprise, she told me she knew that, but she was questioning why I didn't just put my contact info right at the top of my summary, where everyone can immediately see it. Long story short: now it's there, where it should've been all along.
Tip #6: Fill out Your Experience Section as Thoroughly as Possible
Nothing gets leads and potential partners wanting to work with you as much as a rich history of experience. Think about it: the more experience you can bring to the table for a project, a contract, a partnership, or any other kind of mutually beneficial professional relationship, the more people want to work with you. When you project the experience you have, you're telling searchers on LinkedIn that you're more likely to bring measurable value and thus help them find a solution to their problem. So don't skimp when adding experience rows into your profile. Even if you believe that a specific job you held or project you were a part of in your past isn't that impressive, it doesn't matter. Including that in your experience section—especially if it's already a little thin to begin with—is much better than looking like you're short on experience.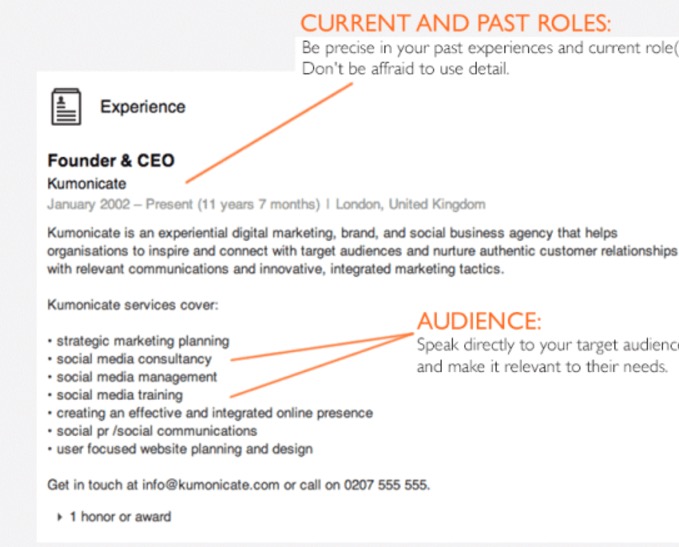 Then, with more experience and additional projects you take on in the course of your career, you can eventually begin to replace the less impressive positions and projects with those you consider
more significant
. Not only does adding more experience rows make your profile look fuller, but it also has practical benefits to getting noticed and hired.
Tip #7: Strive to Increase Your Number of Connections
Though it's meant for professionals, LinkedIn is still a social platform first and foremost, which means that connecting with a lot of people (and ensuring that others know this) helps your credibility and marketability. It goes back to the old, psychological concept of
social proof
, which essentially dictates that the more people who want to work with you or are otherwise connected to you, the more other people will also
want
to be involved with your brand. The best way to show off this social proof on your LinkedIn profile is through the sheer number of connections you have, which is displayed near the top of your profile, just underneath your headshot and headline. LinkedIn's connections count tops out at 500+, so it's in your best interest to get to the 500 mark.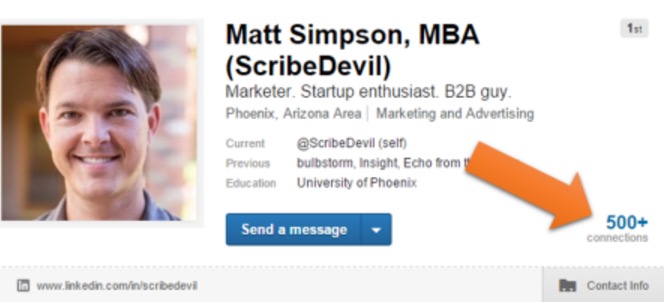 This tells potential connections and searchers on the platform that you're in demand and popular. In turn, this invites more people to want to work and connect with you. Here are some tips for increasing your connections on LinkedIn:
Connect with people whom you know in real life (as in you've met them in person)
Connect with professionals whom you've worked with (whether remotely or on the same site)
Connect with people who expressly invite professional connections on the platform
Tip #8: Get More Endorsements for Your Skills
This again touches on social proof as a way of building up your credibility and sense of being in-demand in your design profession. Endorsements show up toward the bottom of your profile, yet that doesn't diminish their importance by any means. You have control over what skills you wish to be endorsed; simply add them to your profile. The tricky part is getting these endorsements for said skills in the first place.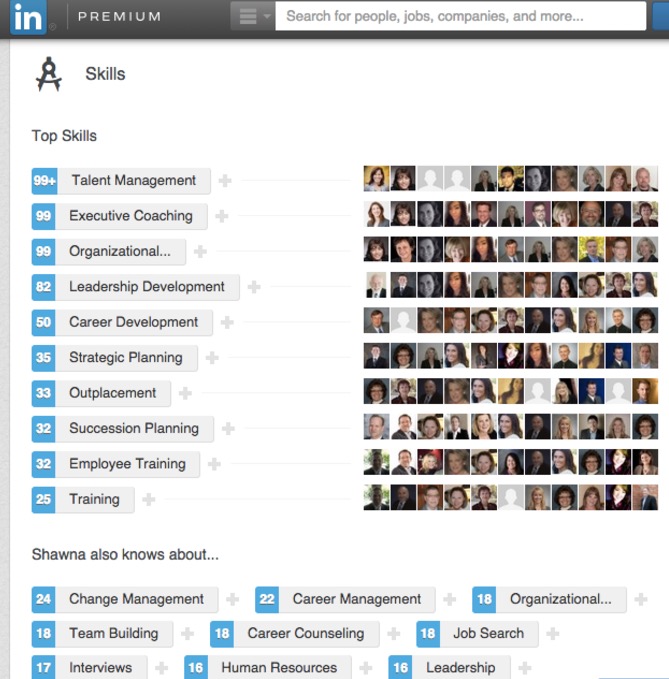 One of the easiest techniques to get an endorsement—say you're a designer whose skill is "retail design"—is to request one, especially after you've just completed a successful project or job with someone. Ask, and you shall receive! If you've put in high-quality work, and your client, subordinate or partner is happy with your performance, you'll have no problem getting said endorsement. Other times, people on the platform will endorse you for your skills out of the blue, hoping that you'll return the favor. Of course, you could also freely give endorsements to your connections for their skills. Sometimes, they'll gladly reciprocate and endorse you back, giving you a net pickup of skill endorsements. Get creative with how you pick up these endorsements, and watch them grow over time.
Tip #9: Get Recommendations
By now, you're noticing a trend in some of these tips: social proof. When it comes to persuasion in having people hire you or
work with you
, there's almost no stronger force than social proof. After all, if a good number of people have been willing to hire and work with you in the past, then others who see this information on your profile will be more likely to be persuaded to do the same. Recommendations are found below your skills and endorsements. You can both give and receive recommendations.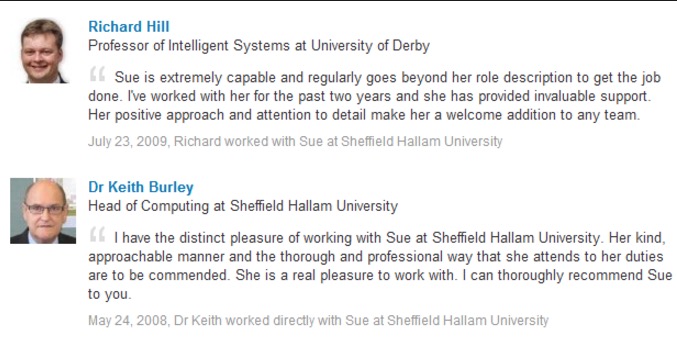 Pro tip:
One of the most effective ways of ensuring that you get a recommendation is asking a client or anyone with whom you've worked on a design project for a recommendation immediately after its successful completion. In this moment, your client is going to be in a good mood and in the wake of having experienced your great talent, skills, and services. In other words, it's the
prime time
to ask. Alternately, you can always give out recommendations to people you know and have worked with as a pleasant surprise to them, in the hopes that they will reciprocate and give you a recommendation as well (or keep you in mind for a recommendation in the future).
Tip #10: Proudly Publicize Your Accomplishments
The accomplishments section can be a powerful tool to get you more attention from people who want to work with you. This section on your profile is interesting because LinkedIn lets you include various items as your accomplishments:
Certifications
Courses you took
Honors and awards
Languages you speak
Patents you have
Projects
Publications in which your work has appeared
Test scores
Organizations to which you belong
While all are excellent ways to showcase your achievements, in my case, as a copywriter, my natural proclivity was to fill out the publications subsection to showcase my various articles from different publications.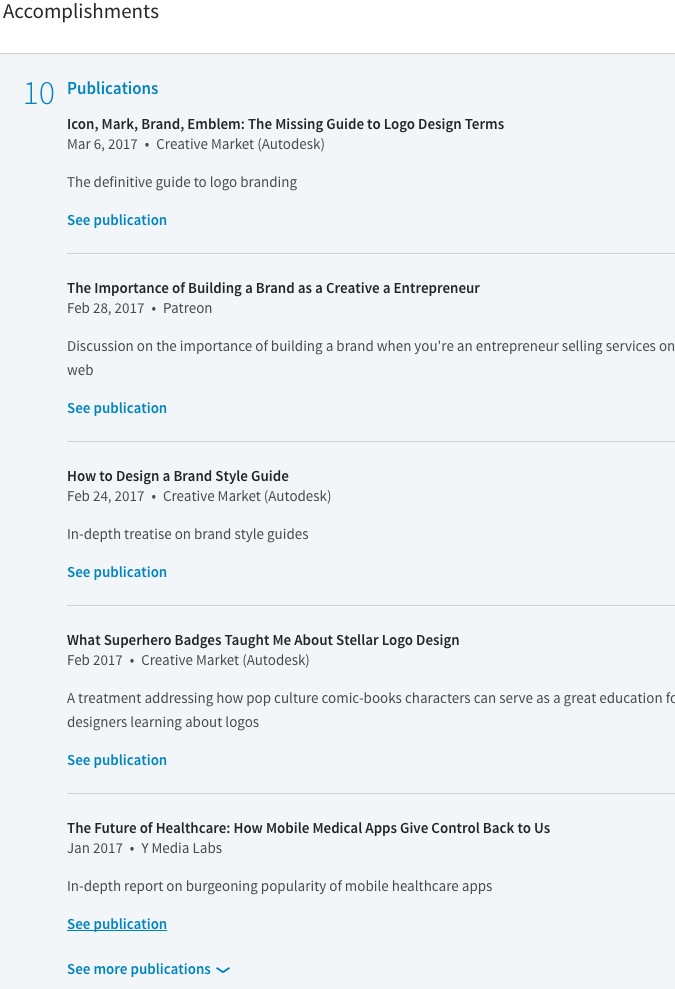 This allows me to demonstrate to leads and prospects that:
I've been published in noteworthy places
I'm prolific and write regularly
I specialize in ad writing as a copywriter
If you're a designer, your achievements section may look a bit different. For instance, if you've been given an award for your designs, you definitely want to list it here. If you've taken a special course to up your design game, this is the section in which to put it. If you belong to a well-known design organization, then it should definitely go in this section, too. By listing any achievements you think will make your LinkedIn profile stand out, you are attracting positive attention to your effort to get more business through this great platform.
Without Great Design, Your LinkedIn Profile Suffers
The word "design" may not immediately come to your mind when you think of your LinkedIn profile, but it absolutely applies. How you design the appearance of the information on said profile significantly affects your conversion rate. For our purposes, that means how likely people looking to work with designers and other creative professionals are to contact you through the platform. Understand that there
are
numerous and palpable things you can do to control how successful you can be on LinkedIn. By incorporating these tips (or even just a few of them) into your LinkedIn profile, you greatly improve your chances of getting noticed and contacted by someone who needs their design problem solved and is looking for help on their next project. The beauty of these tips is that they're easy to implement and don't require much time or effort, so get started right now, and see measurable results from your LinkedIn profile.
---
Products Seen In This Post:
Getting started with hand lettering?
Free lettering worksheets
Download these worksheets and start practicing with simple instructions and tracing exercises.
Download now!
Marc Schenker
Marc is a copywriter and marketer who runs The Glorious Company, a marketing agency. An expert in business and marketing, he helps businesses and companies of all sizes get the most bang for their ad bucks.
View More Posts