20 Logo Design Infographics & Diagrams That Simplify The Process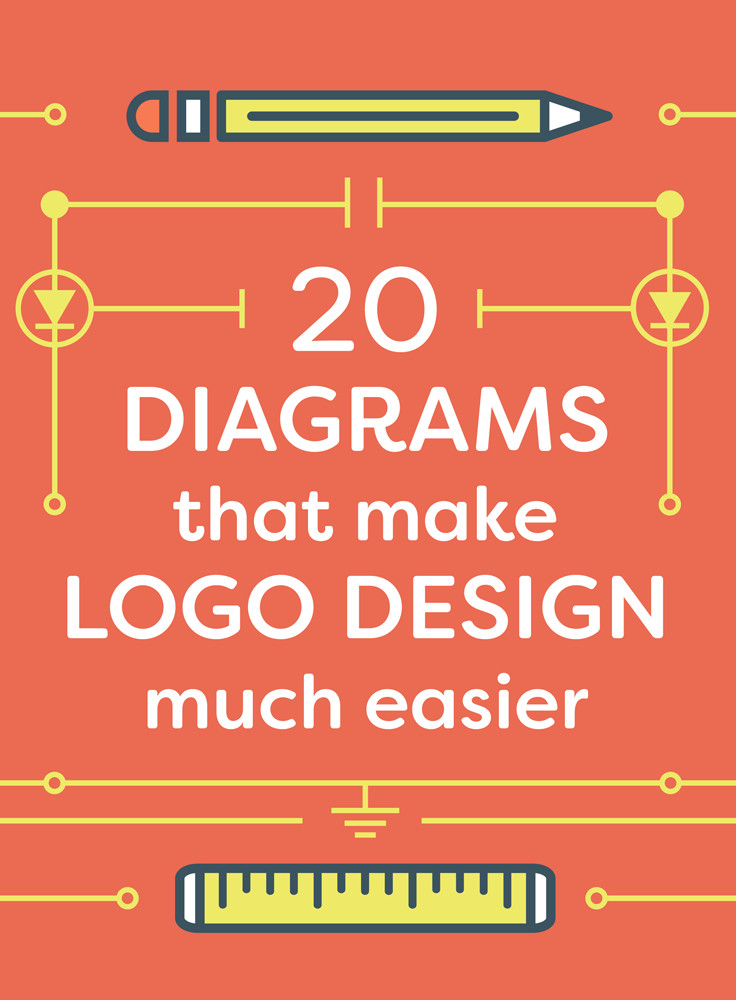 Logo design is the process of brainstorming, designing and then executing the creation of a logo for a brand. It can be a sometimes lengthy process that involves not just the creative side of things, but also the more technical considerations like meeting with your client, giving and receiving feedback, and putting the design through several iterations before everyone's happy that it's perfect. Logo design diagrams take this complicated process and make it easier by making it visual.
With all of these steps you go through when designing a logo, it helps to have visual guides that can streamline the complexity of the entire process into more digestible and understandable pieces. Luckily for you, we've scoured the entire web to discover the ideal logo design diagrams to visually walk you through everything that's involved with designing a logo.
Not only will creating your logo be much easier for you, but you'll also gain a broader understanding of all its moving parts. As a bonus, these diagrams are a visual feast for the eyes, so you can be inspired by their own creativity.
This diagram is a stark and straightforward walkthrough that hits the most relevant parts of the process. Dividing it into eight, distinct parts, this diagram will provide creatives with a basic primer from which to go forward.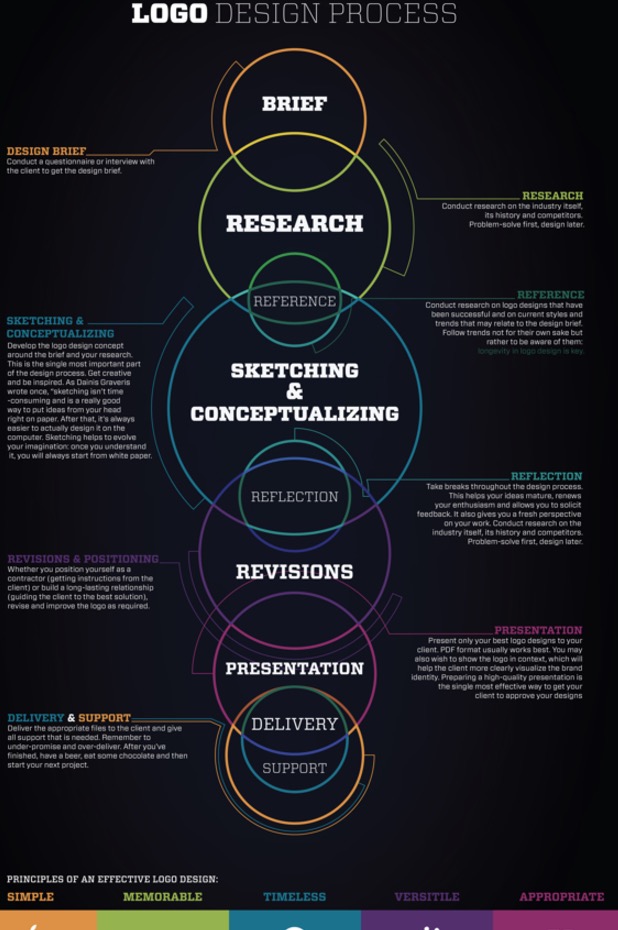 You'll learn about:
The Brief
Research
Sketching & conceptualization
Reflection
Revisions
The Presentation
Delivery
Support
Its simple-to-follow outline flows from one part of the process to the next in a chronological order, making it an ideal starting point for those who are just getting into logo design.
The graphic fittingly ends with some famous examples of logos and their key attributes.
What could be better suited in a diagram than helpful, well-illustrated icons that symbolize each pivotal aspect of the process? Smashing Magazine's neat and minimalistic diagram covers all the basics of logo design, from the initial deposit from the client all the way to the file delivery and logo book.


Due to its minimalistic presentation, the assumption is that you'll already have a strong idea of what each part of the process entails, as no in-depth explanations are provided for each icon in the workflow.
Still, you can't go wrong with this visually appealing illustration that charts all the important points of the design workflow from start to finish.
More of an infographic than a true diagram, Carol Lantis' visual presentation on the process is a treat for your eyes in addition to being very informative. Featuring well-drawn illustrations and generous amounts of white space to make the relevant info stand out, this infographic is a well-thought out representation of what designers can expect when they create a logo for their clients.
Look for the numerous visual cues sprinkled throughout that make it a cinch for anyone to follow along.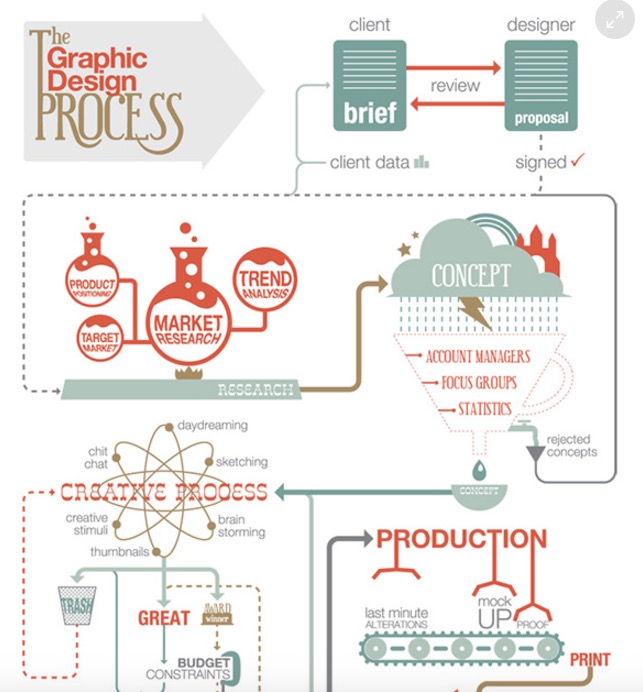 Bonus: There's a well-written intro by Carol that gives additional depth and context to the necessity of the graphic design workflow.
For our purposes of requiring visual guidance and inspiration for logo design, we need to only look at IDU's fourth pathway: the graphic design workflow. Their diagram is a to-the-point and bare-bones explanation of everything that creatives invest in a logo design.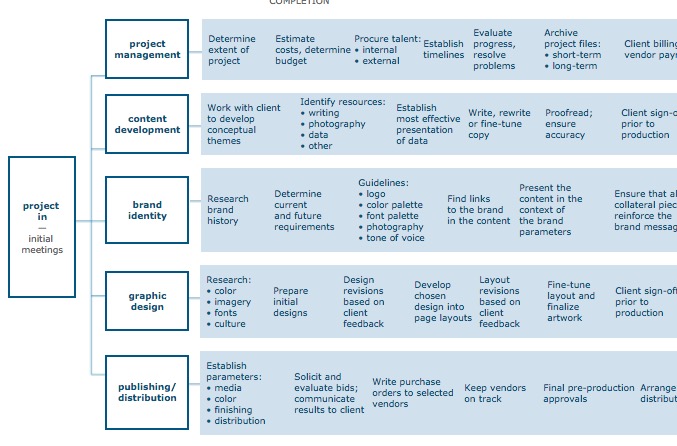 Look at this diagram as more of a flowchart that covers the very essentials of taking your logo design project from beginning to end. At the very least, this gives designers a no-fail overview of what they can expect from the whole process and allows them to personalize their own experiences into the schematic.
Searching for an infographic that walks you through, in a vibrant and engaging fashion, the steps of logo design? Look no farther than DiGuiseppi Studio's fine logo design diagram.
This presentation covers the five, essential steps and begins when creatives have their first brainstorming sessions with their clients, whether that's a brand or a person. Each step is colorfully illustrated with attractive visuals and features several bullet points that provide additional context and explanation for designers.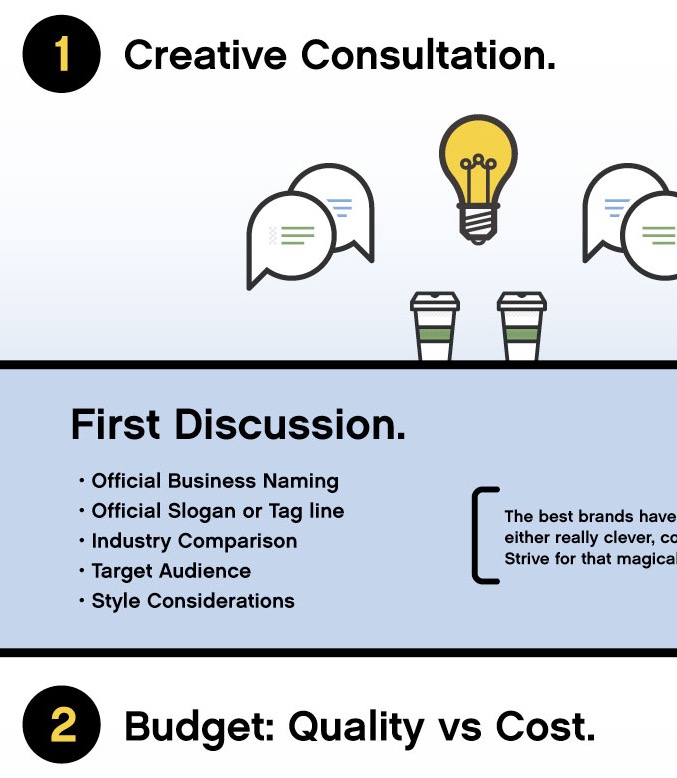 In short, this is a very detailed primer for what goes into logo design, all presented in a beautiful infographic.
Stone Design Studio's diagram is a detailed look into how this design studio tackles the design process, including working on logo creation. In theory, by following their outline, you, too, should be able to design logos that make your clients happy.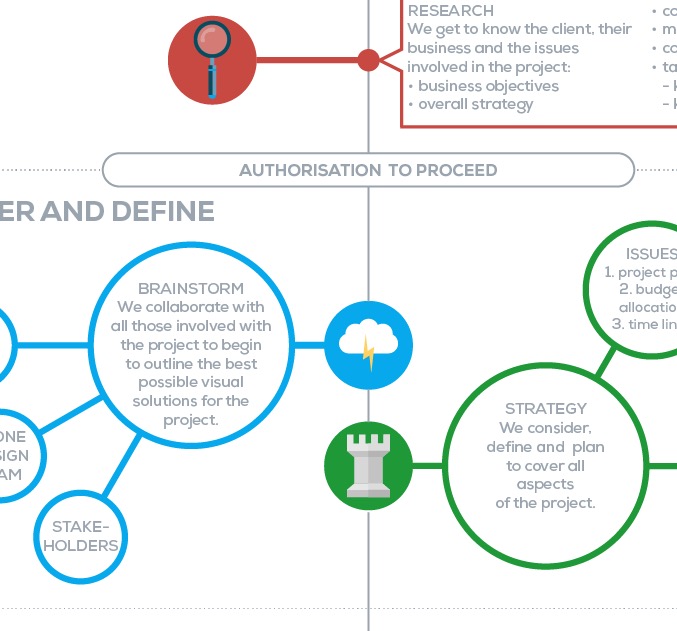 Choosing to go with brevity, Stone Design Studio's process can be distilled into just three, efficient steps. Because of the diagram's copious use of white space, the information being shared really stands out and is easier for creatives to focus on. Its use of visual cues and geometric shapes also helps in the easy delivery of useful details for the process.
Design agency Leogami's logo design diagram puts an emphasis on color, vibrancy and creativity to make its impression. As a basic, visual guide for designers, it hits the mark because of how it takes a complicated process and boils it down to only the most important highlights.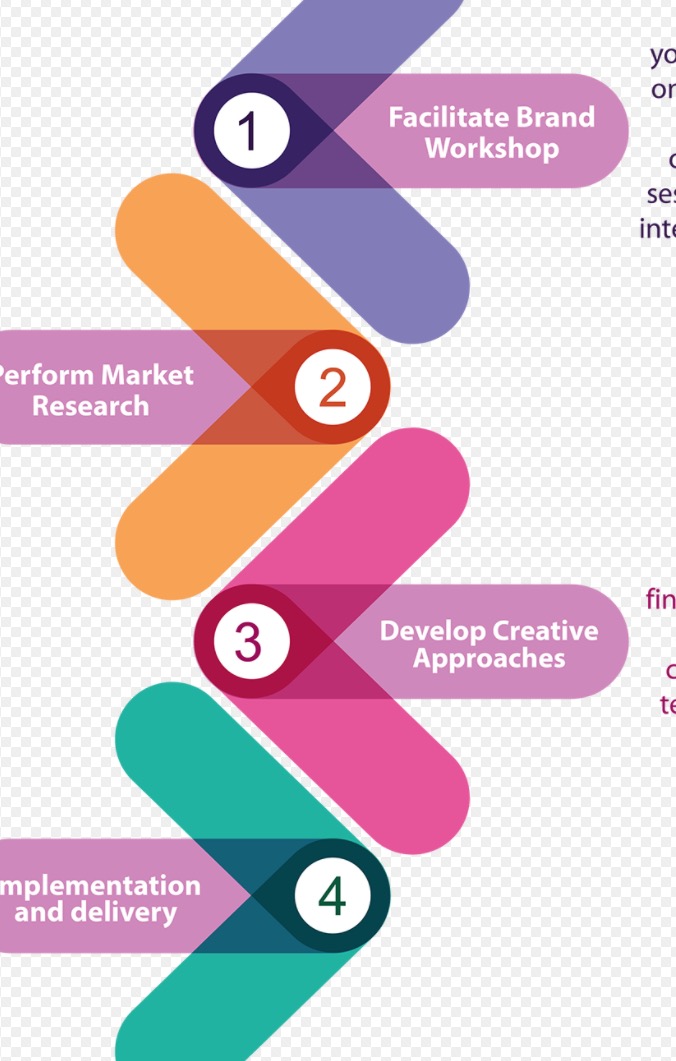 Intelligently, this diagram also features the little-known Z pattern of readability, which, as the name implies, prompts readers to consume the content in a zigzag pattern. This reading pattern that's considerate to ordinary people's reading behavior makes it a joy to follow along with the helpful information shared in this graphic.
This well-drawn and well–organized breakdown of the graphic design process is notable for its extremely precise attention to the many variables that happen when design work gets underway. In just five, easy-to-digest steps, the diagram takes viewers through the first client contact all the way to delivery of the final files.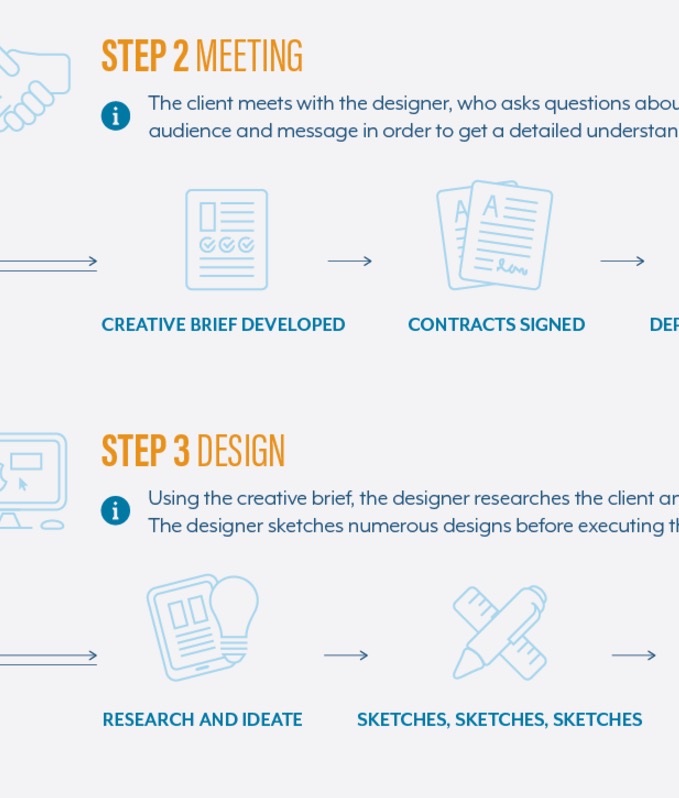 Kudos to the creator of this diagram for also being mindful of alternate outcomes that can happen on the way to completion of a logo design project.
With its big icons, illustrations and typeface, this diagram helps to increase a designer's confidence in dealing with client work.
Talk about a lot of bang for your visual guide! A veritable mind map of a diagram, this logo workflow guide may seem overwhelming at first—but it's exactly what a knowledge-thirsty designer or creative is looking for to help him design and deliver the perfect logo for his client.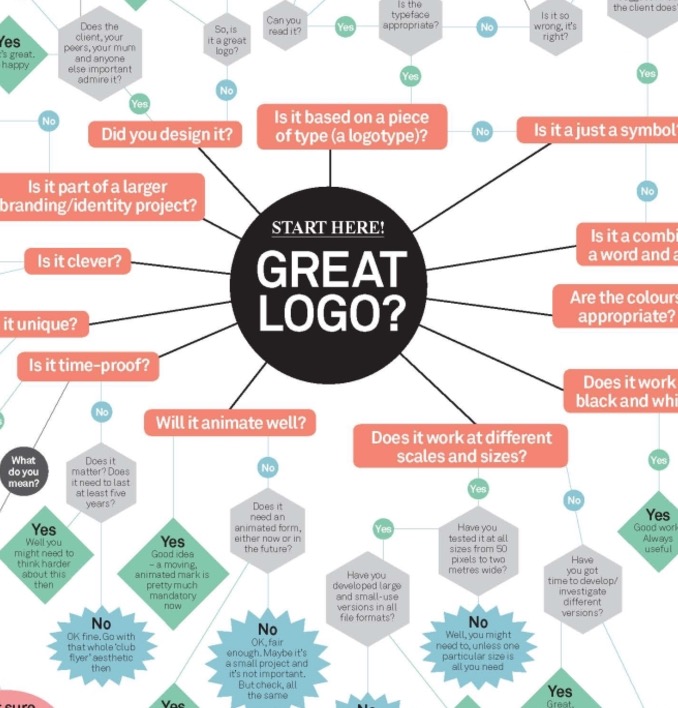 What's unique about this diagram is its reliance on several questions as the basis for the mind map—from which all the various considerations in the logo design process flow. It also has an interactive element that some of the other diagrams don't because you'll have to address these questions yourself to determine which design path to take.
This colorful and visually appealing diagram is an infographic that faithfully tracks the winning graphic design process of a creative who won a contest. This one is special because of two, distinct features:
1) It uses the zigzag pattern of readability, which was mentioned above
2) It employs the analogy of a racetrack to make the point that there are a lot of twists and turns in the process before the right logo design is found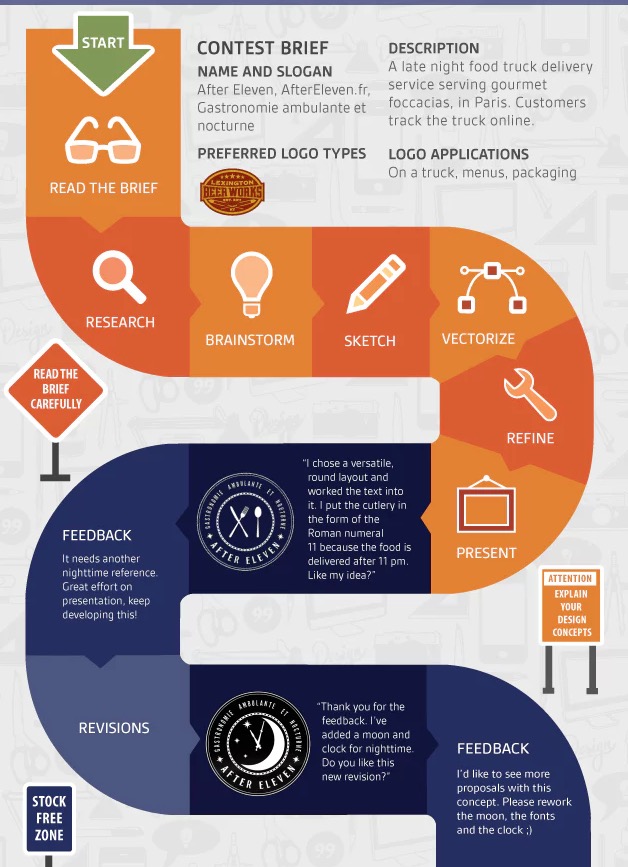 With its aesthetically pleasing presentation and detailed explanations, this diagram is a great help for any designer looking to gain traction in the design process.
Logo Geek's offering is a Venn diagram of sorts in that there are parts during the logo process that overlap or have common bonds. In this way, the diagram ties the common elements together for the benefit of the creative following along, making it easier to see the process from a top-down view.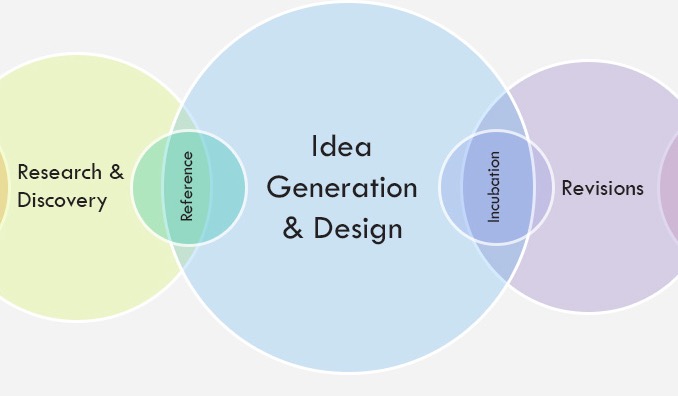 As far as diagrams go, it's also one of the simplest, using only connected circles to indicate the flow of the process from start to finish. With its lack of explanations and only stark labeling, this is the most straightforward and austere illustration of the logo design process.
Another ultra-straightforward diagram, this one comes to us from DesignMantic and features a series of icons that represent each stage of the design process. It's also one without detailed explanations; however, each icon is a clear representation of what's expected at each step of the journey.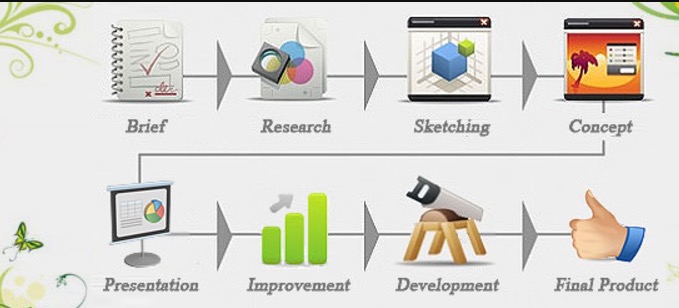 You'll get a bird's eye overview of what you'll have to commit as you design a logo for a new client. Its clean illustrations allow creatives to quickly understand the gist of the flow and apply it to their own projects and clients.
Inspire Intent's logo diagram contains a lot of info for just one diagram, but it's laid out in such a way to ensure easy reading. Covering everything from the storytelling and branding aspects of logo design all the way to final stages of implementation and acceptance, this diagram is comprehensive and provides an excellent roadmap for designers creating a logo.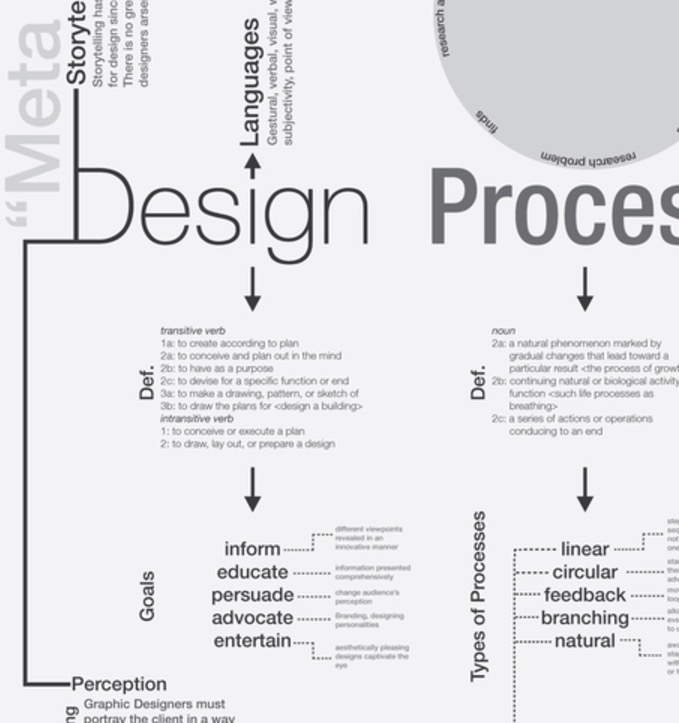 Thanks to its thoughtful visual cues and connecting segments, designers can make sense of this info in a logical and chronological way for maximum effect. Its monochromatic presentation adds a stark sense to it, making it more memorable than the usual color diagram.
MakeZine's no-frills, no-gimmicks diagram is a minimalistic offering that covers the basic points of the logo design process. Detailing the flow of the design sequence, it establishes a crystal clear order that creatives should follow if they want to get the best results with their clients during the design of a logo ideation.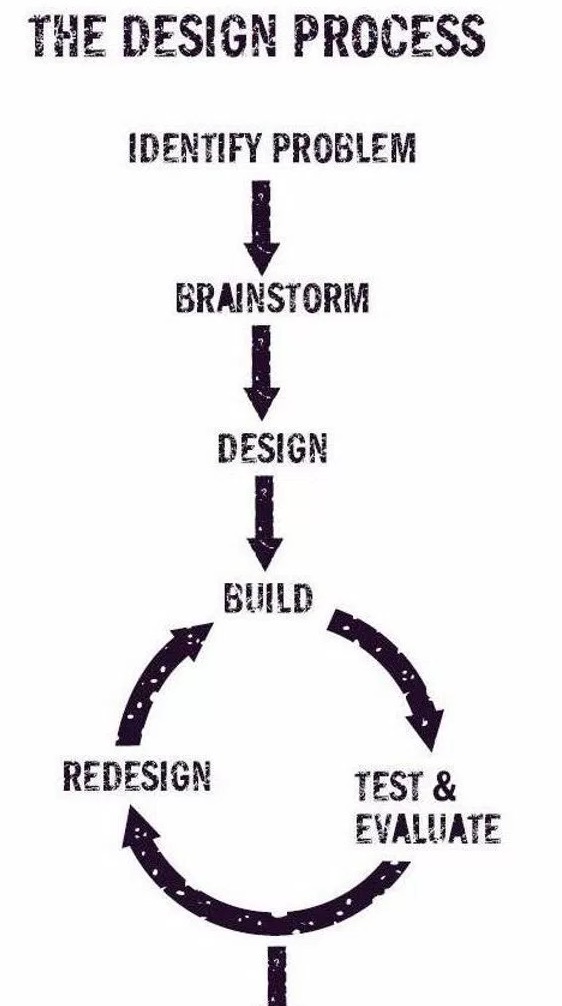 The minimalistic nature of this diagram also empowers creatives to put their own stamp on the process while still offering good guidance. It allows them the independence to project their own thoughts on the process…within the framework that's proven to work.
Try this one on for size: This diagram is an infographic that walks designers through the creation of, specifically, a retro logo design! What makes this diagram different than the rest, besides the fact that it's retro, is that it strictly covers the design process.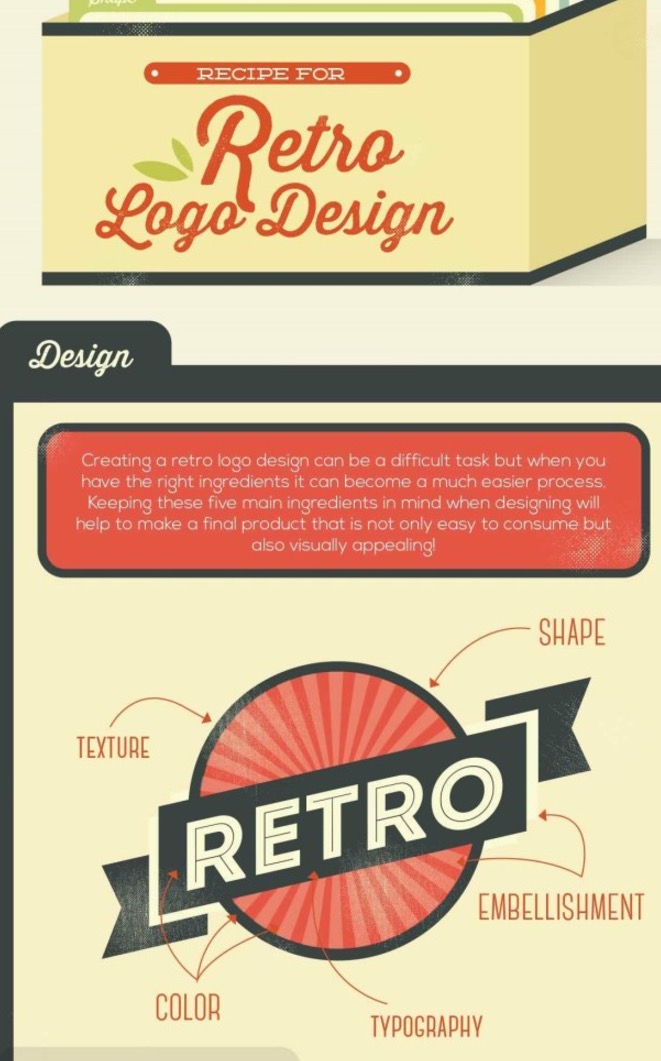 In other words, dealing with your client and revisions isn't part of this visual walkthrough. That's not a bad thing by any means, as you get more info and examples about how to fearlessly go through and master this specific type of logo design process.
Ever wonder how you can effectively create the ideal business logo? Turn that wonder into action with this perfect infographic that distills the entire process into attractive visuals and actionable pieces of advice.
Take your concept for a business logo all the way from the initial stages of ideation all the way to your creation of the final masterpiece.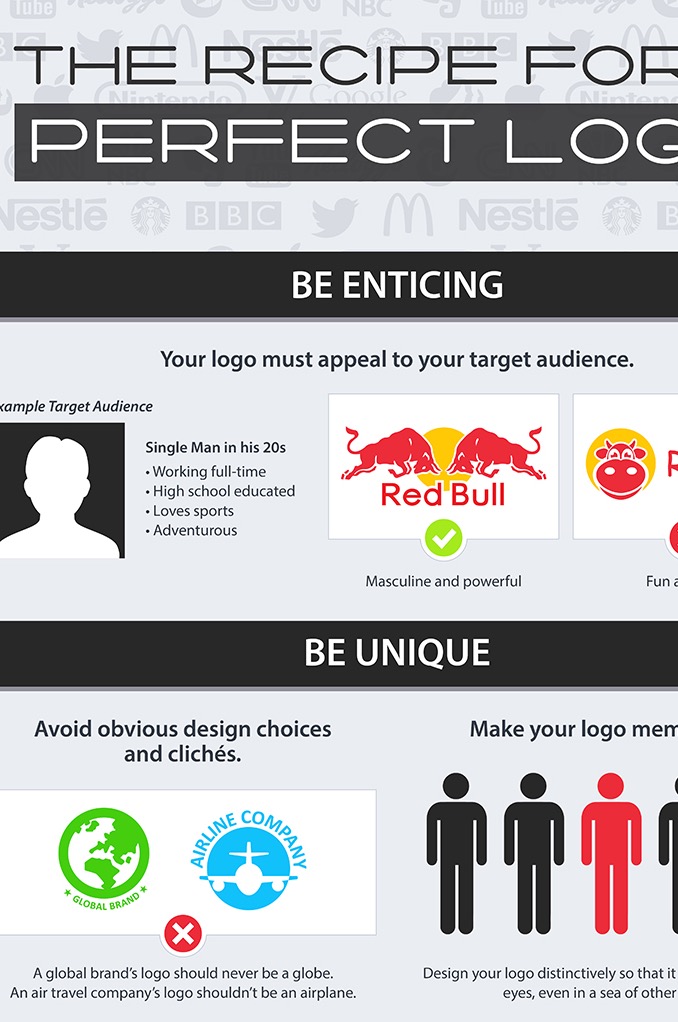 What makes this diagram so very helpful is the presence of the many real-life business logos that highlight specific design elements that your logo also needs to be successful for your client.
If you've been looking for a diagram that uses a practical flow and beautiful lines to take you through the logo design process, then look no farther than Noura Assaf's. Her diagram is a detailed and technical diagram that covers all the bases of successful design, from the earliest stages of ideation to the crucial point of concept development to the final stages of prototyping.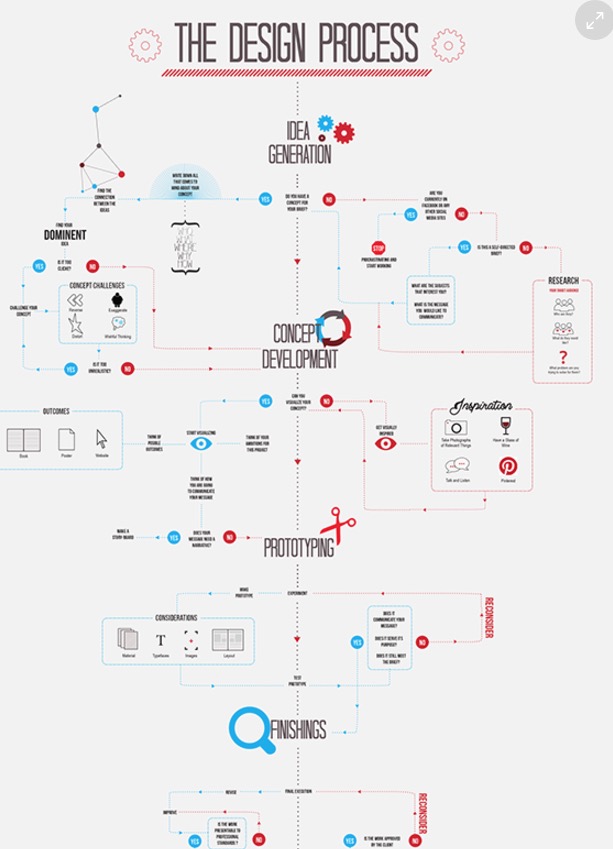 Her diagram effectively uses colors in all the right places to serve as visual guides to cue readers to the most important parts of the diagram. Overall, it's an interesting, visual way to learn about the logo design process.
For very basic, yet still useful, you can't beat Wild Design's diagram. Its presentation comes in the form of a straight-to-the-point, icon-based illustration that chronicles the entire logo design process into just the following, five steps:
The hand sketch
The ensuing technical drawing
Any necessary shape refinements
Color selection
The final delivery of the logo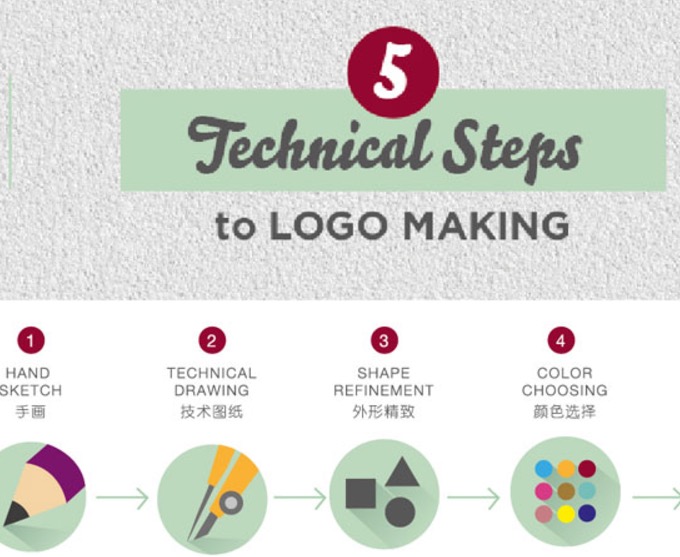 This is a very general overview, but it's one that many a successful logo designer has nonetheless followed to come up with some of the best and most memorable logos that the marketing world has ever seen.
From designer Eddie Lobanovskiy comes a process of the rough sketching that a creative tends to go through when coming up with a new logo design. In Eddie's case, it was for a then-upcoming app named AspireBoard.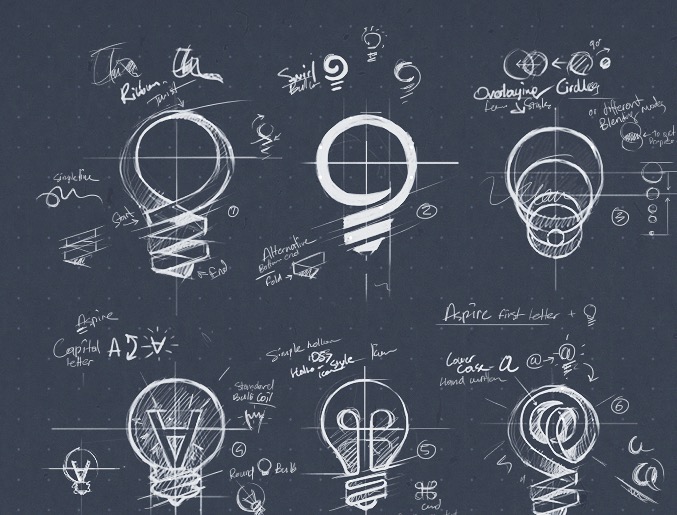 His sketches of the logomark, from various angles and stages in the process, give designers a bird's eye view of everything that goes into logo design, including all the work, brainstorming and iterations of the design.
This is definitely a useful diagram for designers to look at when they find themselves in the development stages of their own logo creations. Its stark, almost chalkboard-like effect also makes it a memorable diagram to have around.
furrybirdworks' infographic on the logo design process is a colorful, aesthetic and simple diagram that provides reliable information. Creatives looking for a solid basis from which to proceed with a client brief for a new logo should give this infographic a look or two.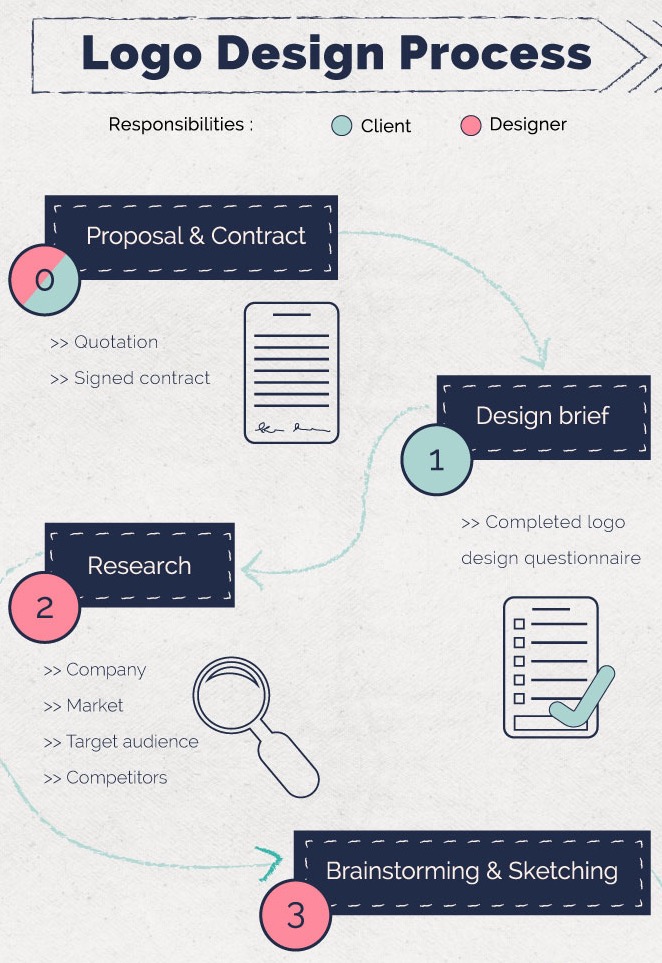 In just six, actionable steps, this diagram takes you through the entire process of touching base with your client, brainstorming and developing the logo, and then handing it off to the client as a final product.
What makes this diagram visually appealing is the use of the Z-pattern (discussed above), the numerous bullet points, and its neat and clean presentation. Talk about well-organized!
Making Logo Design Diagrams Easier Than Ever
Some of the world's most memorable and greatest logos were the result of copious planning, brainstorming and many back-and-forth consultations. In short, if you want to create something truly impactful and visually stunning, you have to be meticulous and feel every stage of the process. You can't just slap something together and call it a logo—not if you want to do a truly fantastic job for your clients (and your reputation).
The beauty of these 20 logo design diagrams is that they provide a quick and dirty visual representation of the entire logo design process, which creatives can consistently refer to as they design a logo for their clients. Note how the process includes much more than the actual design; a lot of the process is the technical side of the business of going back and forth with your client, understanding his needs and wants, and then hitting your deadline to deliver the final product to him.
One of the easiest ways to ensure you create a stellar logo for your clients, besides referring to the aforementioned logo design diagrams, is to consider using a logo template. Our marketplace features more than 40,000 splendid logo designs, which you can customize to your clients' desires. Have a look at some of our many wonderful choices:
---
Products Seen In This Post: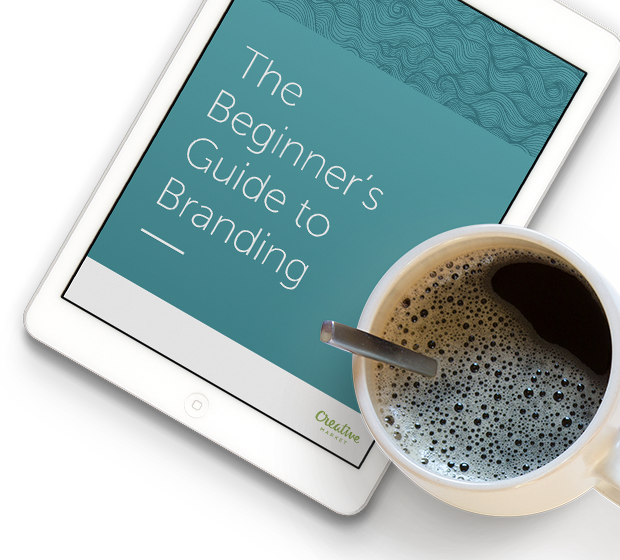 Free Beginner's Guide to Branding
Designing your own brand?
A fun, friendly, FREE guide to build a stellar brand identity.
Download now!
Stephen Palacino
I work with entrepreneurs and small businesses on web design and brand strategies, as well as run business development for a video production agency. When not designing, you'll find me out with my family on a road trip making bad jokes and drinking too much coffee.
View More Posts