How to Make Your Own Signature Logo
Signature logos can make a brand feel more relatable and give it a sense of style that matches the intentions of the company. Luckily, many artists on Creative Market have worked hard to make the most natural hand-illustrated typographic look possible using a font.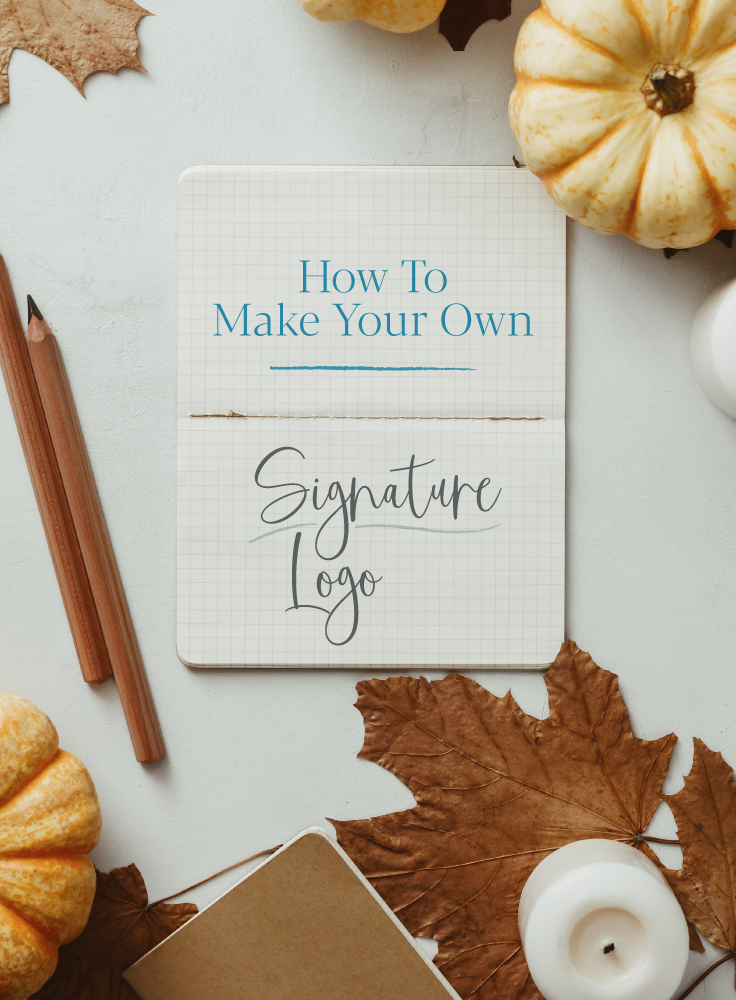 In recent years we've seen a massive shift towards more and more personalized brand identities and the explosion of signature logos. As social media has become a regular part of our day-to-day lives, we're realizing that what we crave most as human beings is to connect with other human beings, with brands that inspire us, and with products that have a compelling story. We're living in a time of human connection over stiff corporate professionalism – can I get a hallelujah? It's an exciting time to be alive. What this means for us in the world of branding and design is that we can have a lot more fun with our client work and artistic creations. With this, we've seen a burst of hand-drawn, handcrafted and signature logos. Signature logos can make a brand feel more personable, relatable, and give it a sense of style that matches the intentions and vibe of the company. Luckily you don't have to be an expert at hand lettering to get that handcrafted look either. Many artists on Creative Market have worked hard to make the most natural hand-illustrated typographic look possible using a font. Here's an example of a great font choice to create a signature logo without being an expert illustrator:
But just typing a company's name out in a signature font isn't exactly a "logo" either. Below are a few tips on using a script font with a pre-designed icon from Creative Market and how to turn it into your own signature logo:
Start with the Right Elements
First, you want to select the right elements that reflect the brand essence. In this case, we're going to use a script font to bring in a feminine feeling along with a sacred geometry-based symbol (solar plexus chakra) to bring in the energy of the divine. When working with pre-built design elements and illustrations, you always want to edit the symbols to make them unique. For this example, we'll use the font above and a symbol from this set:
Let's take a look at how subtle adjustments can make a big difference and how you can use them to make your own logo in minutes!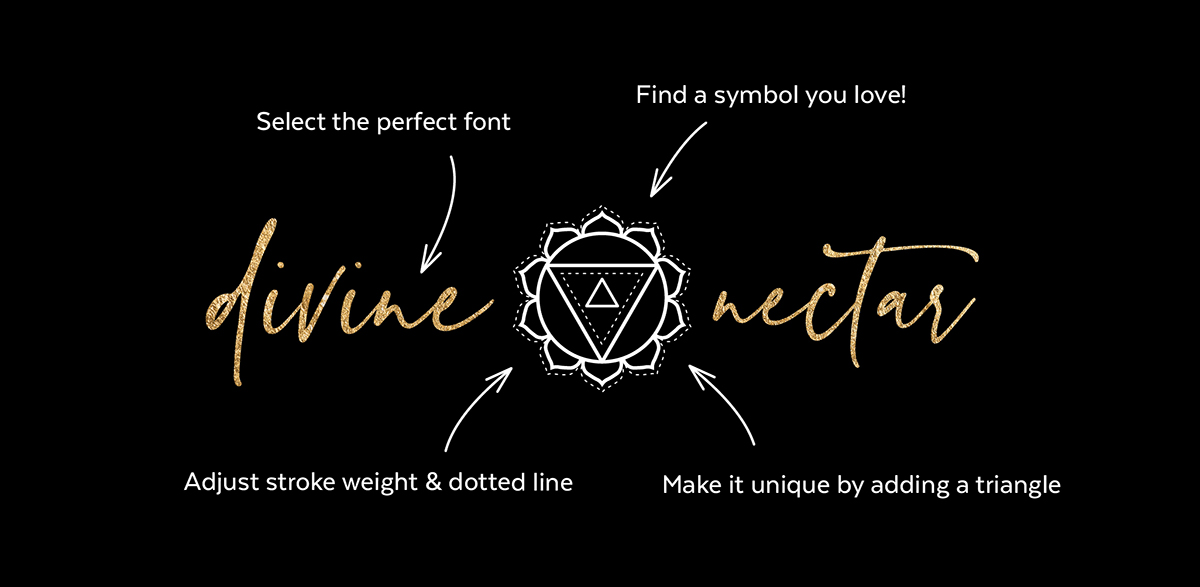 Make it Unique
As you can see in this example below, the original logo had a dot in the center and thicker dotted lines. By removing the dot, changing the stroke weight and adding a triangle, suddenly, we have a symbol that doesn't exist anywhere else. And by adding some texture, in this case, a gold foil to the typography, we suddenly have a beautiful signature logo that any client would be thrilled to have to represent their business.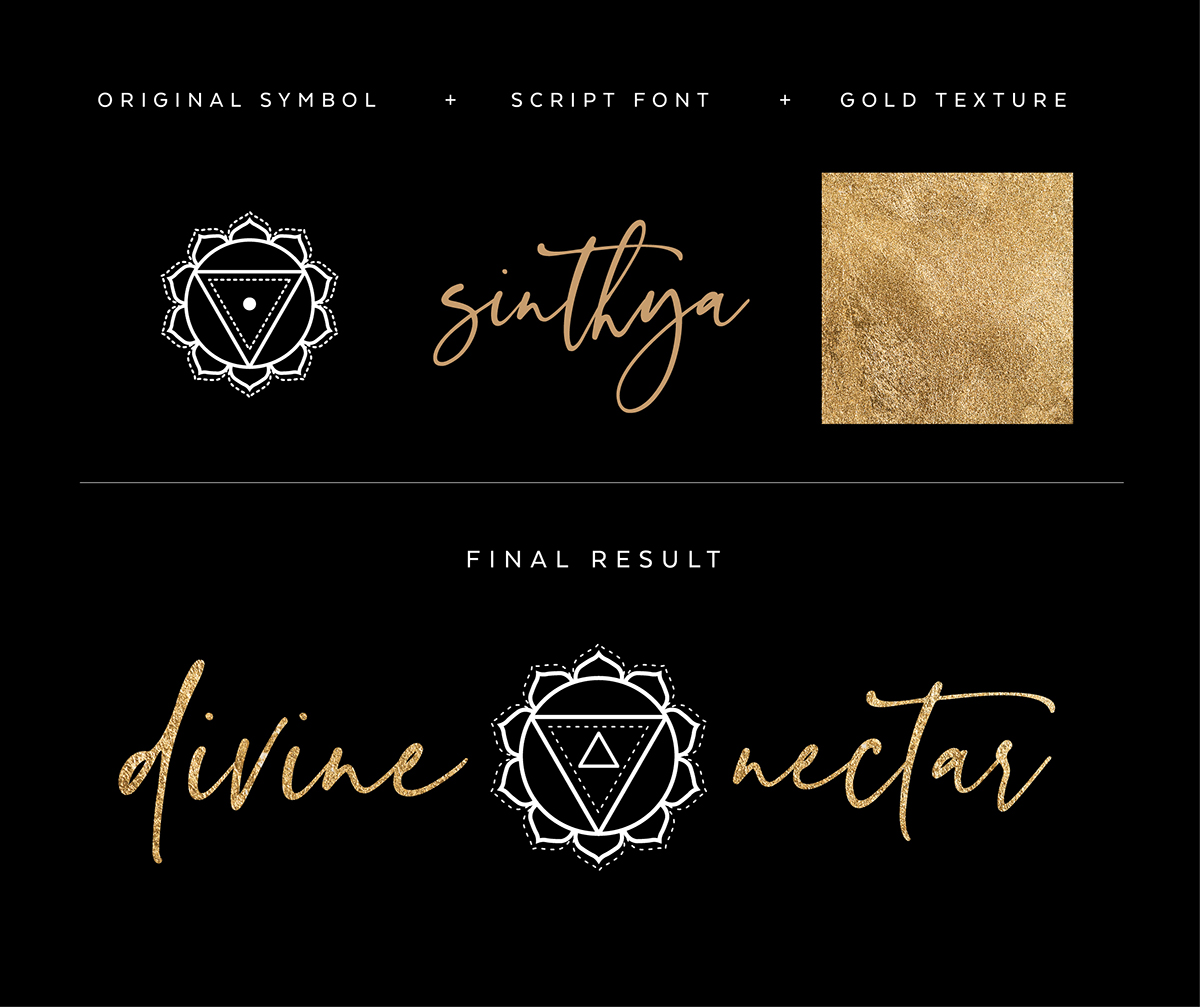 Combine an Icon with Your Typography
If you're fortunate enough to have the skills (born or cultivated) to hand illustrate your own typography, a whole new world of possibility opens up! And still, adding graphic elements into the mix makes for a unique and memorable logo that people will remember. Let's take a look at how you can bring in graphical elements into your signature logo in a harmonious way.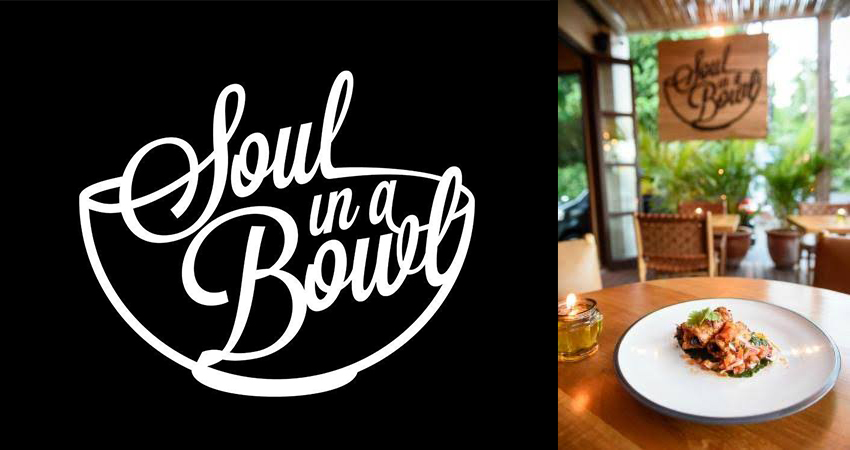 In this example, the bowl (which could be borrowed from a set like the one below) acts as a base and a frame for which the typography will live. Some illustrator pen-tool skills will be necessary to make the connections between the type and the frame but well worth the effort to create a logo people will recognize and remember.
In Summary…
When creating your next signature logo, remember these three rules to make your logo stand out from the crowd and give it a personality that people can connect with.
Firstly, you want to start with the right elements (this is everything!) that properly reflect the brand essence. Creative Market is full of wonderful fonts that have a hand-drawn feel that you can use as a solid starting point. Here's another possibility, one that I love:

Next, if you're working with any pre-designed elements, always always make modifications to make them your own. Some ideas of ways to do this would be: change the stroke weights, change the size or color of some of the elements, remove or add elements, layer symbols on top of each other or uniquely combine them.
And lastly, think about how you can get creative and weave graphic elements into or around your logo to create a beautiful, memorable composition. You can use the icon as a frame, replace one of the letters with an icon, dot your 'i' with a triangle… you get the idea!
The possibilities are endless! Remember, too much thinking can get us stuck as designers, so get out there and play! You might even surprise yourself with your creativity and what you can come up with!
Getting started with hand lettering?
Free lettering worksheets
Download these worksheets and start practicing with simple instructions and tracing exercises.
Download now!
Angelina Sereno