Meet the Shops Behind the Drop
Each month, we drop a curated collection of design assets from talented shops and make them free for all Creative Market members. Here are the design resources we're dropping this month. Check out this list of shops and learn more about their style:
This shop wants to transform your photos with quality Lightroom presets that lean on bohemian, vintage, and urban looks.
EFCO STUDIO & SHOP
EFCO offers high-quality assets for professional designers. Their specialty is creating authentically gritty textures with a vintage print feel.
hellojenrich
Jen Rich is an illustrator and designer based in Minnesota. Her illustrations feature bright florals, earthy color palettes, and an optimistic outlook on life.
Vanzyst
Ivan, the designer behind Vanzyst, has an interest in geometry and brutalism. His catalog includes a number of vector shape packs, both symmetrical and deconstructed, that can support all kinds of design projects.
Studio Dusk
This small studio based in Paris loves to make high-quality assets for designers and creatives. 
Unio | Creative Solutions
This team of graphic designers is based in Bari, Italy. They've chosen "Unio", the latin word for union, as a studio name because it reflects their shared passion for design.

Fenotype
Emil is a Finnish type designer and illustrator currently living in Turku, Finland. Since 2002 he has released over 200 type families and counting.
Dirtytemp Studio
Dirtytemp is an Indonesia-based studio specializing in bold presentation templates that look nothing like stock. Check out this shop if you're looking for vibrant slides that stand out.
Lyrata Studio
Lyrata makes high-quality digital templates to help your business grow and look more professional. Their social media templates highlight female strength in subtle, sophisticated layouts.
Alina Sh
Alina's shop is all about joyful vibes. Find cartoons and florals to create a groovy summer look.
invisiblelayer
This shop focuses on building comprehensive toolkits that last over a graphic designer's career. Think of these as your workhorse vector shapes, borders, and lines. 
Rodrigo Typo
Rodrigo Araya Salas, also known as Rodrigo Typo, is a Chilean type designer with a signature comic style. This shop is the right place to find chunky display fonts that bring the fun.
Mockup Store
While this shop offers a number of quality mockup creators, their specialty is sleek clay devices. Present your UI portfolio using tech mockups that don't detract from your design choices.
NassyArt
Anastasiia is a graphic designer from Kyiv, Ukraine. Mystic and ethereal elements come to life in her work. Add a touch of bohemian magic to your projects with NassyArt's products.
September 5th
Specializing in social media templates and branding, September 5th leans on elegant serifs and moody hues to convey sophistication.
Design Council
This shop offers a set of ready-to-use pitch decks, icons, and business strategy templates fit to fuel a growing venture. If this is you, check out their catalog.
ATK® Studio
ATK has been producing display and mono-style fonts since 2018. Home to a diverse library of tech & experimental typefaces.
Alana Designed
Lisa, the owner of Alana Designed, built it as a digital shop and independent studio for modern creatives. Her goal is to help entrepreneurs "find their space in this world through strategic brand design".
Sixtysix Labs
Based in Madiun, Indonesia, Sixtysix Labs offers vibrant social media templates with a range of styles drawn from the 80s, 90s, and 2000s.
Phosphorus Design Co.
Phosphorus takes inspiration from nostalgic themes to craft dreamy illustrations. Founded by designer and Art Director Ashley Barber, this shop is a go-to resource for vintage illustration sets.
Ian Barnard
Ian Barnard is synonymous with a deep love of craft. His digital brushes and assets empower you to improve your designs with thoughtful texturing and authentically vintage effects. 
Inspirationfeed
Based in Washington DC, Inspirationfeed is a destination for design wares and education. Check out this shop for a selection of display fonts in trending styles.
kloroform
A graphic art and design studio at the intersection of color and form. Fond of experimental geometry, kloroform offers patterns, vector shapes, logo templates, and more.
Kulture Type
Kulturë self-identifies as "a mini foundry from Prishtinë" with an absolute focus on fun. Their fonts and graphics have a playful, urban style that doesn't take itself too seriously.
Creativeqube Design
Lucy is a self-taught designer passionate about making affordable patterns, fonts, and graphics other designers can use.
Intenseartisan
This shop offers flexible vector graphics and logo templates to complement your projects. If you're looking for vector building blocks for your next design, check out this shop.
ScaryClown
Get ready to steal the show with ScaryClown's impressive photoshop actions, brushes, and vector patterns. Their talent is here to make your projects simpler.
Bonumo
This Europe-based design studio is focused on helping entrepreneurs elevate their social media and brand strategies.
Staple
Staple is a team of award-winning designers with a combined 30 years of design experience on a mission to create high-quality resources. 
Mysterylab Designs
Founded by designer and musician Mott Jordan, Mysterylab Designs is heavily inspired by the 60s and 70s. Most recently, Jordan has created a series of psychedelic fonts that look straight out of a vintage festival poster.
Genilson Santos
Genilson designs sleek display fonts from Bahia, Brazil. His heading-ready typefaces are full of flair and personality.
Studio 2am
This shop carries hyperrealistic textures to level up your designs. They focused on detailed effects that add an instant touch of vintage, distortion, personality, or hype depending on your project's desired feel.
Marie T
Maria Tokar describes herself as a "digital collage artist", blending aged, textured looks with monochrome, edgy palettes.
Craftwork
Craftwork is a small team of designers and front-end developers creating UX/UI tools, illustrations, and templates that will make your work faster and easier.
Julia Dreams
Julia Dreams is a freelance illustrator, surface pattern designer, and shop owner offering exceptional hand-drawn graphics. Her style has an organic feel with detailed lines, abstract shapes, and painterly textures. 
StudioWorks
Sean Thorenson, the shop owner behind StudioWorks, is an illustrative designer and design educator who specializes in vector illustration and type design. 
The Muza
Rodika Dovhei is a Moscow-based graphic designer inspired by film and fashion. Her social media templates strike a balance between nostalgic and modern feels.
Oksana Trygub
Freelancing from Ukraine, Oksana Trygub has a unique eye for pastel gradients and ethereal scenes that feel directly drawn from a dream. 
Mockup Cloud
From minimalist business cards to hyperrealistic cosmetic bottles, Mockup Cloud offers detailed mockups for discerning creative professionals.
Latinotype
Latinotype studio creates and distributes fresh fonts with offices in Santiago and Concepción, Chile. Inspired by Latin American ancestry, this team eats, sleeps, and breathes typeface design.
Dedraw Studio
This studio has a unique talent for whimsy characters and lighthearted color palettes, embracing a number of trends from retro illustrations to modern abstract shapes.
DD Design Studio
A lettering and illustration artist with a clear love for the 70s. Psychedelia, wildflowers, and patterns are all available in this groovy shop.
The Shop
The Shop, run by Simon Birky Hartmann, offers a well-considered collection of retro textures and hand-drawn elements.
Cosmic Stories Studio
Cosmic Stories draws inspiration from nature, playing with bold color palettes and eclectic accents. Especially interested in the sacred, tarot themes, and stellar shapes.
Felippe Cavalcanti
This Brazilian designer specializes on 19th-century aesthetics, crafting Procreate brushes and textures that feel handmade.
Want to access these design assets and more to make your design projects look professional and pleasing to the eye? Become a Creative Market member today. With a Creative Market membership, you can instantly download any of the offerings from the Drop — for free — which means $1000s of dollars worth of unique design assets.
Getting started with hand lettering?
Free lettering worksheets
Download these worksheets and start practicing with simple instructions and tracing exercises.
Download now!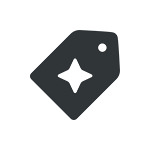 Creative Market