A Collection of Mountain Graphics for Outdoor Inspired Designs
Do you have a design project that centers on the great outdoors in general or mountains in particular? If so, we've got you covered. From quirky and minimal to beautifully realistic, shop owners around the world have created whole ranges of mountains that are just waiting for you!
Do you have a design project that centers on the great outdoors in general, or mountains in particular? If so, the graphic wizards at Creative Market have you covered. From quirky and minimal to beautifully realistic, shop owners around the world have created whole ranges of mountains that are just waiting for you! Here are 15 of the very best:
1. Call of Mountains Package
Irina at Creative Journey offers some playful line drawings of geometric mountain shapes in her Call of Mountains package. Each circular image includes a lighthearted sky feature, such as abstract snowflakes or a shooting star. Her outdoor graphics are available in black and white or in a simple color scheme, and one set features a textured background.
2. Watercolor Mountains
Watercolor Mountains, by Draw Wing Zen, offers an entire mountain range of realistic illustrations. Some of these mountain graphics are rendered in watercolor, with an Asian-inspired aesthetic. The palette is rich and somber, with teal highlights and black shadows. Other images in this set are sensitive line drawings, with and without shading. The raster and vector images are compatible with Photoshop and Adobe Illustrator.
3. Vintage Mountain Prints & Patterns
Icebergs are just floating mountains, right? At least, that's how they appear in the imaginative world of Barsrsind. The Vintage Mountain Print & Patterns collection offers four repeating patterns in two color schemes, suitable for any purpose from textile design to stationery or websites. Each seamless pattern is built on a repeating diamond-shaped image of a mountain peak atop a symmetrical underwater iceberg.
4. Mountains Map Set
How many times have you traced out the journey of your favorite story on a charming hand-drawn map? Mountains are only one of dozens of graphic elements in Vector Growing's fairy-tale map. His Mountains Map Set includes winsome trees, simple animals, and rural buildings — all in clean, simple line drawings that you can assemble into your own personal kingdom.
5. Mountains & Adventure Sketches
For sepia-toned realism, check out the Mountains & Adventure Sketches graphics package by Alex Rockheart. Serious artistic effort has gone into these realistic sketches of mountain scenes. You can practically hear the gurgling of the little creek, or see the eagles high over the carefully rendered peaks. The package includes 7 art prints with some additional adventure elements, and 5 different sketches of real-world mountains.
6. Mountain Lodge Frames
Sometimes mountain graphics are all the experience, rather than being a design feature in themselves. Kluge + Gran deliver the rustic aesthetic of mountain lodges in their handprinted watercolor Mountain Lodge Frames. Think antlers and twigs, with a few berries and evergreen fronds, surrounding your image or message. Twelve frames with transparent backgrounds are included in this package, in both layered psd and png file formats.
7. Mountains & Climbers Illustration Collection
Are you looking for outdoor graphics to inspire your audience to new heights of achievement? The Mountains & Climbers illustration collection may precisely fit the bill. Hand-drawn by artist Alyona in colored pencil, these intrepid climbers in retro costumes bravely fight the elements. Their efforts are set against a background of landscapes based on K2, the second-highest mountain in the world.
8. 5 Mountain Ranges – By Hand
How do you like your mountain ranges? Ghostly Pixels delivers five hand-drawn mountain scenes in three styles: woodcut, contour ink, and solidly shaded. Each image in the 5 Mountain Ranges – By Hand collection is fully isolated in dark grey on a transparent background.
9. Watercolor Mountains Illustration
One single stunning Watercolor Mountains illustration is on offer here from the Librebird studio. This geometric fantasy landscape is set against a star-filled indigo sky, with each mountain face rendered in flowing blues and purples. The delicate palette leads to a dream-like aesthetic, perfect for a range of creative projects.
10. Lumberjack Mountains Watercolors
Jumping from the dreamlike to the adorable, the lumberjacks in Watercolor Nomads' mountain graphics collection are downright huggable. The Lumberjack Mountains Watercolors collection also features "cuddly clouds" and snowcone-shaped mountains in charming seamless patterns. Check out this sweet set of photoshop elements and outdoor clip art.
11. Hand Drawn Zen Mountain Clipart
Carrie Stephens' Hand Drawn Zen Mountain Clip Art is an entire little mountain universe, made up of isolated images that you can combine. Loopy and whimsical, this collection includes appealing renditions of mountains, trees, clouds, moons, and much more. Offered in a new improved version which includes scalable vector images.
12. Vector Mountain Badges
If you're looking for mountain graphics that are sophisticated and professional-looking, you'll want to check out Vector Mountain Badges by kano07. The all-in-one logo-type designs have a slight vintage look, but they'd also be perfect for any contemporary purpose. The editable fonts make them customizable for your poster, logo, t-shirt or mug, and the stylish designs come in Vector AI, EPS and JPG files.
13. Mountain Shapes Bundle & Labels
Lots of choices are what you'll find in the Mountain Shapes Bundle & Labels collection. Jekson Graphics delivers 42 individual mountain silhouette shapes, along with three vintage adventure labels and a bonus t-shirt design. The images span a range of styles, from abstract peaks to realistic snow-covered slopes, all scalable to any size. Everything in the bundle is available in both normal and letterpress effect, contributing to the old-time design aesthetic.
14. Forest Mountain Vector Illustrations
Bea & Bloom's art style is soft and precise, standing out among the ranks of outdoor graphic art. Her delicately-sketched Forest Mountain Vector Illustrations include 16 different mountains and 43 tree and forest scenes, which can be easily combined for any print or online application.
15. Watercolour Fir Trees and Mountains
You'll get lost in the midst of Marie Dricot's dreamy landscapes and forests. Her Watercolour Fir Trees and Mountains are painted in a subtle naturalistic palette, and her birds seem to be half-hidden by wispy clouds. Five landscapes are included in this package, along with two backgrounds, three seamless patterns, and 29 individual clip art illustrations.
What will the idea of mountains say to your audience? The artistic styles in this collection are so varied that you can craft almost any message you can imagine. Whether you want to suggest rugged challenge, heartwarming coziness, or fairy-tale starlight, you'll find just the right package from one of these remarkable designers.
---
Products Seen In This Post: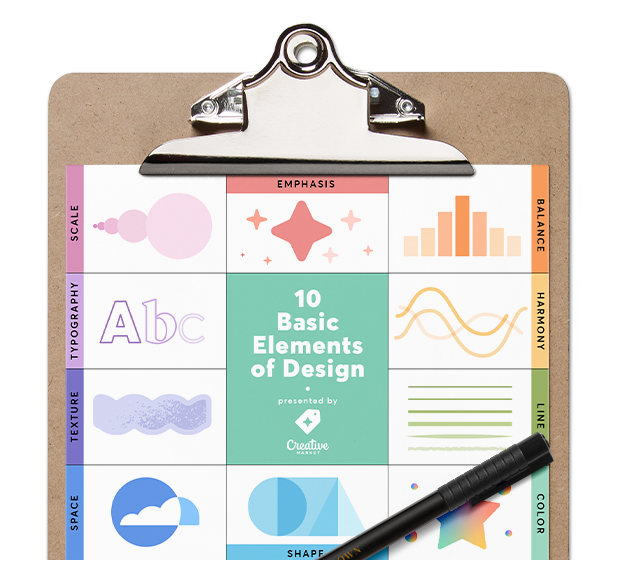 10 design fundamentals, summarized
Free Design Poster
Download this printable PDF poster and hang these 10 design principles on your favorite wall.
Get the file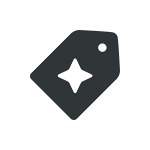 Creative Market