New Shop on the Block: Grey Lilac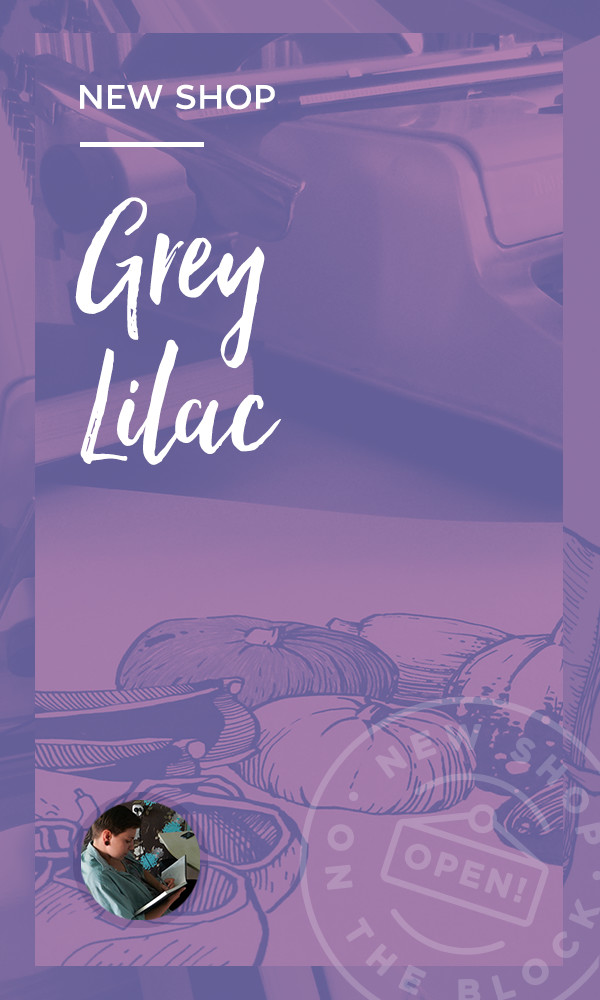 For Olga, art has always been a huge part of her. It is so deeply embedded that she doesn't remember a time when she didn't tinker with a drawing or not have an idea pop into her head. Although she is new to the Creative Market community and recently joined in August, her shop, Grey Lilac, has quickly become a great stop for beautiful graphics and templates with all sorts of designs. Today, we got the opportunity to speak with Olga and learn more about how she got started in the creative field.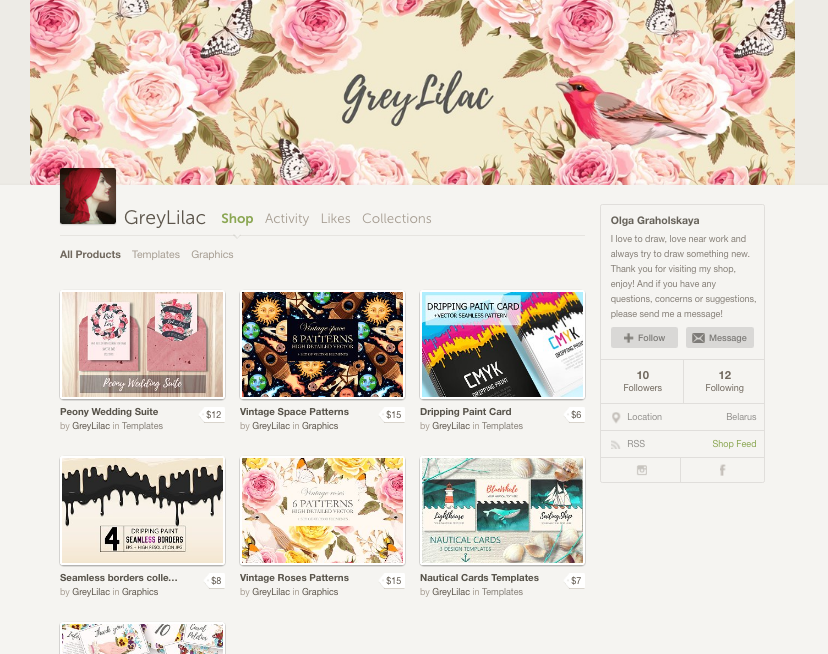 Can you start off by telling us a little bit about yourself and your story?
Hi, my name is Olga. I'm a Belarusian artist and designer who currently lives in Minsk. I'm fond of drawing, sketching, botany, vintage and drawing again—zombie movies, too. Since I'm an introvert, the greatest joy for me is to spend the day alone while reading or working.
How did your creative journey start? Is this a path you always knew was meant for you?
To tell you the truth, I don't remember when it all started for me. I think it has always been this way— to the point where I had no choice. I have a special relationship with creative work like one that I would have with an actual person with good and bad times. Despite how I feel about design, I'm still looking for my own unique style.
As an artist, were you self-taught or did you have a formal education?
My first memories are connected with drawing. My parents quickly noticed my inclination and sent me to an architectural and art school, which was such a wonderful and creative time in my life. After school, I studied at Belarusian State University in the Faculty of Design, so yes, I have a formal education. Frankly speaking, at university, I basically sat back and often missed my classes without a care in the world, so in reality, I began to learn only after graduation.
Out of everything you do, is there a specific medium that you like to focus on?
I like the process of drawing on paper, so I always start with it. I also enjoy drawing the details (everything, even little minor ones) in vector, so when I get into the zone, food and sleep are the last things on my mind.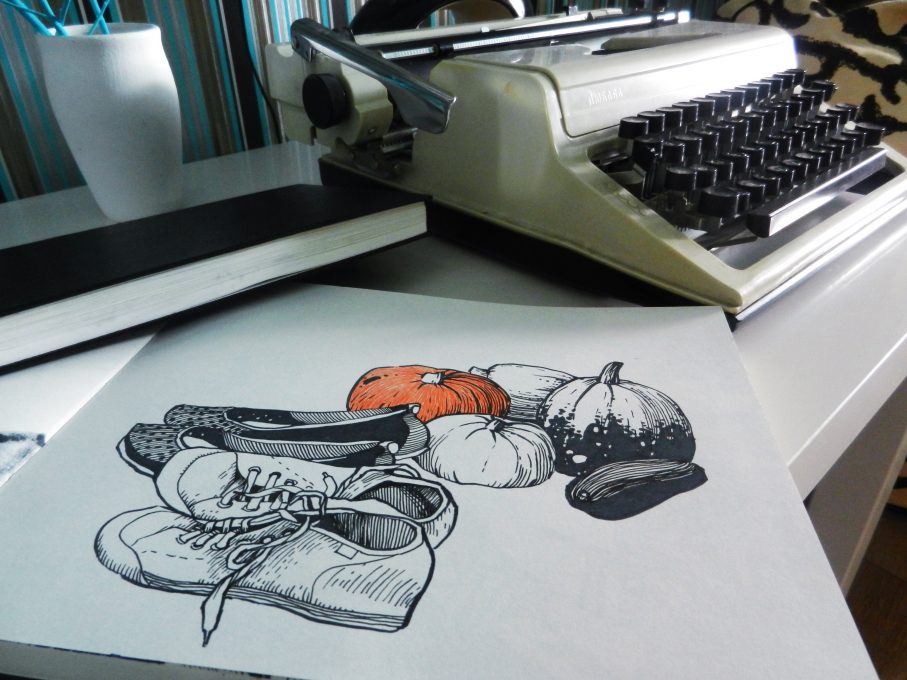 What's the inspiration behind your creativity?
I like traveling, especially through my country of Belarus because of how its beautiful scenary inspires me. I'm also endlessly in love with Van Gogh and the Japanese ukiyo-e art. A few contemporary artists that I look up to when I have a creative block are Daniel Danger and Simon Stalenhag. One of my favorite things to draw is flowers but a little bit old-fashioned in appearance because I want them to be like flowers from vintage postcards. Over the years, I have inherited a collection of such postcards from my mom and they mean a lot to me, so I want to translate that into my art.
What has contributed most to your growth as a creative?
The decision to quit my office job has definitely played a role in how much I've grown.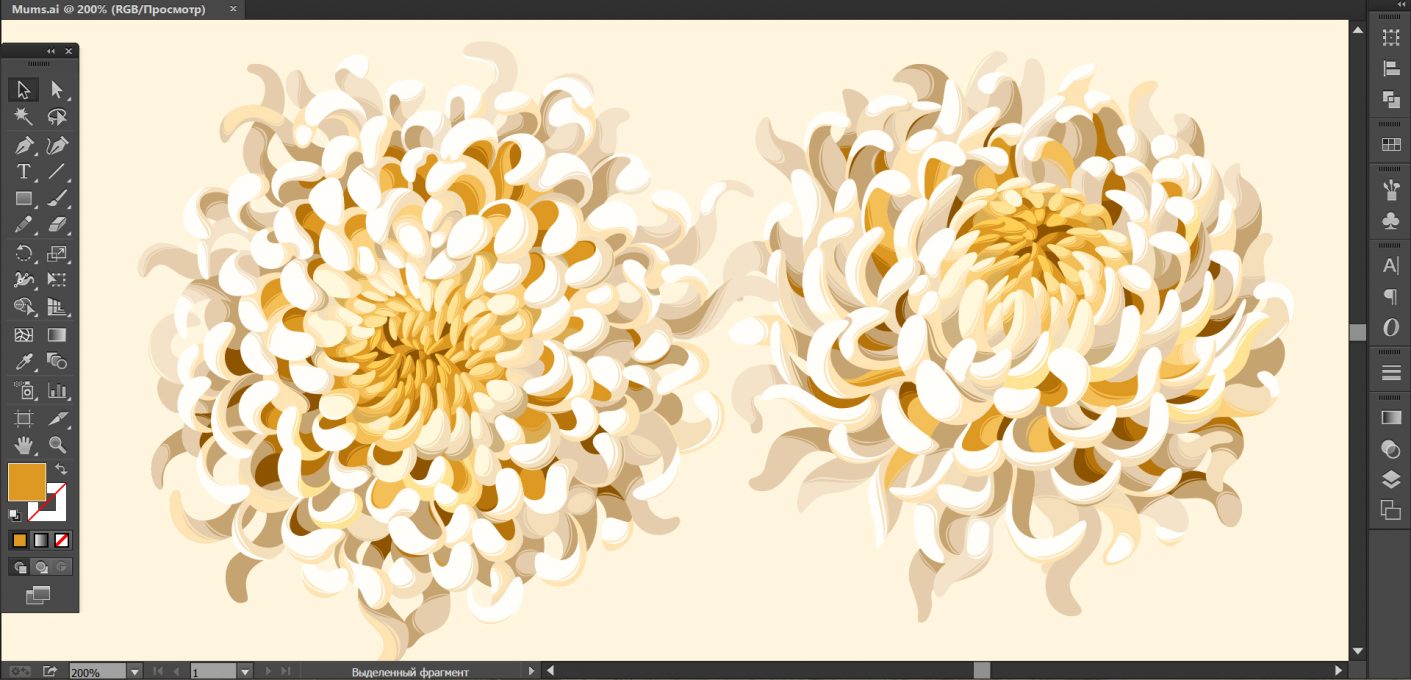 Can you explain the process that you go through when designing something?
This is a pretty complex question. Of course, it all starts an idea and image. If it came to me, I immediately run to write it down or sketch and what I'm doing at the moment wouldn't even matter. When the best idea is chosen, I break it into fragments to create different parts and make up the whole picture.
What's your most favorite project so far and why?
My favorite is Vintage Space Patterns because of how unique it is with mix of steampunk and astrology. It seems to be very original and really expresses my creative individuality, so I was extremely excited throughout the entire creation process.
What made you decide to take the leap and open a shop on Creative Market?
Early August marked a year since I work for myself as a stock illustrator. During this past year, I did a great job of learning about my capabilities, so naturally, I thought Creative Market is the next level-up for me.
What's your favorite thing about being a part of the Creative Market community? Have you found it beneficial to you?
From my first days on the Creative Market, I really liked the friendly atmosphere and the plethora talented people to learn from. There's also a huge amount of high-quality and beautiful designs, which I use as another source of inspiration for my work.

As a new shop owner, what do you hope to achieve on Creative Market?
My goal is simple. I  want to become a good shop owner with regular customers and high-quality designs, which ultimately depends on me and what I'm willing to do to reach this goal.
Do you have any exciting projects that are currently in the works?
Yes, I do! With autumn coming, the ukiyo-e has been a big inspiration for me. I'm in the process of preparing a collection of patterns with the Japanese chrysanthemums.

Looking back on your creative journey, is there anything you wish you could have done differently?
Absolutely not.
What's one piece of advice you would give to your younger self?
Decide what you want to do in your life then run with it.

Keep the conversation going!
This chat doesn't have to end here! Can you relate to Olga's creative journey or process? Did you learn something new? Chat with Olga in the comment section below. Products Seen in This Post:
Getting started with hand lettering?
Free lettering worksheets
Download these worksheets and start practicing with simple instructions and tracing exercises.
Download now!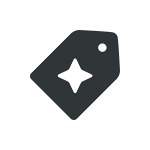 Creative Market