Project Apollo Unveils Over 8,000 Retro Photos From 1961 to 1975
One of man's greatest accomplishments was leaving the atmosphere, traveling in space, and ultimately, landing on the moon. The things that we were able to do with the same technology that is found in today's calculators, is simply amazing and inspiring.
Of course, back then, we didn't capture these monumental feats using a dSLR, but instead we used film. Enthusiast Kipp Teague, after years of researching and digging, has put together a Flickr album packed with over 8,000 photographs taken during the course of the Apollo space missions — 1961-1975. These photos are beyond belief and raw in their nature, as they're not all perfectly framed or in focus. But it's those types of images that show us exactly what it was like to be on the edge of the universe, tethered by a tiny hose. It's breathtaking in its depth.
We collected some of our favorites here, but go ahead and check out Project Apollo on Flickr for the whole shebang. It's totally worth it.
---
Kevin Whipps is a writer and editor based in Phoenix, Arizona. When he's not working on one of the many writing projects in his queue, he's designing stickers with his wife at Whipps Sticker Co.
Free lettering worksheets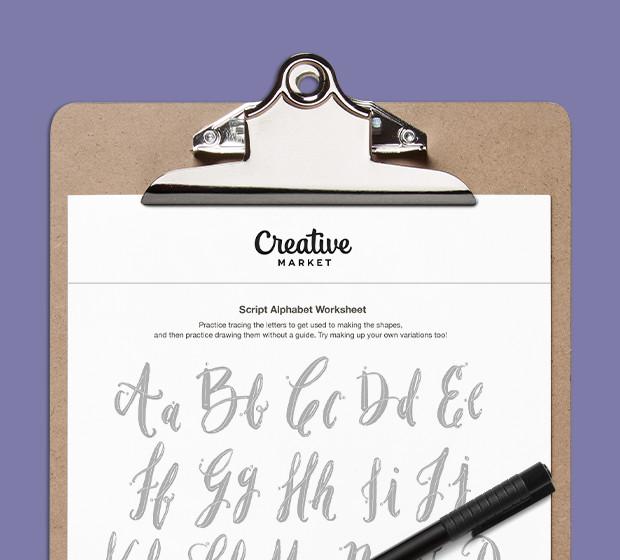 Download now!

Getting started with hand lettering?

Download these worksheets and start practicing with simple instructions and tracing exercises.
Download 6 Products for Free
Hi! My name is Kevin Whipps, and I'm a writer and editor based in Phoenix, Arizona. When I'm not working taking pictures of old cars and trucks, I'm either writing articles for Creative Market or hawking stickers at Whipps Sticker Co.
---