Résumé Tips for Designers
Back when I applied for my first design job out of college, I would lug around a large hard case full of mediocre printed design work and a résumé to interviews. It was hard work and to be honest, I had no clue what I was doing (except for the fact that I was trying very hard and failing a lot).
As students, we were told to be creative in how we visualized and packaged our résumé (which was a good intention), but I always had trouble doing that. I thought if the work was as good as it could be, and the résumé was professional, that was sufficient. However, the résumé is the leave-behind piece after the interview (along with any other creative leave-behind piece if you're ambitious; see here and here), so it's good to try to make a lasting impact with it.
So, if I had to give my younger self advice, I would tell myself to focus on the résumé content first, then design it with a tasteful, creative idea that was cohesive with my identity (I didn't do either of those things). I would have also told myself to build an amazing portfolio website, which was not emphasized in those days (hard to believe, but true).
The Current Field
These days, design is a very healthy industry to be working in! In 2010, the Bureau of Labor Statistics (BLS) published a review of the current number of design jobs: 280,000 graphic & web designers, 74,000 art directors, 66,000 animators, 300,000+ web developers and network architects. They speculated 9-15% growth for design and 22% growth for web development over the next 10 years!
With this in mind, let's take a look at how to create a compelling print and digital résumé to land an interview for that design job you'd really like.
Focus on the Content First
First and foremost, your résumé should be tailored towards your desired job type or industry in general. If you're trying to get hired as a digital designer, emphasize what coding languages you've learned, side passion projects you've created to experiment in interactive design, conferences you've attended, etc. Secondly, when you're applying to a specific employer, try to include language that aligns their job post requirements with your capabilities and experiences.
Aim for only 1-2 pages in length with these content areas:
Your Name & Details: Start with your identity and contact info at the top.
Qualification Summary: Open with an (optional) statement that shows them what your performance and passion can bring to their organization.
Education: Start with your collegiate education, then add on-going, continuing supplemental education, certifications, and related content.
Professional Work Experience: List jobs starting with most recent; use appropriate action verbs. Be specific and brief as you quantify your responsibilities and accomplishments. Include 'freelance' if you've been doing side projects for clients.
Skills: Provide technical skills first, followed by relevant creative hobbies and artistic skills that show you're passionate about direct or related interests.
References: It's fine to put 'available upon request' but be ready to provide them if they request it!
The Print Résumé
Like I mentioned earlier, design your print résumé as your key creative leave-behind piece. Keep it professional, but add in your 'creative voice' (tastefully). Since your website is the first thing a potential employer will see, create an unexpected creative design touch with the print résumé.
Start first and foremost with great type hierarchy. Make it easy to read and sift through by organizing it into clear sections. If it's difficult to read, you're likely to be passed up. If you need more inspiration or education on what makes good type hierarchy, browse these examples by Typekit, Smashing Magazine, and Thinking With Type.
Need a new font to design your résumé? Try these:
If you want to save time in building a new résumé, you can purchase and modify a print template. Alternatively, if you start from scratch and make a handsome-looking résumé, you could apply to open a shop to start selling it as a template on Creative Market too!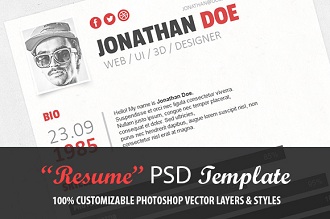 Looking for inspiration? Check out these creative print résumé round-ups to get the ideas flowing, then grab some of these recommended graphics to help you create a look to your résumé concept.
Inspired? Grab these patterns and textures to create a look for your unique résumé idea:
The Digital Résumé
In tandem with putting a great portfolio website of your work, you should think about integrating your résumé content online. Currently, there are two major approaches:
The Standard Page
This approach is your catch-all solution: build an html/css version of your resume as a page on your portfolio site. Don't just drop a print-ready 9 MB PDF on a page as it will take forever to load and potential employers will abandon your site. Your page could be called Hire Me, Résumé, or part of your About page, and it should include your full résumé details and a functional contact form or email address. You should also offer an optimized PDF version of your résumé to download.
The Employer-Targeted Page
This is a new approach that's been gaining popularity: custom tailor a unique single web page that targets a specific job and employer. Include why you think you'd be a good fit for the job and organization, your passions, your skills, and other unique content. Here are a few examples:
Don't know where to start? Grab one of these Creative Market website templates to help you get started building your single page, employer-targeted digital résumé:
Social Résumé
We've all heard of LinkedIn. In my mind, it's optional for a designer to use LinkedIn (but alright, I suppose, if they want to); rather, I would encourage designers to sign-up and use new platforms such as Zerply as their social résumé platform. You can give and receive positive reviews to/from your peers, post up your résumé and share key pieces from your portfolio. Zerply was designed with creative folks in mind, so give it a try. (It's also a good idea to be active on Twitter and regularly post to Dribbble too.)
I'd also recommend reading this resume post by the folks at Shopify too (via @samkap).
Now that you're all set, it's time to start the job hunt!
Where to Hunt for Design Jobs
While there are many job search sites out there, here are some of the best to hunt for design positions:
Best of luck!
Getting started with hand lettering?
Free lettering worksheets
Download these worksheets and start practicing with simple instructions and tracing exercises.
Download now!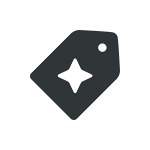 Creative Market