16 Retro Logo Design Ideas and Vintage Examples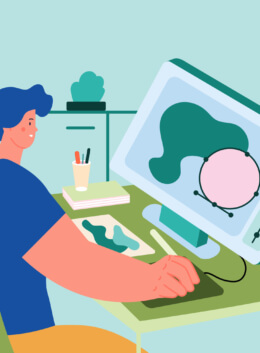 Whether you're a fan of retro pop culture or simply want to add a classic, nostalgic effect to your brand, we are here to give you some ideas on how you can use different design elements and create your own retro or vintage logo design.
How to Incorporate Retro Style Into Your Logo
By definition, retro means anything that imitates a style, fashion, or design from the recent past. Disco, trippy art, neon, and bright floral patterns — these are all characteristic of the 70s and 80s era, and even up to this date, we see these trends prevailing in modern music, fashion, and entertainment.
70s Retro Logo Designs
Aside from being a time of social, political, and environmental progress, the 70s flourished with iconic artists like Joni Mitchell, Elton John, Queen, and Led Zeppelin. It also introduced us to bell-bottoms, tie-dye, and other groovy fashion styles courtesy of the popularization of hippie counterculture, which also brought about psychedelia as an aesthetic.
Although the psychedelic subculture originated in San Francisco during the 60s, it remained dominant throughout the 70s. So if you want to achieve a 70s-themed logo, you can make use of psychedelic art and integrate rainbow colors, floral backgrounds, distorted or surreal visuals, and swirling patterns into your design.
Freeform typography also goes hand in hand with psychedelic design. Text in flowy and bubble or cloud-like shapes with curly ends and rounded edges were part of various works of art from album cover art to protest posters.
In contrast, geometrical avant-garde imagery and simple flat shapes in bold colors and repeating patterns were also popular design trends back then. These were often used as background art, home decor, and fabric design. You might want to lean in this direction if you want a more organized, cohesive-looking retro design for your own logo.
80s Retro Logo Designs
Meanwhile, the 80s marked a dramatic shift in trends and styles. Bold and extravagant looks were in and people made edgier, more rebellious fashion choices through big hairdos, eye-catching colors, and crazy patterns.
Star Wars, Back to the Future, E.T. — 80s pop culture was heavily influenced by modern technology and gave us the best sci-fi films that became instant cult classics, and the world continues to pay homage to this era with contemporary shows and movies like Stranger Things and Ready Player One.
Aside from retro-futurism, the cyberpunk genre also boomed in this decade, putting neon and techno designs in the mainstream.
Design-wise, gradients, chunky text effects, cosmic fonts, neon colors, and angular patterns will help you attain the main retro styles of the 80s vibe for your logo.
Tropical and art deco styles were also big 80s trends, and palm trees, sunsets, and pastels are design elements that can reproduce the 80s retro art style in your logo.
The Memphis Group or Memphis Milano was an Italian design and architecture group that was very prominent in the 80s, with the Memphis style being one of the most instantly recognizable design styles in the world.
It combines art deco and pop art with pastels, geometric shapes, linework, fun detailing, and asymmetry, which you can easily apply in your 80s-inspired logo.
Modern Retro Logo Designs
Going retro doesn't necessarily mean your logo has to look old-fashioned; you can replicate a retro design while giving a modern take to certain styles and elements.
Design patterns from the 70s, 80s, and 90s are a basis for modern style retro designs which feature decorative lines and a seamless mix of script and sans serif fonts.
Vintage Logo Designs
On the other hand, vintage is slightly older than retro, but not old enough to be antique. This is where you might consider going for neat, simple-looking, and even hand-drawn designs and neutral colors if you prefer a more vintage feel to your logo.
Vintage Logos from Famous Brands
To help you come up with a logo design that truly encapsulates what your brand is all about, here are a few famous brands with vintage logos to take inspiration from:
Apple's Retro Rainbow Logo
One of the things that probably contributed to Apple being a household name is its powerfully distinct logo. Apple's first logo in 1976 was an illustration depicting the law of gravity through an apple, and as you may well know, it didn't really stick. If you ask a random person what they think was the first Apple logo, they'll probably say it was this one:
Image source: Wikipedia
Created as a tribute to Apple II, the world's first computer with a color display, this bitten, rainbow-striped apple with a very retro look quickly became one of the most iconic logos in the world, and the rest is history.
The Very First Vintage Logo
Before the world-renowned three stripes logo, there was the spiked running shoe and two long ends of the letter "d" in the very first Adidas logo.
Image source: adidas-group.com
With only 47 employees, Adolf Dassler started a shoe company in 1949 that would become a global success — and this logo is proof of their humble beginnings.
The Retro Red and Blue Toyota Logo
Named after the founder, Sakichi Toyoda, Toyota was initially known as Toyoda. Their first logo was shaped like a diamond with the word "Toyoda" in sans serif bold.
Image source: vehlogo.com
Most logos from Japanese brands — Daiso and Uniqlo are classic examples — usually utilize simple design concepts, and this logo pretty much does the same with its vintage lettering and basic, vintage colours of blue and red.
Vintage Swoosh and Nike Logos
When Carolyn Davidson created the famous Swoosh logo in 1971, the only instruction she was given was to draw how motion would look like. This was her first design:
Image source: Wikipedia
The Nike typography and Swoosh symbol has evolved a lot since then, and the swoosh is so effective that the brand no longer includes its name in its ads; just this quintessential logo and their tagline, "Just Do It."
Retro Logo Designs You Can Use for Your Brand
With so many retro styles and designs to choose from, we have compiled for you some logo templates you can make your own and customize to fit your industry-specific branding needs:
Retro Car Logo Designs
Use these retro logos for your auto supply or repair shop.
Retro Diner Logo Designs
Go with vintage designs for your restaurant logo for a more classic look and feel.
Retro TV Logo Designs
Perfect for your production company, video rental store, or Youtube channel.
Retro Badge Logo Designs
You can never go wrong with a badge logo. The distinct circular, ovular, or triangular design, thick, defined lines, and bold and capital typeface will no doubt make your salon, café, or boutique logo stand out.
Retro Gaming Logo Designs
Make your gaming page or company more fun and interactive with an 80s retro-style logo.
Retro Fitness Logo Designs
Instantly add a touch of sophistication to your gym or fitness company with a vintage design for your logo.
And there you have it! We hope these retro and vintage logos gave you enough to start with.
If you need more ideas, tips, and inspiration, you can sign up here!
Getting started with hand lettering?
Free lettering worksheets
Download these worksheets and start practicing with simple instructions and tracing exercises.
Download now!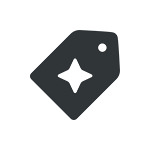 Creative Market