A New Way To See Product Launches and Promotions From Your Favorite Shops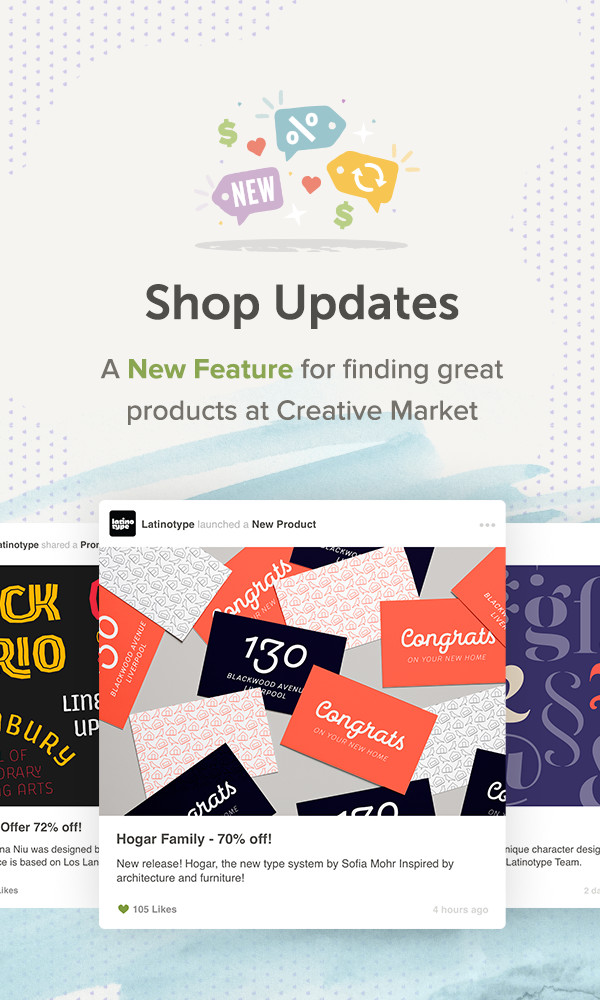 Creative Market shops are constantly releasing new products, updating existing products with great new features, and running promotions that save you money on amazing design resources. Wouldn't it be nice if there was one place to keep up on it all? Starting today, there is! Meet Shop Updates, a brand new feature that helps you stay in the loop on everything happening in your favorite shops.
---
Start by Following Your Favorite Shops
Shop Updates is a brand new, constantly updating feed that keeps you informed on what's happening with the shops that you follow. To follow a shop that you love, simply hover over their username and click the Follow button.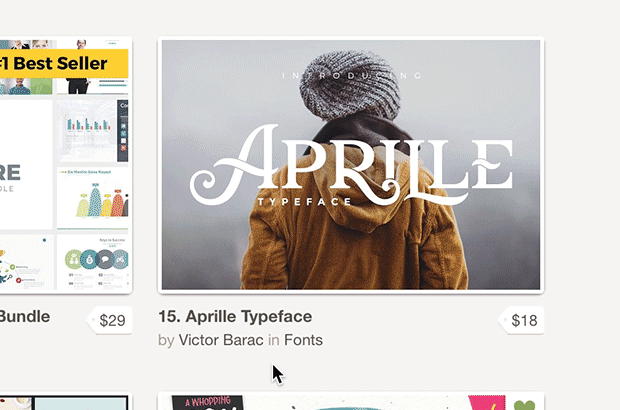 ---
Get The Inside Scoop on Great Products and Deals
The shops you follow will post brief updates to keep you informed on what's happening with their products. To see a quick peek of the latest posts, simply hover over the new Shop Updates icon in the navigation bar at the top of your screen: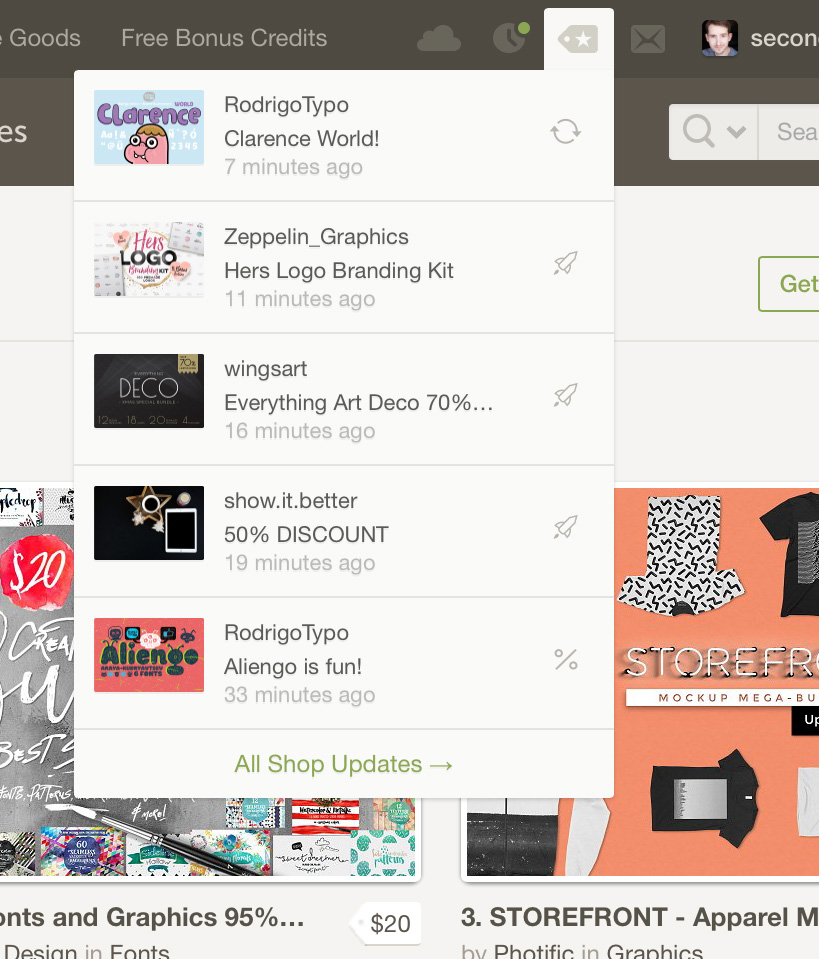 From here, you can click on any update that looks interesting, or click "All Shop Updates" to view the full Shop Updates Feed.
---
The Shop Updates Feed
The Shop Updates Feed is your new one-stop-shop for everything new and exciting from all your favorite shops. Stop by daily to see new products and catch great deals.
Each update is tied to a specific Creative Market product, to see that product, simply click on the update.
---
Make It Yours
The posts in the Shop Updates feed are 100% tailored to your individual tastes. If you don't like what you see, you can change it! You can unfollow any shop at any time or follow new shops to see more posts.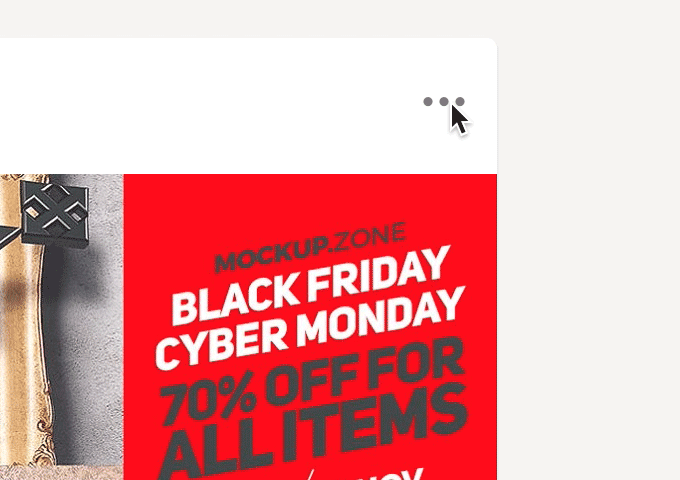 ---
Filtering Your Feed
There are three basic post types to look out for:
New Product Launches: The latest and greatest products from shops that you love
Promotions: Amazing deals, discounts, and more
Product Updates: Changes and upgrades to existing Creative Market products
If you're on the hunt for a specific type of post, you can quickly filter your feed at any time using the controls to the right of the feed.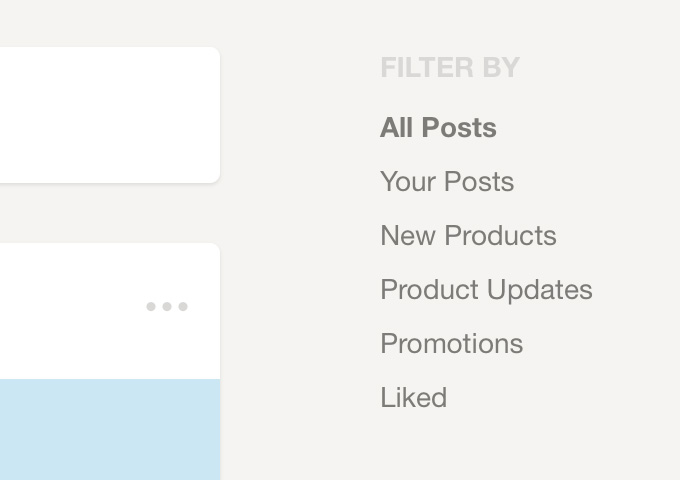 Notice that you can also quickly filter down to see only your liked posts. This makes it easy to save posts for later. Just like it and you'll be able to easily come back to it.
---
Posting As a Shop
If you're a Creative Market shop owner with at least one product for sale, you can post new Shop Updates at any time.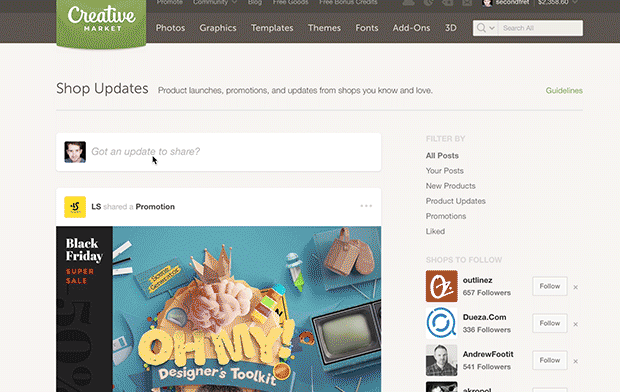 Posting an update is super easy. Just click the "Got an update to share?" bar at the top of the screen, add a post type, attach a product, and write a message to your followers. It's that simple. Each post you make will show up in the feed of everyone who follows you.
---
Check Back Daily for Great Deals and Updates
We're really excited to share this new feature with you and can't wait to see all the great updates from our talented shops. To get the most out of Shop Updates, make sure you follow all your favorite shops and check your feed daily to see all the latest posts.
Getting started with hand lettering?
Free lettering worksheets
Download these worksheets and start practicing with simple instructions and tracing exercises.
Download now!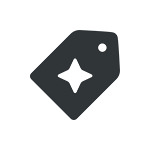 Creative Market