Should I Use WordPress, Tumblr, Blogger, or Squarespace for My Blog?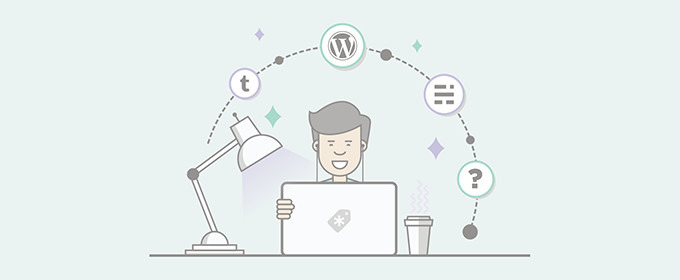 Choosing a blogging platform is a daunting task. Usually, by the time you're researching blogging platforms, you have a fire inside of you that just wants to start blogging—not spending a ton of time doing research about the technical aspects of the popular platforms available.
Luckily, there are some people out there who have tried every. single. blog. platform. who can help take some of the guesswork out of the process for you. Ahem, that's me. I've been blogging since about 2009 and have tried them all: WordPress.com, self-hosted WordPress (WordPress.org), Blogger, Tumblr, WordPress.org again, back to Blogger, over to Squarespace, etc.
Before you start to tinker around with your blog, you need to take a step back and ask yourself a few questions about your goals for your blog. But first, let's make sure you understand what a blogging platform is.
What is a blogging platform?
Most simply, a blogging platform is a place online where you write blog posts and publish them. The platform is a content management system that allows you to keep your blog posts organized for both you and your reader. If a blog is a cake, the icing is the design which beautifully covers the cake (your content)—and the cake stand is your blogging platform that holds it all up.
Specifically, a blog platform is a database that holds all of your post text, images, and blog pages organized. Depending on the platform, you can also organize your posts further with tags, categories, and/or labels.
Now you have a better idea of what a blogging platform can do for you. Let's stay at the 10,000 foot level and ask yourself some crucial questions about your blog.
Essential questions to ask yourself before signing up for a blogging platform
Take some time to think critically about these questions. Brainstorm, write things down, and sit on your answers for a little.
What types of posts will you publish?
First, let's talk about your content. What type of posts do you intend to publish? Are your posts going to be mostly, or only, text? Are your posts only going to be image-based? Or are you going to have a balance of text and images, and if so, what do you think the ratio will be?
For example, if you're starting a fashion or beauty blog, you may post multiple photos and only a few lines of text. On the other hand, if you're starting a technology tutorial blog, your posts are going to be more text-driven with few images.
And that's not even the limit of content these days: you need to think about videos, audio files, or micro-blogging, like only posting quotes from your favorite authors.
Thinking about your ongoing content can help you make some educated decisions about the desired design of your blog, and how the platforms available can handle it.
What's your budget for your blog?
Your blog platform can be 100% free, it can cost you hundreds of dollars per year, or it can be somewhere in between. Think about your budget and what you want to be able to contribute to it financially. Costs are generally ongoing, so it's important to think about the recurring cost of a young blog even when it may not be receiving a lot of traffic or engagement.
Some common costs include:
Blog hosting - the more powerful and customizable your blog platform, the more it's going to cost you. Free options are free, but are limited in terms of how much you can change them.
Domain registration - If you want your blog to have its own domain, like CreativeMarket.com, you need to shell out some money to register the name you want. You can attach your registered domain to any blog platform (even the free ones), and it can cost you anywhere from $1 to the median of about $15, and up, depending if you're trying to purchase a popular or hard-to-buy name.
Domain privacy - If you do register a domain, you need to think about if you want to have your personal contact information protected or not. That usually runs an additional $8 per year.
Blog design - A blog design can be free or thousands of dollars, depending on if you use the default template, do some DIY blog design, download a premade template, or hire a designer for a completely custom design solution. Each option has its ups and downs (and some blog platforms only allow for minimal design changes).
What sort of growth do you expect?
Planning ahead for your blog's future can be tricky, and sometimes you may find yourself outgrowing your previous platform. That's okay! You have to start somewhere. But by thinking about your goals now, you can help yourself avoid some messy add-ons and upgrades later in the game.
When you buy a house, you need to think about the potential growth of your family and your desired lifestyle. Choosing a blog platform is no different. It's a lot easier to settle in the first time than to move around a lot and risk things being broken or lost. Believe me, I've switched blogging platforms enough times to tell you it's not fun. C'mon. No one likes moving.
In terms of your blog, what do you want to be able to do and show? Is it going to be JUST a blog? Or do you also want to be able to host things like a portfolio, membership site, ecommerce platform, etc?
How tech-savvy are you, really?
How tech-savvy are you, or how much technical work do you want to put into your blog? Even if you're somewhat tech-savvy like me, you may just want to focus on creating content and not worrying about the nitty-gritty behind your posts. Or, you may love building your platform as much as you love writing content.
Do you want your blog to be up-and-running within a few seconds, a few minutes, or several hours? Do you want to feel like you put your entire being into your blog platform, or do you just want it to be move-in ready?
Think about your abilities and your desire to dig into code, and go from there. And just like design, if you want to have a flexible blogging platform but you aren't tech-savvy, you can always hire someone (and incur those additional costs).
Popular blogging platforms
Now that you're past some of the bigger questions, let's dig into some of the platforms available.
Tumblr
Tumblr is probably the most basic out of these blogging platforms, and is perfect for the less tech-savvy. It's intuitive and easy-to-use. The Tumblr model is based off of sharing, so if someone likes your post, it's easy for them to "re-blog" your post or like it. Other Tumblr users can easily follow you if they choose. The Tumblr apps are built for seamless Tumblr-to-Tumblr interaction.
Post formats: Tumblr is best for anything visual, especially photos, graphics, artwork, or video. You can also use it to publish text-based posts, but most Tumblr users like it for how it handles media.
Design: Tumblr blogs can be customized with CSS or by installing pre-designed templates like the ones below.
Growth: A Tumblr blog isn't very flexible. Sure, just about any blogging platform can be hacked, but as soon as you start forcing something to do what it wasn't meant to do, things can get messy. You won't be able to easily install a membership platform Also an important note: you still cannot easily batch-export your blog posts if you want to change platforms.
Cost:Tumblr is free. If you want to attach a domain to it, you only have to pay for the cost of domain registration.
Blogger
Blogger is another platform that's easy to set up and is also intuitive. It has a lot more wiggle room than Tumblr which is appealing to anyone who wants to get their hands dirty a bit more. The Blogger-to-Blogger interaction is available, but isn't as strong or engaging as Tumblr's in my experience.
Post formats: Blogger is typically used for more text-heavy posts, but also does images and embedded media well.
Design: Natively, Blogger offers a lot of customization options, especially with colors and fonts. If you want to go further, there are a ton of premade Blogger templates available from great designers. Just make sure to purchase a mobile-ready or responsive theme so you don't get docked SEO points by Google's recent mobile-geddon!
Growth: The Blogger platform allows for more growth than Tumblr. Here, you can set up multiple pages that are easy to maintain. Still, membership sites and ecommerce won't be easy to implement.
Cost: Blogger is free, and you'd only have to worry about domain registration.
WordPress.com
WordPress has a reputation for being a more professional-looking platform, whether it's WordPress.com or WordPress.org (self-hosted WordPress). However, there's a big difference between WordPress.com blogs and WordPress.org: WordPress.com blogs are similar to Tumblr and Blogger in that you can blog for free, and customization options are limited (think: no plug-ins!). Because WordPress.com blogs are easier to set up and easier to use, they also have their limits.
If you're focused on content creation, WordPress.com can be a great solution for you especially if you're looking for a more streamlined look and feel (over Blogger).
Post formats: Just like Blogger, you can have a range of post formats here. Posting in WordPress tends to feel a little more powerful, because you have the option to use categories and tags, as opposed to only labels in Blogger.
Design: Design and customization is my biggest struggling point with WordPress.com blogs. You have a limited ability to customize your blog's theme, and there are only a certain number of premade themes available.
Growth: WordPress.com blogs are just as powerful as Tumblr and Blogger platforms, meaning you can blog and maintain pages, but it can be hard to add more in-depth functionality. There are a handful of built-in plugins, but you're limited to those.
Cost: Like the others so far, WordPress.com is free, and you can register a domain for an additional cost.
WordPress.org
WordPress.org blogs, or self-hosted WordPress blogs, are one of the most popular blogging platforms for a reason. WordPress.org blogs outshine other platforms in terms of customizability and functionality. Yet those abilities come with a price tag&madsh;both financially and technologically.
It takes a lot of tech power to set up and maintain a WordPress.org blog properly.
Post formats: You can have a range of post formats. And with a few select plug-ins or PHP-savvy, you can have multiple "post" types to accommodate a number of different types of content, even beyond regular blog posts.
Design: The opportunities for design are limitless with WordPress.org blogs. There are countless amazing templates for WordPress, and it's easy to find a template that's almost there and tweak it further through the back end with PHP, HTML, CSS, and Javascript.
Growth: The sky's the limit here. A lot of membership sites and ecommerce sites are built on WordPress.org because it's so flexible. Because WordPress.org is popular, a lot of third party businesses work to plug in seamlessly to the platform.
Cost: You knew this was coming: WordPress.org blogs are significantly more expensive. Not only do you have to have a domain name (starting at about $15 per year), you also have to pay for a web hosting service like BlueHost or Hostgator (starting at about $100 per year).
Squarespace
Squarespace marries the best of the aforementioned blogging platforms in a beautiful way. It's easy-to-use and has a lot of build-in functionality (think beautiful portfolios and an integrated ecommerce platform). Squarespace isn't as powerful as self-hosted WordPress.org blogs, but its intuitive UI makes it easy for just about anyone to set up.
Post formats: You can do a lot with post formats here, and it's has more native intuitive functionality than other platforms. Plus, you can easily drag and drop sections of blog posts (like images, text blocks, galleries, and more) to arrange them how you want them to look.
Design: There are only a handful of Squarespace templates available, because they're all carefully built by the Squarespace team. Each template has opportunities for customization in the Design Style Editor, but you may feel a little limited with some templates.
Growth: Squarespace is powerful. But because it doesn't have a native membership platform, Squarespace isn't for everyone.
Cost: Squarespace is pricier than other platforms, but the costs are presented up front depending on the level of functionality and site size you need.
---
There you have it, a basic overview of Blogger, Tumblr, WordPress.com, WordPress.org, and Squarespace blogging platforms. I invite you to ask questions in the comments—because I've been on each platform for an extended period of time for various reasons (I even switched from WordPress.org to Blogger at one point…), I'd love to help you make your decision on what platform to use.
---
Jenn Coyle is a Philadelphia-based designer and illustrator who loves to create fonts and resources on Creative Market. She shares tutorials and inspiration for designers and creative entrepreneurs at Hello Brio Studio. Enroll in her free Photolettering course to learn how to add your handwriting and hand lettering to photos.
---
Products Seen In This Post:
Free lettering worksheets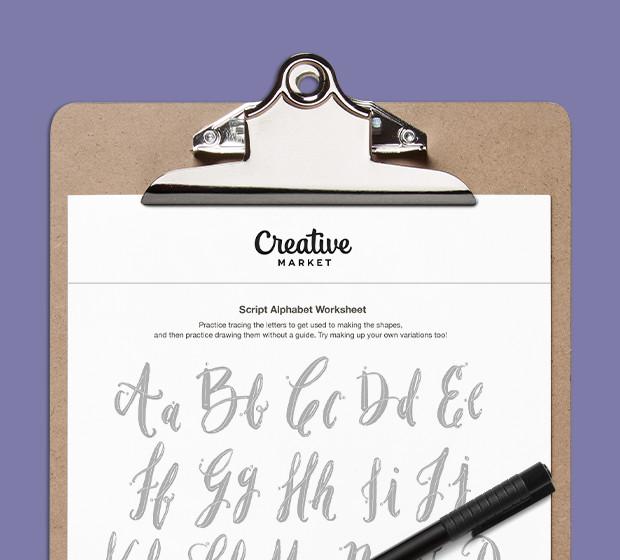 Download now!

Getting started with hand lettering?

Download these worksheets and start practicing with simple instructions and tracing exercises.
Philadelphia-based UI/UX designer. Blogger. Momma bear. Founder of Lettering League. ENFJ.