21 Simple Logo Design Ideas To Elevate Your Brand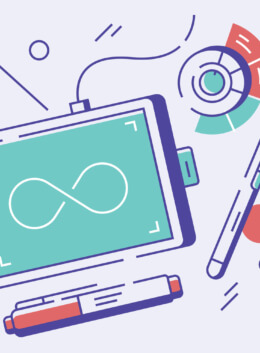 From the most recognized names in the world such as Apple, McDonald's, and Google to small companies and businesses in various fields, we have seen how a simple logo can truly change the way we perceive a certain brand.
Simple logos that use only the most essential elements are the most difficult to achieve but are often the most effective, which is what makes them very powerful.
If you are considering a simple logo for your brand, this article can help you learn about the benefits of having one, as well as provide you with ideas and inspiration to make your decision much easier.
Advantages of a Simple Logo Design
Simple logo designs leave a lasting effect on people. Ever wonder why most brands redesign their logos time and time again until they come up with the most simplified version of their logo? It's because a simple logo tends to stick with people.
Take the logo evolution of Starbucks, for example:
Image Source: Medium.com
If you compare their logo from 1971 with their logo now, you can really say that less is more. From an emblem logo that contains a complex illustration along with the brand name and tagline, Starbucks was able to streamline its logo through the years, using less and less colors, lines and text and ending up with a cleaner, more modern and well-defined version of the iconic siren symbol.
Aside from having the potential to be iconic, here are other advantages of a simple logo:
1. Simple Logos Are More Memorable.
Logos with a simple design are easier to remember. Even if you've only seen the Netflix logo once, you will probably be able to recognize it from that moment on. With just a quick glance, a simple logo easily grabs the viewer's attention and stays in the mind for good. If you want to stand out from your competitors, a simple logo can provide your target audience with an unforgettable image to connect with your brand.
Image Source: Wikipedia
2. Simple Logos Are Easy to Understand.
A simple logo conveys a clearer message to your target audience. When someone looks at a simple logo, they don't have to decipher a code or read between the lines or put too much thought into what the logo is trying to say because the meaning is readily there. By being able to easily understand your logo, people will also be able to quickly associate the right emotions to your brand. A great example is Target's bull's-eye symbol, which has a very basic concept that people can easily interpret and regard positively.

Image Source: hfndigital
3. Simple Logos Are More Versatile.
Whether it will be used in print or online, a simple logo design can easily be adapted for any purpose. It can be scaled up or down, placed on any background, or recreated without losing its quality, readability, and impact. Simple design elements also help create a consistent look for your brand, which is vital if you want to build a strong brand identity. Coca-Cola's logo, which has been reproduced on various packaging in different shapes, sizes and colors, is a prime example of the versatility of a simple logo design.

Image Source: packaging-gateway.com
4. Simple Logos Are Hard to Imitate.
Complicated logos can easily be replicated because it would be difficult to tell which details have been altered or remade. But with a simple logo, changing or removing any line, shape or color would create an entirely new one altogether. Just imagine another brand modifying and then using this famous logo as their own. They surely won't be taken seriously as Nike already owns that symbol, no matter how it looks like. In addition, a company might face legal issues when they do that.
Image Source: Wikipedia
Simple Logo Ideas for Your Business
Now, this is the part where you get that logo design inspiration you've been looking for to start creating your own. Make history with the perfect logo for your brand using these simple logo designs for every type of business.
Company Logo Ideas
This simple icon with a strong design can perfectly suit a trading, logistics, or technology company. Using the symbol below for your logo can give people the impression that your brand provides prompt, dependable services that aim to increase quality or sales over time.
Meanwhile, by using only a few simple lines, this design successfully translated the concept of connectivity and communication into a logo that people will easily understand, which is something your telecommunication company could use:
For a modern logo design, geometric shapes can give your logo a simple yet creative look. They establish symmetry and balance and symbolize organization and efficiency. If you want a company logo that embodies those qualities, then this is the one you're looking for:
Real Estate Logo Ideas
If you want an elegant-looking logo, this real estate logo by ThemeDevisers gave the traditional house icon a modern take and added a unique touch by using a sans serif font with varied weights.
If you're in commercial real estate, this template with dominant, towering buildings has the makings of an iconic logo design that is a perfect example of powerful branding.
Or if you want to convey the hard work and passion that goes into building your customers' dream home, then this abstract logo of two hands creating the shape of a house is the one you're looking for.
Boutique Logo Ideas
Using simple line art, this boutique logo bundle can help you create a stylish logo for your clothing store.
With this logo bundle, you can create a sophisticated logo for your boutique using this particular set that makes use of simple paint swashes and attractive typography.
If you want a simple badge logo with a vintage design and remarkable typography for your outdoor apparel store, you can customize this logo design to fit your brand:
Landscaping Logo Ideas
Mountains represent strength and stability; and along with a nature-inspired color palette, this template can help you create a relevant and visually appealing logo that will make your landscaping firm stand out:
Using only three basic shapes, this logo design was able to create an abstract grass scenery, which is the kind of landscaping logo that can make your brand instantly recognizable.
Meanwhile, if you want to portray the beauty of nature in your landscaping logo, then this creative logo template is perfect for your firm.
Restaurant Logo Ideas
This simple restaurant logo design with a retro vibe is proof that good typography can make any logo stand out.
On the other hand, a simple vintage logo like this one can give your steak house a very homey look and feel.
Like the Apple or Target logo, this logo design is a great example of how you can attach the name and image of an object to your brand for stronger brand recognition.
Cleaning Services Logo Ideas
Achieve a professional look for your cleaning company logo with these creative logo designs. If you want your logo to be seen as cool, clean, or refreshing, then you might want to use colors that represent those things, like how these logo templates used the colors blue and green:
Salon Logo Ideas
This logo template bundle that features line art of women's hair and faces can help you create a stylish yet minimalist logo that will definitely appeal to the average female customer.
Meanwhile, this elegant logo design is perfect for a salon with a high-end market. Circles symbolize perfection and flawlessness, and using them in your logo means that your salon can offer the same things.
Travel Agency Logo Ideas
Here's another example of a logo with the effective use of simple lines. Add the tiny airplane shape to complete the design and you've got a totally unique logo that will surely attract travelers.
Finally, this template was able to portray navigation and exploration in a single icon, which shows how a simple logo design can communicate so much meaning.
Sign up here for more logo design inspiration and tips!
Getting started with hand lettering?
Free lettering worksheets
Download these worksheets and start practicing with simple instructions and tracing exercises.
Download now!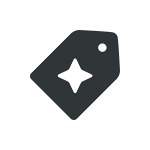 Creative Market