30 Spring Fonts That Are Perfect for Easter Designs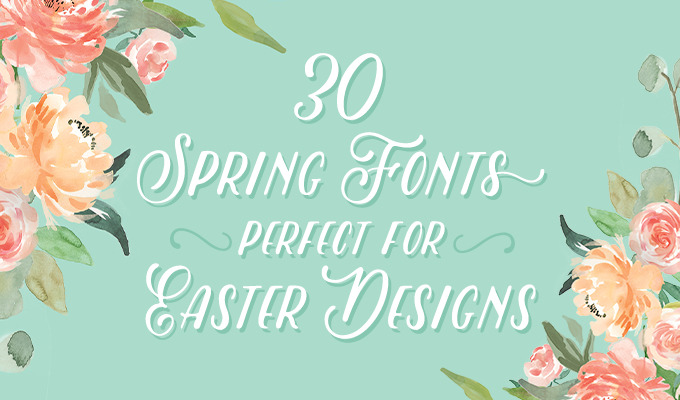 Spring is here, and so are flower buds, Easter egg hunts, and warmer days. As the colors around us start changing, we can't wait to bring that same vibrance to our designs. To help you bring your next project to life, we have created a roundup of the best Spring fonts in the marketplace. Reminiscent of flowers, gardens, and playful days out, these fonts can add a touch of excitement to print designs, websites, packaging, branding, and invitations.
On to the script fonts
Mojito features a hand-lettered look, bouncy letters and a ton of playful vector extras to add a touch of fun to your Spring designs.
Condensed and detailed, Paper Daisy is perfect for design compositions that recreate everyday handwriting.
Vigneta plays well with watercolor effects, and is a great fit for projects that need to communicate romance, friendship, and joy.
Adeline is rugged, casual, and bold. It works great for accents, quotes, and photo overlays that need to stand out against busy photo backgrounds.
If you're looking for a calligraphy font that isn't precisely pixel-perfect, but more natural in its appeal, Levitte is a great option. The family includes delicate alternates and a free ornament font to complement your script text.
Imperfect, playful and retro-inspired, Jungle Cat includes tons of vector flowers and bouquets that make it the perfect choice for Spring invitations and posters.
Inspired by vintage ads and movie posters, Fairy Tales brings an ethereal, joyful feel to design compositions of all types. The family's OpenType features make it incredibly easy to build interesting headings and logos. To top it off, you also get 10 free hand-drawn vector animals.
Marina evokes that hand-drawn chalk aesthetic paired with the flexibility of a condensed font family. Inspired by sailing, it would be an ideal complement for invitations, restaurant menus, and collateral pieces for the hospitality industry.
Lulo's main strength is that it is extremely versatile. It comes in 10 variants that are not necessarily based on weight: some of the alternatives you get are outlined and 3D versions of the font that help you layer visually interesting headings.
There couldn't possibly be a better name for Wanderlust. Hand painted and bouncy, this font family makes messages flow beautifully while evoking an artisanal feel.
Fontaholics is a font lover's paradise. Its 10 variants include fun fonts like La Fiesta, Strawberry Frosting, and Bear Hugs. To help you create striking Spring-themed designs, Fontaholics includes 40 watercolor papers, 14 hand-drawn overlays, and 100 wobbly-edged vectors. Like I said, paradise!
Willow Bloom's baseline dances to create a graceful letter arrangement. Use it to add a touch of romance and naivety to your projects.
Afecta shines for many reasons, but its elegant swashes are what truly make it stand out among other script fonts. The font family is beautifully complemented by alternate glyphs and a free vector pack.
If Miss Magnolia was a real person, she'd probably be baking pie for that new neighbor. This font family is reminiscent of Southern charm, and is perfect for greeting cards, branding projects, and stationery design.
Look no further than Minty March to add a touch of freshness to your Spring-themed designs. This condensed serif pairs well with script fonts and remains very legible at small sizes.
Southern Belle would probably drink tea with Miss Magnolia above. Inspired by Southern blossoms, the font includes delicate extras to build airy logos and invitations.
Polished and modern, this font family by Callie Hegstrom features 80 ligatures and alternates to create that genuine hand-written feel.
April Blossom makes a strong visual impact with its bold weight and playful character. Created by the same designer behind Minty March, this font family is ideal for overlay accents and quotes.
If you want to evoke Spring without going the script font route, try Firebox. This feel-good slab serif adds a retro touch without losing its vibrant personality.
Dry ink, modern character, and a lively baseline. Silverberry is an ideal choice for branding and stationery projects.
Woolen is a delicate and fresh serif inspired by a 1641 type specimen. It was hand inked, and Magpie Paper Works (the shop behind it) describes the family as "warm and historical without being too trendy."
Spring calls for ice cream and Creamsicle celebrates it. Light-hearted and playful, this font works well for bold headlines.
Ian Barnard used a vintage chinagraph pencil to create this rugged, chalky font family. Sticky Lollipop is a great resource to bring a hand-drawn feel to your compositions.
With over 100 different glyphs, Willow stands well on its own. Try it if you need a thick, curly, and artisanal font for a design project.
Summerica is truly a toolkit full of joy. It evokes the happiness of a classic Summer in America: ice cream, beaches, and that much-needed dose of sunshine.
A list of Spring fonts wouldn't be complete without this Easter-inspired family. The pack includes 33 fonts in total with tons of swashes, ligatures, catchwords, and contextual alternates.
Grootland was inspired by chunks of wood in the forests of Aceh in Indonesia. It includes regular and italic variants, as well as a bonus icon set.
While the Gardenia script font is elegant and unique, this font's Blooms variant is absolutely stellar. It includes 90 hand-drawn floral ornaments that are a great complement for the organic feel of the main script font.
Aptly named Swirly, this bundle includes 4 popular fonts with elegant swirls: Secret Garden, Annabella, Lettres Douces, and Starstruck.
This textured, flexible font family includes regular, line, element, dingbat, and word variants that allow for fun layering experiments.
---
Products Seen In This Post:
Download 6 Products for Free
Brand strategist. Creating design tools to empower creative entrepreneurs. Author of the Lean Branding book. MA in Design Management from the Savannah College of Art and Design (SCAD).