Stylish Fonts to Replace All Your Boring Ones

Arial and Georgia top the list of fonts used on prominent websites – and a long list of smaller ones as well. But along with the ubiquitous Times New Roman and a few others, these fonts are also among the most hated by designers for their generic character and lack of differentiation. Though they're available just about everywhere and do their job of making information easy to read, they're boring at best, and dated at worst. But you don't have to settle for the same old fonts that don't have much to contribute to your site's distinctive character. Instead, replace them with custom fonts that echo their basic features – but with a lot more style. Beyond simply conveying information, a custom font brings its own character to your site, supporting your message and brand in many subtle ways. A heavier stroke, a more rounded letterform or a blend of features can add elegance and a new energy to simple serif or sans serif fonts — and more impact to your text. Helvetica alternatives, fonts similar to Times New Roman and stylish new takes on other common fonts are available from sites like Creative Market. Here's a list of stylish and sophisticated font alternatives to Arial, Times, and those other old standbys.
1. Articulat, an alternative to Arial
Topping the list of Arial alternatives, Articulat is a versatile sans serif font family that, like Arial, can be used for headlines, body text, and titles. But the Articulat font family is built on a combination of round and geometric shapes that give all its styles a more contoured profile and weightier appearance than the Arial family of fonts. Articulat supports a long list of languages as well as features for advanced typography.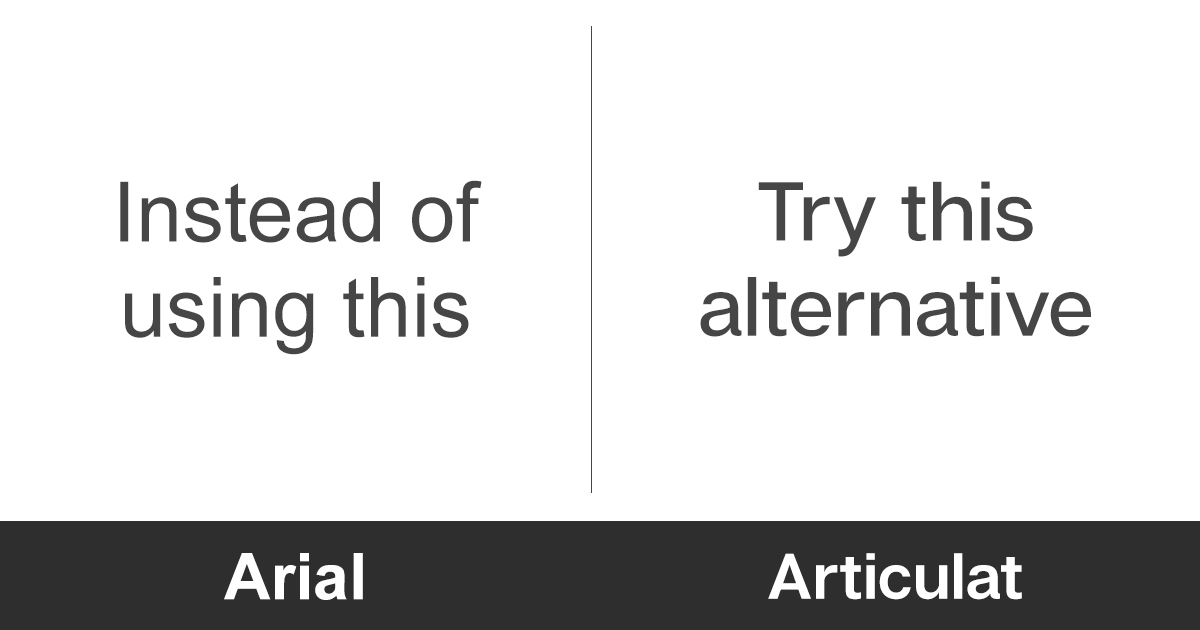 2. Gauthier Next, an alternative to Times New Roman
In all its forms, the Times New Roman family of fonts dominates the web. But Gauthier Next is also an easy-to-read serif font with more stylish touches. Inspired by Renaissance typefaces, Gauthier is an old-style serif font that is also completely modern and suitable for both headlines and body text. Its art-inspired Italic form and elegant small caps provide one of the most sophisticated Times New Roman alternatives.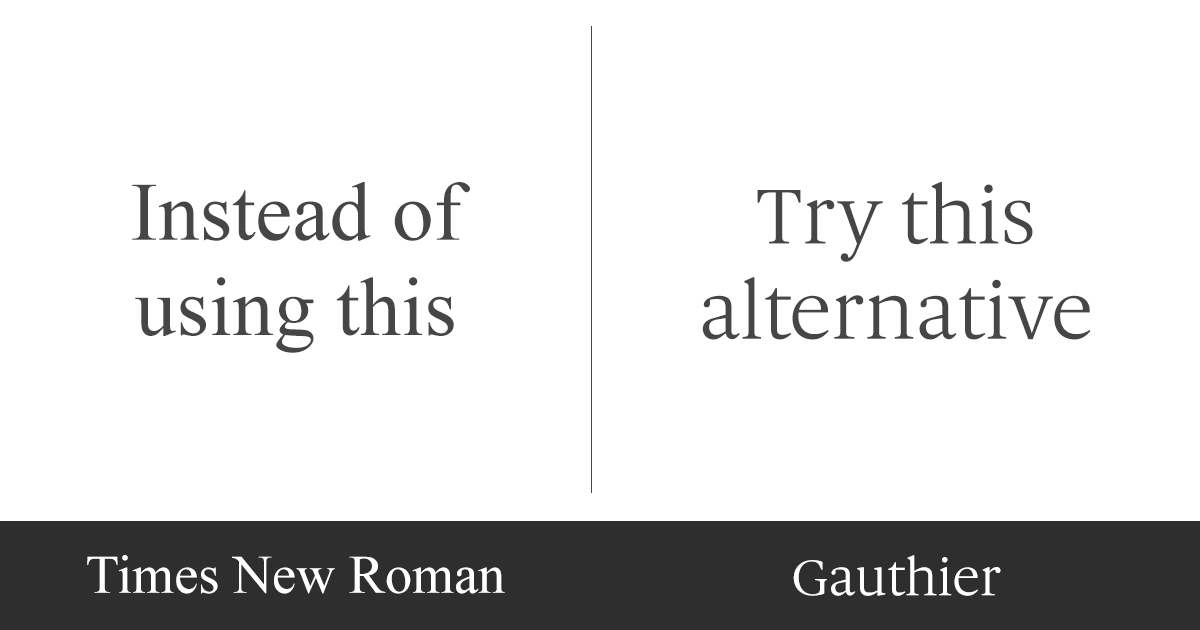 3. Cartograph, an alternative to Courier
A visually-appealing alternative to Courier, the Cartograph CF font family includes 32 typewriter-style fonts. Like Courier, Cartograph echoes the functionality and styling of typewriters and the terminals of an earlier age, updated with a modern sensibility. Unlike the Courier family, though, Cartograph features both monospace and proportional versions and a set of typewriter-style small caps for eye-catching emphasis.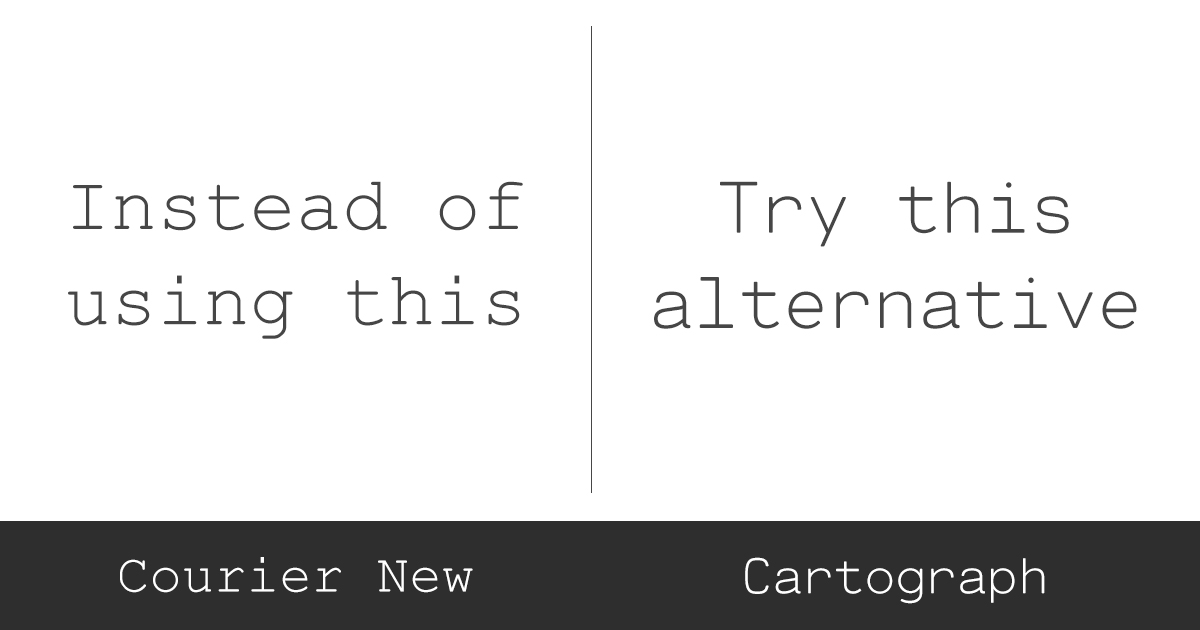 4. Radnika, an alternative to Verdana
Radnika leads the list of alternatives to Verdana. Radnika is a strong sans-serif typeface that echoes Verdana's rounded lines but with more weight and expressiveness. Combining features of the bold and expressive typefaces of the 19th century with their finer and more contoured counterparts of the 20th century, the Radnika family has 18 fonts in six styles for both headline and body text.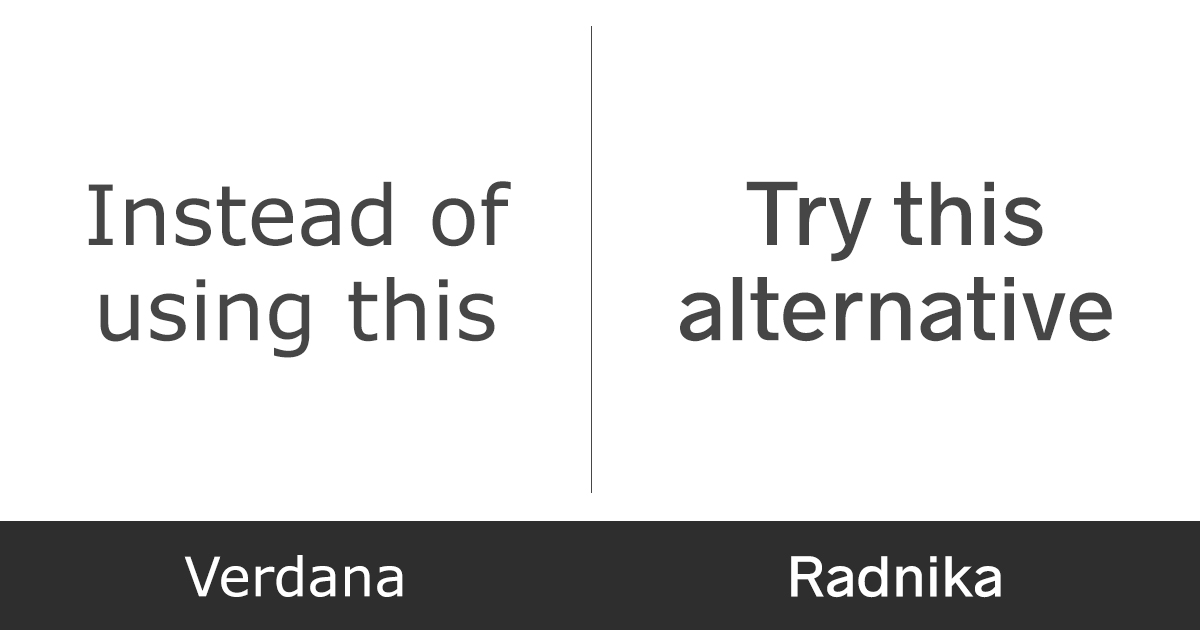 5. Quincy CF, an alternative to Georgia
Like Georgia, Quincy CF is a serif font family with rounded contours, but Quincy CF features a flowing style that gives it a warmer feel for easy reading. The letterforms in the Quincy CF family are more rounded and bolder than Georgia, a subtle difference that adds interest in both body text and headline displays. The Quincy CF family of fonts has five weights, plus italics and OpenType features for use anywhere.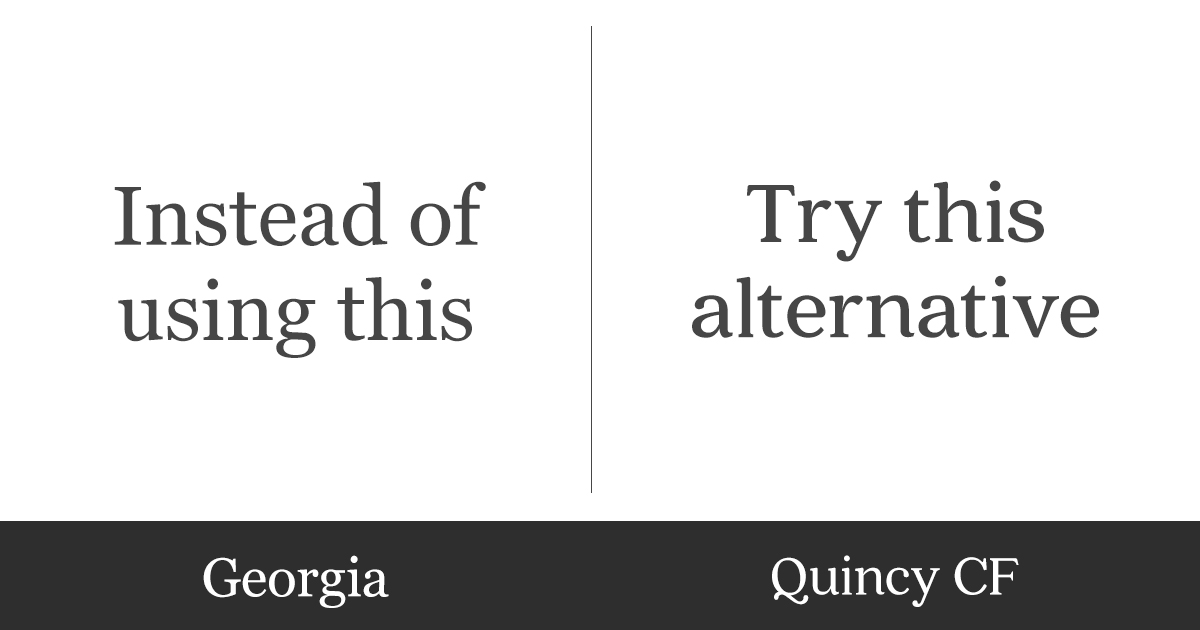 6. Kapra, an alternative to Impact
Impact may not top the list of most overused fonts on the web, but it does appear in many headlines. A unique alternative, the Kapra font family, has a distinctly European feel inspired by Eastern European magazine headers from the 1960s and 1970s. With tall, bold capitals and heavy, sans serif lowercase characters, Kapra comes in eight versions and replaces Impact with a stylish, strong alternative that draws the eye in both headlines and body text.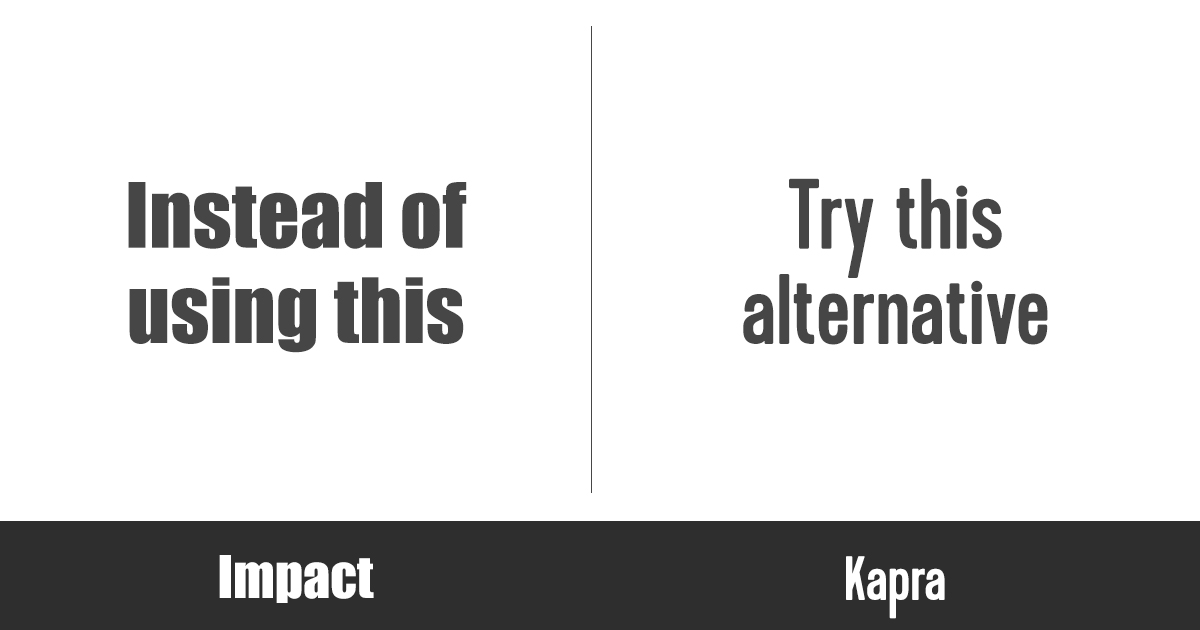 7. Fibon Neue, an alternative to Trebuchet
A stylish take on the features of Trebuchet, Fibon Neue is a contemporary sans-serif family of fonts featuring smooth, rounded characters and a range of styles from light to heavy. Available in both Regular and Round styles, Fibon Neue is a curvy, dynamic font family that, like Trebuchet, works well for both headline displays and body text, but with subtle shape variations that add interest.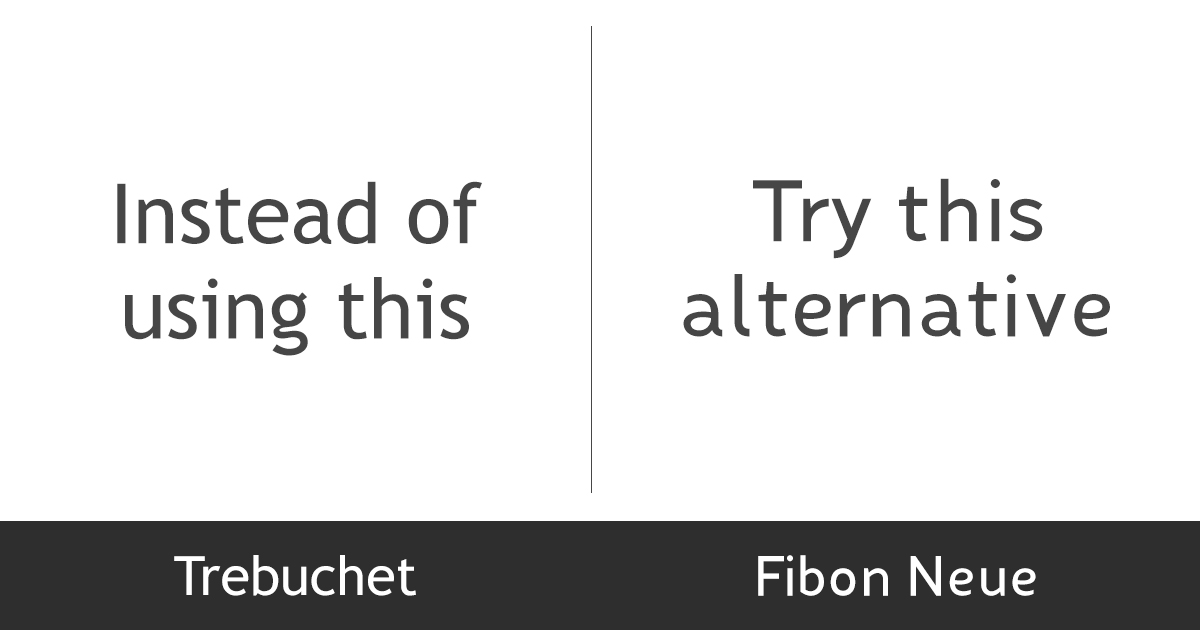 8. Basic Sans, an alternative to Tahoma
Basic Sans, a family of 28 sans-serif fonts, is a stylish alternative to Tahoma. As neutral and versatile as Tahoma, it has a range of details that set it apart. With seven weights ranging from thin to black, Basic Sans is a rounded font suitable for uses ranging from text to headlines, posters, and type overlays on photographs.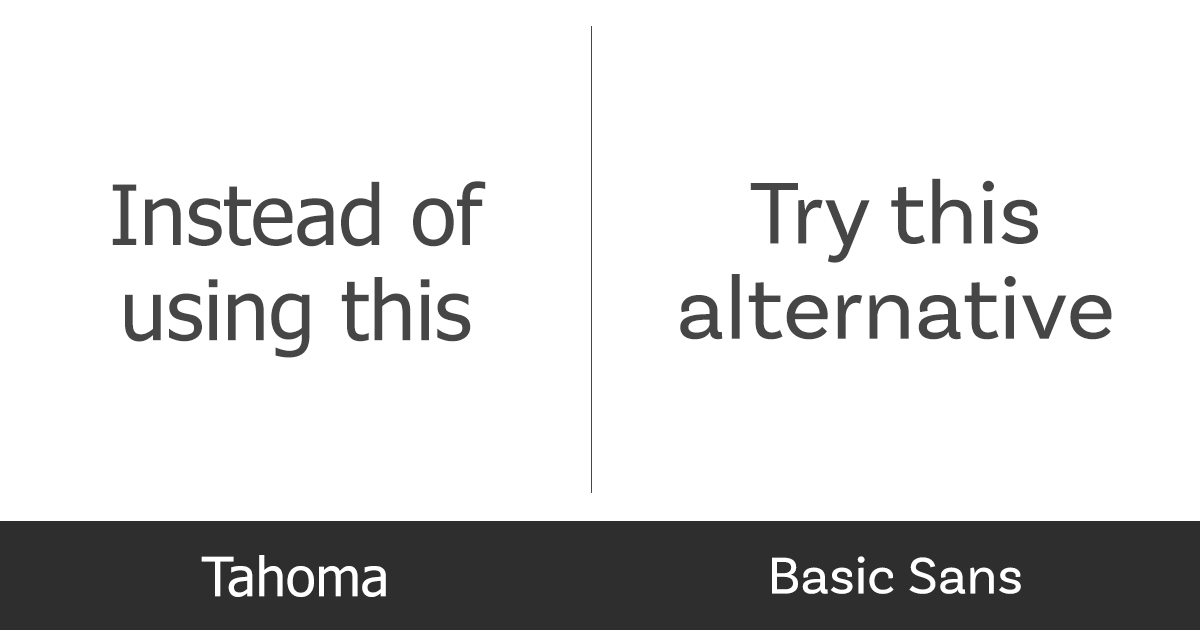 9. Visby CF, an alternative to Century Gothic
Visby CF is a clean, sans-serif font family that features rounded letters combined with sharp-edged lines for a distinctive silhouette. One of the most versatile alternatives to Century Gothic, the Visby font family has eight weights and creates strong headlines as well as clear paragraph text for use in a variety of settings.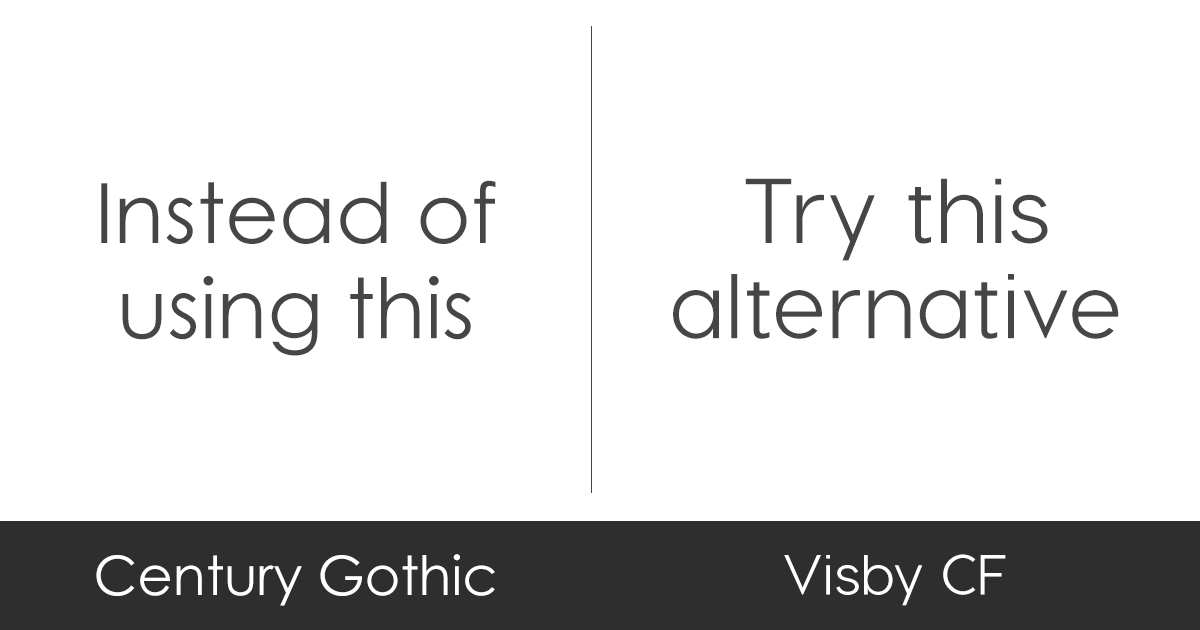 10. Venti, an alternative to Calibri
Echoing Calibri's rounded sans-serif lines but with added detailing, Venti is a readable, versatile font family featuring rounded letters and a touch of imperfection. Including small caps, seven weights and a number of OpenType features, the fonts of the Venti family can be used for headers, texts, quotations, and other publishing projects.
It's been said that typography is 95 percent of design, and smart font choices that break from the tried-and-true can showcase your brand in a whole new light.
Pin it for later!

---
Products Seen In This Post: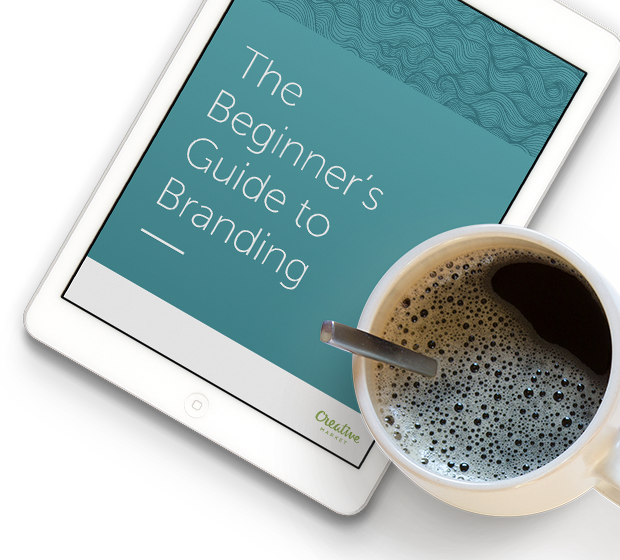 Free Beginner's Guide to Branding
Designing your own brand?
A fun, friendly, FREE guide to build a stellar brand identity.
Download now!
Laura Busche
Brand strategist. Creating design tools to empower creative entrepreneurs. Author of the Lean Branding book. MA in Design Management from the Savannah College of Art and Design (SCAD).
View More Posts