The Ten Greatest Logos of the Last Fifty Years!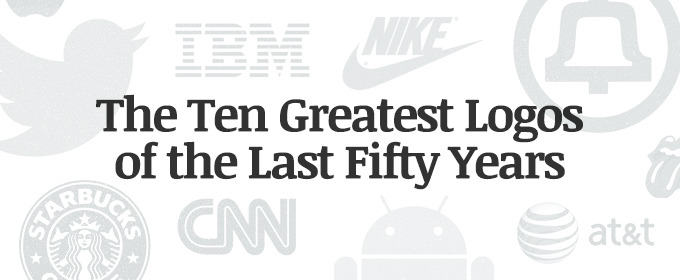 Here are arguably the ten greatest logos designed and marketed in the last fifty years, or, at least, ten that should be on anyone's "best of" list. Criteria, beyond being examples of brilliant design, include initial market impact, "awareness" factor, rise of revenue under their branding, lifespan, and influence on corporate design trends.
Moving from the late 1960's forward, here's the A-list with links:
---
IBM
Unleashed in 1967, with a modest revise in 1972, this logo was created by designer Paul Rand in the early sixties but rejected due to printing concerns. Those concerns abated by the late sixties, beginning the reign of a visual icon that is still in use today.
This logo had an immediate impact, and is probably one of the five most recognized logos on the planet.
---
Bell Telephone
Created by designer Saul Bass in 1969, this logo ushered in a new wave of graphic simplicity and directness in corporate identity. This image became as familiar as one's face in a mirror, and Bell grew into a titan in telecom. This logo ran until 1984, when Bell became AT&T and hired Bass to design its new logo. (see AT&T below)
---
Nike
The Nike "swoosh," or "check," is one of the most well-known images in the world. Introduced in 1971 by the athletic shoe and clothing manufacturer, and often accompanied by the 4-letter "Nike" logotype and the company's classic tagline "Just do it," this is corporate identity of Herculean proportions. Nike has provided inspiration for athletes the world over.
---
Starbucks
Also in 1971, Starbuck's distinctive logo was born, inspired by a mermaid siren of Greek mythology fame. This mythical siren was alluring and irresistible, just as Starbucks' coffee seems to be. Patterned after a 15th century Norse woodcut, this design helped turn Starbucks into a multi-million dollar caffeine conglomerate.
---
The Rolling Stones
Three logos in this elite group were created in 1971. The third entry is the pop culture visage for the "corporation" known as the Rolling Stones. Arguably rock's greatest band, the Stones were born in 1962, but didn't adopt this iconic image until '71. And iconic it is, as well recognized and slam bang connected with a brand as any logo ever created.
---
Apple
Perhaps the image that best represents the merging of traditional design with modern technology is the "byte of the apple" logo of Steve Jobs' Apple (Mac) corporation. It fell from its tree and into human consciousness in 1976, and the rest is financial and corporate history unbridled in our times. The original rainbow design was "updated" in 1998.
---
CNN
Ted Turner's groundbreaking Cable News Network was founded in 1980, and the networks durable logo was created that same year. This modern, typographic design, with a "cable" running through it, is a heavyweight of visual communication for media, hitting home runs on all counts: revenue, awareness, influence, et al.
---
AT&T
Designed by Saul Bass in 1984, this logo is nearly as iconic as its Bell Telephone predecessor, also designed by Bass. When asked to design a new logo that would put to bed his Bell classic, what did Bass do for an encore? Only design another landmark graphic that lived until 2005, when it was revised by Interbrand.
---
Twitter
Fast-forwarding us to the 21st century is the logo for Twitter, the social media giant. This logo is actually two designs, a graphic of a tweeting bird, and a lower-case "t" in a graphic block. The original bird was found in a stock photo bank in 2006! It was redesigned in 2012.
---
Android
Created in 2007, the Android "little green robot" is rapidly becoming one of the most familiar images on Earth, known to both grade-schoolers and grandparents. It was created by the Google design team when Google prepared to endorse the Android software platform for mobile devices. Their only instruction? "It should involve a robot." Robot power is upon us!
For more on great logos, go to: http://famouslogos.net/
Free lettering worksheets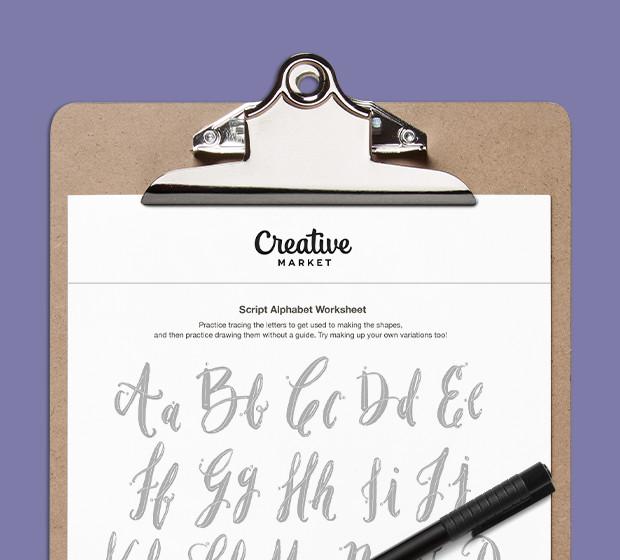 Download now!

Getting started with hand lettering?

Download these worksheets and start practicing with simple instructions and tracing exercises.
Download 6 Products for Free
Making beautiful design simple & accessible to all.
---