To Resolve Project: Creative Wallpaper Challenge
As we get closer to breaking for the holidays, some designers may have a little extra breathing room as their client projects are wrapping up. So, if that's the case for you, then we've got a fun little side project that's worth your attention before the end of the year.
For the past 2 years, Chris Streger has been hosting what he calls the To Resolve Project — a site that asks designers to create a digital wallpaper for their New Year's Resolution each year. You can browse the current submissions and you can see Chris' favorites from 2011 too. A couple of our favorites are below:
Enter the Challenge, Win Free Credits
In order to help us help Chris celebrate his 3rd year of this project, we're asking you to participate by grabbing one or more of your favorite Creative Market resources, downloading the iPhone 5 template on Chris' site, and start working on your New Year's Resolution!
After your creation is done, follow these two steps:
1) Submit your wallpaper to: To Resolve Project by emailing your submission for Chris to review and potentially feature on his site.
2) Submit your wallpaper to: Creative Market by leaving a comment in this blog post with a link for us to see your amazing wallpaper creation! Be sure to let us know in your comment which product(s) you used too!
The deadline for entries to our challenge is January 1st. After New Years, we'll announce our favorites and award each winner $25 in Creative Market credits, as well as one of our ridiculously comfortable Creative Market t-shirts.
We recommend looking at Fonts, Illustrations, and Textures as useful options for adding one or more Creative Market resources to your illustrated wallpaper creation. Here are some of our picks that could help you put together a stellar wallpaper:
This is a great opportunity for designers to take a moment to think about what they want to change about their process, work, and life in 2013. We hope you find the time and inspiration to join us in participating. Happy holidays, folks!
Getting started with hand lettering?
Free lettering worksheets
Download these worksheets and start practicing with simple instructions and tracing exercises.
Download now!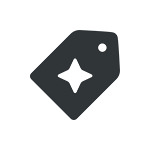 Creative Market