Discover Toile Patterns: Subtle Romanticism à la Française
Toile patterns are traditional, French-inspired designs and fabrics that have been popular since the 18th century. Here's an in-depth look at this romantic design trend.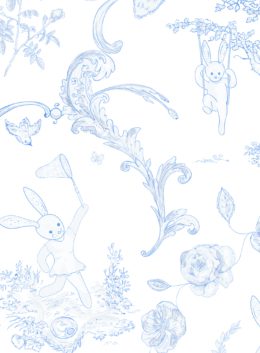 Connoisseurs of fine textures may have heard of toile, the French fabric, and visual pattern of the same name. Toile patterns are renowned for their sophistication and tradition, as they bring French flair and charm into your interiors. They're also well-suited for all sorts of graphic design projects that require visual and color-based textures.
With motifs ranging from simple patterns and illustrations to more elaborate iconography and composition, designs on this fabric are a feast for your eyes. They add an ideal touch of French romanticism to your work, bestowing timeless elegance and tradition to your ideas.
Also known as toile de Jouy—which means "cloth from joy" from the French town of its origin—this visual texture is historical in nature. However, this traditional style has morphed into a multi-colored cornucopia that has spread to other cultural representations over the centuries.
Once you discover the possibilities of working with this design trend, you'll grow your creativity by leaps and bounds.
Where Toile Patterns Came From
The word's roots are French, where it can refer to either linen cloth or the actual canvas on which you paint, draw, or design. Over the centuries, the meaning of this word has come to embody both the actual material as well as the decorative art that's printed on the fabric itself. An ancient word when we look at its etymology, it entered the English language back in the 12th century.
In spite of its usage in the English language for almost 1000 years, this fabric and texture only became popular in the late 18th century. Of course, since then, it's been a mainstay in graphic design, fashion houses, and interiors (think window valances, as one example).
Exclusively as a fabric, toile was manufactured in Ireland in the mid-18th century. Shortly thereafter, this decorative pattern became more well-known and in-demand in France and Britain. By the late 18th century, we start to see the use of another interchangeable term for this fabric and pattern: Toile de Jouy. If you translate this phrase to its most literal ends, it means "cloth from Jouy-en-Josas," a town found in the southwest Parisian suburbs.
We essentially have one man to thank for patterns like this taking off the way they did in the Industrial Age: Christophe-Philippe Oberkampf. He was a German industrialist who emigrated to France in 1760 and later became a naturalized French citizen. His legacy is his founding of the royal manufacture of the printed cotton from the aforementioned Jouy-en-Josas; this is important because toile de Jouy was eventually manufactured there.
Settling in Jouy-en-Josas in 1760, he originally partnered with the Swiss to establish a manufacture for kinds of cotton that were printed with engraved wood boards. By May of that year, he succeeded in printing off the first fabrics. Growth of his operations was quick: In 1764, he expanded his factory to 18,000 square meters. By 1774, he employed almost 1000 workers who produced these pieces of cotton.
In 1770, he was the beneficiary of a novel, technical improvement in the manufacturing process that allowed his factory to increase this fabric's production exponentially. The earlier, engraved wooden boards were replaced with engraved copper plates, yet these were flexible and could be placed on cylindrical drums. As a result, the production of toile in the town had entered the era of mechanization.
By 1806, Oberkampf even won a gold medal at an industrial fair held at the famed Louvre museum, a recognition of his role in manufacturing this exquisite cloth.
Another important figure in this fabric pattern's history is Jean-Baptiste Huet, a French designer, engraver, and painter. He was famous for pastoral landscapes of animals drawn in the Rococo style.
However, one of his main contributions to the decorative arts was his collaboration with Oberkampf on toile patterns. At Oberkampf's manufacture of this fabric in Jouy-en-Josas, Huet created scenic vignettes that were meant to be printed by copperplate on the cotton fabrics. Huet was also highly regarded for his other illustrations—such as ink and wash drawings and portraits of children and animals—featured in the toile produced during that time.
While it was definitely a European invention and first gained steam across the pond, it also impacted the U.S. During the time of the Colonial Era in the U.S.—also in the late 18th century—toile patterns were in fashion stateside. Today, these patterns are still associated with historical places such as Colonial Williamsburg.
Interestingly, this linen cloth and its associated textures have been more popular at different points in U.S. history. For example, in the 1930s, when Colonial Williamsburg saw an upswing in popularity, so did these patterns. And, in the 1970s, when the U.S. bicentennial was celebrated, this surface decoration experienced renewed popularity as well.
Let's fast-forward all the way to the present: In the 200-plus years since its emergence as a design movement, prints with this fabric and pattern have continued to be produced in great numbers. Interestingly, it was again at the dawn of the 21st century that this visual style experienced its most recent renewed interest and upswing in popularity. You could even say that designing with toile de Jouy is more popular today than during its heyday in the late 18th century.
In fact, venture into the right home-décor shop in a fashion district or mall or score an invitation to a happening party today, and you'll probably see a significant number of these patterns adorning the walls. There's literally an endless range of uses of this style for interiors, and imaginative graphic designers will have no shortage of ideas to incorporate toile patterns into their projects.
The Design Characteristics of Toile
It would be tempting to write off these patterns as historical or antiquated, but that wouldn't square with reality because of their pop culture's longevity at various points in the last few centuries. Therefore, more accurate descriptions of these designs are words like "timeless" and "adaptable." They have been in demand in the Industrial Age, the Colonial Era in the U.S., the Great Depression of the 1930s, the bicentennial of the 1970s, and now our Internet Age in the 21st century.
Clearly, there's something within these patterns—their aesthetics and composition—that have endeared them to generations of people on different continents across the centuries. Another remarkable aspect is that, with a few exceptions here and there, these patterns' design qualities have largely remained intact over hundreds of years. We want to dig deep and identify what exactly makes textures like these so appealing:
The use of white or off-white backgrounds
Repeating patterns
Very complicated and busy drawings, illustrations, and scenes
The presence of pastoral (involving flowers, landscapes, couples, and animals) themes, which depict country and rural environments like shepherds tending sheep in open, unspoiled areas (usually intended for urban audiences who can't easily get to the country)
The use of cotton, muslin (plain-weave cotton fabric, common to the U.S.), or linen fabrics
Basic though striking colors for maximum effect (whereas earlier toile patterns featured colors like magenta, blue, red, green, black, and brown, contemporary colors come from all areas of the color wheel)
An association with fabrics—such as upholstery, chintz, and curtains) and wallpaper
Penetration into ceramics like teapots and home goods like bedding
Adoption, especially in the U.S. and northern Europe, into clothing such as aprons and dresses
Appearance in social events like tea parties and country-themed parties
The Uses of Toile in the Modern World
You'll find that interior design has taken advantage of this style for a plethora of uses in the home. Depending on your proclivities, you can add some toile de Jouy to your interiors today, ranging from upholstery and window treatments to wallpaper, dishware, and bedding.
Using these interiors patterns, you can create a shabby chic vibe or even a French country feel in your living space.
Let's have a look in more detail at each use case:
Upholstery – Patterns of this nature can be found on sofas, pillows, chairs, and any other upholstered furnishings.
Walls – Take a look around the walls in your home, and you may find that they're an ideal candidate for some toile patterns. Thanks to the repeating patterns, you can construct an appealing accent wall if you have a neutral space. Interestingly, using this pattern on interiors' walls was popularized by the French monarchy when Louis XVI and Marie Antoinette popularized this as their decorating style.
Dishware – If you have an old tea set, you may want to give it the once over because you'll likely see colorful pastoral scenes depicted, much like the nature scenes frequently displayed on delt blue pottery. These French textures are still used quite frequently in modern-day fine China sets.
Bedding – Head into a bedding store, and you'll see many toile designs all over items like canopy covers, duvets, and bedsheets.
Windows – As mentioned earlier, window valances are a time-honored use of this pattern, dating back to its earliest inceptions. Curtains are also popular places where these designs show up.
Attire – You'd be surprised at how many types of clothing these days still display visual texture that harkens back to the world of the late 18th century. Depending on which special clothing store you visit, you can find this pattern on aprons, robes, shirts, and gowns, to name a few.
Toile Patterns in Graphic Design
More graphic designers have been featuring toile patterns in their creations, reflecting classical appreciation and a nod to this design trend's continued popularity. Let's run down some exceptional graphics that are inspired by these visual textures. Here are some of our favorites:
Toile. Patterns
Here's a collection that especially highlights the traditional feel and nature of this style, with its hand-drawn patterns. The set features tropical motifs (indicating how this approach's classical themes have grown beyond the pure pastoral designs of centuries past) mingled into the classic etching prints.
All told, you get five seamless patterns and three color-choice options. There's a multitude of uses for a set like this, which you can incorporate into a myriad of creative projects, including:
Branding projects
Packaging design
Wallpapers
Wrapping paper
Fashion apparel
Textiles
Printables
If you're searching for a set to add some Parisian and colonial flair into your designs, then this collection will easily do the trick.
Toile de Jouy – Bunnies on Picnic
This is a great example of a digital asset that holds true to the tradition with which toile was imagined. Respecting the design trend's pastoral sensibilities, this graphic depicts the quintessential scenes of nature and animals that you would have seen on linen cloths of this type if you had been around in the late 18th century.
With a stark but simple composition and drawings, this illustration uses white space and a monochromatic approach to emphasize flora and fauna in the scene.
It's compatible with Adobe Photoshop and Illustrator and is available in EPS and JPG file types.
Toile de Jouy
Here's another sample of what's possible in graphic design when you work with this visual texture. A hand-drawn pattern set, this graphic also focuses on the more traditional theme of this aesthetic, albeit with a more exotic twist than what you would have seen during colonial times. Featuring flora and fauna aplenty, it depicts wild animals alongside tropical foliage. Its hand-drawn aspect really epitomizes the classic and old-school feel of this design trend.
The uses of this digital asset are almost endless and include:
Package design
Branding
Stationery
Wedding invites
Blog design
It is compatible with both Adobe Photoshop and Illustrator and is available in PNG, EPS, and JPG file types.
Toile Patterns in Interior Design
As we've been talking about throughout the whole post, this style is popular in the home. Here's a quick roundup of some standout examples of toile from around the web.
French-Style Toile Chair
You'll find this pattern in quite a few samples of upholstery. In this example, we have the pattern on its fabric of the same name, as part of a French reproduction-style chair. Here, you see the use of one of the traditional colors, blue, upholstery, and very typical pastoral scenes.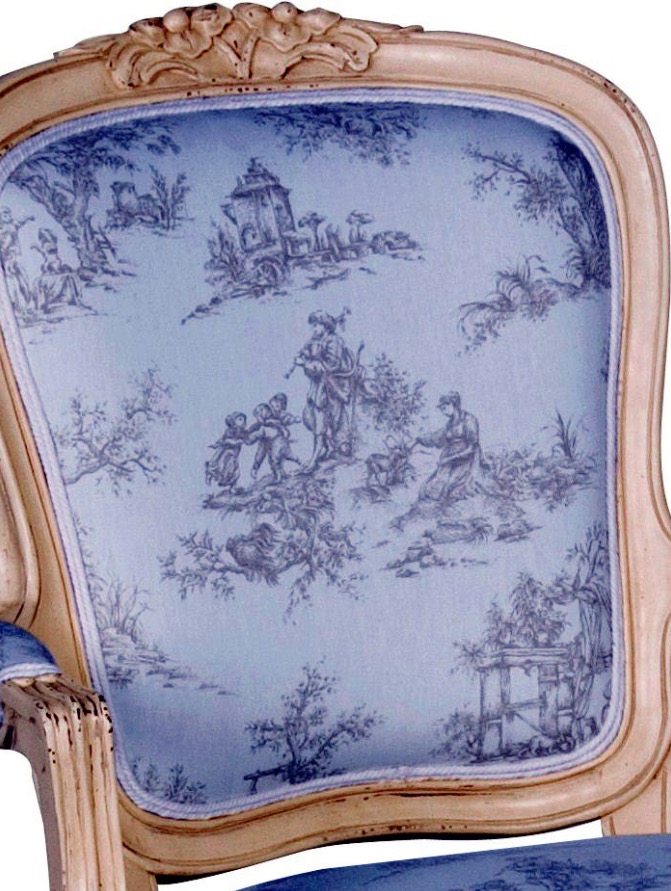 If you look closely, you can make out illustrations that would have resonated with an audience from the 18th century. The use of negative space or white space also provides the onlooker with visual cues to focus more easily on the pastoral scenes.
Toile de Jouy Pillow
Here's another classic example of what home furnishings can do with this visual texture: an accent pillow that perfectly incorporates the nature and flower motifs that are so common with this style. This comfortable pillow makes use of the multi-color traits that are also popular with this design.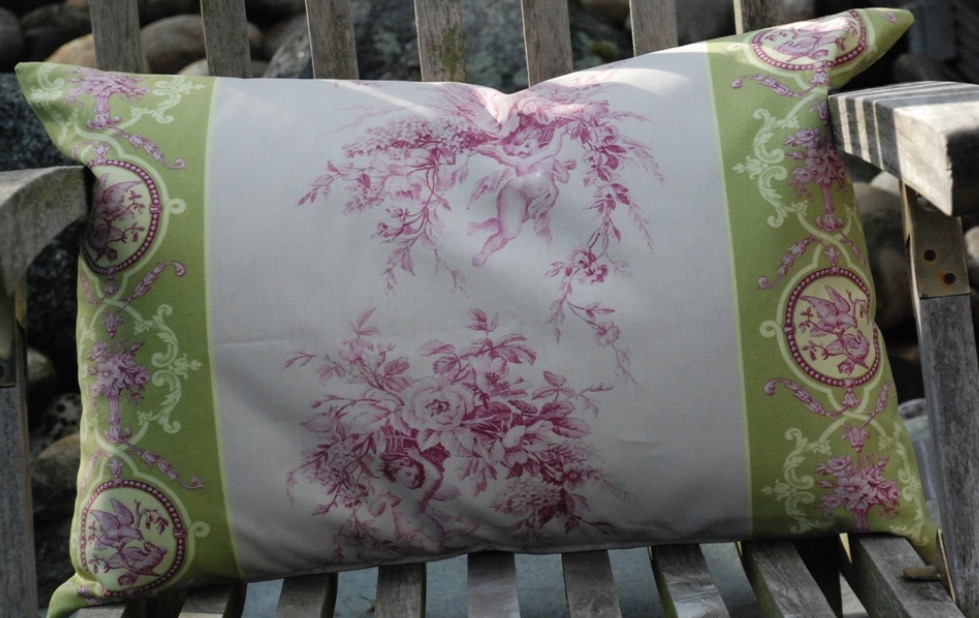 Note the presence of angels among the flowers, for what is a throwback to the traditional scenes you would see for centuries on patterns of this kind. From a pure composition standpoint, there's good balance in the pillow's drawings, as the angels are nicely centered and then bordered by two columns.
Toile Sachets
Even the smallest items in your home can't escape the pull of French influence. Sachets are small, perfumed bags that emit a scent used to give clothes a pleasant smell. In this example, you'll notice the finely detailed toile patterns that adorn these delicate bags.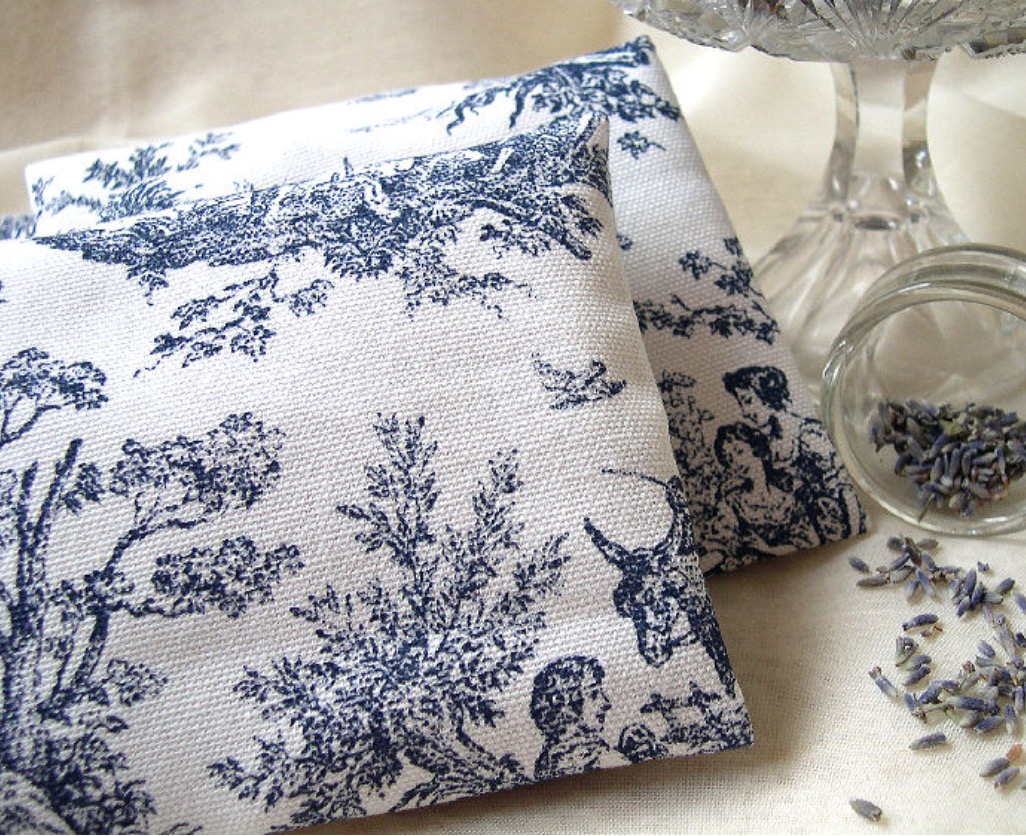 Thanks to the zoomed-in pictures, you glimpse the visuals showing scenes of flowers, plants, women, and animals. Again, the pastoral element is dominant in the motifs here, and the blue-on-white color contrast epitomizes one of the classic color schemes of this design trend.
Romanticism With a Classic Feel
Rarely do we experience a style that lasts for a very long time. It's even rarer to hear of an aesthetic that almost ebbs and flows in popularity over a long period of time but always makes a comeback and even builds upon its original popularity in a consistent fashion. Though uncommon, that's exactly what we have here with this French-inspired visual pattern that has now been the favorite of designers and consumers for hundreds of years.
With some design trends—like Streamline Moderne or Art Deco design—you only have their popularity lasting for a few decades. Other design movements, such as artificial intelligence design, are very new and still have to establish their longevity. Whether they'll be as impactful over the centuries is anyone's guess at this point.
There's just something about the rural and accessible themes found in toile patterns that have made them endure for so long. Whether in graphic or interior design, this style will easily last another few centuries.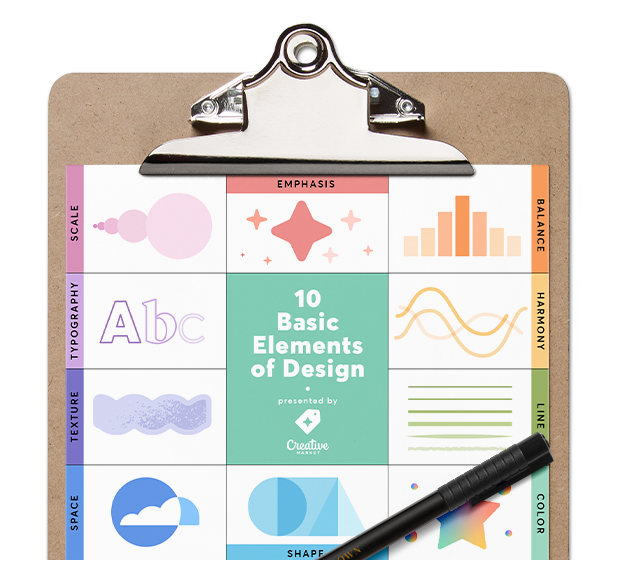 10 design fundamentals, summarized
Free Design Poster
Download this printable PDF poster and hang these 10 design principles on your favorite wall.
Get the file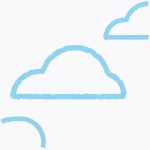 Marc Schenker
Marc is a copywriter and marketer who runs The Glorious Company, a marketing agency. An expert in business and marketing, he helps businesses and companies of all sizes get the most bang for their ad bucks.
View More Posts