Trend Alert: 1980s Memphis Design
Memphis sounds like a perfectly normal name for a design movement. If it had been founded in the United States. But it wasn't. Instead, a few whimsical Italian furniture designers were listening to Bob Dylan when the name suddenly clicked — and it has certainly stuck. So what is this Memphis Design style that seems to be popping up everywhere, and where did it come from? Get ready for another design trend report. We'll cover:
What the trend looks like
How it's being used in various design fields
How you can start using it today
Memphis Design: Basic Facts
It's December of 1980 and an architect/designer called Ettore Sottsass rallies his group of creative friends for a meeting. Picture this song playing in the background:
So, yes, we're in Milan. But, no, this wasn't a very Italian move: let's take everything people consider "wrong" in design and make a badass movement that celebrates unrestricted creative exploration. Let's rebel against the uniform, slick, minimalist aesthetic of the 70s and stand for something radical instead. Memphis and the Sottsass Associati group were born.
At its core, Memphis was drawing inspiration from a few existing design movements, which you'll spot throughout:
Art Deco: in its appreciation of striking geometric figures
Pop Art: evident in their use of bold color palettes
1950's Kitsch: a total departure from the constrained, minimalist design of the 70s
The movement became so influential that the Wall Street Journal recently reported a resurgence of a certain "neo-Memphis" aesthetic, claiming that "for many postmillennial designers around the globe, Memphis is a major source of inspiration". In this new wave, however, designers are opting for higher quality materials like metals and marble instead of plastic.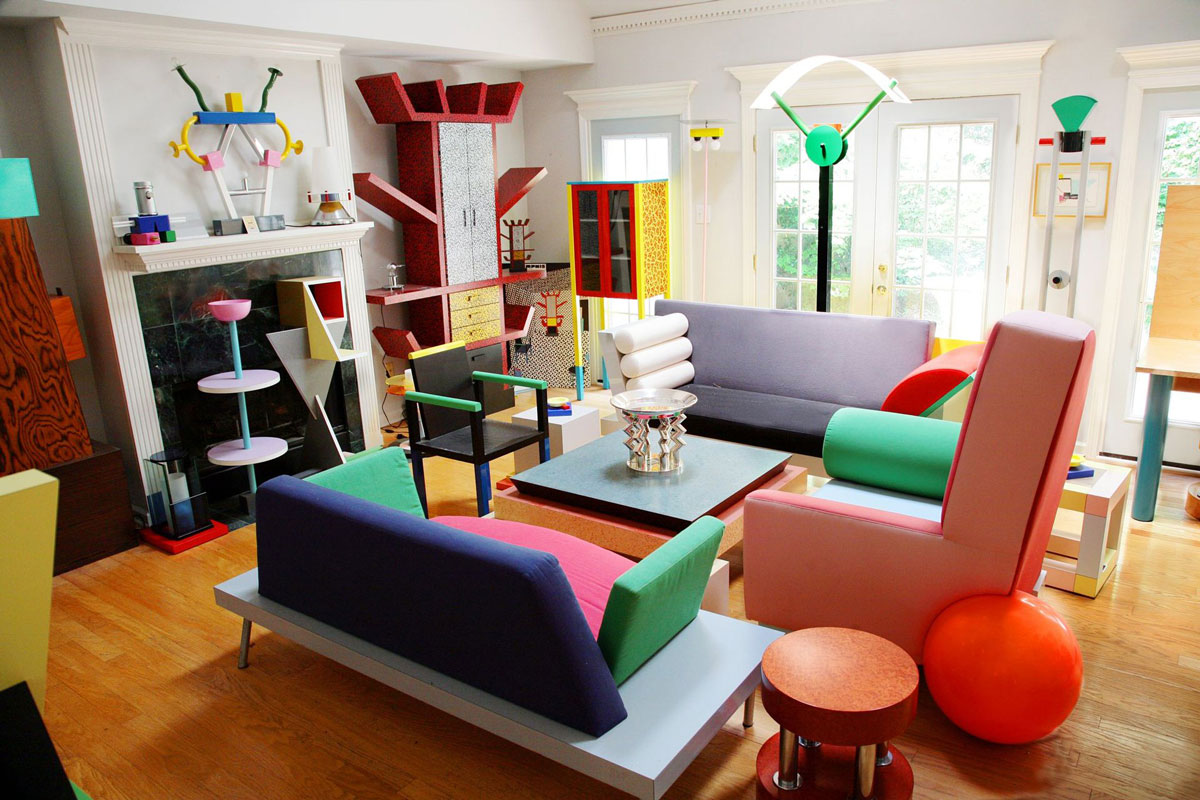 Pin ItA collection of objects by Memphis, via Wikimedia Commons — CC BY-SA 3.0.
Caution: Memphis Isn't Here to Please Everyone
Naturally, most of the pieces designed by this (primarily) furniture-driven design group seemed bizarre and quite shocking. No wonder Karl Lagerfield decided to pioneer the style and decorated his entire apartment like a full-on Memphis playground.
SFGate recently called Memphis "a shotgun wedding between Bauhaus and Fisher-Price."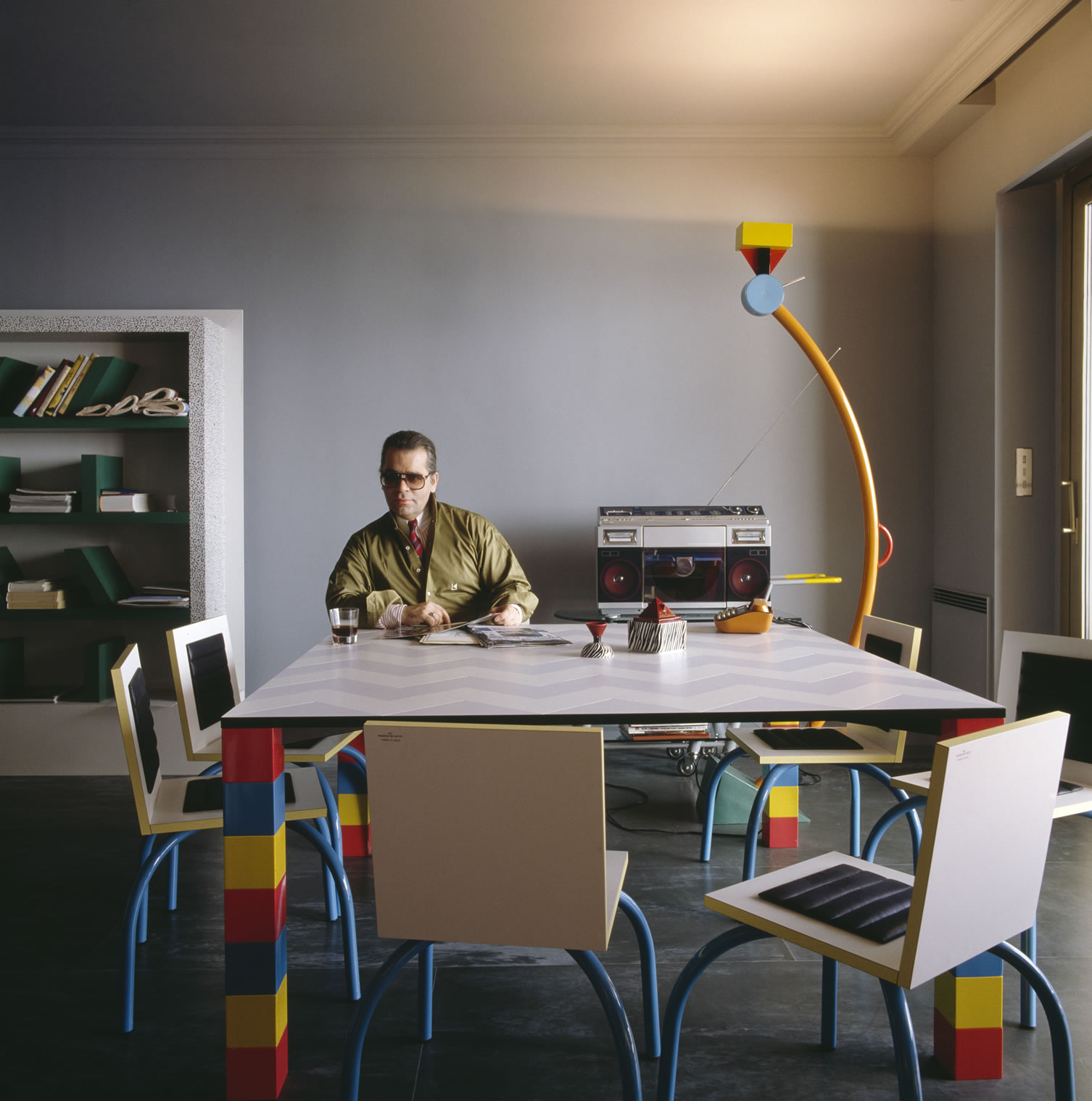 Pin It
Photos by Jacques Schumacher. Read more at We Heart.
Rebellious and daring, Memphis has been called all sorts of things. SFGate recently called it "a shotgun wedding between Bauhaus and Fisher-Price" — which, to be honest, isn't too far from reality. Using 80s pop culture references, Gizmodo also described Memphis as "Pee-Wee's Playhouse meets Miami Vice. It's Saved By The Bell plus Beetlejuice."
The Memphis Design Trend
Memphis in Graphic and Print Design
A pastel Memphis-inspired color palette and layout is evident in this poster designed by Carmen Nácher:
Swoon over this set of pocket notebooks by Officemilano:
Cover design for Novum Magazine. More about the project here.
Memphis in Fashion Design
In 2014, original Memphis group member Nathalie du Pasquier designed a line for American Apparel:
Christian Dior has also explored Memphis design elements inspired by the group's various furniture products:
The list of fashion designers working with Memphis-inspired prints in 2016 is pretty endless. Just take a look at Edeline Lee's ready-to-wear Spring 2016 collection:
Memphis in Web Design
The geometric and colorful spirit of Memphis was used in this credit card checkout flow by Diane Lindquist:
Designer Nate Tate created this set of Memphis-inspired icons for one of his client's projects:
And of course we couldn't help it either:
Memphis in Interior Design
Designer Camille Walala is a contemporary representative of everything the Memphis design aesthetic stands for. She has worked with artists like Katy Perry and brands like Urban Outfitters. More about her and her "Walala In Da House" exhibition in this Fast Company article.
Upholstery and textile design company Atelier Kobalt released these Memphis-inspired textile designs for their Summer '15 collection.
Aldo's 2015 Holiday installation, designed by Leta Sobierajski.
How to Get Started with Memphis Design
We've already gone over the main elements, inspiration sources and intentions behind the Memphis movement. How do we bring that all together to design something that plays with this whimsical, rebellious aesthetic? I suggest thinking about it in terms of three components, and you'll find valuable design resources to bring each of them to life:
1. Typography: You want to choose fonts that complement this style's geometric feel. Art Deco inspired fonts are perfect picks, since they capture both the sharp edges and smooth curves that characterize geometric shapes. They are also reminiscent of a time that also inspired Memphis group founders.
2. Patterns: Here's where it can get a bit tricky. Unlike previous design movements, Memphis embraced a somewhat chaotic, free-spirited approach to backgrounds. It isn't uncommon to spot thin, straight lines in stark contrast with organic, free-flowing dots and structured 3D shapes. Thinking about toys and play definitely helps.
3. Color: You don't want understated tones. Look for color palettes that bring dynamism and joy, without necessarily following the rules of "what's right". Memphis founders didn't care either.
Pin it for later!
---
Products Seen In This Post:
---

Free lettering worksheets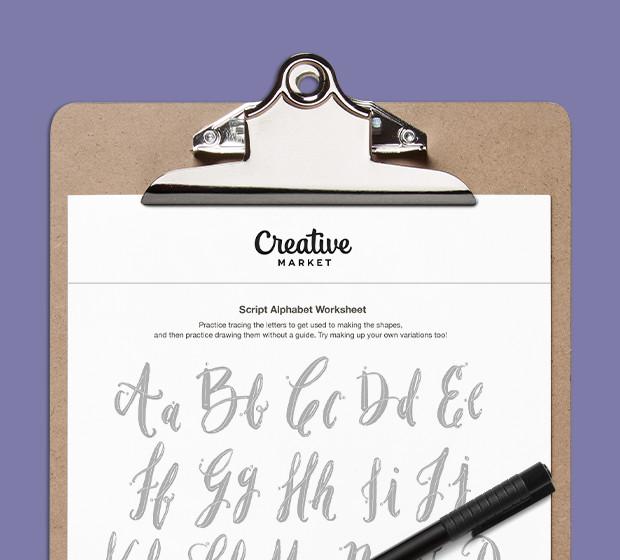 Download now!

Getting started with hand lettering?

Download these worksheets and start practicing with simple instructions and tracing exercises.
Brand strategist. ✨ Creating design tools to empower creative entrepreneurs. 📗 Author of the Lean Branding book. 🎓 MA in Design Management from the Savannah College of Art and Design (SCAD).