10 Tell-Tale Signs That Indicate You're a Typography Expert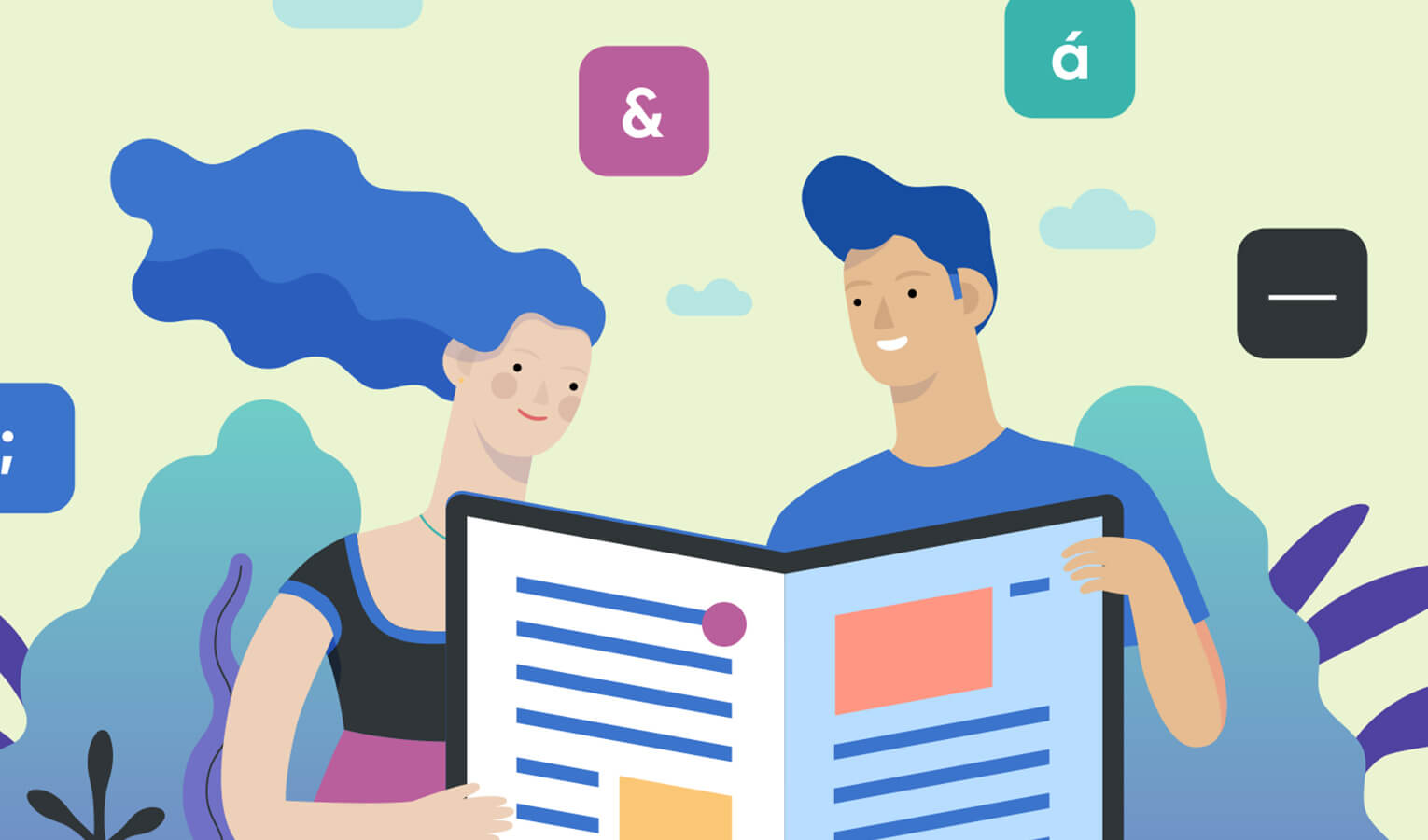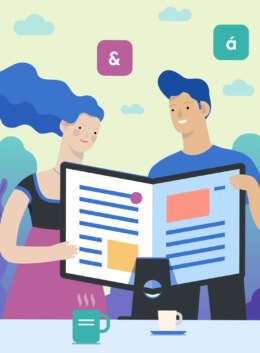 Whether you're on a journey to become a typography expert or just curious about what it takes, here are ten classic signs that someone has developed deep expertise in the field.
You're well-versed in typographic history
When you have a deep interest in a field, step one is getting familiar with its theoretical framework. When did it originate? Who are the main players? What major technological and cultural shifts have shaped its progress? What are the key concepts involved in understanding this field?
After studying these questions, typography experts identify specific areas of interest within the field. From there, they are able to specialize in certain historical styles or methods that pique their curiosity.
You've mastered type classifications
Can you tell the difference between Didone and Clarendon? How about Grotesque and Fraktur? While there are various ways to classify typefaces, an expert is familiar with systems like Vox/ATypI, Alessandrini, IBM, and Panose-1. Most importantly, they can see a typeface and identify a precise category label for it. Helvetica isn't just a sans serif — it's a neo–Grotesque influenced by Swiss design.
You can identify personalities in letterforms
Risman, the shop owner behind Garisman Studio and @garisman.std, explains that "each font has its own personality or character, just like humans, one personality sometimes doesn't match another. A typography expert is usually a person who is good at combining several fonts to use in one job."
Typography experts can recognize distinctive personalities in letterforms. They perceive the attitudes, emotions, and moods that each letter evokes. What might seem like a random shape to someone else is a powerful symbol for a typography expert. This sensitivity allows them to select the right font for every project.
You understand and care about font design basics
This one is key. You don't need to be a font designer if you're hoping to become a typography expert, but you do need to be familiar with the basics. What's involved in coming up with a new font idea? Where does one typically start? How are glyphs created? How many and what kinds of glyphs should one consider? The font design process gives you a complete behind-the-scenes look of typography.
Typography experts can also quickly flag design issues in typefaces. Perhaps specific pairs of letters haven't been properly kerned, or there's an issue with optical balance. These are the kinds of details that will immediately draw their eye.
Remember key typography concepts
Typography terms made simple.
Grab this handy cheatsheet summarizing some of the most important typography terms.
Download the PDF
Alex Joganic, the shop owner behind 1871 Project, developed his typography expertise through hands-on design experience. He's been "drawing letters since I was a kid and started to really care and learn more about letter structure in my teenage years. From there, it was just a ton of drawing and soaking up as much knowledge as I could from literally everywhere: books, Pinterest, antique shops, etc."
You've read typography education classics
Risman, now a font seller, says that reference books are an essential part of his practice. Here are some of his go-to's:

Interested? Find even more inspiring typography books here.
You're able to identify special characters
Ampersand, dieresis, umlaut, tilde, caret, and the list goes on. Experts exercise great care and consideration over special typographic symbols for a number of reasons. On one hand, they should be crafted to be cohesive with the rest of the glyphs in a given typeface. On the other hand, incorporating these symbols enables global accessibility: special characters often capture different languages' accents and nuances.
You follow industry experts and events
Experts in every field know that you need to keep up with changes to preserve that title over time. The typography industry is no exception: this last decade has brought momentous shifts worth analyzing. Following industry events like conferences helps you keep your finger on the pulse and develop an informed perspective about the changes happening around you.
Risman recommends following @typedesignclass and @ohnotypeco on Instagram, as well as websites like https://typeculture.com. He also keeps up with industry events like Typographics.
You keep a collection of type samples
When you love typography, it can be hard to let go of wrappers, flyers, boxes, bags, cards, and random bits of paper with a sublime use of type. Your typical typophile will keep a growing collection of samples to which they find themselves going back for inspiration. The physical element here is essential: although they might keep a digital moodboard of sorts, these artifacts are tangible and kept close to their workspace for easy reference.
Shop owner Alex Joganic shares that he has "collected a ton of lettering and typography books, as well as old packaging from antique stores. There is almost an endless amount of inspiration there, and I find something new almost every time I look."
You combine typefaces harmoniously
You know someone knows their way around type when they can combine different families in a way that feels cohesive. This type of skill takes time, and while an expert makes this process look effortless, there's actually a lot of "eye training" and experience that goes into compelling font pairings.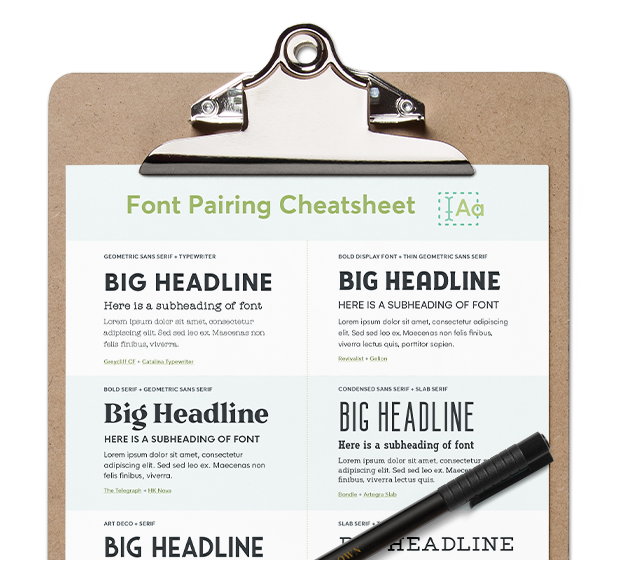 15 Pre-designed Font Combinations
Free Font Pairing Cheatsheet
We've curated a list of font styles that work well together so you can design interesting type lockups in minutes.
Download the cheatsheet
You have a few go-to type families
…and know their history. Throughout their careers, typography experts come to rely on versatile font families that stand the test of time. Sometimes it's a workhorse typeface that blends with imagery easily or reads well online. Sometimes it's a classic that symbolizes something they're passionate about or has been designed by a type master they admire. Whatever the case, typography experts have their all-time favorites and don't mind applying them time and time again.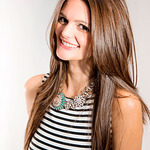 Laura Busche
Brand strategist. Creating design tools to empower creative entrepreneurs. Author of the Lean Branding book. MA in Design Management from the Savannah College of Art and Design (SCAD).
View More Posts