10 Terrific Typography Videos That You Have to See
Love typography? Me too. I've seen a lot of cool videos about typography and type design lately and thought I'd share some of them. Below you'll find videos on everything from chalk lettering by hand to making vintage artwork for John Mayer. There's something here for every type nerd.
I absolutely love this one. John Mayer hired designer David Smith to do some custom artwork for his "Born and Raised" album. The result is seriously impressive, but the process is even more interesting. Smith is an old school artist who works with his hands, and the methods that he uses throughout the video are simply fantastic. If you appreciate typography and craftsmanship at all, you'll be blown away by this video.

The Making of John Mayer's 'Born & Raised' Artwork from Danny Cooke on Vimeo.
Jessica Hische is a rockstar type designer. In this video, you'll meet Jessica and get a great behind-the-scenes peek at her process as she talks about her amazing typographic rug designs.

Short documentary featuring type designer Jessica Hische from Giovanni Ferlito on Vimeo.
Hand-lettering artist Sean McCabe of seanwes talks about his design concepts and how he works manually through sketches on paper. He developed his business through discovering a love for hand-lettering and producing his own posters and T-shirts. As his work became known, he began to take commissions from others to produce specific items.

Sean McCabe Interview | Portrait from Miguel & Joe Photography on Vimeo.
A short (and fairly amateur) but thoughtful film about the typeface that designers love to hate: Comic Sans. You'll get some insight into why Comic Sans was created, what professionals think about it, and why so many people seem to hate it. If you're into debating Comic Sans, be sure to hit up this article too.

Comic Sans from Anita Brown on Vimeo.
Another great video from Jessica Hische. This one is a live talk where she gives some insight into how important custom typography is for brands, and even the timelines and cost considerations involved with that practice.

Erik Spiekermann talks with Elliot Jay Stocks about how typography is used in the digital domain and what digital designers can learn from traditional print techniques.

A great intro to the parts of type from Lynda.com. It's only a small preview of a larger course, but it works well as a standalone lesson too.

This great video comes from this very blog! In it, extremely talented type designer Tyler Finck shows you how to make your first font.

MadeByMarzipan walks you through a hand-lettered type project step-by-step. Everything she does is both explained and illustrated really well, so if you're looking to get some insight into how to kick off a nice custom type design, start here.

An very brief interview with Dana Tanamachi about her beautiful chalk lettering installation for Evernote's office. In it you'll see a cool time-lapse of the project and hear about how she plans (or rather, doesn't) and implements a large-scale chalk lettering project.

What Did I Miss?
Now that you've seen some of the cool typography videos I've found around the web lately, it's your turn. Leave a comment below with a link to any videos on type you've found lately that were interesting.
Getting started with hand lettering?
Free lettering worksheets
Download these worksheets and start practicing with simple instructions and tracing exercises.
Download now!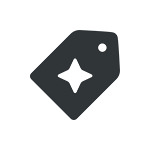 Creative Market