Virtual Reality: How to Design for a Whole New World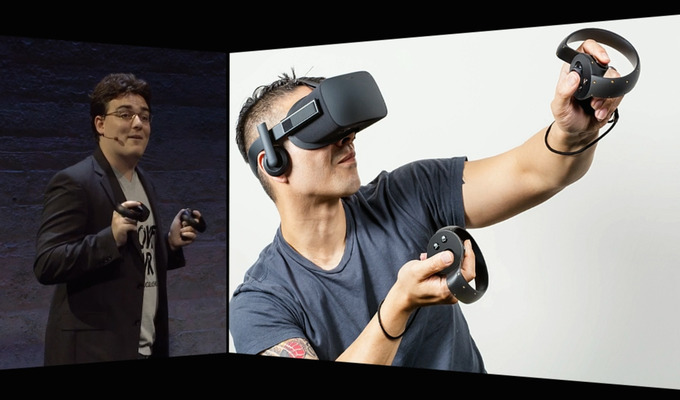 Months after its initial release, the Rift is still nowhere near the smash hit it was expected to be: early reviews have been mixed, with many complaining about uncomfortable headsets, an impractical interface, and a price tag that's just too high. The video game industry, on the other hand, has already realized the future is in virtual reality: the focus of the last E3—the ultimate game developers' convention—was on VR technologies and their uses. But this just makes it harder for the poor Rift, which found itself surrounded by competitors almost immediately after release. Ten competing headsets are already in line to steal its thunder, and Google's developing a VR operating system—the Daydream—that will make it even easier to compete with the Rift in the future.
But all of this just serves to underscore one of the biggest design questions of our time…
How do you design for an entirely new form of media?
"One of the amazing things about VR is that everybody is figuring this out from scratch," says Michael Abrash, Oculus's head scientist.
Abrash at the Oculus Connect 2 Developers' Conference. From Hollywood Reporter
This might be both the medium's biggest benefit and its biggest drawback: On one hand, this is the beginning of a new golden age for electronic media… But on the other, even most developers don't seem to have realized it yet. The public still seems stuck on the idea of VR as a passive form of media, or at best, an impressive game console; developers and enthusiasts, for the most part, are still fixating on refresh rates, server ping, display resolution, and which games will be exclusive to which headsets: Even Palmer Luckey, Oculus's founder and public face, seems to miss a lot of its true potential: "Most of the advancement is going to come on the gameplay side," he told PC Gamer in a recent interview.
To be fair, that approach has made him a lot of money. From Forbes.com
Abrash has the most interesting vision for how creators may one day use the Rift: His dream, as told to the same magazine, is "a virtual workspace, with multiple screens-within-the-screen, more dynamic and configurable than a … desk could ever be." Going into detail on his blog, he raves about its ability to create "the feeling, below the conscious level, that you really are someplace," and cites novels about immersive virtual worlds, like Ready Player One and Snow Crash, as his primary inspiration.
Create Immersion
That inspiration's served him well: from any angle you look at it, VR is all about immersion: the process behind creating content for the format is even called "immersive design." (Here's a thorough guide to it on Backchannel.).
How do you create a concept as vague-yet-impressive-sounding as that? In short, you apply old design techniques in new ways, using shapes and their distances from the viewer, to create the impression of a coherent three-dimensional space with objectives to its navigation. In simple English, you take visual cues and shapes that people are hardwired to identify, then place them into a three-dimensional world where we can reach out and touch them, grab them, move them across our field of view, and interact with them to trigger certain experiences. This creates a UX that's both original and perfect for pulling the viewer in.
Immersive Creation
But the industry might still be overlooking what VR could mean for the future of graphic design: rarely do you hear about what it's like to design inside the virtual world, not just to program for it. That's strange, considering that "The sensation of creating in virtual reality is nothing short of godlike the first time you try it. You can literally draw in glowing light, burning fire, or shimmering stars," says Fast Company's Mark Wilson "You can walk around the room, viewing these creations from any angle … and your mind accepts them as real."
"But What Are The Actual Uses?"
…You might ask.
There are two answers: What they're currently doing with it and what could be done. To answer the first question, you could just rattle off a list of some of the technological achievements and specifications of any given VR headset. For example, Oculus prides itself on the Rift's millimeter-precision, motion detection, and its two high-resolution screens. They're currently working on an open-source software called the Oculus PC SDK, which will allow any user to create content custom-tailored for the Rift. Some of what they've already made includes 360-degree movies, a virtual "theater" in which the viewer can watch any form of flat content on a simulated cinema screen, virtual social media websites, and alternate versions of classic video games and MMORPG's that suck the player into their worlds.
Serious Sam VR. From Kotaku
But to answer the second question… No one's quite sure, but there's a lot of speculation. Oculus is currently working on new types of sensors and input devices that will make the Rift, along with any competitors who choose to imitate them, much more flexible and easy-to-control. Combined with programs like Medium, a 3d sculpting program designed to create exactly the experience Wilson described, and Toybox, which lets users work together to build a shared virtual world, the creative possibilities are endless.
When you think about it, it seems that 3D printing—a budding industry we cover often on Creative Market—might have the most to gain from VR-based design: Wilson even describes designing in a virtual space as "3-D printing with your mind. It takes just a thought in your head and a swirl of your arm, and a sculpture manifests from nothing." And think of the possibilities for movie special effects, for instance, or computer animation. One of the most vexing problems 3d modelers have always faced is how to efficiently move and interact with their creations: viewing them with a virtual camera that you can control freely using only your hands would definitely solve a lot of those problems.
But Will VR Fulfill That Potential?
…Eventually, yes. But in the meantime, it seems to be VR's own advertising and public image that's preventing it from getting there. By marketing headsets as glorified LCD monitors, or potential game consoles at best, the companies that make them are actively limiting their own potential. The media often isn't much help either, and it might be necessary to completely revamp the popular image of VR before it can become a truly great design tool.
C.S. Jones is a freelance writer, artist, and photographer. In the past, he co-founded an art gallery and worked at a product photography studio. These days, he does photo tutorials (and gigs), online copy, and content marketing for a living. He also writes about webcomics at Webcomicry.com.