5 Website Navigation Bar Examples To Enhance Your Web Design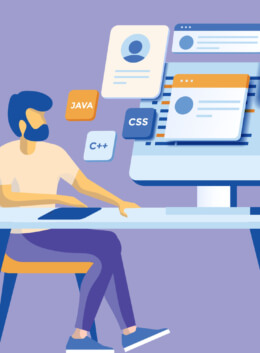 Website navigation is a huge factor that affects the success of your website. It greatly impacts user experience, conversions, sales, bounce rates, and how you get returning customers, which ultimately builds brand loyalty. Without good website navigation to help visitors get around on your website and discover all that you have to offer, they won't be encouraged to stay let alone consume your content.
Your website's navigation structure is there to help with website engagement, not impede it. So, when it doesn't function like a road map that flawlessly directs website visitors to various pages and information on your site, then you might need to rethink your website navigation design.
In this article, we will provide you with good website navigation examples and tips to help improve your website navigation. Read on to learn more.
Things To Consider in Your Website Navigation Design
There is no standard way in executing your website navigation design. However, there are key elements that you need to consider in order to facilitate optimum usability and good user experience in your website navigation.
Transparency
There is no place for playfulness or tricks in your website navigation. You can be creative, but not at the expense of user experience. Don't use vague or complicated labels on your website navigation menu, and be as clear and direct as possible in your design.
Ease of Use
The reason why the navigation bar is always placed before the main content of your page is to allow people who visit your website to easily find it. So when it comes to your navigation structure, the rule of thumb is that it should allow people to land on any page on your site and find what they need in just three clicks or less. Your website navigation should be as easy as possible because in reality, visitors navigate randomly.
Relevance
Remember your content and target audience when designing your navigation bar. Fonts, colors, images, headlines and CTAs all have to appeal to your target audience and make your content more clickable. Your goal is to make them explore your site further, so you have to inspire their curiosity and attract them with great offers so they will click on your links.
Organization
Organizing your website navigation should start first and foremost with your content. Build your website navigation structure as well as website features around your content, and from there, you can create a sitemap that shows how well your content is laid out.
Hierarchy
Applying a hierarchy to your website navigation, by grouping information together in the order of importance to users, helps them find what they are looking for instantly. Try to create a balance between directing users to pages that interest them and leading them to parts of your website that are fundamental to your business goals.
Different Types of Navigation Bar Designs
In case we haven't already established, a navigation bar is the topmost section on your website that is intended to aid visitors in accessing your about page, product catalog, email signup form and other information. There are different types of navigation bars and each has its own advantages. These are the most popular of them all.
Horizontal Navigation Bar
The horizontal navigation bar is the most common type of navigation menu. It is placed under the website header and serves as a primary navigation menu that lists the major pages from your website in a row format. Many websites use horizontal navigation because users are more familiar with it and it allows designers to integrate full-width images seamlessly into the body of the page.
A horizontal navigation menu can also be used as a secondary navigation bar to display a sub-menu or sub-categories. It can be aligned to the left or right.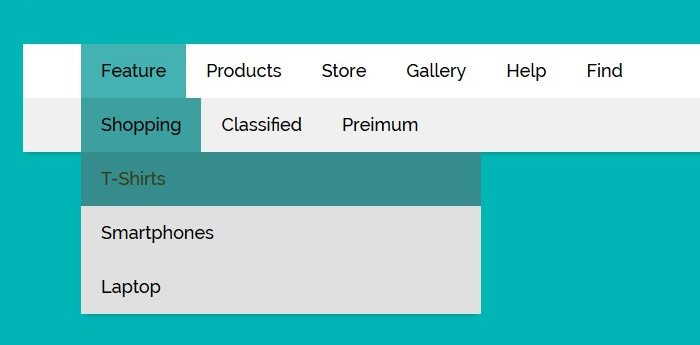 Image Source: codeconvoy.com
Vertical Navigation Bar
A vertical navigation bar, on the other hand, lists internal pages in a column on the left or right side of the page. It works as a sidebar navigation and its advantage is that it allows for better scanning as our eyes naturally move down the website page, not across. It can also accommodate more primary links and longer labels.
Since it is less commonly used, businesses usually opt for vertical navigation to be different from other websites.
Fixed or Sticky Navigation Bar
A fixed or sticky web navigation bar is a toolbar that stays in place while the user is scrolling through your website. This type of menu design ensures that the navigation access is always visible to the user and they can easily go to important pages regardless of where they are currently on the web page. Here is an example.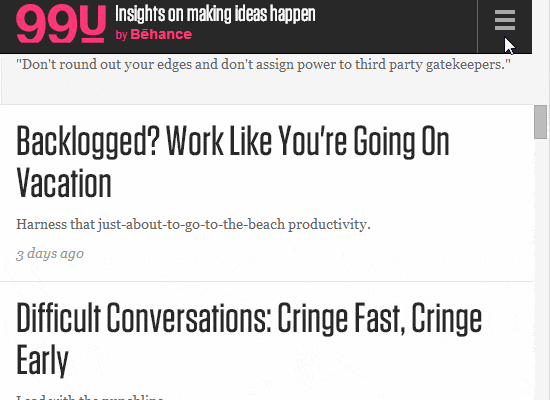 Image Source: webfx.com
Dropdown Navigation Bar
Meanwhile, a dropdown navigation bar or a mega menu is a horizontal menu that displays a secondary vertical dropdown menu when users hover or click on one of the primary options. To better illustrate, here's an example.
Image Source: codetea.com
Dropdown menus conserve screen space and help clean up a busy layout. When utilized correctly, they can be user-friendly on top of being an attractive design feature.
Responsive Navigation Bar
Responsive navigation optimizes your website for different devices and screen sizes. On mobile devices, a responsive navigation bar turns into a "hamburger menu," or an icon that is made up of three slightly separated horizontal lines. A hamburger navigation menu is used to make your website fit naturally on a mobile screen.
Here is an example of responsive website navigation.
Image Source: Pinterest
Great Website Navigation Ideas
Check out these different navigation menus and ideas you can use for your navigation bar design.
Here is a website theme that utilizes both a sticky navigation bar on desktop view and a responsive navigation bar on mobile view to make way for the best user experience.
Meanwhile, this custom horizontal navigation menu is perfect for an online portfolio, gaming website or even a corporate website.
This unique photography website theme features a sticky vertical navigation bar that further enhances the minimalist design:
If you are a designer in need of a clean, modern design for your site's navigation, then this vertical navigation menu from Visualmodo's website theme is just what you are looking for.
Or, if you want appetizing photos of your food to take center stage on your restaurant website, then you can choose a transparent nav bar that perfectly blends into your background image.
If instead you want a unique horizontal navigation bar for your beauty or lifestyle website, then try aligning it at the center of the webpage, like this one.
You can also align it with your logo instead of putting it below. Make sure that your logo is clickable and links to the homepage so visitors can easily find their way back.
Here is another example in which the logo is part of the horizontal navigation bar. As you can see, the menu options are separated from each other, which contributes to the creative design.
On the other hand, here is a website theme using a hamburger icon even on desktop view, which promotes a clean, minimalist layout.
For an e-commerce website, using horizontal navigation along with a hamburger menu is the best practice to allow users to easily find your products no matter where they choose to navigate. Here is an example.
For more website design tips, themes, and templates, sign up with us!
Getting started with hand lettering?
Free lettering worksheets
Download these worksheets and start practicing with simple instructions and tracing exercises.
Download now!