A Collection of Distinctive Wedge Serif Fonts
In typography, you might find small projections called serifs at the end of certain letter strokes. There are many different types of serifs, going from the ultrathin, hairline serifs to thick slabs that add weight to text. Found at the end of letter strokes, a wedge is a type of serif that is triangular in nature. This unique shape sets them apart from slab (square), rounded (circle), and hairline (line) serifs.  Here's a closer look at this important structural difference: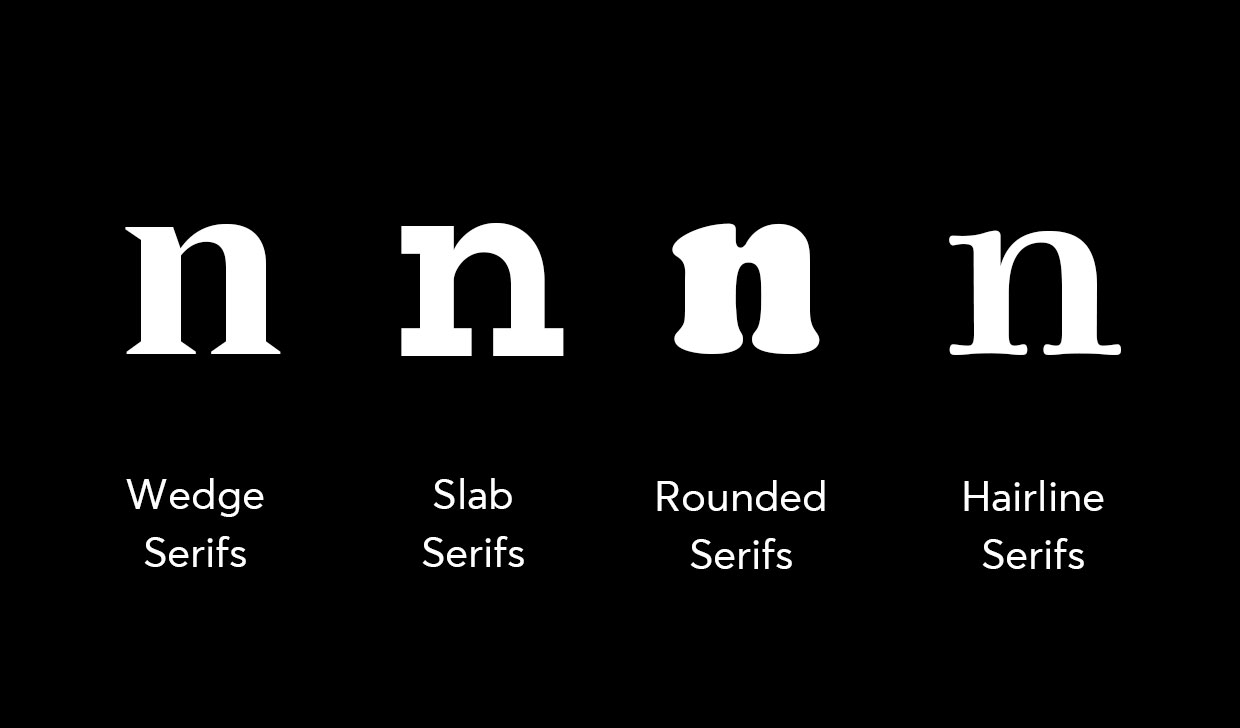 Displayed, from left to right: Cooper Black, Manier, Visby Slab, and Winslow. If you're looking for a distinctive wedge serif font, there are many options created by independent designers on Creative Market. Check out some of the best font families available on the site:
Romina / Neoclassical font family
Designer Rosario Nocera created Romina/Neoclassical font family. This family of fonts was created for a wide range of uses: from news and magazine print to web design and corporate documents. The font comes with 7 distinct weights that range from extra light to extra bold. In addition to small caps and case sensitive forms, Romina also has some dingbat and OpenType features.
MFC French Roman
MFC French Roman was crafted by Monogram Fonts Co. The designer explains that "the inspiration source for MFC French Roman is an elegant wedge-serif letter-style simply referred to as 'French Roman Light' in an 1899 lettering publication by International Correspondence Schools." Originally, the lettering style only had capitals, numbers, and an ampersand. Today, Monogram Fonts Co. has added a full typeface with alternate low waisted letters and unique ligatures. In addition to the straightforward font, when you download MFC French Roman, you also get MFC French Roman Initials. In MFC French Roman Initials, the small caps are raised up to the center of capitals, which allows for standard or monogram typesetting. Fonts come in TTF and OTF formats.
Blackest
A fun font that is full of character is Blackest. This typeface by Zetafonts comes with 8 distinct fonts, each quirky, classical, and elegantly playful in its own way. The font was inspired by the Blacker typeface created by Cosimo Lorenzo Pancini. The designer kept the traditional skeleton of the font and brought the contrast in the font to the real of reverse-contrast typefaces. Zetafonts recommends using Blackest for editorial purposes, magazine design, and logo creation. The character set in this download covers more than 220 languages.
Aviano Copper
Aviano Copper is a font made by insigne. This retro-inspired font reflects aspects of America's Gilded Age. The designer explains that the font was inspired by copper-inscribed intaglio printing designs of the early 1900s, and that " the powerful, wide character shape of this font walks softly across your page while carrying a big stick." When you download Aviano Copper, you get a variety of weights, from thin to black. There are 1000 glyphs per weight.
MADE Kenfolg
MadeType designed MADE Kenfolg. This serif typeface is ideal for titling. If you want to use a font that is both elegant but also has some character, consider Kenfolg; it has uppercase letters, lowercase letters, numbers, and punctuation. The designer recommends it for books, magazines, logos, branding, photos, quotes, blog headers, posters, ads, and more.
Millenia – Serif Font
For a font made for editorial, logos, or packaging, checkout Millenia. This casual, fun serif font is a shorty serif font with curves, and it is clear and readable so it gets your message across with a problem. CorgiAstronaut designed Millania, and it comes with language support for English, Portuguese, Spanish, and French.
TT Barrels
TT Barrels is a font created by designer TypeType. The designer describes TT Barrels as "an elegant scotch style modern serif with strong industrial accents in its design." TypeType designed TT Barrels when assigned a task to combine "the technological effectiveness of industrial production used in engineering and the restrictions imposed by it with a beautiful scotch style serif." TT Barrels combines elements of readability, elegance, and sophistication with characteristics that reflect industrialism, like massive wedge serifs. When you download TT Barrels, you get 12 fonts.
Boucherie Block Regular
For a very unique serif font, check out Laura Worthington's Boucherie Block Regular. This font has thick wedge serifs and angled crossbars and terminals. It was designed to make a truly bold impression. The designer recommends: "Set it large and tight for searingly effective headlines."
Blacker – 24 Fonts
You get 24 fonts when you download Blacker by Zetafonts. It is a wedge serif font family that is a take on the "evil serif genre," or fonts that have high contrast and look like they came straight out of the 1970s. Each subfamily of the font comes in 6 different weights, and it has an extended character set that covers more than 70 languages.
Manier – Sharp Serif Typeface
Piotr Lapa created Manier – Sharp Serif Typeface. It is a wedge-serif font family that was designed with inspiration from transitional and contemporary typefaces. It has a large x-height, sharp serifs, and extreme stroke contrast. The designer recommends using Manier for headlines, titles, posters, and branding. (You can use it for longer texts, too!)
Creative Market designers have dreamed up hundreds of visually-pleasing, readable fonts that can infuse character into any design project. Check out more unique typefaces you can use in your designs here.
---
Products Seen In This Post:
Remember key typography concepts
Typography terms made simple.
Grab this handy cheatsheet summarizing some of the most important typography terms.
Download the PDF
Laura Busche
Brand strategist. Creating design tools to empower creative entrepreneurs. Author of the Lean Branding book. MA in Design Management from the Savannah College of Art and Design (SCAD).
View More Posts