Welcome Brooke to the Team
The folks on the Creative Market support team are well known for being super helpful! Everyone on the team is incredibly knowledgeable about Creative Market as a whole, and they do a great job passing that knowledge on to Creative Market members from around the world in a way that is kind, quick, and affective. So, when it came time to add a new member to the support team ranks, we knew it would take somebody extra special. And extra special is just what we found! Everyone, we'd like to introduce you to Brooke Sousa, new newest member of the Creative Market support team!
Tell us a little bit about yourself and what you do for Creative Market.
I'm about as much of a California girl as one could possibly be. I grew up in a small town in the Central Valley, spent 10 years living in Long Beach where I went to college (Cal State), and I'm now living in sunny San Diego. I currently work as a Creative Market support specialist, doing everything in my power to keep people pleased and at ease!
What were you doing before you joined the team and how did you and Creative Market "find each other"?
I dabbled in sales for a few years, and eventually landed a position doing marketing and support at a smaller media company based out of a really sweet office on a rooftop in Pacific Beach. As much as I absolutely loved it there, the position was part-time for certain parts of the year, which made things a little challenging. I had known Gaby Izarra, Creative Market's content marketing manager, for a few years and one day I saw a Creative Market job posting that she shared on Facebook. I read the description for the support specialist position, scoped out Creative Market, and knew I HAD to have the job. I mean I really knew I had to have this job. I even did multiple interviews at three in the morning from Indonesia while I was traveling. I was determined not to let a 16 hour time difference and being halfway across the globe get in the way of a job I was dying to have. Needless to say, I was elated when I woke up to a call at 2am and learned I would be joining the Creative Market team. There was some serious celebrating done that night to say the least!
When not at work, what do you do for fun?
I am super addicted to Spin classes right now–the soul cycle dance-on-your-bike kind. It goes right in line with the fact that I spend most of my weekends on a dance floor if I can. I have a lot of incredibly talented friends that curate some amazingly beautiful events and festivals, it's hard to ever turn one down! I'm a bit of a word nerd as well; my house is covered in books. Also, I'm addicted to all things hilarious and I spend a LOT of time watching stand up comedy.
Do you have any go-to music when you're working?
I like to think that I can listen to music while I work, but if I'm being honest, I can't really concentrate with it on. I end up dancing around in my chair and not giving work my full attention (tisk tisk). I'll occasionally throw on a low-key mix from the likes of Atish, Justin Campbell, or some other DJ's from the California underground house scene. Aside from that, I usually have to force myself to work in silence or I just won't get anything done!
Have you seen any products here on the site that you especially like?
There are so many great ones! Here are two I'm liking right now:
What inspires you creatively?
Unlike most of the people at Creative Market, I don't have a background in design. My creativity is expressed through humor, whether it be a well executed joke or making/sharing a witty meme. Anything that leaves me thinking "How did you even come up with that?" is something that inspires creativity for me. I tried my best not to bring Burning Man up in this interview, but it really is (to me at least) the mecca of all things creative. I've been going for years. Not only do you get to see some of the most mind blowing, large scale and abstract art installations (that you would have never gotten a chance to see in any other environment), but the creativity amongst the attendees is something that can't be found anywhere else. As mentioned, I enjoy the creativity of humor. Have you ever had a group of people secretly roll out a red carpet in front of a port-a-potty while you were using it, and then cheer and applaud when you came out? Probably not. But at Burning Man that's a regular occurrence and it's that type of off-the-wall, unique hilarity that I find so immensely creative.
Any parting words of wisdom?
Bite off more than you can chew—and then chew it.
Getting started with hand lettering?
Free lettering worksheets
Download these worksheets and start practicing with simple instructions and tracing exercises.
Download now!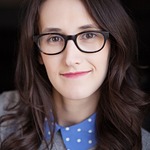 Kelley Johnson
I'm an ex-schoolmarm who is excited about all things creative. Photography makes me smile and when I find a new-to-me dress that fits just right, it makes my day.
View More Posts