After years of trying to convince Josh Johnson to join our team, he finally accepted. Josh is a respected and tenured writer in the design community who will own the Creative Market blog, social and content strategy moving forward. He came to us most recently from Envato and was the editor of Design Shack before that. We couldn't be more thrilled to have him on board. Beyond being an amazing writer and editor, Josh is also a talented photographer, designer and guitarist, but I'll let Josh tell you more…
Tell us a little bit about yourself and what you do for Creative Market.
I began my career by spending six years as a print designer. After work began to decline in that area, I made the jump to the web. I actually took a job writing web design content without really knowing anything about web design! It turned out that it was a fantastic way to learn. The community really calls you out if you don't know what you're talking about, so I had to learn fast with the knowledge that everything I said would be highly scrutinized. That was over over six years ago and I'm still learning as much as I can every day.
For Creative Market, I'll be running the inbound marketing efforts. This is a fancy way to say I'm in charge of creating and commissioning content that gets people to come check out the site.
What were you doing before you joined the team and how did you and Creative Market "find each other"?
Before Creative Market, I was the Quality Manager at Tuts+, a fantastic educational site run by a some really talented people. I helped develop quality standards for Tuts+ and made sure all the content was as awesome as possible.
When not at work, what do you do for fun?
My wife Kelley and I love to travel, cameras in hand. We've explored cities all over the world and catalog our adventures through photos and video.
Do you have any go-to music when you're working?
When I'm casually working, I'll listen to folky/acoustic stuff like NEEDTOBREATHE, The Civil Wars, and Mumford & Sons. When I need to really dig in and be productive, I find lyrics distracting, so I turn to instrumental move soundtracks. I could loop John Williams, Hans Zimmer, and Danny Elfman albums for days. Those guys are all rockstars in my book.
Have you seen any products here on the site that you especially like?
I'm a typography geek so I really love some of the great fonts that we have for sale. Shops like Decade Type Foundry and Kimmy Design have some really interesting custom typefaces that can really boost the quality of a design.
What inspires you creatively?
When I first joined Twitter in 2008, I encountered something that I had never really experienced before: an online community that I was truly interested in. Before most people had even heard of Twitter, the online design community had set up shop there, sharing resources and talking about what they were working on. I was hooked from day one. Ever since, Twitter has been one of the primary ways for me to interact with, learn from, and be inspired by other designers. More recently, Dribbble, 500px, and even Pinterest have become primary sources for me to keep up with the latest trends in design and photography.
Any parting words of wisdom?
As a designer, photographer, or any type of creative, you have two choices: evolve or die. I'm confused by designers who think that "trend" is a word with a negative connotation. Trends provide incredibly powerful insight, both current and historical, into the collective creative mindset of entire generations. Great designers keep a sharp eye on what people want and expect, even if only to blow them away with something new.

Getting started with hand lettering?
Free lettering worksheets
Download these worksheets and start practicing with simple instructions and tracing exercises.
Download now!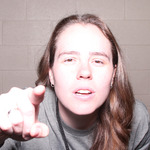 Lesley Yarbrough
Tinkerer. Maker of quirky fonts with a sprouty disposition.
View More Posts