Welcome Maryam to the Team
We're excited to introduce you to the latest addition to the Creative Market team, Maryam Taheri! You may already know Maryam from her posts on the blog these past couple months, but now she's officially joined the team and we couldn't be more thrilled to have her on board. Join us in welcoming Maryam and if you have any comments or questions, please leave them below!
Tell us a little bit about yourself and what you do for Creative Market.
Right now I'm dabbling in a lot at Creative Market and COLOURlovers, and I love that because it allows me to learn a lot of new and awesome things. You'll usually find me working on an interesting blog post, finding new sellers with amazing products, marketing our products out to increase distribution, and working on overall improvements for the website and company.
What were you doing before you joined the team and how did you and Creative Market "find each other"?
Before I was working at Creative Market, I was with Refer.ly, a startup based in San Francisco. Refer.ly decided to re-brand, and my boss Danielle forwarded me over to Darius. It was magic from that point on.
What's your workstation like? Do you have any tools/software/gadgets you can't live without?
I never sit at a desk, you'll usually find me sitting on the floor in the corner, or on a couch. I'm not really sure why that is, I think I'm just more comfortable that way. If it's a day where I'm working from home you'll find me snuggled up with my two dogs George and Watson, and bunny Jasper. As far as tools I can't live without, I think it would be tea. I can't live with out tea. I'm currently addicted to Mighty Leaf African Nectar.
Do you have any go-to music when you're working?
If I really need to get into the work mode I tend to listen to the XX, Thievery Corporation, or Zero 7. It's kinda soothing and just puts me in a good place.
What are some of the projects you're currently working on?
I'm currently working on some exciting projects that are too exciting to talk about, but really focusing on getting some more great sellers and products into the marketplace.
What's your favorite shop in the marketplace?
I really couldn't choose. There are so many. That's the problem!
Any parting words of wisdom for our readers?
Be happy, life is too short for anything else.
Getting started with hand lettering?
Free lettering worksheets
Download these worksheets and start practicing with simple instructions and tracing exercises.
Download now!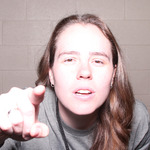 Lesley Yarbrough
Tinkerer. Maker of quirky fonts with a sprouty disposition.
View More Posts