We've got something special in store for all of you today. Today is the day you have the pleasure of meeting Sam Thompson! We've been on the hunt for awesome developers here at Creative Market, and we're so happy to have found Sam. It's pretty clear that he's already a great fit for our team, just see for yourself.
Tell us a little bit about yourself and what you do for Creative Market.
I'm a full-stack web engineer, which means I work on all of the pieces of the website here.
What were you doing before you joined the team and how did you and Creative Market "find each other"?
While still in college, I tutored in the Computer Science department for a few years. In a single day, I could help someone with broken Excel formulas, fix a nasty bug in another Java Assignment, and help someone else figure out how to make their HTML document display the way they wanted. I've always had a great interest in teaching and helping others, and this job only reinforced that. During this same time, I got involved with the Open Source project phpBB and started releasing MODs and other cool things. I became a member of their team for several years, doing security-audits, code-reviews, and working on their website. In 2011, I began working at a start-up doing digital advertising and computer vision. However, along with many of the original employees, I moved on after about 3 years. After that, I stuck mainly to freelance and contractor work for the next several months. I picked up odd-jobs and enjoyed solving problems nobody else could figure out. It was fun, but stressful. I knew it was time for a change.
When not at work, what do you do for fun?
Typically, I enjoy building things out of wood, acrylic, and just about any material I can put in a laser cutter. When I stuff custom-made electronic components, my "inventions" come to life. I've made JavaScript-powered robots, a cat toy, RFID access systems, light-up acrylic signs, and way too many other things to even list. On the weekends, I teach classes at a hackerspace I helped my friends get off the ground. I get to help people as young as 12 and as old as 65 learn new skills in Web Development, programming, and electronics. In the non-tech realm of hobbies, I enjoy playing music. I've studied Piano for most of my life, and I've picked up the guitar and violin over the last few years. I try to practice every day, but life gets busy, and living in an apartment doesn't lend itself to late night jam sessions.
Do you have any go-to music when you're working?
When I am working, I'll listen to almost anything instrumental. I'll start my day with my Piano Guys and Lindsey Stirling Pandora station, and eventually move to my John Williams, Hans Zimmer, and James Horner station. Music helps me processes, while also filtering out pesky distractions.
Have you seen any products here on the site that you especially like?
I'm always browsing around and discovering awesome pieces, so it's hard to pick just one. I really like the Neon Type graphic set. I've actually seen it out in the wild, which was really cool.
What inspires you creatively?
Long walks, I find them therapeutic. Most of my best ideas have been created while away from a computer screen.
Any parting words of wisdom?
Just a few from one of my favorite quotes: "Perfection [in design] is achieved not when there is nothing more to add, but rather when there is nothing more to take away."  – Antoine de Saint-Exupéry
Getting started with hand lettering?
Free lettering worksheets
Download these worksheets and start practicing with simple instructions and tracing exercises.
Download now!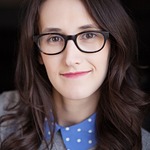 Kelley Johnson
I'm an ex-schoolmarm who is excited about all things creative. Photography makes me smile and when I find a new-to-me dress that fits just right, it makes my day.
View More Posts