30 Unique Western Fonts Full of Grit & Character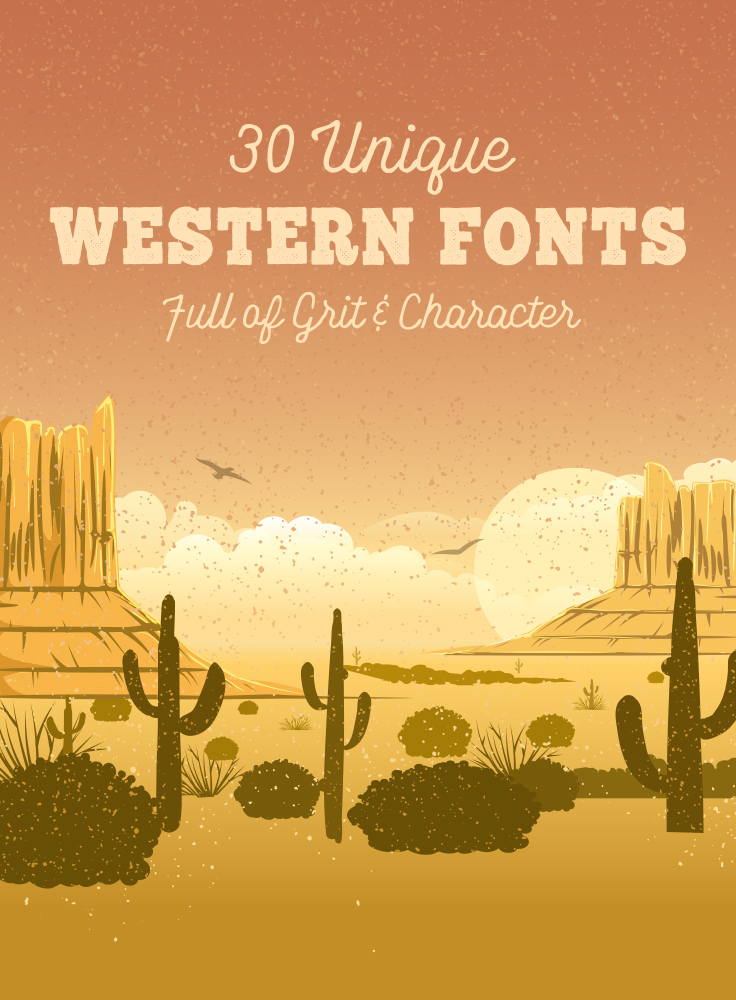 Think of the Wild West and what immediately comes to mind? Aside from cowboys and pioneers, those were the days of gunslingers, prospectors, Jesse James, and "Billy the Kid". But regardless of lawlessness, those were simpler times, too. It was during this period that the nation enjoyed numerous explorations, discoveries, and development.
It's no wonder that old style Western fonts are still in great demand today. Not just when you want to evoke that ol' Wild West feel, but also when you need your designs to stand out. Whether you're working on branded posters or custom logos, trust on Western fonts to save the day.
Not sure what you're looking for? Check out this collection of unique Western fonts for some inspiration.
Dangerous times call for savage fonts. Welcome this little gem by Aiyari. A typeface inspired by classic and retro horror movies, it even comes with extra graphic elements and premium logo templates to get you started.
Flying bullets, mobs, men running from the law – these were all common occurrences in the Wild West. Creator benharman perfectly captures the masculine vibe of the times with this bold font.
Looking for something that will add a natural touch to your projects? Look no further than this handcrafted font by Andrey Sharonov. Available in four beautifully imperfect styles, it'll look great on logos, labels, package designs, shirts, and more.
It's me simon hit the jackpot in this authentic vintage Wild West typography inspired by early 1800s American wood type. Brash, bold, and comes in four different styles, it's a must-have in every designer's toolkit.
Branding has never been easier thanks to Greg Nicholls and this font family. This slab serif is all you need to create fantastic logos, labels, t-shirts, and other branded material with the ideal weathered, western vibe.
Searching for something bold but not ready for that rugged Western theme? Try this one from Cape Arcona Type Foundry. This display font is best used in titles, logos, and headlines for that friendly yet bold outcome.
Gleb Guralnyk evokes the feel of simple living through these Western fonts with hand-drawn illustrations and decorative frames! Come home to the countryside everytime you use it on your projects.
Every creative needs a reliable typography they could always turn to. When that time comes, you'd be glad you got this collection by Anugraha Design. Reminiscent of 1900s wood type printing, the pack includes bonus textures, ornaments, and graphic styles to mix and match.
Zone 6 proudly presents this bundle featuring two font families. That means a total of eight amazing fonts to choose from. Pick between a fearless slab serif for Wild West themes, or go for something classic yet adventurous.
Need a cool logo in a snap? Let Magicpics save the day in this strong typeface. Perfect for logos, posters, packaging, headlines, apparel designs, and more, the pack even comes with bonus logo templates you can quickly customize.
Make your posters, headlines, book or album covers come alive in this metal-type inspired font family by Vintage Type Co. Pair your designs with their bonus decorative elements for a truly authentic 1800s vibe.
TGIF.STD lets you travel back in time in this high quality western typography. Layer the font styles to get exactly the look and feel of the exciting Wild West in minutes.
Inspired by a combination of old postcard stamps and rustic sign paintings, this collection by StoricType is all about fun. Relive carnival and pioneering days through the font's unique decorative shapes meant to be layered for interesting final products.
Remember old signs from barber shops and saloons of a bygone past? Thanks to Hustle Supply Co., now you can effortlessly re-create them using these sans and slab serif pairings. Ideal for use in the food and beverage industry, as well as handcrafted projects.
Who doesn't love beer, BBQ, and cowboys? It's no wonder Trailhead Design Co. thought of them as the inspiration in this hardworking font collection. Featuring five styles for that great Southern flare, now it's easier to get a feel for the Old West.
Having a hard time catching the perfect vintage vibe? Let Heybrinc Studio take care of that for you in this handmade display font available in two styles (Clean and Rough).
Don't settle for 'good' when it comes to important works. Be sure to make a statement using this legendary typeface by namistudio.
Aerotype presents this slightly distressed font fit for signs, logos, posters, headlines, and more. Make your projects look a little worn in, or just somewhat vintage.
Reminiscent of vintage letterpress printing with a beautiful chromatic color effect, this thick slab serif by It's me simon outdoes itself in four unique styles that'll add just the right dramatic touch to your works.
Western fonts can look romantic, too! Blankids Studio proves just that in this typeface with elegant lines suited for packaging, headlines, and printed materials, such as wedding invitations and posters.
What's better than the rugged look of the Wild West? Combine it with science fiction, of course! In this bold, aged display serif font by CorgiAstronaut, get ready to be taken on a wild ride featuring space buccaneers and renegades.
Imagine the authentic wood type signage with its original patina – a true classic indeed. Re-create a similar feel to any of your works instantly using this font family by Aerotype.
You can never go wrong adding a bit of old-fashioned sensibility in your projects. Aerotype makes this easy for any creative in this bundle featuring three font families in one. Enjoy Applewood, Bootstrap, and Buckboard all set and ready for use in your next vintage masterpiece.
Inspired by Morricone music, Tarantino, and Leone movies, this hidden gem from Vintage Voyage Design Co. is a great steal, featuring seven main styles and four support styles in one convenient pack.
Unique typefaces are an art of their own. That's why you'll be proud to have this one in your toolkit. Created HVD Fonts, this typeface has an eroded, printed look that will look beautiful in small or large sizes, as well as layered in designs.
Even the Wild West can be fun at times – like this little number by RetroSupply Co.. It's not just a simple slab serif; it's a thick font with lots of character.
Gleb Guralnyk gives creatives this elegant Western font with a bonus illustration. With separate base and shadow files, it's easier to recolor to achieve your desired outcome in minutes.
The best fonts are usually those that can serve various purposes. A good example is this western style display typeface by alit design. While it's best suited to vintage or Wild West themes, it will look equally as good – if not better – on steam punk, Goth, or even Halloween-related projects!
Adam Ladd presents this quirky serif with plenty stylistic alternates to instantly add flair to whatever you're working on. Bets used on headlines, posters, packaging, and branding materials.
Inspired by the cowboy style, this authentic little number from Flavortype is all about breathing new life into the Wild West. To truly give your works a sense of the lawlessness, they've even included an extra vector pack filled with cool cowboy stuff!
Are you ready to discover a new frontier using these wild Western fonts?
---
Products Seen In This Post:
Getting started with hand lettering?
Free lettering worksheets
Download these worksheets and start practicing with simple instructions and tracing exercises.
Download now!