20 Whimsical Fonts That Look Like They're Straight Out of a Fairy Tale
Sometimes a solid, serious font just won't do. If you're planning a children's book cover, designing invitations for a fairy tale wedding, or creating birthday cards with a fantasy theme, you need a font that conveys a sense of wonder and magic. This set of 20 whimsical fonts blend elements of classic children's book covers, hand-drawn scripts, and vintage signage for an otherworldly feel.
Pin it for later!

A handmade vintage typeface reminiscent of wooden storefront signs, Rustal Typo features varied widths, curls and embellishments for a storybook feel. It includes a full set of glyphs and 24/7 email support from its creator.
With inspiration from vintage fantasy film movie posters and classic graphic novel covers, NeverLand is a handmade font with display in mind. The Neverland font set comes with both shadow and regular letter sets, along with a full series of ligatures and glyphs.
A quirky, hand-drawn serif font, Liam features a vintage look with curls and embellishments. This childlike, storybook font set features 130 alternate letterforms and 52 illustrations to use on invitations, posters, book covers and more.
With whimsically embellished letterforms from a variety of styles, the Fairy Tale Font With Extras is a handcrafted typeface that comes with two alternates for uppercase glyphs and one for lowercase. The Fairy Tale Font includes a series of alternates and dingbats, along with a set of extra vector stock files.
Butterfly Waltz is an elegant hand-lettered script font that features swirly letters and hand-drawn flourishes along the baseline. Along with 5 Butterfly Waltz font files, the font set includes 4 files of extra decorative glyphs and additional letter styles, along with multilingual glyphs. Butterfly Waltz is also available in Russian.
An upright, hand-lettered script font, Ahra features swirly, decorative word art with authentic calligraphic style. Along with the Ahra font files, the Ahra Family also includes a set of unique greetings and more than 50 hand-inked swashes, flourishes and swirls.
Gypsy is a hand-lettered script font featuring lots of swirls and curls for a lighthearted all-caps look. Along with the Gypsy font, the set includes a number of script style extras for "and," "to" and other small words.
With leaf- and vine-inspired flourishes and swirling styles, Leafy Tales combines vintage font styles with the look of children's fairy tale books. The Leafy Tales font set includes both regular and light styles, two alphabets and a bonus set of floral ornaments.
A handcrafted decorative display font, Magic Curls brings to mind vintage circus posters and magic shows. The Magic Curls set also includes additional carnival-inspired swirls and flourishes, and a bonus vector butterfly image.
The Fontaholics Colourbox is a designer's pack containing 10 whimsical, lighthearted fonts plus an extensive collection of watercolor papers, pattern overlays, and vector images. Featured hand-lettered fonts include La Fiesta, Strawberry Frosting, Lemonshino, Bear Hugs and more, with calligraphic style and watercolor edges.
An elegant, fantasy-inspired script font, November Starlight features bouncy characters with authentically hand-painted edges. The November Starlight Font set includes the main font plus a special character set and November Starlight Alt, a second version with a different set of lowercase letters.
Steinweiss Script is inspired by the ornate calligraphic style used by Alex Steinweiss, creator of the modern album cover. The Steinweiss Script Family comes in three weights with three additional variations, and it includes a downloadable user manual.
A casual, calligraphic script font with a childlike, fantasy feel, Toypin features loose, loopy letters and eccentric styling. The Toypin Typeface set includes a full character set along with punctuation glyphs and numerals.
Unicorn Letters is a fancy, swashy font that features individual SVG letters for unlimited combinations. Since Unicorn Letters puts the focus on the individual letters, the set includes no punctuation, numbers or other glyphs.
Herald Bouncy is a versatile geometric serif font with a bouncy baseline that can convey a lighthearted or a dark, scary feel. Herald Bouncy comes with an extensive set of vector files, including birthday and other themes.
A heavy script font with swirls and swashes, Wanderlust Decorative has a hand-painted, calligraphic feel. The Wanderlust Decorative font set includes the script font and a set of decorative alternates, plus an extensive set of vector ornaments that includes catchwords and flourishes.
Melany Lane combines traditional letterforms with the warmth of hand-drawn lettering style for a swashy, whimsical look. The Melany Lane font set includes the base character set along with contextual alternates and a variety of patterns and vector ornaments.
Organic Fridays combines serifs, angled letterforms and curls for a light, whimsical feel. Featuring irregular sizes and letter shapes, Organic Fridays adds a friendly, hand-printed look to cards, scrapbooks and craft projects.
Simsalabim is a handmade, vintage-inspired display font that combines elements of script and printed letters. The Simsalabim Typeface set includes the ornamental uppercase Simsalabim font in both OpenType and TrueType formats.
Inspired by vintage or hand-drawn lettering, Silhouette features distinctive, embellished letterforms in regular and bold weights. Silhouette supports both Latin and Greek alphabets, and it includes an extensive set of stylistic alternates and standard and discretionary ligatures.
Whimsical fonts can be lighthearted and childlike, or dark and mystical. Whatever style you choose, know that these vintage and fantasy-inspired fonts can add a sense of wonder, fun and magic to design projects of all kinds.
---
Products Seen In This Post:
Getting started with hand lettering?
Free lettering worksheets
Download these worksheets and start practicing with simple instructions and tracing exercises.
Download now!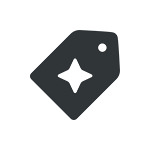 Creative Market