Why Creatives Need Offline Time to Grow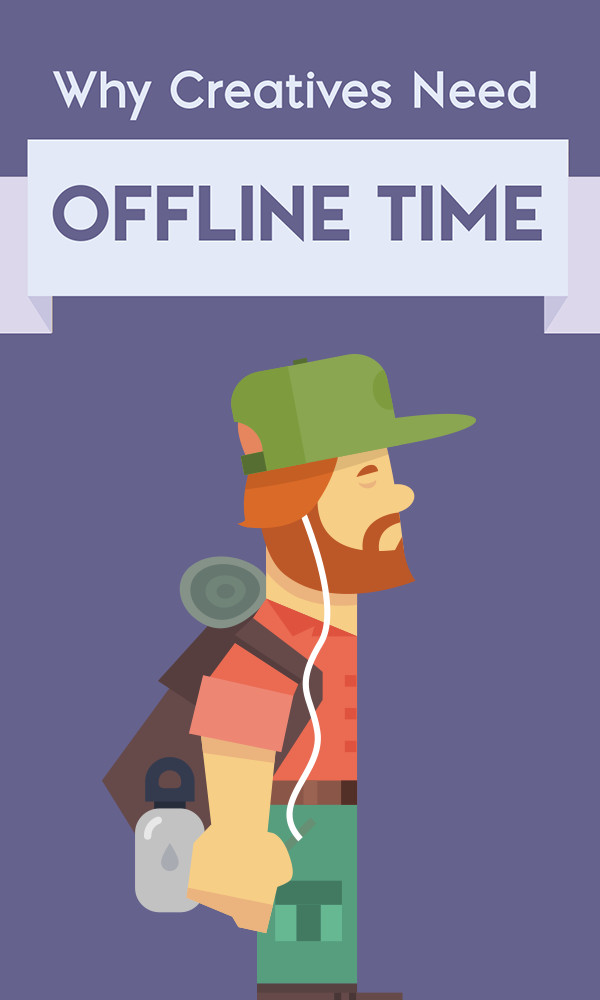 Is increasing technology a good thing or a bad thing? According to researchers at the University of Illinois at Chicago, it's both. Digital technology enables more people to work from home and provides an opportunity to help the environment by saving paper and other consumables. However, according to New York Times technology reporter Matt Richtel, downsides of technology include changes in the brain that can affect your ability to engage in conversation as well as your ability to be creative. According to a recent study, even a five-second interruption can have a significant impact on your ability to return to a project without making unnecessary mistakes.
If you're like many people, you may feel overwhelmed with all of your digital devices but are not sure how to get the offline time you need to reach your full potential. Although it may seem virtually impossible, you can get yourself on the right track toward a rejuvenating digital detox. The benefits you're sure to experience make it well worth the effort.
Truth Behind the Science
Whether you're a freelancer that works from home or a designer working in an office, you need time alone to create and develop new ideas. As a creative professional, getting offline may increase your productivity more than you ever thought possible, according to one nonprofit group that specializes in information overload.

The Internet, and social media specifically, can affect your body and brain in surprising ways. The team behind ASAPScience decided to explain 5 main effects in this amazing video:

An increasing number of studies on the topic of digital overload have allowed psychologists and researchers to delve into the key issues that may be a result of too much technology. A number of proven benefits associated with digital detox strategies can help you regain control of your life. Benefits include the following:
Better mood
More thoughtful creativity
Increased sense of freedom
Improved focus and memory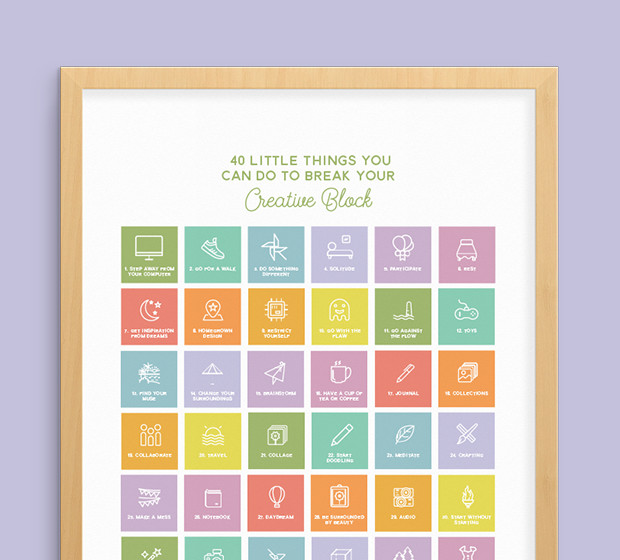 Break your creative block now.
Feeling blocked?
Say goodbye to that awful creative slump. Download this printable with 40 little things you can do to break it.
Download your free print
Learn How to Be Alone
Recent research studies show that humans are naturally social creatures, and as such, it can feel unnatural to be alone with your own thoughts. Nevertheless, whether your goal is to take a little time each day to work on yourself and get your creative juices flowing or to experience a complete digital detox, the point is to find time to be alone every day even if it feels awkward at first.
Of course, in today's busy society, you may be unsure of how to go about achieving such a major accomplishment. If that sounds like exactly what you're feeling, don't worry; you're not alone. Rather than going the extreme route by jumping into a complete digital boycott, begin by taking a few small steps in the right direction:
Set aside time every day to get offline and focus on your creative endeavors.
Find an area within your home or office where you can separate yourself from others.
Designate a specific time frame each day where you will turn off all of your digital devices, and stick to it.
Especially if you're accustomed to spending a significant amount of time communicating with others on your digital devices, it can be difficult to take the first step. But remember, the positive results you can expect make the act well worth it. Soon, you may find that your work is of higher quality, completed in a timelier manner, and full of unique ideas you never knew you had.
Evaluate Your Offline Happiness
When you stop to think about the time you spend offline, do you enjoy it? If you're like many people, the answer is probably yes.
---
Products Seen In This Post: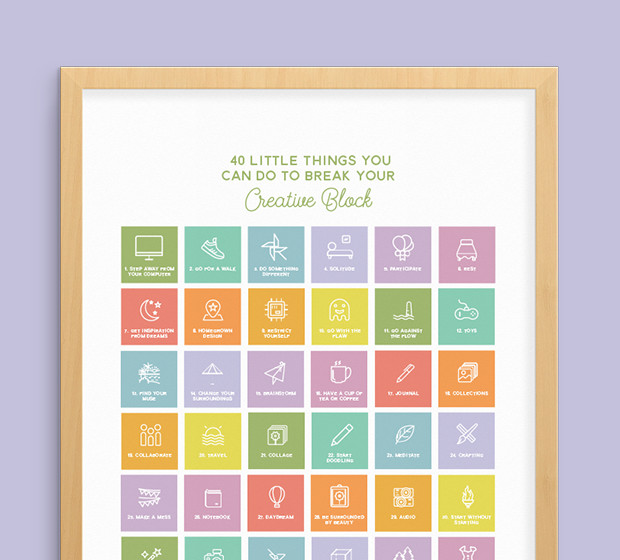 Break your creative block now.
Feeling blocked?
Say goodbye to that awful creative slump. Download this printable with 40 little things you can do to break it.
Download your free print
Laura Busche
Brand strategist. Creating design tools to empower creative entrepreneurs. Author of the Lean Branding book. MA in Design Management from the Savannah College of Art and Design (SCAD).
View More Posts