Design Resources Inspired by Yoga: Logo Templates, Graphics & Photos
Are you a holistic professional that needs images and illustrations for social media and digital products that are ready-to-go? Take a look at these 15 yoga-themed design packs that go easy on the budget while giving your wellness brand the perfect vibe.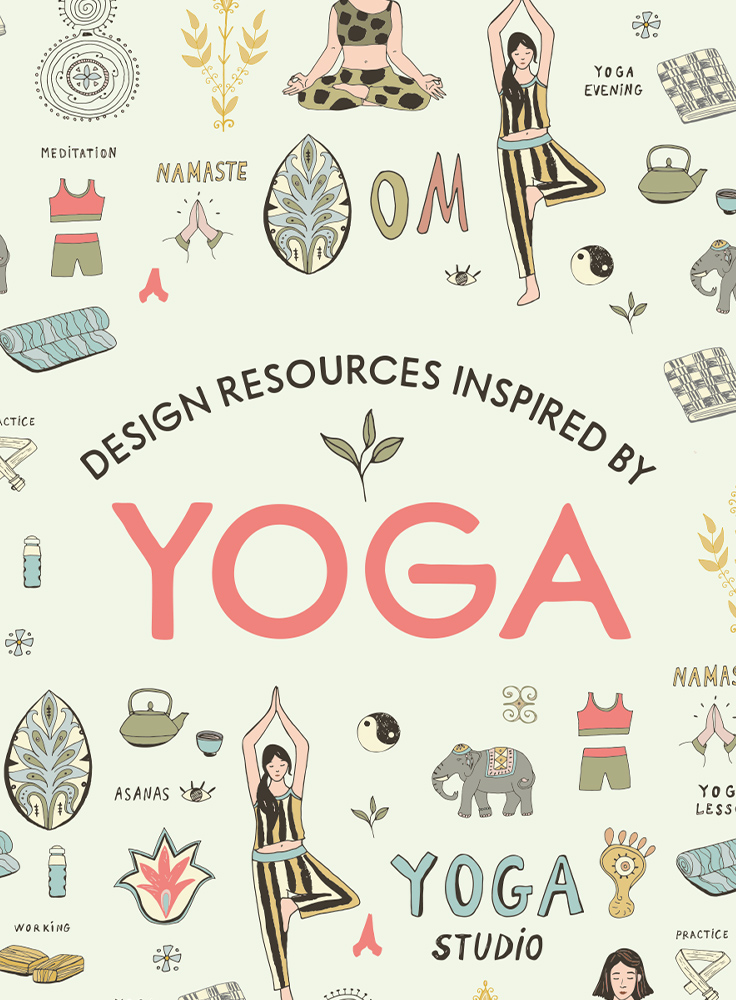 Do you struggle to find design resources suitable for your yoga clients' tastes? Are you a holistic professional that needs images and illustrations for social media and digital products that are ready-to-go? Then, take a look at these 15 yoga and metaphysically-themed design bundles that go easy on the budget while giving your wellness brand the perfect vibe.
Yoga Styled Stock Image, Smartphone
The sleek and smart Yoga Styled Stock Image designed by Her Creative Studio is an elegant photo that features a collection of yoga and healthy lifestyle objects in soft hues. Perfect for social media posts, eBooks, announcements, and more. The file includes one high-resolution JPG, is compatible with PS and AI, and contains a Smart Object Layer for easy editing.
Yoga Instructor Mockup Bundle
The vibrant and versatile Yoga Instructor Mockup Bundle created by Ashley Alexandra Design is the ideal photo bundle for yoga and fitness studios and meditation instructors. This colorful bundle features 15 playful layouts with a variety of yoga-themed items to create eye-catching displays. All images are easily customizable for all of your studio's signs and announcements.
Yoga – Illustrations and Logos
For a modern and stylized touch for any yoga, mindfulness, or holistic health brand, the Yoga – Illustrations and Logos collection designed by venimo has got you covered. This bundle of vector files includes 19 illustrations, patterns, and logo designs – including icons of women in yoga poses and 8 logo design templates ideal for a variety of holistic businesses. It also includes intricate, mystical patterns perfect for postcards, banners, t-shirts, other spiritually-inspired products.
Asana – Social Media Kit
The Asana – Social Media Kit by Simple and Nice is a one-stop-shop for the digital entrepreneur or yoga center that needs ready-made, high-resolution Instagram templates for their yoga brand. The kit comes with 28 clean and gracefully designed templates optimized for posts and stories. Asana's simply serene design is perfect for inspirational quotes, daily epiphanies, or announcements, and fully customizable with your own brand's text, images, and colors.
Minimal Logo Bundle
Here + Now Creative Co. created the positively sleek Minimal Logo Bundle for businesses and professionals that crave an uncluttered look. Perfect for a variety of businesses, including designers, consultants, health food restaurants, and juice bars, this bundle of 24 clean, ready-made logos covers all sign and business card needs. The pack comes with free fonts and ready-to-print files for business cards, signs, and motifs.
Vector Linear Yoga Icons
The Vector Linear Yoga Icons package by venimo was created with the yoga studio or professional that seeks a simple but playful look in mind. Included are 12 linear icons, four labels perfect for displaying on studio rooms, and four ornate backgrounds ideal for any yoga studio's digital or print needs. Image stroke weight and outlines can be modified to create the perfect design for any yogi.
CELESTE Spiritual Cosmic Magic Kit
Lana Elanor's CELESTE Spiritual Cosmic Magic Kit features striking yet mystical designs that look as if they were directly channeled from the esoterically-inclined business owner. Wow and inspire your clients with these hand-painted textural and line art images that visually pop with a black and gold palette. The kit includes nearly 400 serene graphics of the cosmos, spiritual vessels, spirit animals, nature's gifts, and over 14 soul-soothing watercolor backgrounds.
Sunrise Yoga Practice Photo Set
Finding realistic photos for yoga professionals, bloggers, and web designers no longer needs to be a challenge. The Sunrise Yoga Practice Photo Set by Beach Babe Stock breathes some fresh air into beach yoga imagery with this set of 26 JPG images ideal for web design, blogs, eBooks, class announcements, and more.
Yoga Modern Ebook Template
Feel like you can't wait any longer to release your eBook or website opt-in gift to grow your business? The Yoga Modern Ebook Template by Providence Studio is the solution for the contemporary wellness entrepreneur who wants a digital product ready now, without hiring a designer. This sleek, ready-made InDesign template includes 12-page templates, eight master pages ready to mix-and-match, plus polished but functional paragraph and character styles to suit the modern well-being seeker.
Instagram Stories – Unicorn Yoga Ed
Dare to captivate and inspire your social media following with this package of eye-catching Instagram Stories – Unicorn Yoga Ed by The Wedding Shop. This exquisite collection includes 30 yogalicious Insta Story templates for yogis, influencers, lifestyle bloggers, activewear labels, and more. With fully customizable images, this package is an all-in-one source for social media posts, blogs, marketing, branding, wall art, logos, quotes, and website design.
Mindfulness Icon Pack
The Mindfulness Icon Pack by Polar Vectors will meet any contemporary, holistic wellness business needs. The pack comes with 53 adorably-chic icons that depict yoga, meditation, essential oils, herbal tea, spa treatments, plants, rocks, crystals, and healthy foods. These irresistible icons are optimal for web design, blogging, social media, apps, surface patterns, brochures, and products.
33 Yoga Poses Illustration
Avny created the 33 Yoga Poses Illustration pack with the yoga professional in mind that needs posture illustrations for articles, how-to guides, social media posts, and products. This set includes 66 fully editable vector illustrations, with each image in black and white or with additional pink tones. Each pose illustration features the Sanskrit and English name, excellent for digital how-to guides or physical products.
Modern Graphic Elements. Art Leaves
The Modern Graphic Elements. Art Leaves package by white angel arts is a dream collection for the contemporary designer and artist. Create beautiful mandalas, interior design elements, and product design with this extraordinary collection. This package includes hundreds of high-resolution graphics with vector branches and leaves, abstract shapes, spiritual images, handmade watercolor splashes, shadows, seamless patterns, and mockups for mixing, matching, and layering. The result? Infinite design creation.
Mindfulness Illustrations 12-Pack
Give your designs some love with the one-of-a-kind, eye-catching visuals included the Mindfulness Illustrations 12-Pack by Luna Studio. This set features 12 exquisitely-detailed illustrations, aligned with the themes of self-care, self-love, and mindfulness. These stunning images of human figures are fully customizable and perfect for web design, digital products, apps, or print.
Mystical Collection
Designing for the esoteric business is a breeze with the Mystical Collection of pre-designed graphics and logos by Mio Buono. Show off your magical side with this collection of 86 minimalist elements, logos, posters, and patterns. The kit contains modifiable vector files excellent for digital products, apps, social media, product design, textile prints, company branding, and all of your mystical business needs.
Wrapping Up
Designing for the modern yoga, wellness, or holistic business needn't be a drag. Be bold and inspire your mindfully-inclined clients with the visuals in these extraordinary design packs sure to keep all of your graphics in the flow.
---
Products Seen In This Post: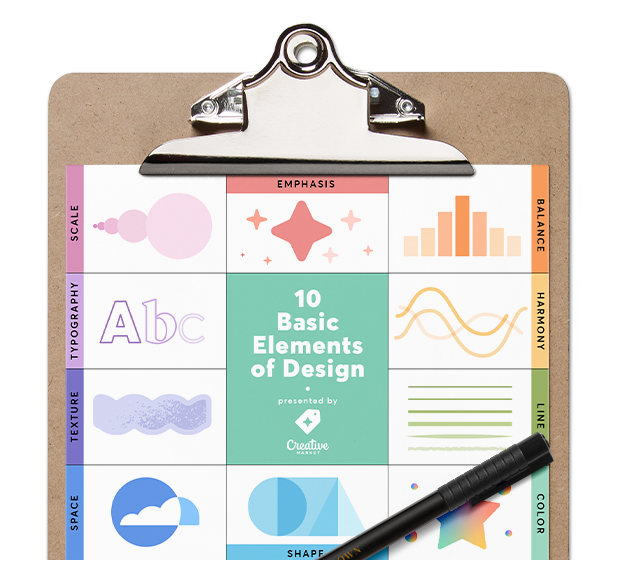 10 design fundamentals, summarized
Free Design Poster
Download this printable PDF poster and hang these 10 design principles on your favorite wall.
Get the file