10 Best Tumblr Themes For 2013
Tumblr is one of the most popular blogging platforms on the web. It's free, easy to use and comes with a seemingly endless selection of themes from which to choose. Designers, artists, writers and foodies of all types flock to it to display their various work and passions, but choosing an appropriate theme can prove tedious. As 2013 comes to a close, it's time to go through the best Tumblr themes introduced during the year, and cover what makes them so appealing. Spoiler alert: Clean, flat design is the undisputed champion.
1. Kyoto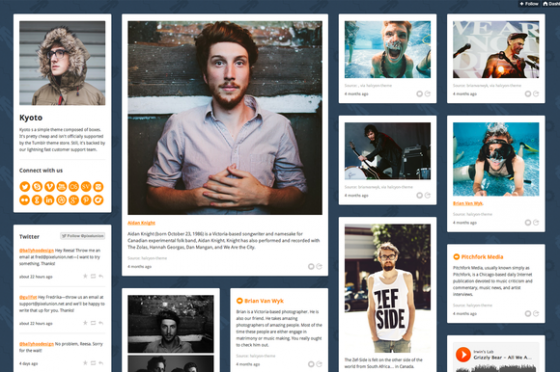 Kyoto by Pixel Union features a host of extras, including premium support, post highlighting and Facebook commenting, in addition to a slew of common customization tools, such as font, color and alignment options. This theme is really exciting due to its grid design, which makes it suitable for both photo and written content.
2. Candis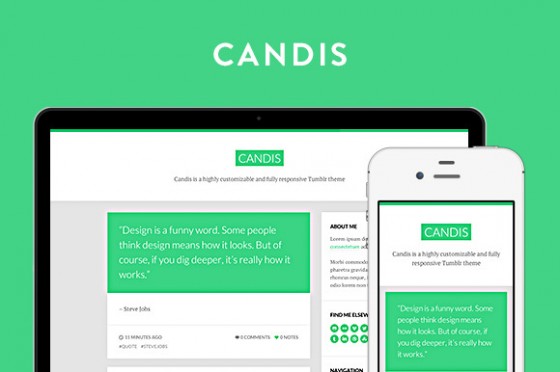 It doesn't get much more stripped down than Candis. Clean and bare, the theme somehow never feels like it's lacking. Users demanding flexibility, customization and responsiveness without a shred of clutter should jump on the opportunity to buy this extremely affordable option.
3. Van Blogen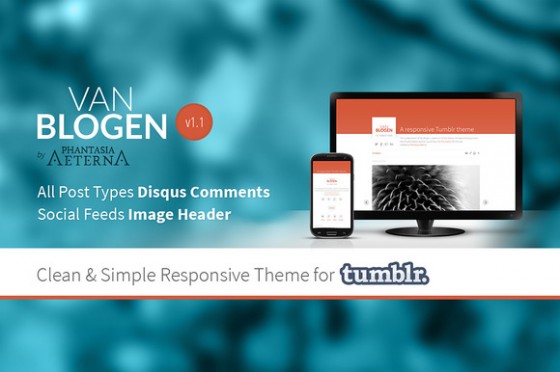 Van Blogen by Phantasia Aeterna is similarly minimal to Candis, but with more of a professional designer feel. Features include a responsive layout, several custom options for text and colors and built-in Google Analytics support. Slide show posts also add an extra opportunity for reader interaction.
4. Ecrit.es
The perfect theme for writers, the Ecrit.es theme by Cole Townsend is inspired by the text editor of the same name. It has an attractive unisex default color scheme, easy to read, single column layout and four header options.
5. Ayse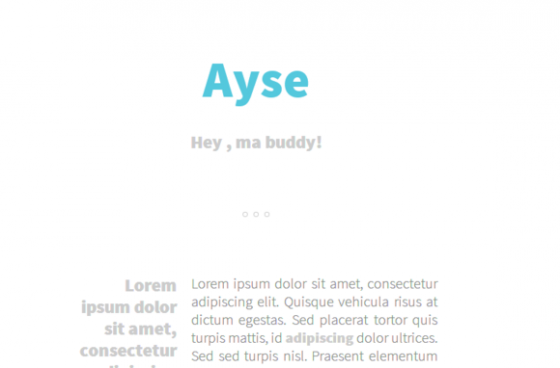 Continuing the design trend for minimalism, Ayse seems oddly cheery despite its starkly dressed style. Like any desirable theme it features a multitude of customization options—mostly social media commenting and sharing capabilities—and it's fully responsive. Support for CSS, browsers and all post types are worth noting.
6. Magnify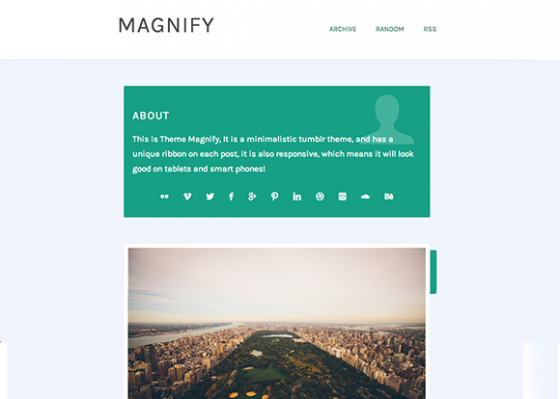 For people who want to show off their content without a lot of fuss, Magnify provides the basics. Endless scrolling, clean layout and an option for either a grid or one column style are the hallmarks of this theme.
7. Electrum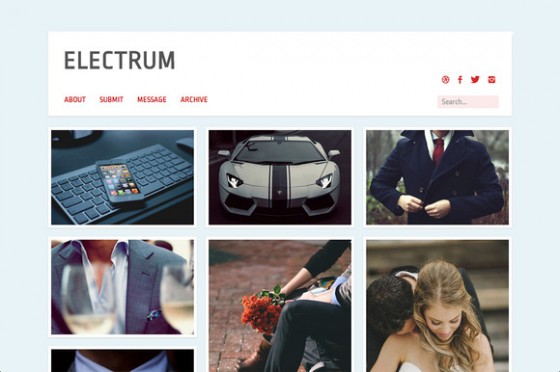 A popular option for photographers and curators, the grid layout of Electrum by Magnet makes it easy to showcase just about anything visual in a beautiful way. Features are bountiful and include adjustable post width, optional rounded borders and customizable, well, everything. Oh, and it's responsive.
8. Gabak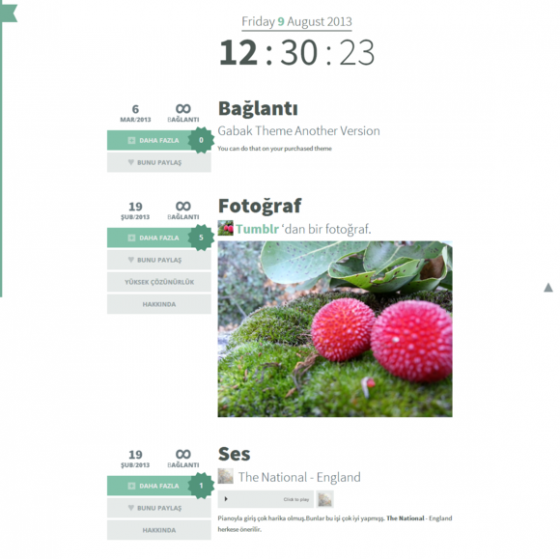 Graphic designers hoping for web pages that are clean but also stands out should take a look at Gabak. There's certainly more information here, but it doesn't feel busy. It supports all post types, loves social media (even Spotify) and is eager to please regardless of blog content.
9. Pebble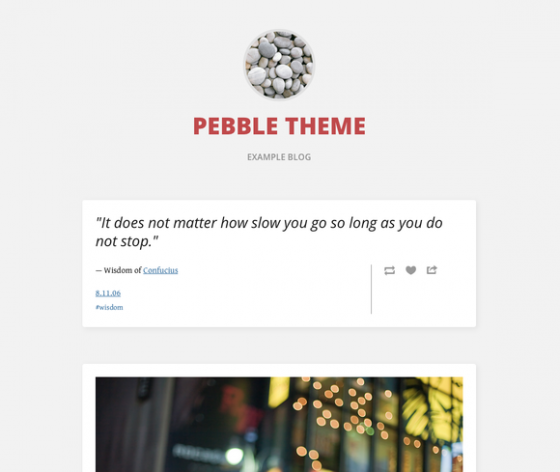 Less customizable in some ways than many others, Pebble mostly allows the content creator the option of turning on or off various features, like avatars, post author, notes, subheadings and more. This is nice for traveling bloggers who want simplicity and ease when uploading from around the world.
10. Nokt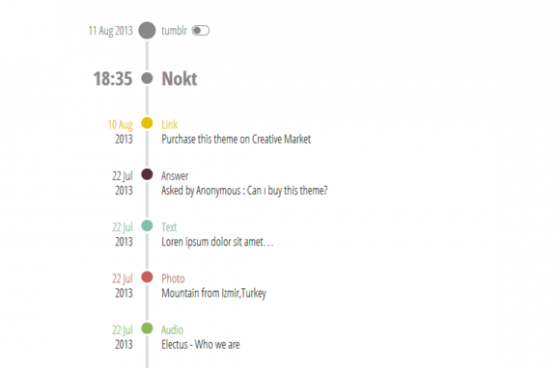 One of the most intriguing web page designs on this list, Nokt presents a timeline layout with drop down options for text, pictures, audio and video. It's extremely customizable and loves to socialize, plus it's responsive.
++++++
It's clear from these examples that flat is a major design trend for 2013. Content creators that demand responsive layouts that look fantastic on mobile devices are embracing this new, simple style. Inexpensive and user-friendly, these 10 minimalist themes, available on Creative Market, are guaranteed to get a positive reaction from web designers and followers alike.
Getting started with hand lettering?
Free lettering worksheets
Download these worksheets and start practicing with simple instructions and tracing exercises.
Download now!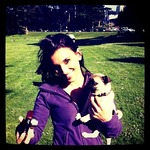 Maryam Taheri
I'm a recent graduate of the University of San Francisco with a degree in Biology and a passion for the creative arts. I love building websites, trying new things, and I have a passion for social media.
View More Posts