30 Patriotic Fonts for Your Fourth of July Designs
America's beloved Independence Day celebration is right around the corner! If you are planning to design party invites, flyers, special sales announcements or anything else America-themed to mark the Fourth of July, there are tons of fonts that can add that patriotic feel. Check out 30 of our best patriotic fonts below.
1. Prohibition Typeface
Celebrate historic America and its Prohibition Era with this Prohibition Typeface from Fort Foundry. It is an excellent font if you're going for something old-fashioned and classic.
2. Maritime Champion
Celebrate America's seafaring history or a collegiate ivy-league feel with Maritime Champion by Kyle Wayne Benson.
3. Palm Canyon Drive
In love with the 50s? Palm Canyon Drive celebrates mid-century California: a magical place where Post-war optimism fueled the popularity of everything from Hollywood to roadside diners.
4. Bolonat Hand
Bolonat Hand is a hand-drawn font specifically based on pre-war cafe signs. The font is classic and straightforward with a historic, recognizable aesthetic.
5. War Club
Thinking of the Wild West or America's tougher side? Choose War Club Font by Scott Smoker this Fourth of July.
6. Workhorse Rough
Celebrate the strong power of America on Independence Day by using Workhorse Rough, a bold font created by Borges Lettering.
7. Church in the Wildwood
Church in the Wildwood is a font that celebrates America's classic, natural and historic feel.
8. Spokane Regular
For a font that reflects that classic 1950s era of America, choose Spokane Regular from dougepenick. It's the perfect choice for an ad-era, "Mad Men" feel.
9. Brayden Family
Brayden Family is a classic, bold script font — similar to what's commonly associated with the classic American Coca-Cola. It's perfect for a fun or festive American-themed event for the fourth.
10. Wilder Family & Handdrawn Kit
Any fans of the Wild West can take advantage of the Wilder Family & Handdrawn Kit, which is a vintage typeface ideal for any occasion celebrating America's cowboy and Indian heritage.
11. Warrior
Harken back to the time when America won the Revolutionary War with this Warrior hand-drawn typeface by Vintage Design Co. The typeface is inspired by the American outdoors and everything vintage.
12. Cabrito Inverto
Ready for a Fourth of July fiesta? Cabrito Inverto from insigne is the perfect way to announce your festive, fun gathering.
13. Bootstrap
Recall American pioneers with this Bootstrap set by Aerotype. The font set comes with two variations of the font — one distressed and one less distressed.
14. Thistle Creek Font
Thistle Creek Font from Nicky Laatz is described as being "a little vintage-Western" — which is the perfect aesthetic for any event celebrating America's history.
15. Voltage Regular
Another vintage, historic-looking font to harken back to a different period in American history is Voltage Regular created by Laura Worthington.
16. GrandGibson Typeface
Baseball is one of America's favorite pastimes, and GrandGibson Typeface is a great way to celebrate this. The font was inspired by the typography on the jerseys of The Homestead Grays team and was named after legendary catcher Josh Gibson.
17. Attica RSZ
For another fun and bold vintage aesthetic this fourth, check out Attica RSZ from Resistenza.
18. Modern Whiskey
Modern Whiskey is a font with a Western twist created by Trivia that is an excellent choice for any event that is hipster, vintage or just plain trendy.
19. Athletico
Athletico is a varsity-inspired font created by Leitmotif to use this Fourth of July for any athletic or collegiate-inspired event.
20. Deputy Serif
Fun and quirky, Deputy Serif is a serif font created by Black Bird Foundry with a western, unique flair. It can be used for a range of situations, from upscale to understated.
21. Western Grit
It's Me Simon created Western Grit, a distressed typeface that is an excellent choice to celebrate the historic aspect of Independence Day this summer.
22. Houston Pen
Travel back to the days of the American Constitution with Houston Pen, a font created by Three Islands Press that resembles old-fashioned script handwriting written in ink.
23. 60 Fonts from the Civil War Era
Go way back to one of America's toughest periods with New Blazing Star Press' 60 Fonts from the Civil War Era. This kit is the culmination of 3 years of research into the typography of the Civil War era, and features 60 of the most common fonts, ornaments, and borders used between the years 1850 and 1865.
24. Barack Volume with 3 Styles
Barack Volume is another typeface created by URW++ to celebrate America's current president.
25. American Scribe
Another font created to mimic the old-fashioned handwriting in the Constitution is American Scribe by Three Islands Press.
26. North Western Bundle
Don't just celebrate the West: celebrate the American Northwest with this North Western Font + Vectors Bundle, which comes with a font and images that celebrate the Northwestern United States.
27. Nueva York
Nueva York is a handmade font created by The Texture guy that caters to many Latin-based languages and has a fun and festive feel.
28. Number Five Rough
Number Five Rough by Laura Worthington is a script font that is bold and distressed— a great way to create a vintage or retro American feel.
29. Shelton Slab
HVD Fonts created Shelton Slab, a slab typeface that has an eroded look and resembles an old-fashioned typewriter.
30. Fontastik Bundle
Get five great fonts to celebrate America when you purchase this bundle from ThunderPixels Store, including American Handmade Typeface.
---
This Fourth of July, you can get further in the spirit of the day by using a handcrafted font to celebrate America and its history. Our shop owners have a great selection of American-inspired fonts to choose from, as well as photos, images and graphics to pull together any Fourth of July design project.
---
Products Seen In This Post:
---

Getting started with hand lettering?
Free lettering worksheets
Download these worksheets and start practicing with simple instructions and tracing exercises.
Download now!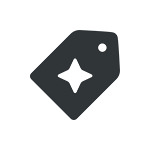 Creative Market