DIY Platforms to Create Your Own App
Can anyone really create a mobile app? The answer to that question depends on the end result that you have in mind. If you're looking to create the next Infinity Blade or Evernote, you're in for a major project that will be expensive, time-consuming and require serious coding expertise.
That being said, if you're looking for an easy way to convert your existing (simple) web content into a mobile app, there are several DIY services that are worth checking out, no coding experience required. Let's take a quick look at five popular options.
This platform makes it easy for users to create iOS and Android apps with a drag and drop interface. Users can upload content manually or automatically with social networks, RSS feed, and websites, and are able to add pages. The platform also offers useful engagement and promotion tools, including loyalty cards, geotargeted push notifications, and custom forms.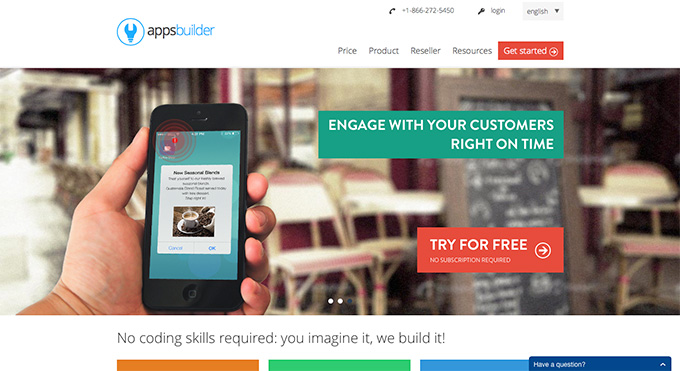 A couple of big pluses users get are a real-time preview of their app and the ability to integrate QR codes. "You imagine it, we built it" is this app's slogan, and at about $13 a month, Appsbuilder has been used to create over 500,000 apps so far.
For a simple nuts and bolts approach, this site lets users develop a native iPhone or Android app in addition to an HTML5 mobile website, sans fee, if you accept in-app advertising. Their rate is $9 a month, with a one time fee of $199 for self-publishing tools.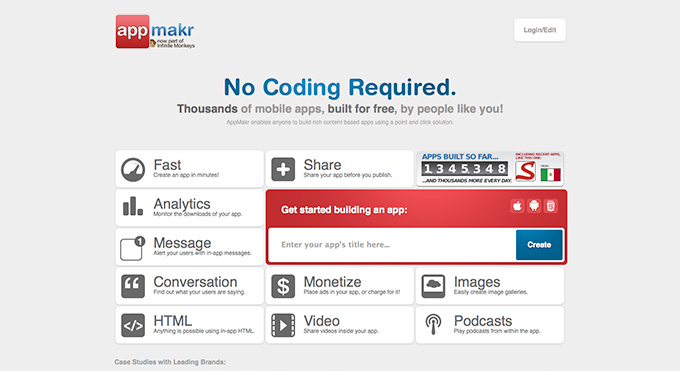 Marketing features for Appmakr include analytics, push services, and RSS. Appmakr has been acquired by another online app creation platform called Infinite Monkeys (more below).
This platform utilizes HTML5 and makes a variety of different apps, including coupons for Passbook and games. One interesting feature is that it integrates photo gallery content from Picasa, Flickr, and Instagram. Rates start at $7 a month for single app support on Android (iOS rates start at $19/month).

Como (formerly Conduit Mobile) leverages over 600,000 platforms globally. Users can choose color themes, backgrounds, styles, and features to design their apps. It offers a wide array of apps that can be designed for non-profits, restaurants, education, music, events, and small businesses.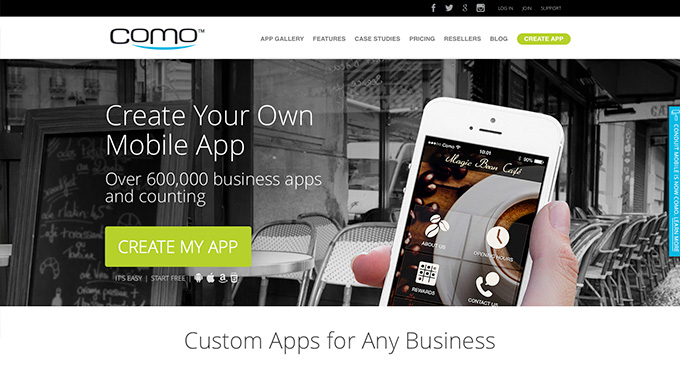 Recently fine-tuned and rebranded, the platform also offers promotional and monetization options, including e-commerce functionality, online ordering, and loyalty cards. Pricing starts at $33 per month, billing annually, with the perk of it being free for up to 50 downloads. Submissions to the Amazon, Android, and Apple app stores are included in the pricing plan.
This platform acquired Appmakr last year and is geared towards creating fan or social apps for organizations, restaurants, retailers, and individuals. The platform boasts a social angle and quick turnaround time. The pricing begins at $12 a month for a native mobile app and HTML5 website.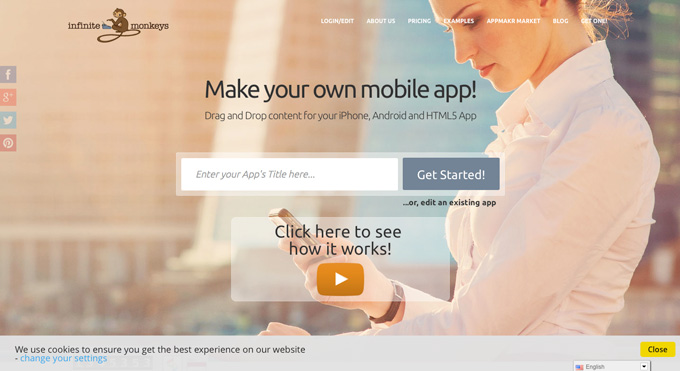 Beware The Tradeoffs
As with any pursuit, there are a lot of tradeoffs to consider here. Using a DIY mobile app service like the ones presented above can be effective, but the end result is often not nearly as polished as the native apps that you are used to interacting with.
Before you make a decision, look through the example galleries that some of these services offer. If the apps shown represent a quality that you're comfortable with, granted that you have solid content and design resources to work with in the first place, you'll probably be ok. If your needs something more high end, you'll be better off making the investment to have a reputable app shop build you a custom, native solution.
Have You Tried Any DIY App Platforms?
If you have any experience with the apps above or any similar services, let us know in the comments below. There are a lot of competitors in this market, but a lot of them seem pretty rough around the edges. We'd love to hear your thoughts on the best options.
---
Header image created with Macbook Pro photo.
---
Getting started with hand lettering?
Free lettering worksheets
Download these worksheets and start practicing with simple instructions and tracing exercises.
Download now!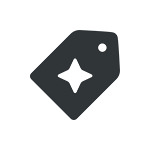 Creative Market