5 Things I Learned from Creating My Own Fonts
Fact: There are over 1.2 gazillion fonts in the world. Well, maybe that's not an exact figure (or a real one at that), but if you've recently looked online in a hunt after the perfect serif, sans, display, or dingbat, you'll have noticed that there are countless options. The perfect typeface can make the difference between a good design and a great one (though I can't say that it will bring a mediocre piece to greatness). The wrong typeface, however, can make an otherwise great design suffer. I'll spare you the smug jokes about Comic Sans and Papyrus, but in today's fast-paced design world, using notoriously over-used typefaces is a thing of the past. With easily accessible font-creation software, and online seller markets like Creative Market, practically anyone can design and create their own fonts. Today, I'd like to share with you my own experience, and some of the things I've learned over the last year.
1. Try it, You Might Like It
When I opened my Creative Market shop a little over a year ago, my intention was to create and share things that I love, and that would be useful to other designers. I was drawn to creating clip art and patterns, and had never thought about the seemingly daunting task of creating a font! It wasn't long before I was overcome with inspiration and itching to try my hand at typeface design.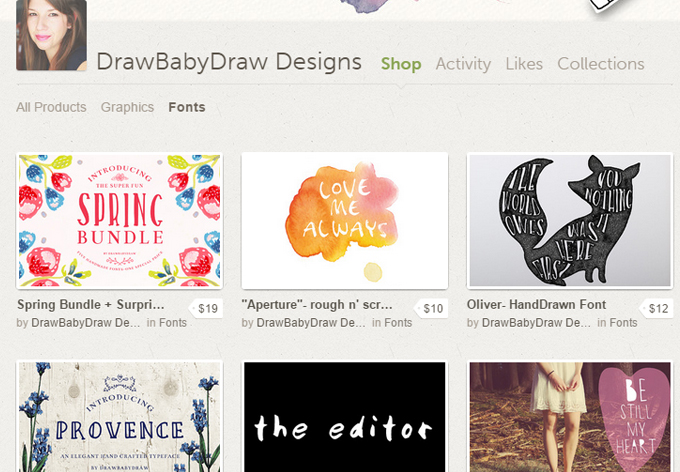 A peek at some of the fonts I've created since opening my Creative Market shop. A quick Google search led me Paintfont.com, an admittedly amateurish program made to let anyone draw and scan their characters, upload their printable, and install their own font in minutes!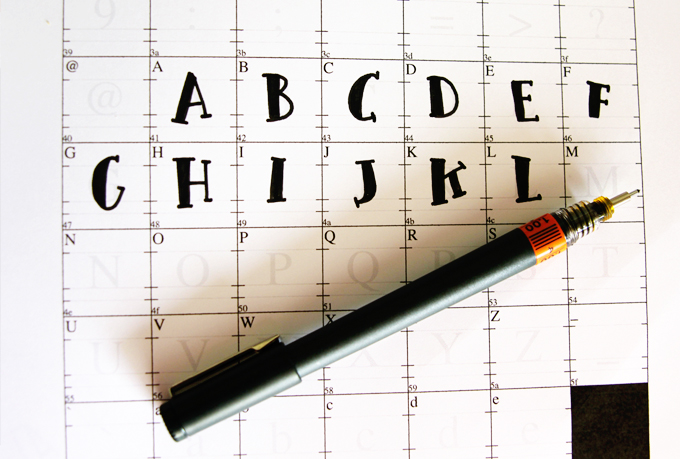 PaintFont's printable template Let me be the first to tell you: it's far from perfect. Once scanned, the program will slightly smooth and simplify your scanned characters, and you don't get any say in the kerning, and as for any tweaks you want to make, you'll need to start over… it's basically hit or miss. I made these slight imperfections work for me, by creating purposely awkward, hand-drawn fonts, and have been really pleased with the positive feedback that came my way. If it sounds unappealing, perhaps you'll reconsider when I tell you that professional font creation software (called font editors) can cost hundreds of dollars, and PaintFont is free. I would definitely recommend trying it out, just to test out if type design is for you.
2. Find your Style
It can be intimidating to try and dip your toe in what is a super-saturated market. But remember, you're the best person at being you, so instead of trying to mimic what's already out there, find your voice as a designer and share it with the rest of us!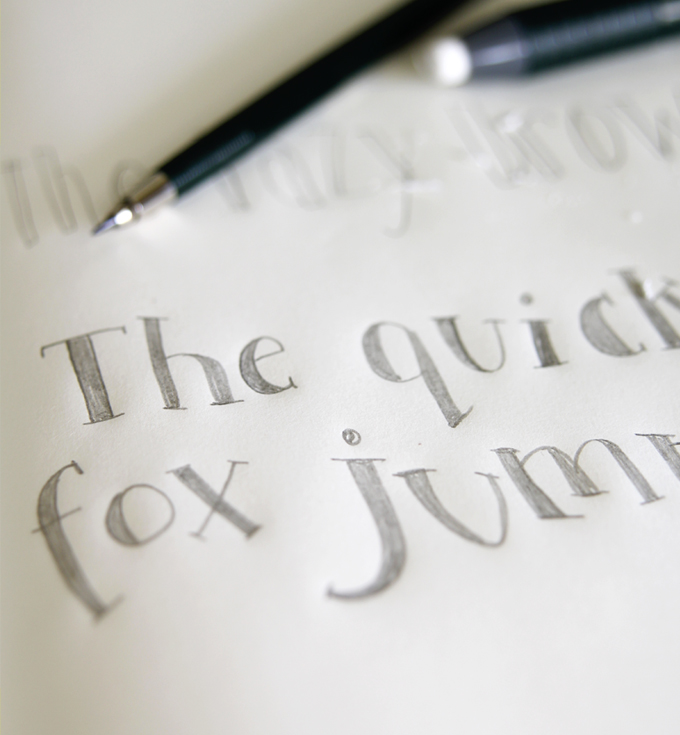 Your sketchbook is the perfect place to start brainstorming ideas for a new typeface A good place to start is creating your own handwriting into a font (as long as it's legible) people love unique hand-drawn styles.
3. Be Willing to Spend the Big Bucks
I recently splurged on Fontlab Studio, one of the more well-known font editors. By splurged I mean I cried as I typed in my credit card number. (Just kidding. I only cried when I actually opened FontLab for the first time, more on that in a moment.) But I considered it an investment: as I make better fonts, I can feel comfortable charging more for them, and eventually it will pay off. Another popular font editor is Glyphs Mini, but there are many more options out there, so do some research to find which editor is right for you.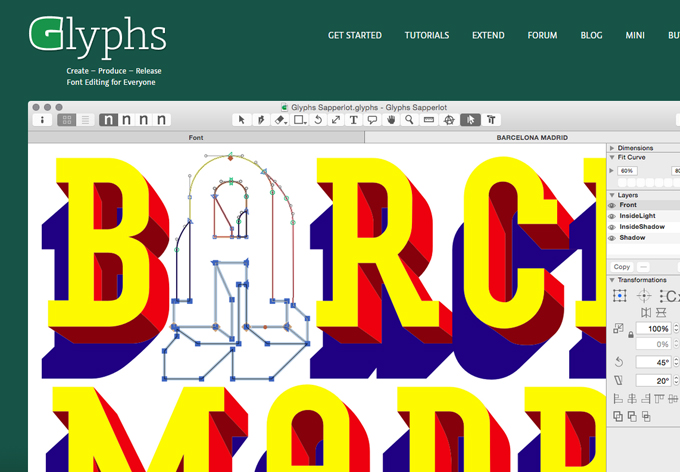 Glyphs is just one of many font editors out there
4. There's A Steep Learning Curve
As I mentioned, I was taken aback by all the menu options in the program. I thought that knowing what 'kerning' and 'leading' meant was enough. Boy was I wrong! Luckily, you don't have to utilize all (or even most) of the options, but you will have to take the time to learn quite a few of the basics.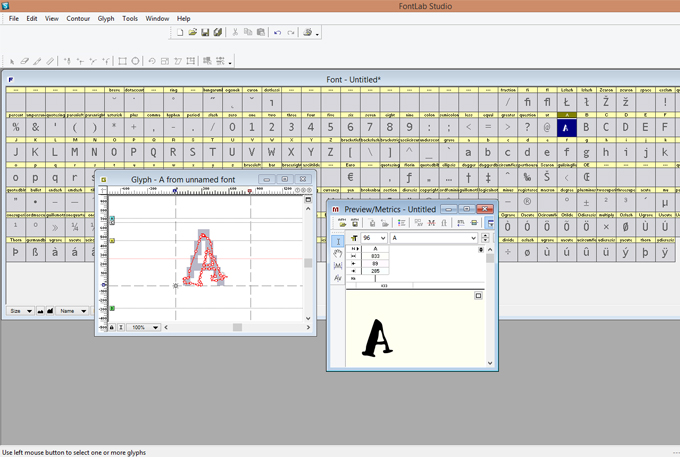 FontLab Studio You'll find plenty of resources to help you learn the ropes, and many forums and friendly advice from fellow type designers are available on the Internet.
5. Have Fun and Always Grow
Creating a font is a labor of love. From finding a way to make all your characters work cohesively, to slowly but surely fine tuning them in illustrator, and finally painstakingly perfecting the kerning, seeing a typeface through from idea to fruition can take weeks and months. Is that a long time? In my opinion, yes. Is it awesome to see some of your fonts adorning some amazing designs and products out in the world, and to know that you're a part of it? Big yes. I'd love to know, have you given typeface design a try? Did you like it? What tips would you share with someone who's eager to give it a go?
---
Shelly Laslo is a graphic designer and illustrator. She is the owner of DrawBabyDraw Designs, where she sells handmade design resources which give your work a unique, one-a-kind charm. You can also check out her work on Instagram.
---
Products Seen In This Post:
---

Getting started with hand lettering?
Free lettering worksheets
Download these worksheets and start practicing with simple instructions and tracing exercises.
Download now!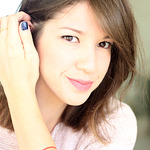 Shelly Laslo
Hi! I'm Shelly, a picture-book illustrator based in sunny Israel. I create thoughtful digital design goods to help your work shine brighter.
View More Posts