50 Content Marketing Blogs to Read and Follow
Content marketing is all the rage at the moment. Whether you're a small business manager, a large company CEO, or a freelance designer, content marketing is something you should be aware of and able to leverage. Getting it right can be tricky though, so you need to read up. Fortunately, there are tons of great resources out there on this very topic. Here are fifty of our favorites.
Kissmetrics covers a wide variety of topics including analytics, advertising, blogging, Facebook and more.
HubSpot covers a wide variety of marketing topics for the individual, sales team or agency. Discover everything from A/B split tests to landing pages and agency pricing.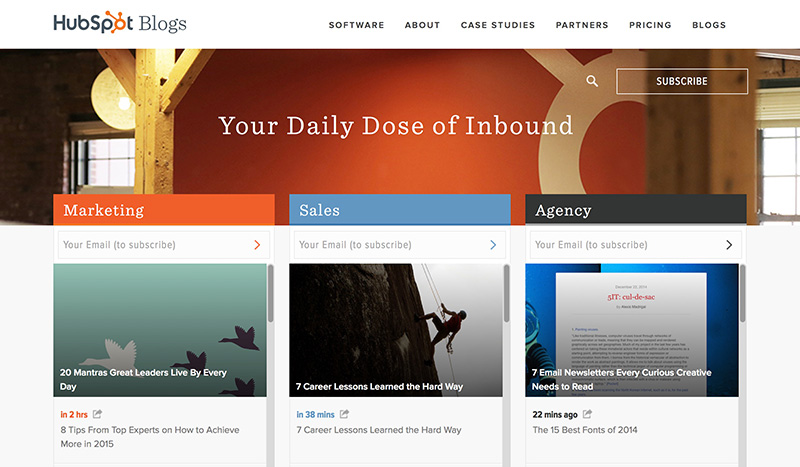 Simply Measured is on the cusp of social media marketing and analytics.
Sprout Social discusses the best social media practices.
Follow as SEO rock star Rand Fishkin and his crew discuss the latest with Google, SEO tactics and creating content that's perfect for both.
Founded by former Google product managers (Dan Siroker and Pete Koomen), Optimizely gives you the latest on optimizing the best marketing content for your brand.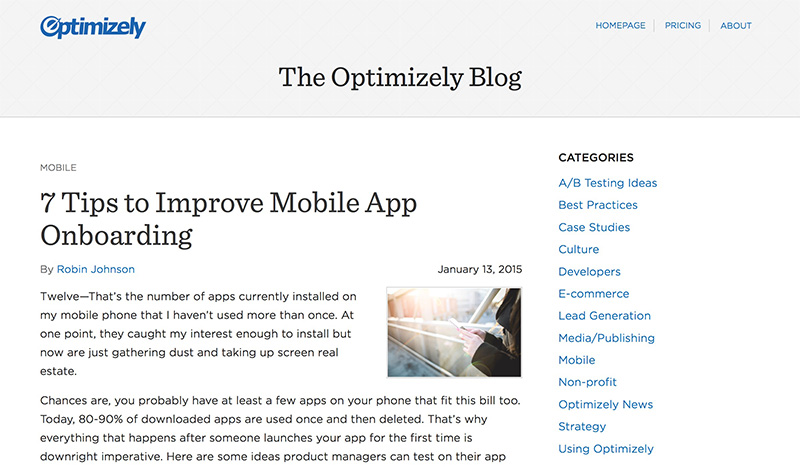 Founded by Wil Reynolds (out of his apartment), SEER Interactive has grown into an SEO powerhouse in the USA. Get the latest from Reynolds and his team on SEO, Google and PR.
Not sure how to convert users? Discover the best landing page techniques at Unbounce.
Aimclear is the master of click bait and out-of-the-box campaigns. Give your team a reboot by visiting Aimclear's blog, where you'll find info on their trials, as well as high-quality tutorials.
Raven is a popular suite of extremely powerful analytics and marketing tools (similar Moz), but they also have a very insightful blog that is constantly posting great tips for content marketers.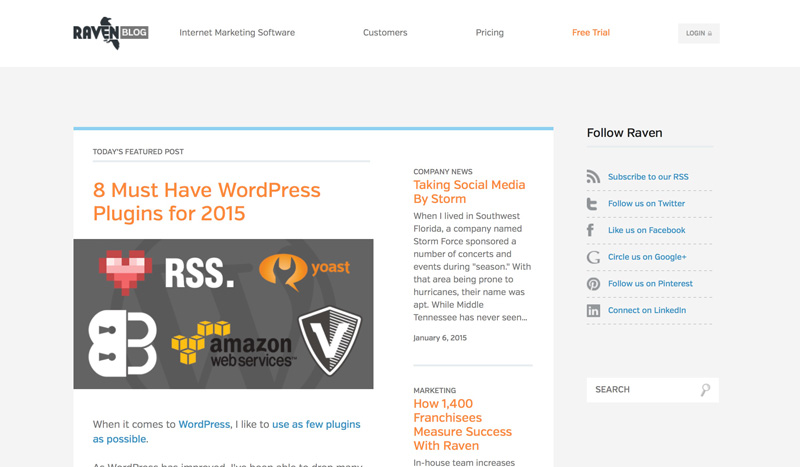 Alex Houg's blog may not wow visitors like the fancy formatting of other resources, but his content and interviews provide insight to creating stellar content.
TrackMaven helps you understand why people are sharing your Facebook posts and why they're so engaged on Instagram. It's crucial for every marketer.
Creative Market's own Head of growth, Zack Onisko, runs his own blog and frequently posts great insights on marketing strategies that we put into practice as well as how they've affected our site.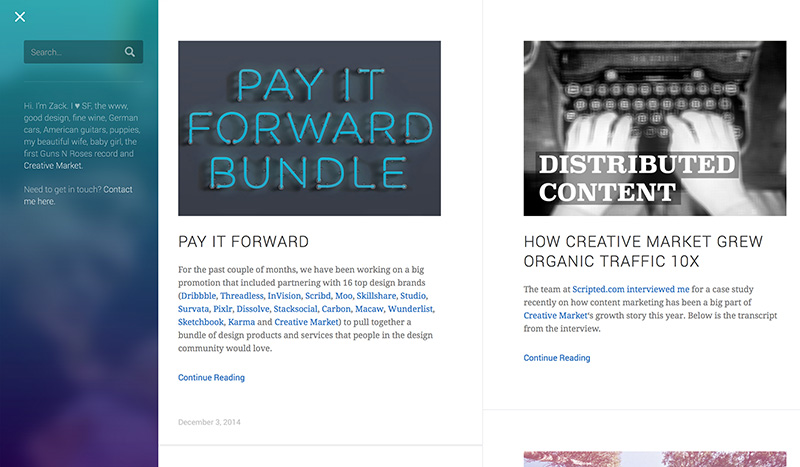 If Google makes a change to its algorithm, who are you going to call? Matt Cutts! Cutts is a Google employee who provides insight about why Google is ranking what. It's essential to knowing how to write your content.
Don't ignore Bing, Yahoo and Amazon. Search Engine Watch gives you the best ways to capitalize all search engines.
Copybloggers gives even seasoned writers new tactics to gain traffic and readers.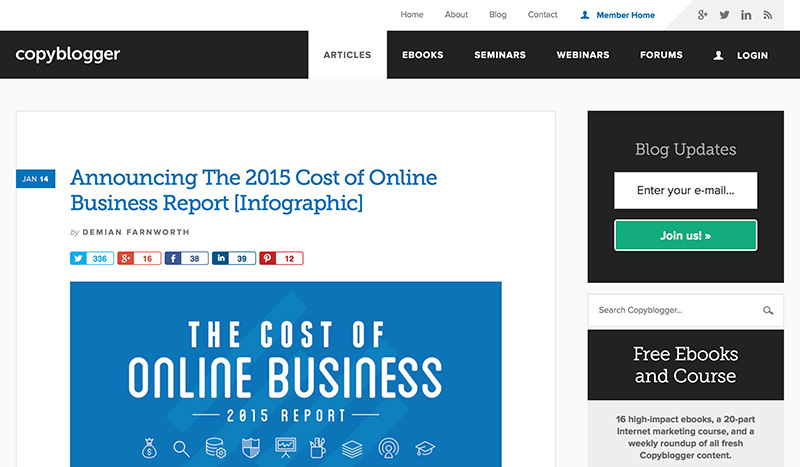 Unsure of how to write content, make podcast or create other content? Social Media Examiner covers all things social media.
How do you know if your content will be shared? Convince and Convert provides you with cutting-edge tactics.
Gain insight about storytelling, consumers and best practices with Post Advertising.
EConsultancy goes beyond digital marketing to a wide variety of topics on social media, online pricing and more.

Discover how to create content and market to B2B customers with the Marketing Interactions blog.
Brian covers a wide variety of content–and where it's going next–to help you stay on the cusp of the best.
Mailchimp does more than deliver High Fives. They deliver amazing content strategies in their blog.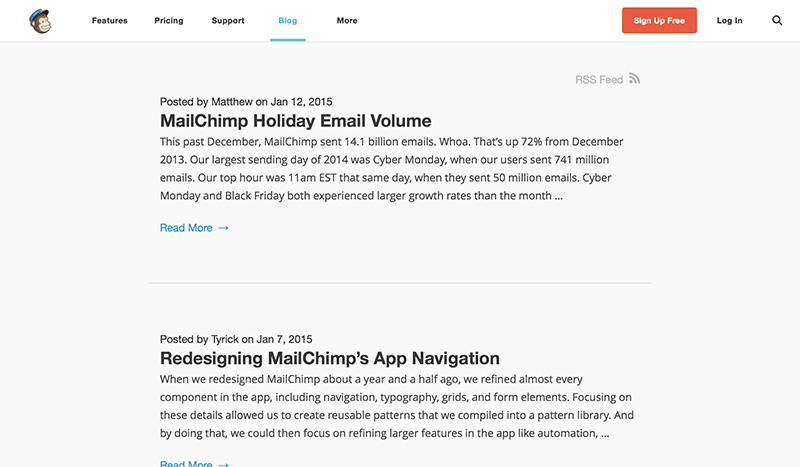 Get insight on memes and marketing challenges with the Marketing Prof.
Content Marketing Institute provides more than just a website – it includes how to guides, a huge social media following and education to stay on top of content marketing.
Brafton's blog takes on the creative side of content marketing, with themes like the 12 Days of Content and how brands can learn from small business Saturday.
Although Velocity Partners is based across the pond, they still keep tabs on USA marketing events. Stop over on their website for breaking new tools, recaps of industry events and what you need to know as a creative individual.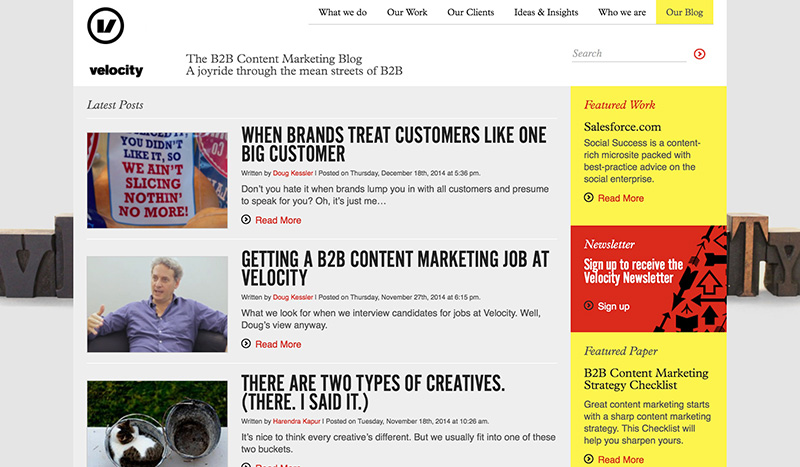 Chris Brogan not only helps business owners, but shares how to master the art of storytelling for a variety of audiences, from digital content to podcasts.
Cohen focuses on content marketing specific tactics to boost results, shares insider secrets and is on the cusp of groundbreaking tactics.
Contently has eye-catching visuals to coincide with its innovative content marketing posts.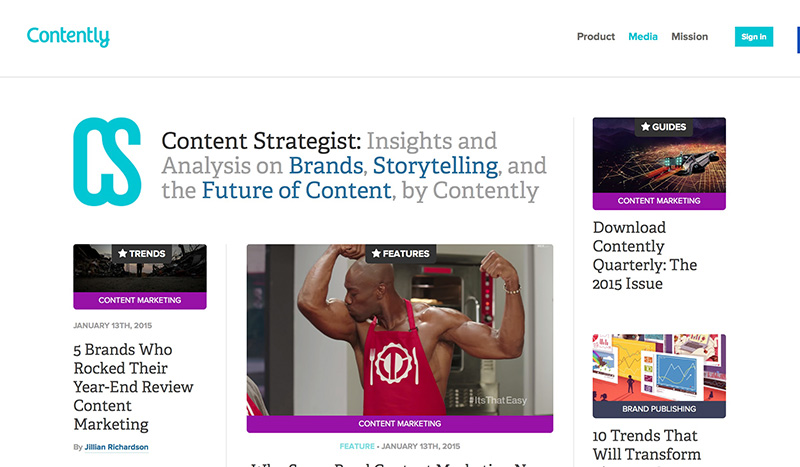 Get insights on content marketing, strategy and social beyond content and into leads and advertisements.
Buffer focuses on Social, Open (transparency) and Engineering (technical) side of compiling your content marketing for lasting results.
Scoop It provides content marketing insight from their writers, CEO and more with interesting tactics.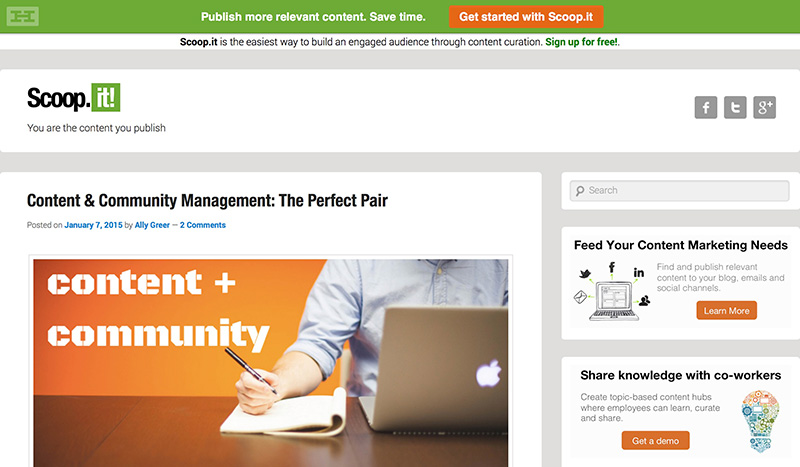 Discover how to make your website high quality and increase traffic with QuickSprout's Blog.
Atomic Reach goes beyond content marketing tactics in order to justify tactics and programs to the C-suite of your company.
Seth Godin is popular with marketers and experiments with a variety of content strategies on his blog, too. You know what they say about imitation and flattery…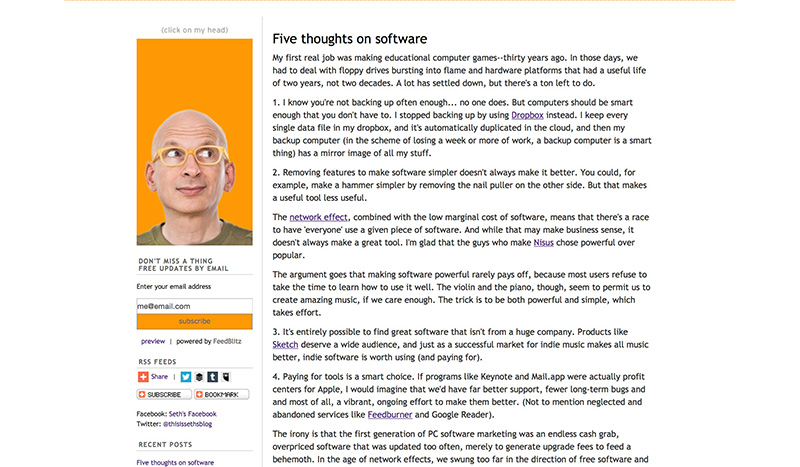 Search Engine Journal covers a variety of topics from search engines, paid search, entrepreneurship and WordPress. However, its Content Marketing column includes ways to challenge your blog intros and the biggest mistakes you're making.
Take a hint from the land down under and challenge yourself with another perspective on content marketing from one of Australia's top content marketing agencies.
Discover how to use content marketing in conjunction with Google Analytics, social media and more with the Conversion Scientist's tactics.
Outbrain explains top content marketing strategies as well as shares news sources and advice for agencies.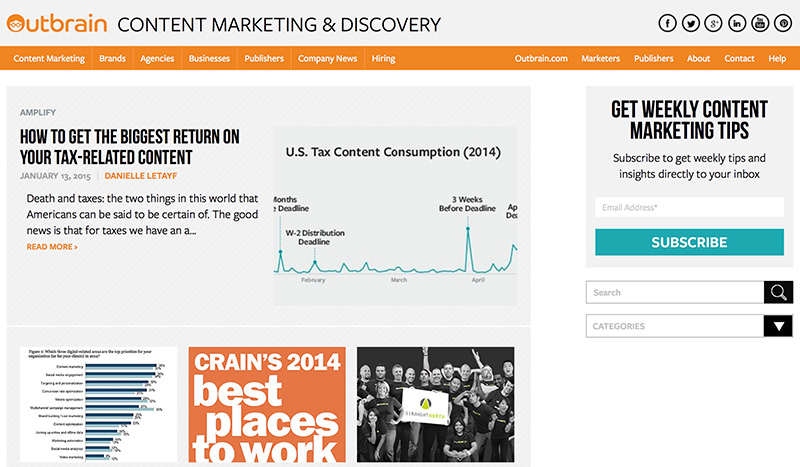 Find out about content marketing ideas with case studies that back up how others made it work.
Content Science publishes biweekly but offers expert opinions so you can stay on top of your game.
Whether you need to hone your brand strategy, keep up with the latest technology or social selling, Find and Convert offers new information through its blog and provides webinars, presentations, eBooks and more to round out its offerings.
Whether you're freelancing or working in-house, Heather Lloyd-Martin shares copy writing strategies for success.
Scott Abel often uses slide decks to move you through content management and social media tactics.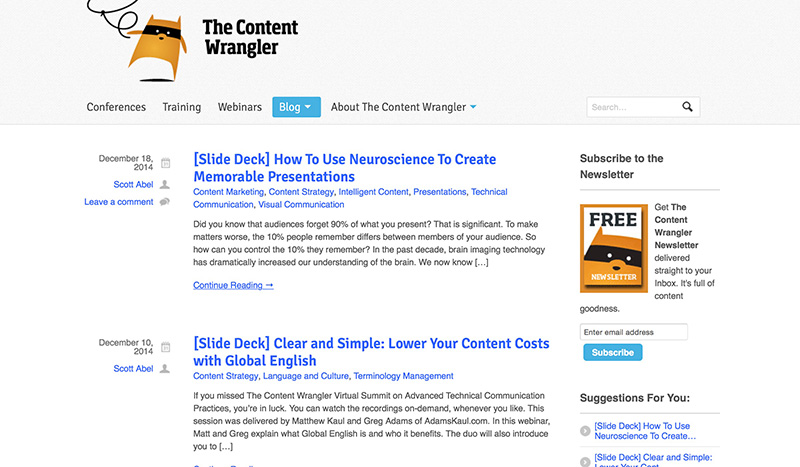 Discover how to optimize your business blog (or know when to outsource) with the consistent advice of Linda Dessau.
Bryon White gives guidance on business regarding marketing, emails, data and more.
Whether you're more concerned with Google or WingDings symbols showing up in your email subject lines, Portent addresses off-the-cuff topics to keep you on your toes.
Balancing inbound and content marketing, Sprout Content offers analogies to the Wild West and when to say no to your customers.

Find out how to write great content and appropriately distribute it through tools like Google Adwords, Google Ads and retargeting.
What Did We Miss?
There you have it, 50 awesome content marketing blogs that you can bookmark and read regularly to get the best advice in the industry for crafting an unbeatable content marketing strategy. If you know of any great content marketing sites that we missed, leave a link in the comments below.
Getting started with hand lettering?
Free lettering worksheets
Download these worksheets and start practicing with simple instructions and tracing exercises.
Download now!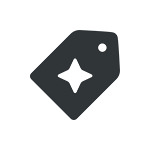 Creative Market