A New Marketplace for Creative Content. Coming Soon.
Since announcing our plans for Creative Market several weeks ago, we've had an amazing response from creative folks around the world. Nearly 40k people signed up for our early access list and thousands have filled out our buyer & seller surveys, helping us fine tune the best marketplace experience we can build.
We're in the final stretch of the building process for the marketplace and we appreciate your patience. We don't just want to build another place to buy & sell creative content, we want to build THE place to buy & sell creative content and we're taking the time to make sure we make the best product possible.
As a special thank you for your ongoing support and eager anticipation of us opening the doors to the public, we've put together a small, but growing collection of great content for you to download free. This handcrafted free design content is a hint at the kind of stuff you'll be seeing in the marketplace. (Tell us what you're most interested in buying from the marketplace with our short Buyer Survey,.)
Handcrafted Free Creative Content

About Creative Market
From the creators of COLOURlovers.com, Creative Market is a new kind of marketplace for handcrafted, mousemade design content. We have a simple, but important mission: to make beautiful design simple & accessible to everyone.
Creative Market is the next piece of our mission that will help creatives easily access a wealth of beautiful design content for their projects. Whether it's finding a unique vector pattern for a textile, the perfect font with personality for a new logo, or any other kind of digital creative content that helps you produce something amazing.
Our friends at Etsy.com empowered the handmade goods revolution. We believe we can do the same for mousemade goods. Grab your creative tools and join us!

Do You have Digital Content to Sell?
Are you a designer with beautiful vector shapes & patterns, fonts, brushes, photos, icons or other creative content you would love to sell in the Creative Market? Be one of the first publishers in our marketplace and let us promote your work to millions of people.
Contact Us to be one of our first publishers →
Free lettering worksheets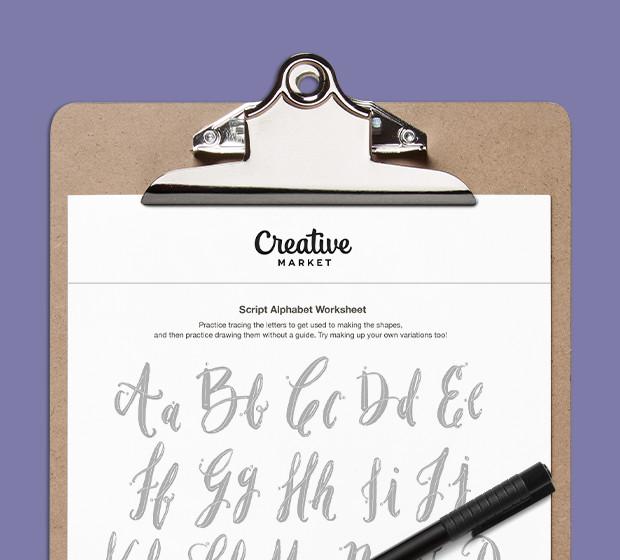 Download now!

Getting started with hand lettering?

Download these worksheets and start practicing with simple instructions and tracing exercises.
Friends call me Bub(s)(ba). CreativeMarket.com CEO #1 Cofounder of Hands.org & Nalukai.org Husband of Kaili & Father of Waialea, Spencer & Sachi.
---