5 Quick Ways to Make Animated Stories Without Video Apps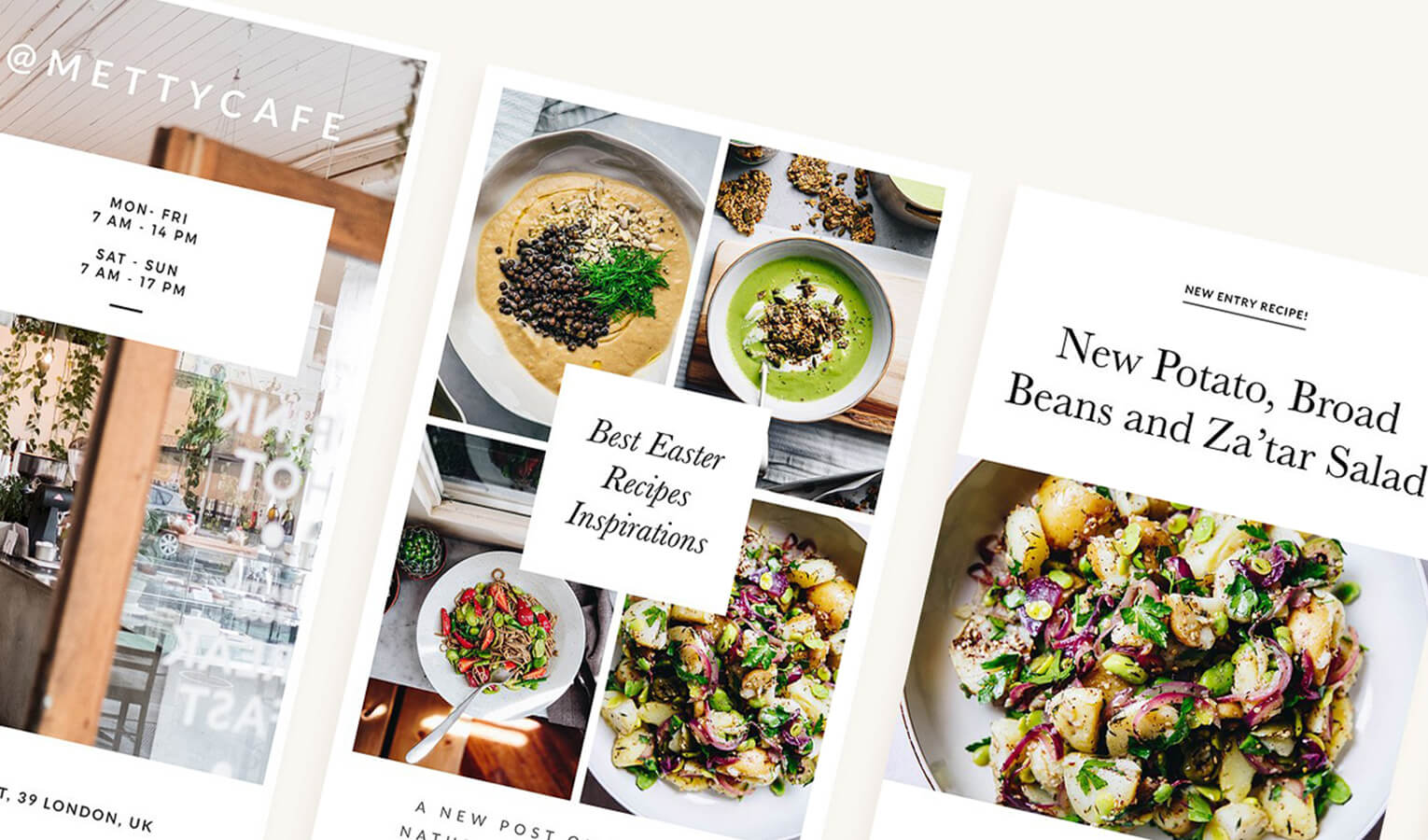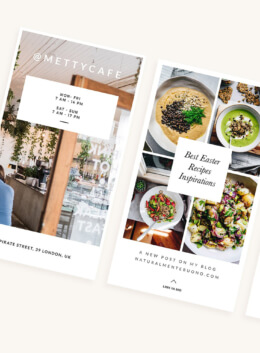 More and more social platforms are relying on the use of 'stories' as a quick way of consuming content on the go. The idea was most made popular on apps such as Instagram and Snapchat, and what made 'stories' unique (at least at the time) was the fact that the stories themselves would disappear after they'd been seen and then expire after some time. Short-form videos, photo galleries, or animations would show up in a user's feed for a limited time. This format is ideal for account owners to engage or share a quick update with their followers without committing to a post that might last forever.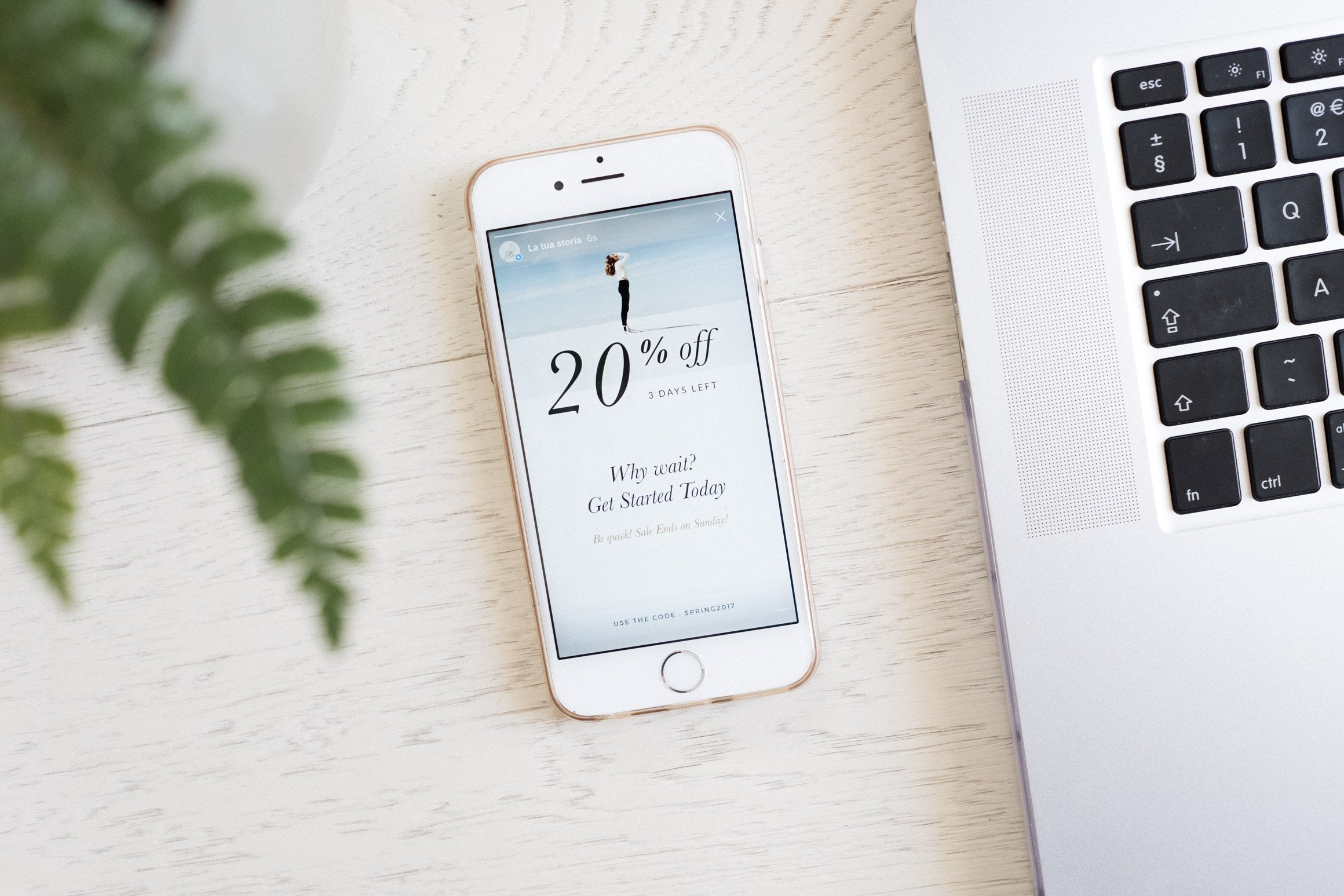 Image featured: ANIMATED Stories Templates by Sparrow & Snow.
People seemed to engage well with stories and the different content types that it encouraged, so unsurprisingly, many other apps and websites have introduced a similar feature somewhere in their feeds since then. For example, YouTube, Twitter, and Facebook all have something resembling 'stories' baked into their platforms now, so it's safe to say that the idea of consuming and creating content via 'Stories' is here to stay.
Like any other piece of content online, many people like to get creative with stories. Instead of posting raw photos or videos, there is a trend of people editing and composing engaging videos or animations for their stories ahead of time by making use of video editing software.
Thankfully you don't always need to have access to video software when you're trying to achieve engaging animated content for your stories. There are plenty of free or affordable methods that you can use to quickly make animated stories without using video apps — here are 5 fantastic ways of doing just that.
Adobe Photoshop
Photoshop is such a well-known design tool that it needs no introduction. Even those outside of the design world are familiar with what 'Photoshopping' is. Undoubtedly, many people feel like they know the key features of Photoshop and how effective it can be for photo editing and graphic design. Still, even today, people sometimes forget that Photoshop actually has several video editing tools built into it, which are accessible via the timeline option.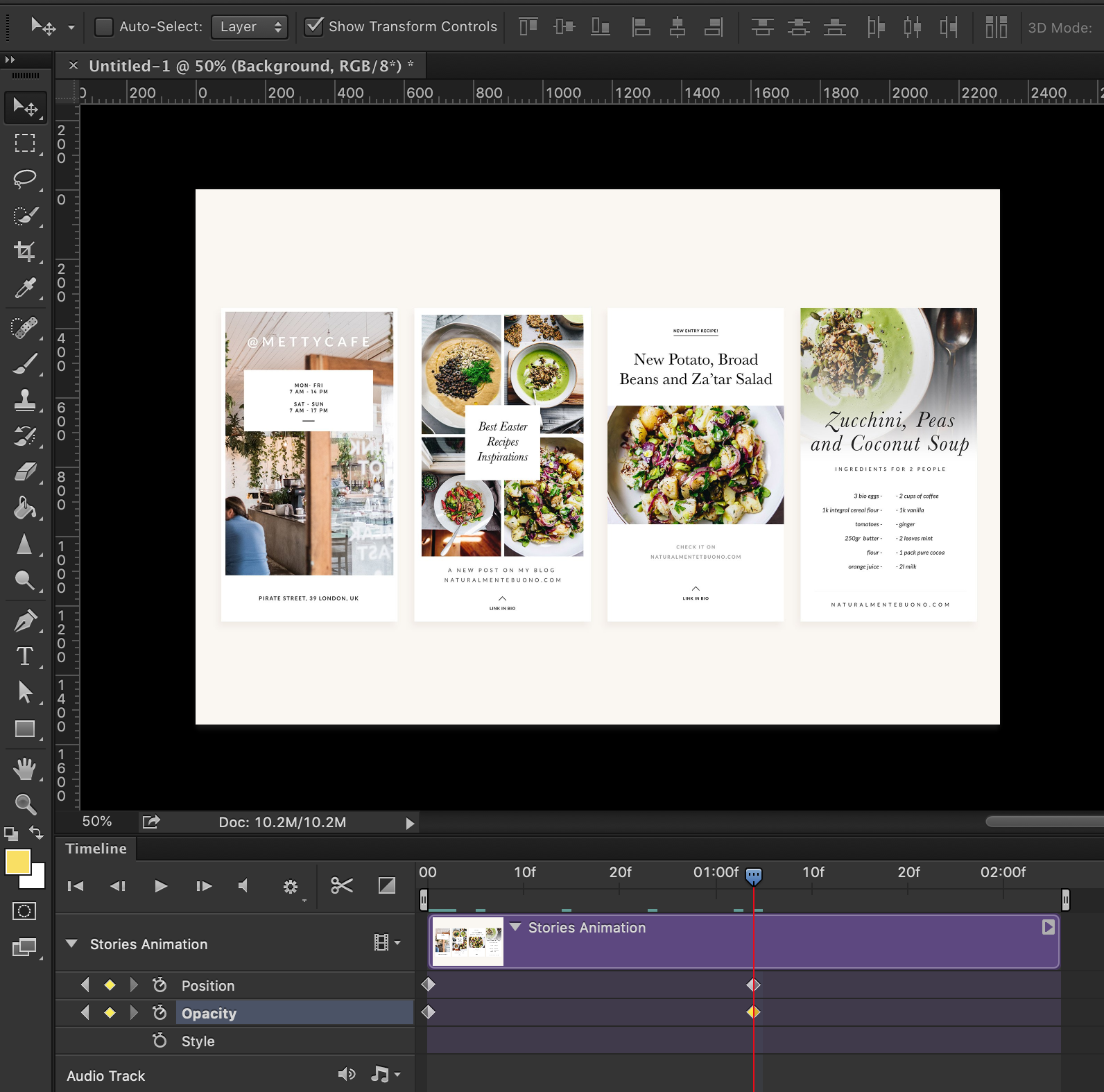 Now, this is by no means a replacement for a fully featured video editing suite. Still, Photoshop has just enough animation features built-in to make it an effective way to quickly animate individual text or graphic elements once you've finished composing your design.
Here are the basic steps involved in animating your story designs in Photoshop.



1. Open your completed design.
2. Go to Window > Timeline.
3. Click "Create Video Timeline" from the new panel that should appear.
4. Expand the layer you wish to animate from inside the Timeline panel.
5. Click the "Enable Keyframes" Icon (the one that looks like a stopwatch) on the attribute you wish to animate. For example, moving your text around would require you to enable keyframes for "Transform."
6. You should see a yellow diamond appear on the timeline of the layer you are on. This signals that the parameters you set at this frame have been recorded. So for transform, for example, it means the position at this frame has been defined.
7. Move the playhead or scrubber forward in time, and then make your adjustments to the layer as required. For example, you could move your text to a new position.
8. With your adjustments made to the layer, click on the diamond on the left-hand side of the timeline window to add a new keyframe.
9. Photoshop will now 'animate' i.e., fill in the frames between your first keyframe and your last with the appropriate motion.
10. Once you've made adjustments to all layers you wish to animate, hit File > Export > Render Video… to begin saving your video file.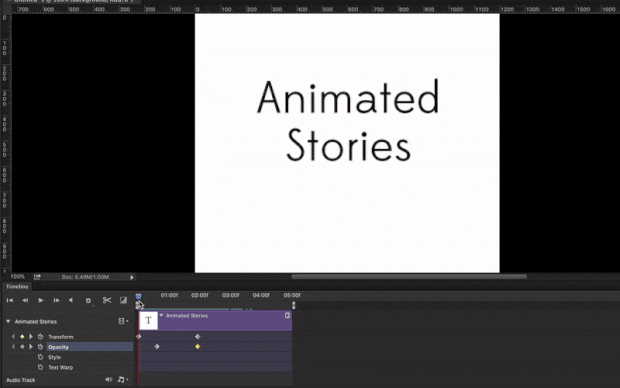 Animated Stories Templates for Photoshop
If you're not comfortable designing stories from scratch and you wish to make use of some pre-made templates built in Photoshop, there are a huge number of high-quality Animated Story Templates for Photoshop available on Creative Market. Each specific template may have its own process for editing the animations, but the basic steps from above will usually apply. Here's a selection of animated stories templates that we love…
Keynote
One surprisingly quick way of creating stories for Instagram is by using an app that many Apple computer users have access to for free already, Keynote. For those who don't know, Keynote is essentially a presentation design app, similar to Powerpoint. I was surprised to find out that it can actually be used to create beautifully simple animations using any kind of images, illustrations, fonts, or graphics you'd like.

This quick instructional video demonstrates the process of creating basic animations inside of Keynote really well, but in short, here are the steps involved:
1. Create a new file.
2. Remove any existing content.
3. Select 'Document' settings in the top right of your Keynote screen.
4. Set the document size (usually 1080 x 1920 pixels for stories).
5. Compose your layout, message, or graphics as you wish.
6. Once you've designed your look, click on any element that you would like to animate and make use of the 'Animate' tab in the top right of Keynote.
7. Click 'Add Effect' and experiment with the various animation settings.
8. Once you're happy with your animations, select File > Export Movie.
9. Set "Go to Set Slide" and "Go to Set Build" both to 0.
10. Set the video quality to 1080p.
11. Save your movie, and that's it, ready to use!
Canva
Canva is a platform that allows you to edit various print or graphic templates online and for free. Canva has grown in popularity and established itself as a very approachable design tool that anyone of any skill level can use, with the ability to begin editing designs directly in the browser. Canva makes use of pre-designed templates that you can open and edit to kick-off your project. You can find these templates on Canva itself, or you can find premium Canva Instagram Story Templates here on Creative Market, for example.
All templates can be customized however you wish, and if you prefer, you can design your own templates from scratch instead — but for the sake of speed, I'd recommend finding a template you like and simply swap out the text and graphics to suit your message.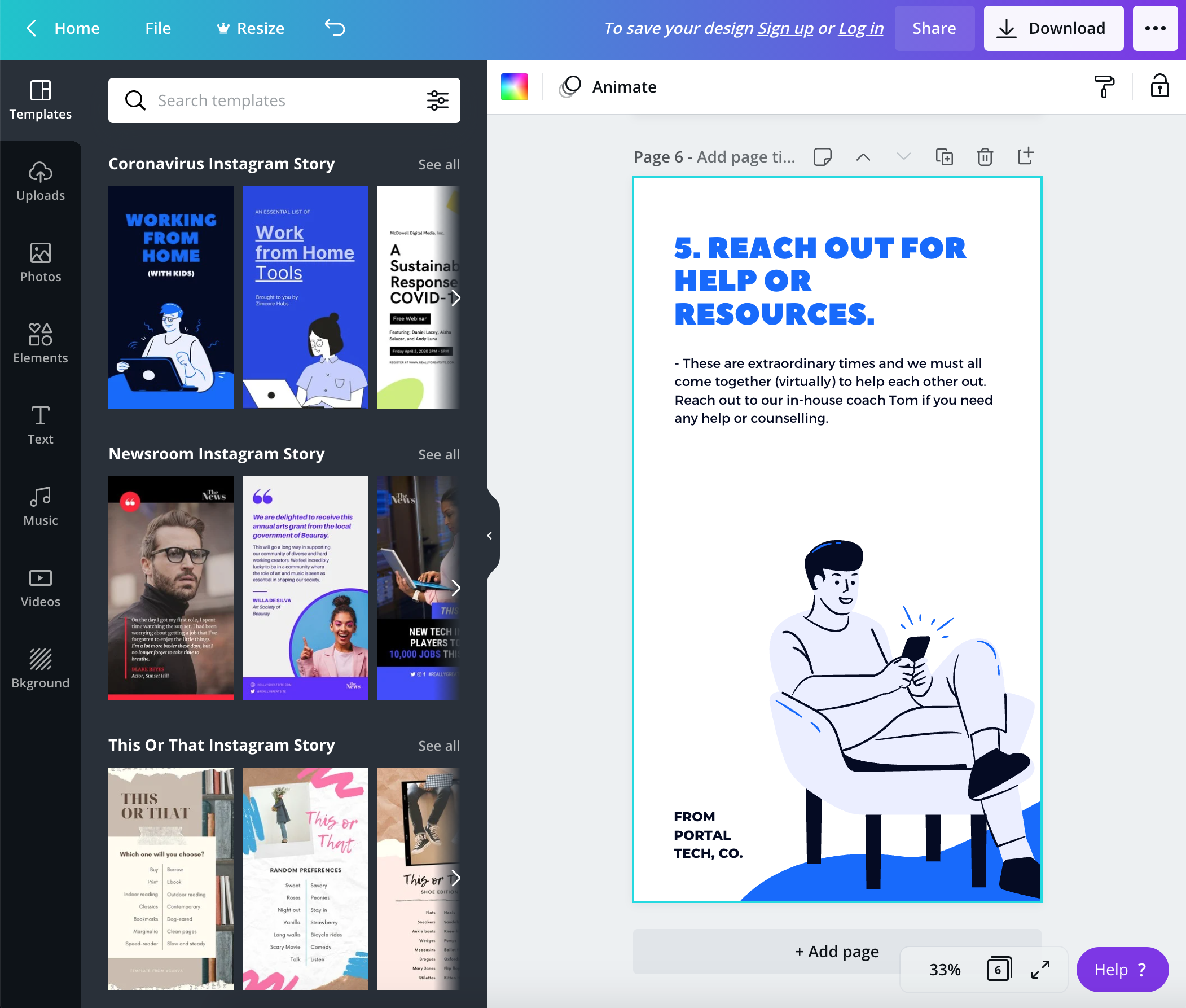 To use animations in Canva, you have a couple of options: you can simply search for animated stickers in their elements library and then drop those into your composition. Or you can animate all of the elements on an entire page at once by applying some lovely pre-made page animations in the animation library.
To use the pre-made page animations, you simply need to do the following:
1. Open Canva and your Instagram Story Template of choice.
2. Finish editing or designing the content of your story to suit your needs.
3. Make sure you don't have any text or graphics currently selected.
4. An 'Animate' button should appear at the top of your workspace. Click this.
5. Choose and preview one of the free or premium animations.
6. Download your story as an MP4 video file.


Stories Templates for Canva
Browse through my handpicked selection of Stories templates for Canva available on Creative Market right now and find the perfect starting template to begin animating and experimenting with.
Procreate
Procreate is a powerful drawing tool made for the iPad. Create Market shop owner Holly McCaig of Holly Pixels has this helpful tutorial over on YouTube, which explains the process of creating delightful animated story templates inside of procreate. The process itself has a few steps involved. The basic idea is that you want to create a layer to act as your background, then using the 'Animation Assist' feature, you can set up different layers to behave as new frames in your animation.
The result is a playful stop motion style animation that you can then loop and export for use on Instagram or elsewhere; please watch the full video to better understand the full process.

Procreate Brushes
If you are looking to expand your library of Procreate brushes to help with your animations, you'll be glad to know there are over 4,000 Procreate related items available on Creative Market when writing this.
Instagram
One of the simplest ways to add some animation into your stories is by using the Instagram app itself. Once you have a story template designed and ready to pos, or even just a photo or video you wish to share, you can inject some fun animation simply by using the popular Instagram stickers feature. Instagram stickers are pre-made static and animated graphics that you can just overlay on top of your post.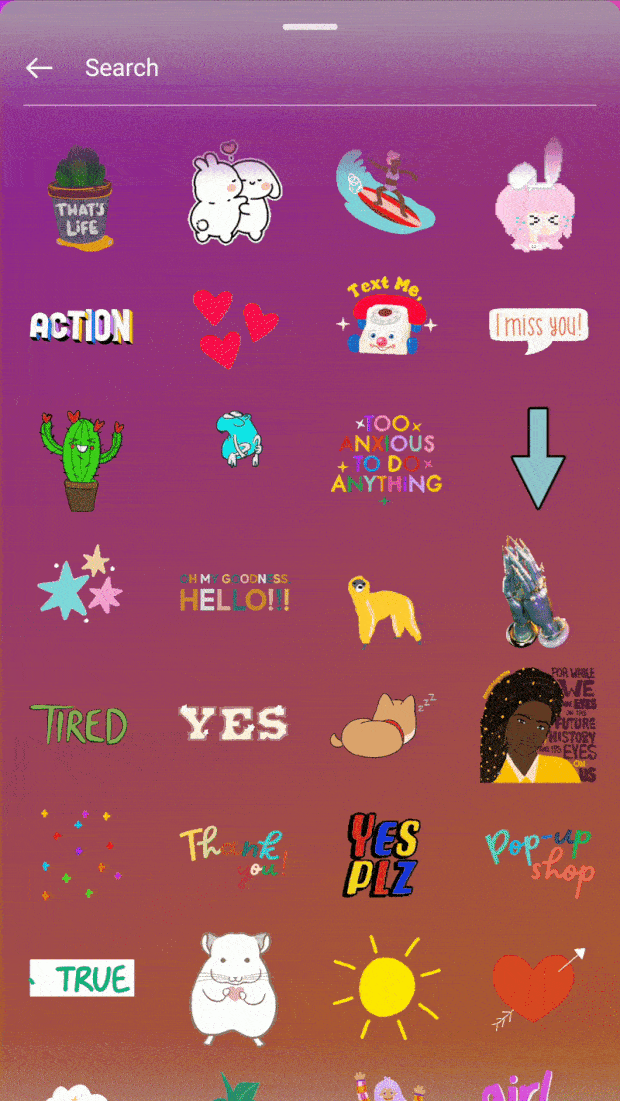 Combining custom graphics or story templates with commonly used stickers is one effortless way to give your stories a more unique but familiar feel amongst your followers without having to touch, edit or create any actual animations yourself.
Share Your Suggestions
Let us know how you get creative with your stories, and we'd love to hear if there are any apps or websites out there that we might have missed that you would recommend for quickly animating content for Instagram stories.
---
Products Seen In This Post:
Design a cohesive Instagram grid
Get your free grid template
Download this kit to quickly export Instagram shots that match your brand's visual style. PSD and AI files are included, as well as a moodboard to display your brand's assets.
Download it now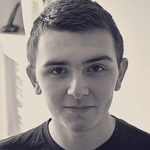 Liam McKay
Try some of my FREE goods: https://liammckay.lemonsqueezy.com - Designer with a love for beautiful Icons, Textures, Brushes and WordPress Themes.
View More Posts