Create a Pattern Brush in Illustrator
Have you ever used a Pattern Brush in Illustrator? Pattern Brushes offer a unique way of easily adding a finishing touch to your designs. Essentially, they can create a frame for your artwork that is fully adjustable, without skewing the shape or contours of the frame.
Creating a pattern brush is fun! It's a bit like completing a puzzle- except you get to create the puzzle from scratch as well. Here's a fun tutorial with steps, guidelines, and tips for creating your own unique pattern brush in Illustrator.
What You Need:
Adobe Illustrator (I'm using CS6, but this works in any version that supports pattern brushes)
Pattern Brush Guidelines
There are 5 tiles: a) side tile, b) inner corner tile, c) outer corner tile, d) start tile, and e) end tile. (The two corner tiles often use the same design but can be different.)
The corner tile must be square.
The height of the rest of the tiles must be equal to the height of the corner tile.
Flatten artwork in each tile before compiling the brush.
Gradients, styles, masked objects, and other brushes cannot be used within a pattern brush. If a gradient effect is desired, blends can be used instead.
Tips for Success:
Use guides and smart guides to line tile artwork up precisely.
Create unfilled bounding boxes for each tile to control the placement of the tile in the pattern.
Stay simple: Simple paths and shapes will render best and fastest when used as a pattern.
Process:
1. Draw the Side Tile


This establishes the basic pattern to be repeated on the sides of the shape. As I draw the elements of the tile, I also create guides on either side of the tile. After I'm satisfied with the tile, I'll group the elements together and repeat it on either side just to make sure the tiles are completely seamless.


2. Draw the End Tiles
As it happens, the two extra side tiles on either side are perfectly placed to create my beginning and end tiles. I'm just going to alter the design slightly and add a few simple shapes to create these tiles. Again, I'll draw guides on either side. These will be used later.


3. Draw the Corner Tile(s)
The corner tiles are the trickiest to create, but they provide the anchor of the pattern and often carry the style of the entire pattern. As such, it's important to get them right. There are two corner tiles, an outer corner and an inner corner. For this tutorial, I'll be using the same design for both corner tiles. To start, I'll just duplicate my side tile elsewhere on the artboard (using the shift key to keep it due east or west of the other tiles.) To the left is room to create the corner tile.



I'd like to make my corner design symmetrical, which I can reflect over the 45 degree axis of my intended corner area. After I've created one side of my corner design, I'll group it together, then right click > Transform > Reflect > -45 degrees and click copy.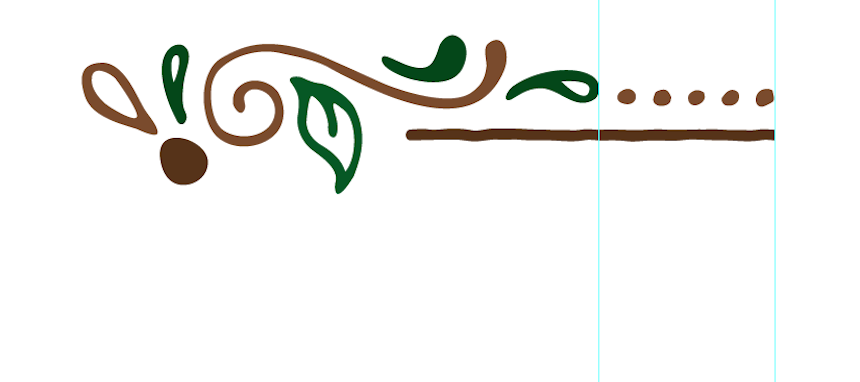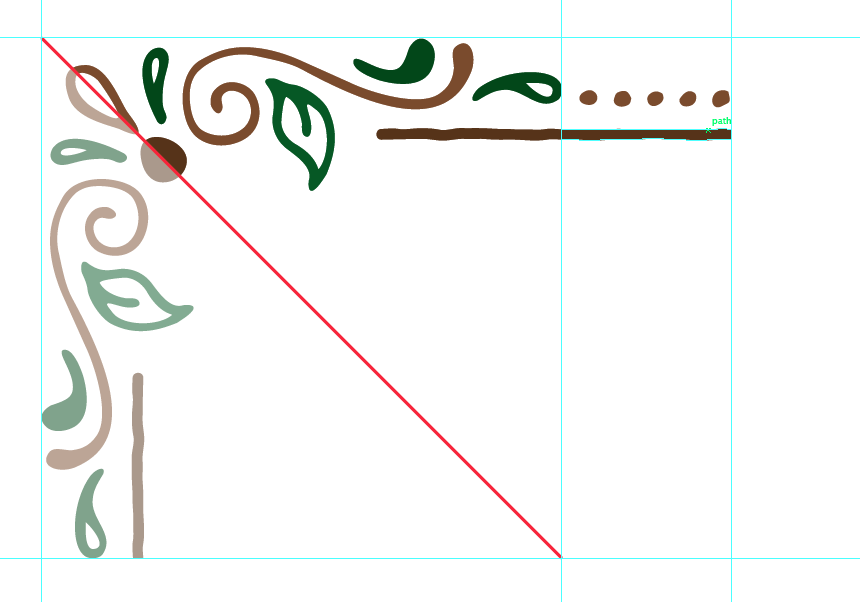 Create guides if necessary to help you line the tiles up and make the elements of the corner tile symmetrical. After cleaning up the design a little bit, my corner tile looks like this: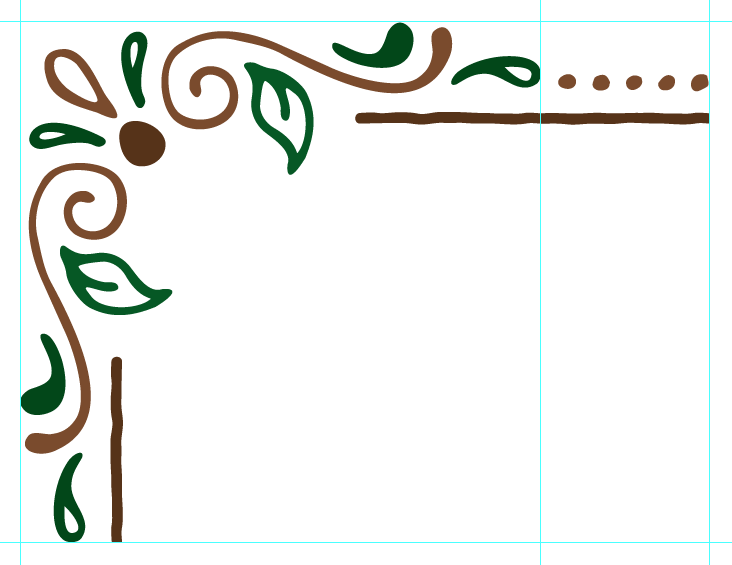 4. Flatten Artwork and Clip to Borders
If you've used any stroked paths, graphic styles, art brushes, or other pattern brushes, it's best to expand the effects now. (If you want, save the original source tiles in another Illustrator layer, and expand effects on a copy of the tiles.)
Next, draw an unfilled bounding box behind each of the tiles, group the elements of each tile (including the bounding box) together, and draw guides around all of the tiles. Drawing an unfilled bounding box around each tile helps line tiles up in the final pattern. Make sure the box is the bottom layer in each tile group. Make sure the artwork within the tile ends at the bounding box, and clip it as necessary.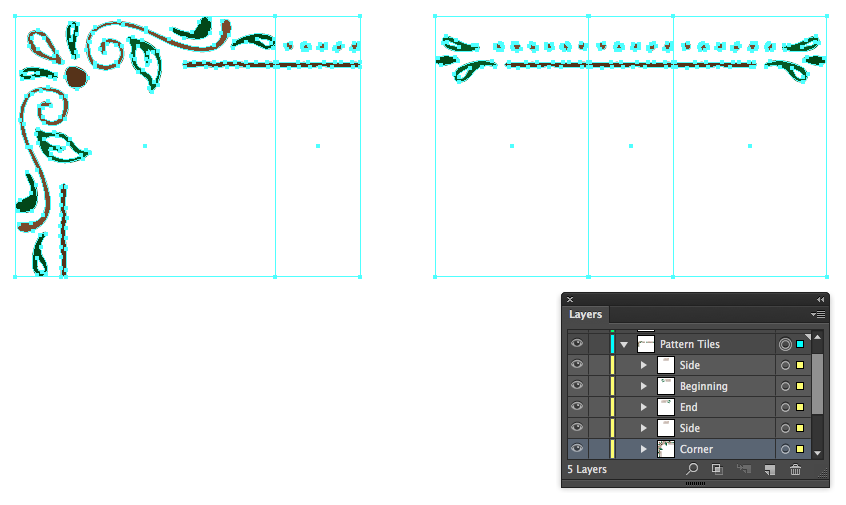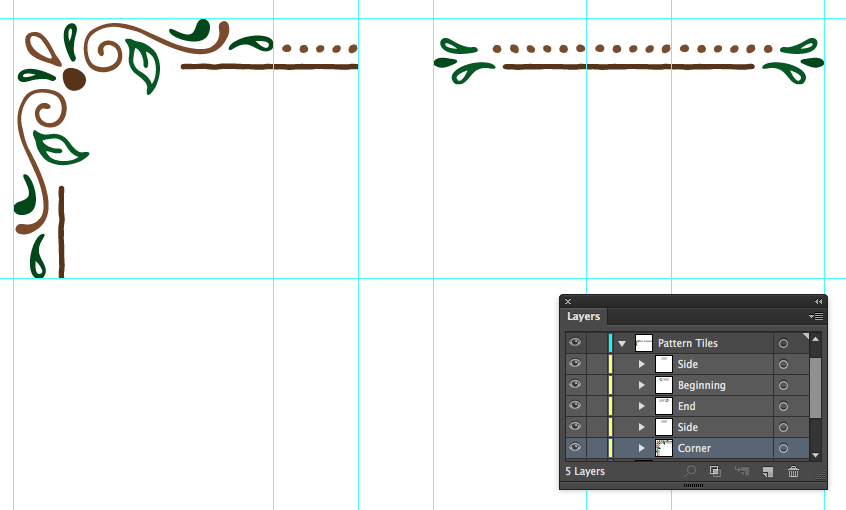 5. Create Swatches From Tiles
Selecting one tile group at a time, drag it to the swatches panel. Name each new swatch descriptively. I've got four tiles in my swatches panel, named and ready to be used in a new pattern brush.

6. Assemble the Pattern Brush!
In the brushes panel, create a new Pattern Brush. To define each tile, first click on the tile, then click on the desired swatch to be applied to that tile. I've named my swatches descriptively in the swatches panel to make it easy for me to drop the swatches in each appropriate tile. Here are the settings I used: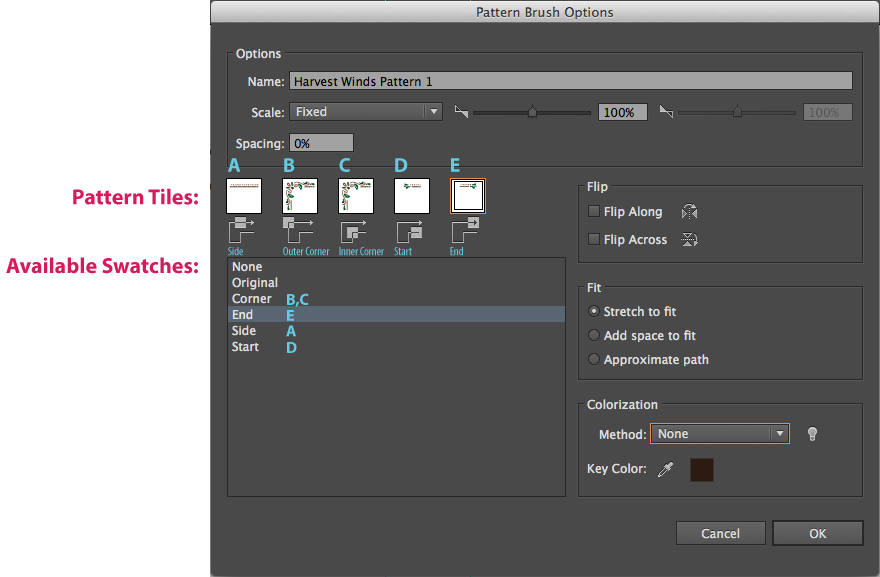 Colorization method is set to none in this case because I'd like my pattern brush to stay the colors I defined forever, regardless of which swatch color is chosen. However, if you'd like to the color of the pattern brush to follow the defined stroke color, choose one of the other colorization methods, like "Tints."
When your settings are to your satisfaction, click OK, and you've got yourself a brand new pattern brush! Now it's ready to be applied to shapes and paths in your designs. For this hand-lettered design (announcing an early holiday dinner in our family) I used a solid-color version of our pattern brush to create an elegant frame around the design.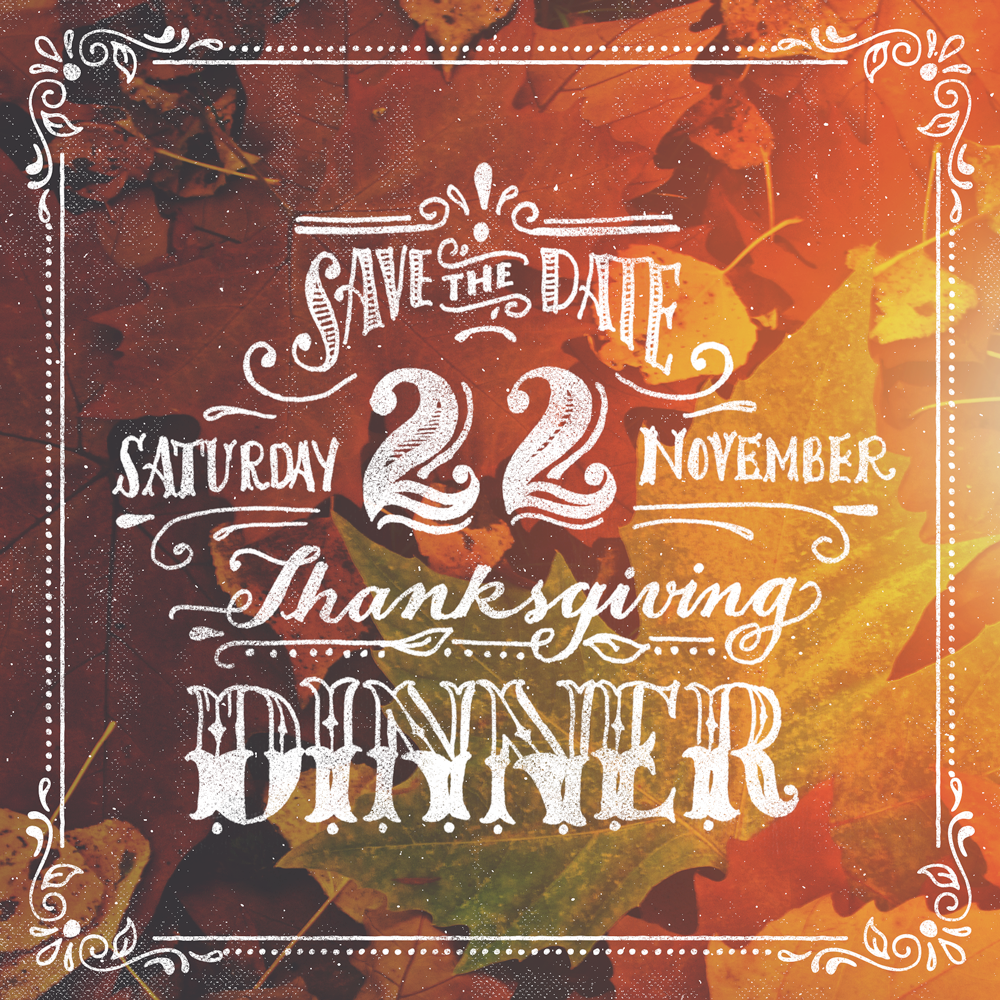 For more reading on the intricacies of pattern brushes, check out this Adobe help page.
Creative Market has a lot of lovely pattern brushes available. Some of my all-time favorites come in Vincent Le Moign's Monumental Vintage Vector Pack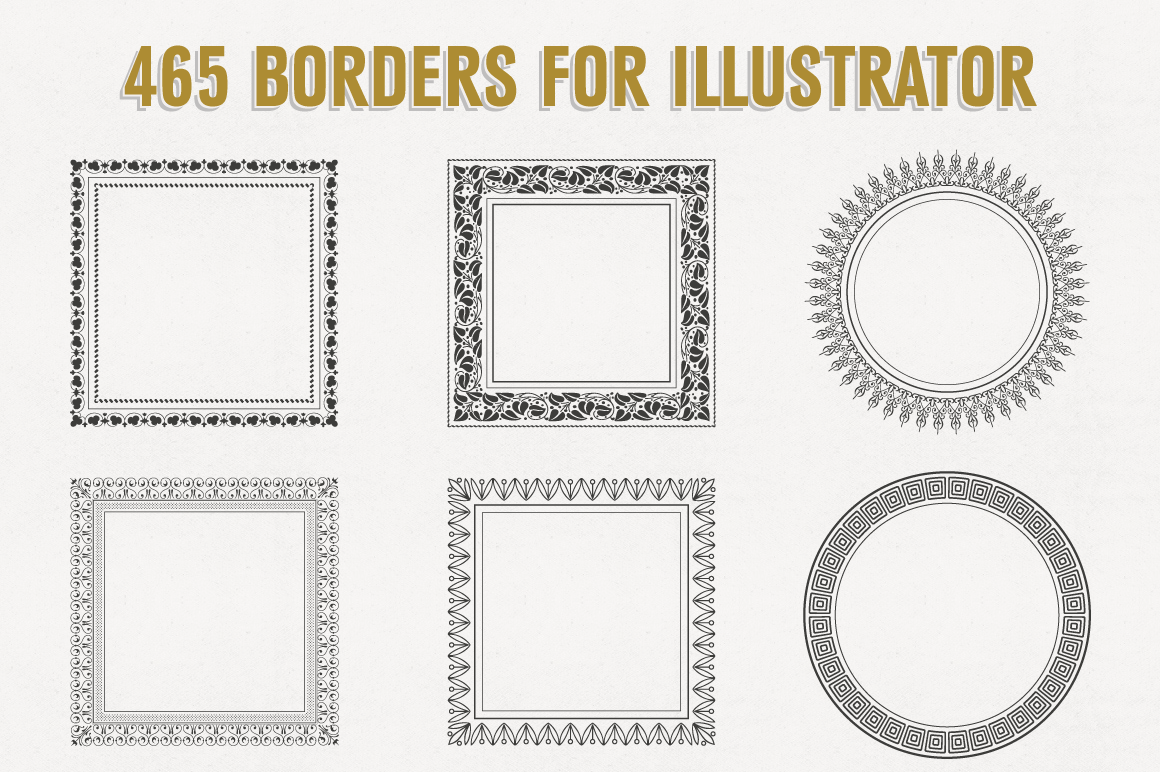 I've also included some more rustic, handmade pattern brushes in The Brush Studio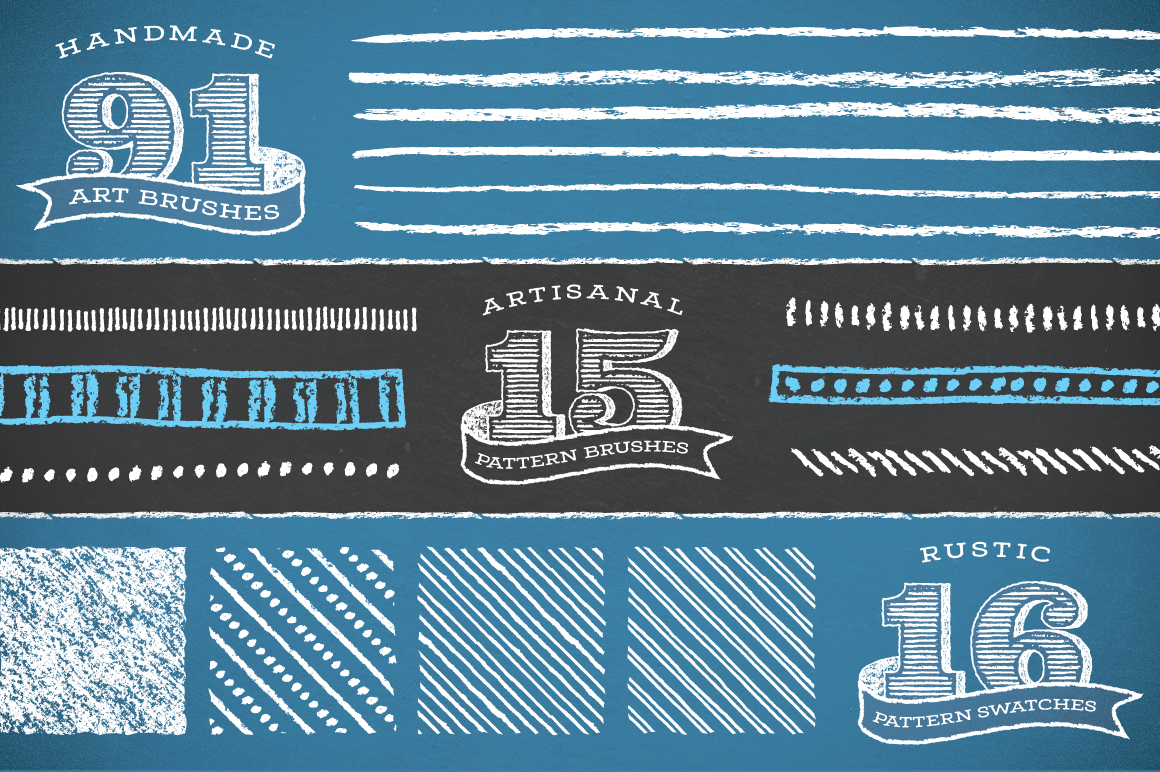 Have you ever created a pattern brush?
---

Beth Rufener, the shop owner of Ornaments of Grace, is a wife, mom of two, graphic designer, amateur photographer, aspiring foodie, occasional musician, and avid collector of fonts. She and her family live outside of Rittman, Ohio.
Resources in display images: Vintage Design Co's SwiftType for hand lettering effects with Aperture Vintage's Autumn Pack.
Getting started with hand lettering?
Free lettering worksheets
Download these worksheets and start practicing with simple instructions and tracing exercises.
Download now!