Creative Market Fresh Goods: Volume 1
Fresh Goods is a regular series highlighting fantastic new products that have been recently uploaded by both new and seasoned Creative Market shop owners. It's sort of like a quick stroll through the farmer's market in your home town. Enjoy the sights, check out new products, and follow talented shop owners.
Awesome New Shops
These new shop owners are knocking it out of the park by uploading lots of great new products. The previews you see here are often just a small taste of each shop's full offering so be sure to check out their full shops for more. Cars, food, vintage watches, PERONE takes photos of all kinds of things, but there's one unifying thread: they're all great!
ievgeniia is an extremely talented artist from Belarus. We're simply loving the hand-drawn style that defines every one of her products.
New shop owner punto has a strong initial offering featuring lots of very attractive blurry backgrounds. Blurry photographic backgrounds are the perfect way to make a design more attractive. Place them behind logos, headlines and more for an interesting visual that doesn't reduce the readability of your main element.
yurakr has a colorful illustration style that we simply can't get enough of. This shop's products all look primed and ready to drop into the next big iPhone game.
PixelsDaily only recently joined up, but already has nearly one hundred amazing products for sale. Browse through the shop and you'll see lots of really attractive UI kits, icons, web design elements, and more.
Debut Uploads
In this section, we highlight some shop owners who have recently uploaded their first product. If you like what you see, stop by their shops and encourage them to add more!
Seasoned Veterans
Here at Creative Market, we love to show off our newest shops, but we also want to recognize those hardworking creators who are truly the life of our community. Here we'll take a look at the newest uploads from our popular and up-and-coming shops.
Getting started with hand lettering?
Free lettering worksheets
Download these worksheets and start practicing with simple instructions and tracing exercises.
Download now!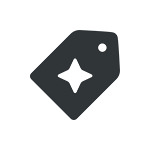 Creative Market