How to Add Custom Fonts to Subtitles and Premiere Pro Video Overlays
Ever wondered how to use unique fonts in video subtitles and overlays? In this tutorial, we're inspiring you to use custom fonts in your videos in creative ways.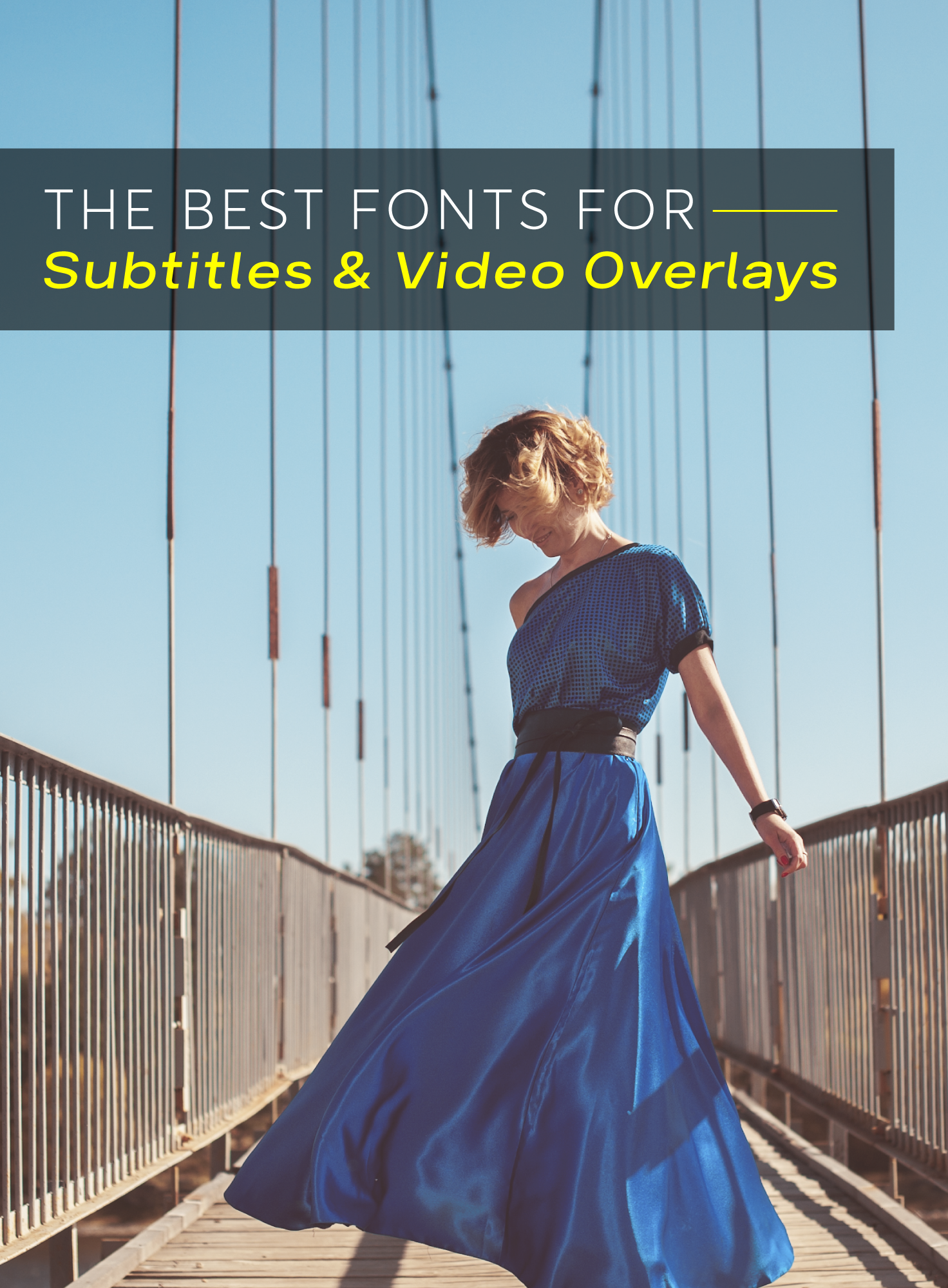 Premiere Pro video overlays and subtitles are everywhere: from the funny cat videos on social media with text and animated graphics overlays encouraging you to follow to cooking videos on Facebook explaining how not to ruin an apple pie. But have you ever noticed the types of fonts used in these subtitles and video overlays? Or maybe you've been wondering how those are even added in the first place? Well, my goal today is to inspire you to use those custom fonts in your videos in a unique and creative way. This tutorial will provide you with tips and tricks on how to make your video content stand out amongst all the noise online. We'll cover adding titles, subtitles, fancy video overlays – MOGRT files, and how to achieve all of this using Adobe Premiere Pro. But first, let's cover some of the basics:
What are Custom Fonts?
Custom fonts are fonts specifically designed for a particular purpose and in that sense, they're usually more creative and unique looking than the typical, preinstalled fonts that come with your computer by default. Some of the default fonts include Comic Sans or Arial, for example. Thankfully, there is a wide collection of uniquely-created custom fonts to save you here on Creative Market! There are thousands to choose from to fit any occasion or purpose that you can think of.
What are Video Overlays?
In the most basic sense, video overlays are a piece of footage being laid over another piece of footage. These overlays can take on a variety of different forms, such as text, animated graphics, and custom fonts to give your video more personality.
Using Custom Fonts in Subtitles to Tell Your Story More Effectively
How many times do the baking tutorial videos on Facebook with their family-friendly cheerful music end up sending totally unintended corporate vibes by using Arial font subtitles? In doing so, they completely fail to reinforce their brand's unique character in our crowded social feeds. I think the below image really showcases the storytelling power of fonts and why it's so important to use them wisely and purposefully.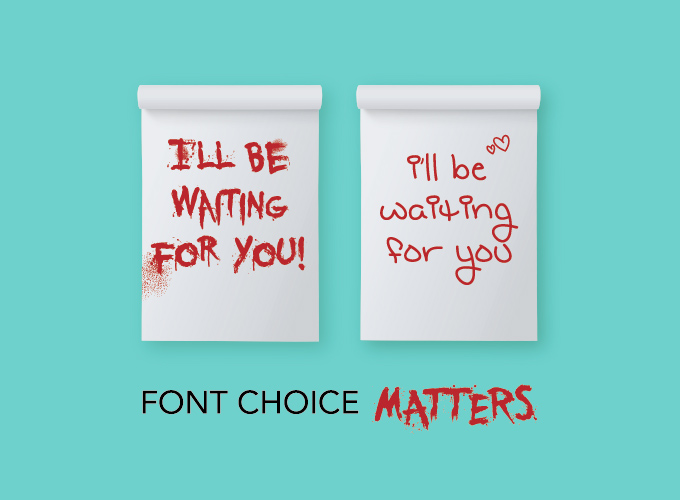 What are subtitles and why you should use them?
Subtitles are text in a video. Most times those subtitles at the bottom of the screen are shown in Times New Roman or a similar-looking standard font, or as a sort of commentary in a video used to emphasize humor or key points. This brings us to another important question that might be lurking in your head right now…
Why should I use those subtitles?
Subtitles can add value in 2 main areas:
Communication. They can help you communicate information in presentations, explainer videos, story videos, tutorial videos, and many other kinds of media. For example, subtitles can add comical value to a passive-aggressive comment mentioned by a background character in a video by transcribing the slightly audible comment to text.
Multi-sensory Learning. Subtitles can help your non-native viewers understand a concept or even learn a second language. Multisensory learning means that when information is presented, the learner simultaneously utilizes the three primary modes of memory to maximize the learning and information retrieval processes. Those primary learning modes are visual, auditory, and kinesthetic. By using text overlays and subtitles, you can take advantage of the visual learning mode and maximize the information reach and retrieval effectiveness for your viewers. This could be extremely beneficial to your viewers, especially if your audience is global.
Real-World Examples of Custom Fonts In Videos
Below are a few real-world examples of how businesses are already creatively using custom fonts in their videos. The American cooking and entertainment magazine Bon Appétit uses text subtitles with custom fonts in their cooking videos to identify and reflect each host's unique personality. You'll notice how they aid the viewers with learning the recipes and emphasize the humorous bits in their videos with text overlays or text commentary from the montage director's perspective.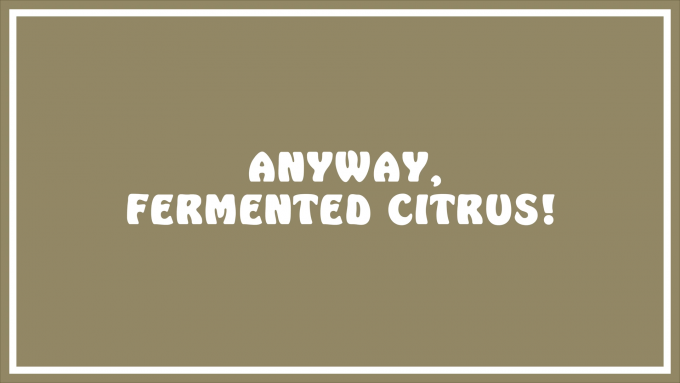 In their video, you'll see fun and fresh text overlays and animation while filming one of their laid back, joke-craking hosts Brad: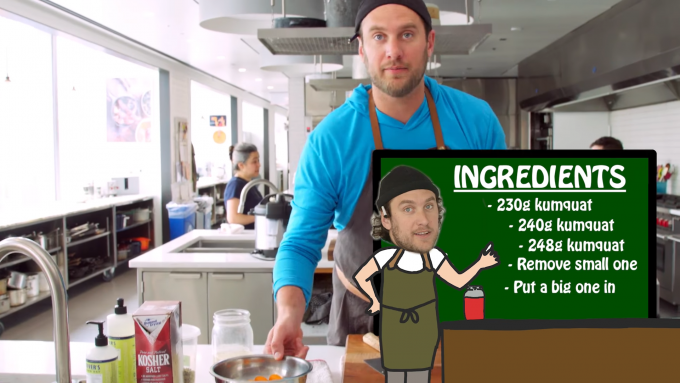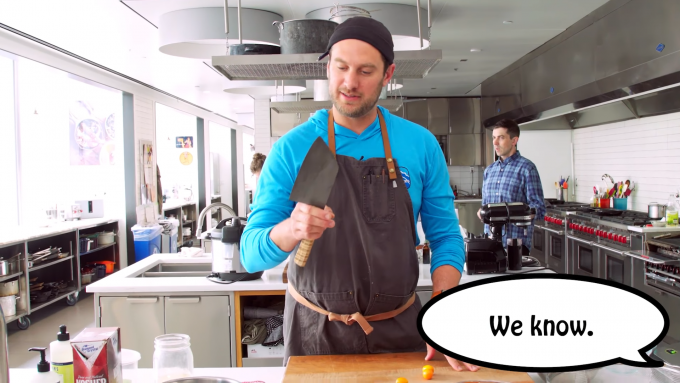 (above is the famous text commentary from the montage directors perspective example) You'll also see another example when they film Morroco, who has a bit more of a serious personality. A more modern and reserved font is used here. Plus, they avoid adding all of the humorous text commentaries as shown in Brad's videos. This is a clear example of using custom fonts to help to tell the video's story from each host's unique perspective.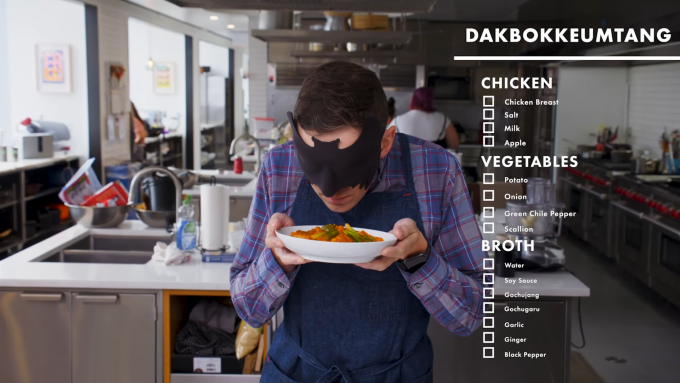 Now that you're inspired and eager to learn the magic of adding text, let's dive in!
How to Add Subtitles with Custom Fonts to Your Videos
First, you'll need video editing software. For my examples, I used one of the most popular video editing programs – Adobe Premiere Pro. However, this process should be fairly similar to other video editing programs.
Example #1 – Cooking Tutorial Video for Facebook
For the first example, let's imagine that you're creating a cooking video that needs a custom font title name and subtitles explaining how to prepare the food.
Adding a Custom Font Title

First, to add a title go to Window > Essential Graphics (1). Then by using the Text Tool (T) press on your footage and type in your title (2). Upon typing it in, it's text layer will appear in the Essential Graphics panel under the Edit tab. Select that text layer (3) to reveal all of its corresponding customization properties and tools. To change the position of the text, use the tools in the Align and Transform section(4). And most importantly, to pick a custom font use the Text section (5). And lastly use the Appearance options (6) to customize the color of your text, drop a shadow or to add a stroke. To Adjust the Duration of the title, simply select the titles layer in the project's timeline (7) and select-drag one of its sides to either extender or shorten the duration.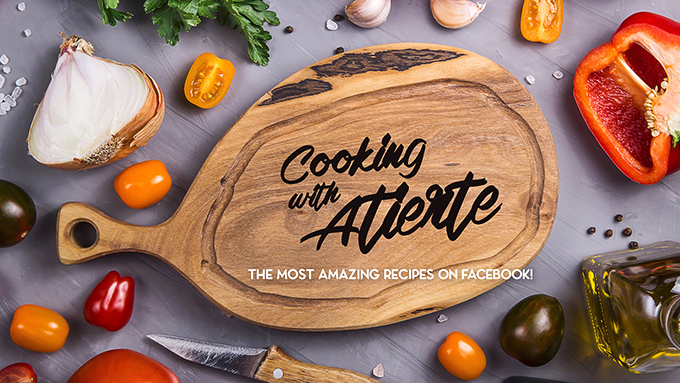 As you can see, I used two fonts- Regad – Modern Food Font for the main title and Carino – A Modern Elegant Typeface for my secondary text. I think the first font really communicates that my cooking shows an expressive and dynamic vibe, while the second typeface adds a nice contrast to the first font while also maintaining that sort of fun dynamic vibe. Plus, the second font is a lot more legible works perfectly with the subtitles!
Adding a Custom Font Subtitle
Now, that we're done with the title, it's time to add those subtitles!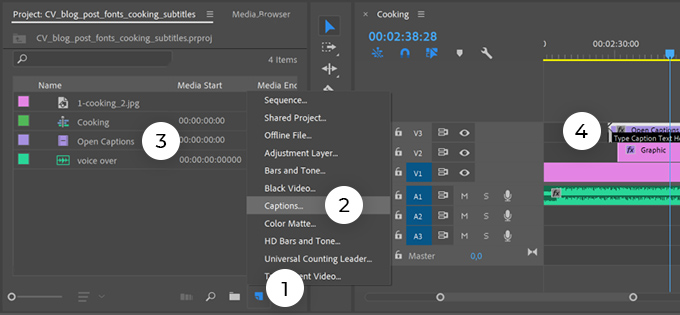 Go to the New Item menu at the bottom of the Project panel (1), press on it and select Captions (2). In caption settings select Open Captions – this is very important, or else you won't be able to use Custom Fonts. Now Drag and Drop your captions (3) into your Timeline (4) above all of the other footage, and align them with your voiceover.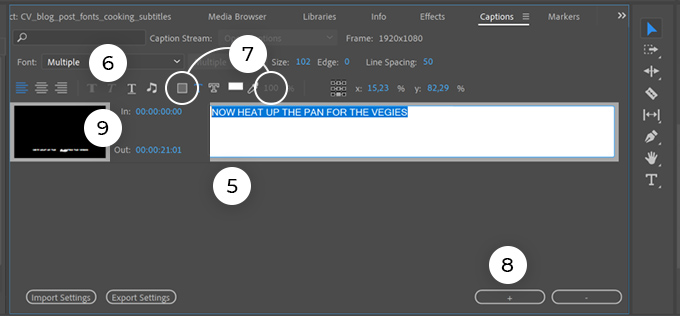 Go to Window > Captions and enter your text (5). Now use the text customization options (6) to select a Custom Font, and make the caption's background (7) transparent by setting the background value from 100% to 0%. And that's that! To Add more Captions simply press the + button (8) and adjust the captions In and Out (9) timings to match your voiceover.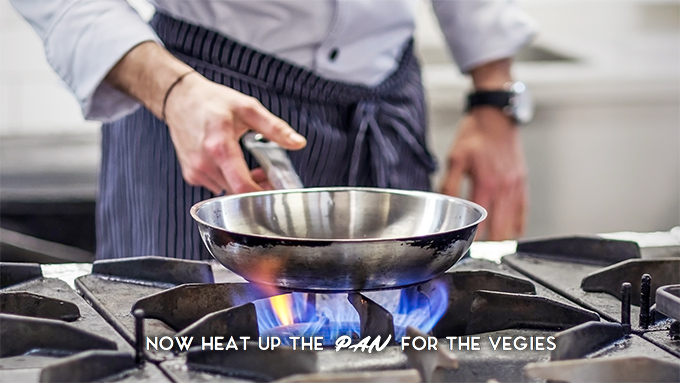 Since I really want my cooking videos to stand out, I chose to use a mix of the same two fonts from the main title and use them for the subtitles. The trick here is to not overdo it since you want the subtitles to be readable. For that reason, I used the expressive  Regad – Modern Food Font sparingly, only to accentuate some of the instructions. The rest of the subtitles are written in Carino – A Modern Elegant Typeface.
Using Custom Fonts in Video Overlays to Tell Your Story and Engage Your Viewers
Now that I've shown you how to add simple text to your videos, let's dive a bit deeper into how you can customize Premiere Pro video overlays with text and motion graphics templates (also commonly called "lower thirds" and "MOGRTs") to make your videos look even more engaging.
Why You Should Use Video Overlays with Text
The reasons for using video overlays with text are quite similar to why you should use subtitles and text in videos. The purpose is to grab the viewer's attention in the opening titles, to reinforce and showcase key points in your videos, to display the interviewer's name, topic, ingredients and so on. Beyond these practical purposes, they can also increase your brands' production quality and differentiate you from competitors with unique branding elements. In addition, they add a ton of production value by taking your video from a "Made by myself at home" level to a "Wow, this is some serious trustworthy content" type of impression from your viewer's perspective. All of this can be achieved by using just a few professional custom fonts and professionally designed and animated video templates (MOGRTs).
Real-World Examples of Custom Fonts In Video Overlays
Before we begin, let's look at some great examples of Video Overlays. Bloomberg is a financial, software, data, and media company. Many of their videos have animated titles with fitting fonts and neat animations that help communicate the video's message while engaging their viewers. Below are a few examples from their videos for inspiration.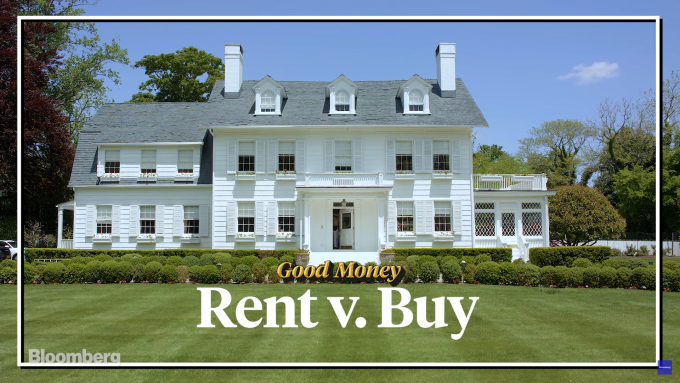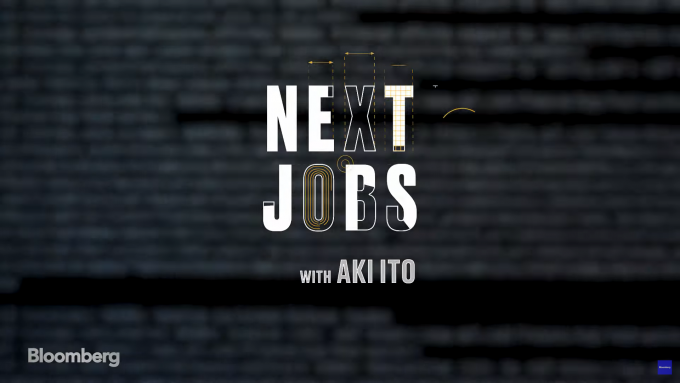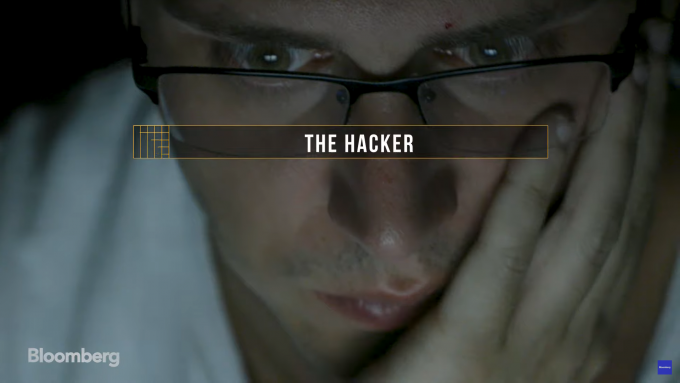 For each of their different shows (Hello World, Good Money, and Next Jobs), Bloomberg uses unique animated video overlays to introduce and differentiate the different shows, display topics, and interviewees' names. These video overlays add superb production value, which makes their content look very high quality and trustworthy. So, without further ado, let's see how you can add similar overlays to your own videos!
Example #2 – School Supplies Commercial
Imagine that you were tasked with creating a back to school video commercial showing off the best deals and offers. To make the commercial visually interesting and memorable, we're going to start with a Premiere Pro video overlays (MOGRT) ANIMATED Speech Bubbles template that allows you to add animated speech bubbles to your video.
Adding Premiere Pro Video Overlays (MOGRTs)
I'll be focusing on MOGRT video overlays designed for Adobe Premiere Pro. MOGRTs are Motion Graphics templates, which encapsulate complex After Effects designs and animations into a single file that can be used in Premiere Pro and customized with easy to use controls. You might be quite surprised but the process of using these MOGRT files is as easy as adding titles!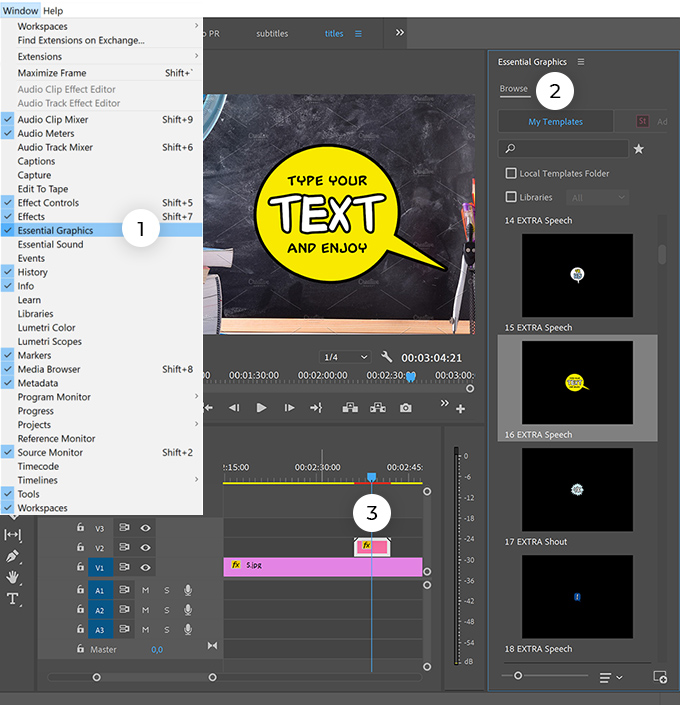 In Premiere Pro, navigate to Window > Essential Graphics (1), then under Browse (2) find a template which you would like to use and drag it into your Timeline (3).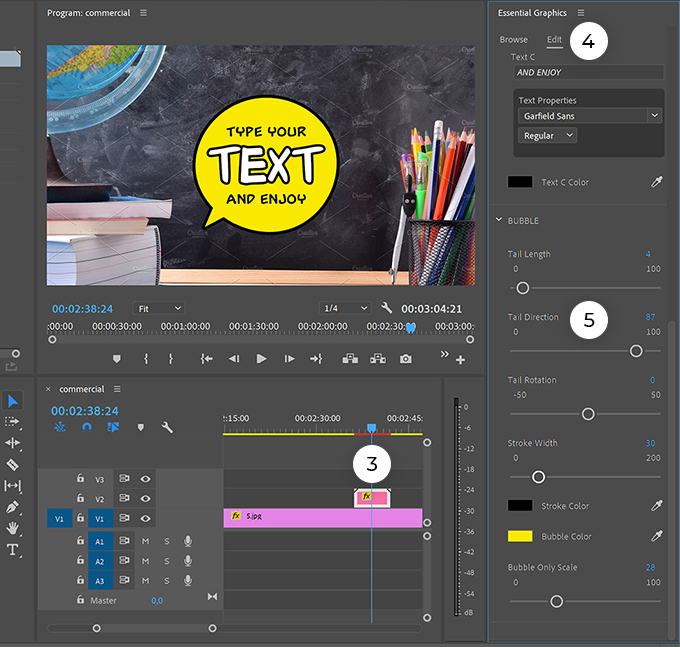 Then select the template file you just dragged in (3), and now all of its customization options will appear under the Essential Graphics panels Edit tab (4). Each MOGRT file will have it's own unique customization options, but generally, they should allow you to change the position, scale, text, font, and colors. In my case, these Animated Speech Bubbles allow quite a few advanced customization options (5). Like changing the Bubbles Tail Length and Direction by simply dragging a slider (5)! This allowed me to make each of the bubbles point exactly where I want them to be pointing, all while having this awesome bouncy animation on top!
Adding Custom Fonts to Premiere Pro Video Overlays (MOGRTs)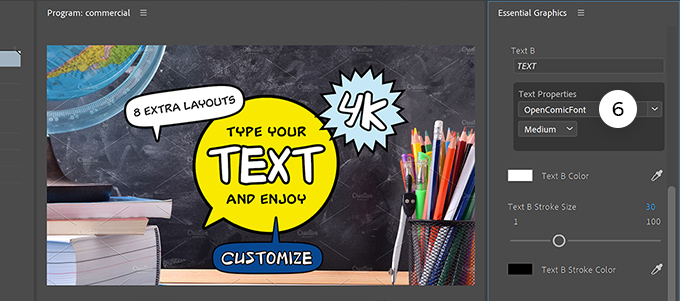 Simply navigate to the Text Properties field and click on the font (6). Now choose your fancy custom font and that's it! I personally stuck to those included in the Animated Speech Bubbles template, but as an even more interesting alternative, I would suggest using these two fonts – PopArt and Canda Tawa Cute. I think they have the perfect style for a school supplies commercial and they look good together.
Example #3 – Elegant and Emotional Wedding Video
For our last example, imagine that you're tasked with editing a wedding video and the bride is requesting simple yet beautiful animated titles. For this, we can use the Titles Elegant Cinematic template and a unique elegant serif font to reinforce the beautiful and emotional occasion and to also accentuate the key moments in the video. Using the same workflow described in the Adding Video Overlays (MOGRTs) section, I added two elegant text animation overlays (MOGRTs) on top of the footage – one for the wedding title and other for the couple's names. In my example below, I used the font included in the Titles Elegant Cinematic template. For an added touch, you can also use the Elegant Karin Stylish Typeface to communicate the mood of the occasion.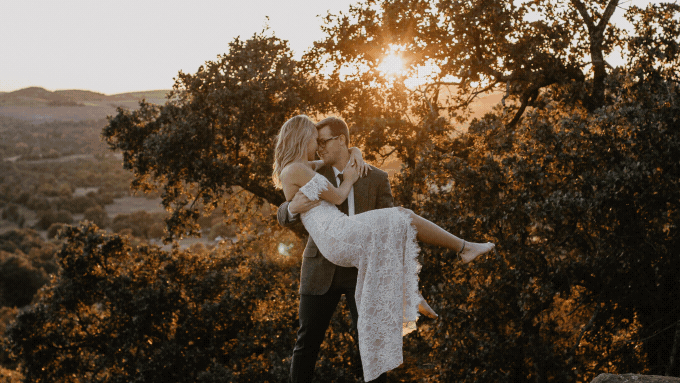 I hope this tutorial inspired you to get you started on revamping those stale subtitles with unique custom fonts. This will not only help you send your message across more clearly but will also help you stand out amongst a crowd of videos. Don't hesitate to share your videos with our community, and feel free to leave any questions or comments below! Products Seen In This Post:
Getting started with hand lettering?
Free lettering worksheets
Download these worksheets and start practicing with simple instructions and tracing exercises.
Download now!
Andrius Tamosaitis
I create Premiere Pro, Final Cut Pro X and After Effects animation templates driven by my passion for great design and animation :) Plus occasionally some Photoshop or Texture templates. On my free time, I love cooking, driving my bike and gaming :P
View More Posts