Designer Interview with Dennis Covent
Today we are talking with Dennis Covent, a Belgium designer.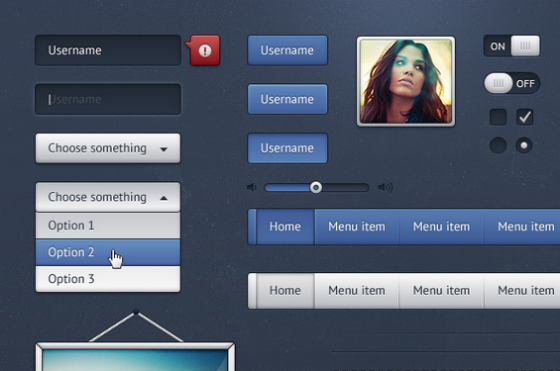 Follow him on Dribbble + Twitter
If you are checking our "free goods" section of Creative Market, you might have seen the UI Elements set that he created. If you haven't, go ahead and download it for free!

First of all, why don't you tell everyone a bit about yourself, where you are from and what you do.
I'm a 20-years young (born in 1991) designer who lives in Antwerp. That's a fun and best city in Belgium. Yeah that small country between France and The Netherlands. I work full time for a belgian company, were I'm the lead designer. After the hours and in the weekends I'm a freelancer and I work on my own projects for clients. I kinda have 2 jobs. For me it's pixels here, pixels there, day & night. Love it!
How did you start out in the field of design?
Just like the most of us I think. Installed Photoshop and experimented with it. I started to create some basic websites.
I looked at other people's work and copied it (for personal use) to understand how it was designed. From there I created my own style trough the years.
Last year I left high school because I didn't learn anything from the teachers (it was like html from the 90's). I started immediately at a belgian company and became a freelancer too.
What are your favorite fonts to use right now?
PT Sans, Proxima Nova, Open Sans, Droid Sans, Helvetica
What is your general design process?
Maybe it sounds stupid, but the best ideas come when I just open Photoshop and start designing. I'm not that good at sketching and making wireframes.
When feeling stumped, where do you turn to for design inspiration?
I get a lot of inspiration from other designers on Dribbble. This is really the number 1 place for my inspiration. Also what other designers are sharing on Twitter inspires me.
But a pro tip that helps: get away from the screen. Go outside in the sun, go to your girlfriend, put on some good music with your favorite drink, take a shower, have fun with friends, …
What are your favorite resources for design?
Dribbble, Twitter and I'm sure Creative Market will be on my favorite list too.
What advice would you give to a designer who is just starting out?
When you first start, try to reach the level of the top designers. Every pixel must be perfect and good looking. Copy some designs to level up your skills (only for personal use!). After that, create your own style. Let the world see you have something unique.
We need creative, awesome skilled designers with something refreshing!
Getting started with hand lettering?
Free lettering worksheets
Download these worksheets and start practicing with simple instructions and tracing exercises.
Download now!