20 Dog-themed Graphics to Celebrate Man's Best Friend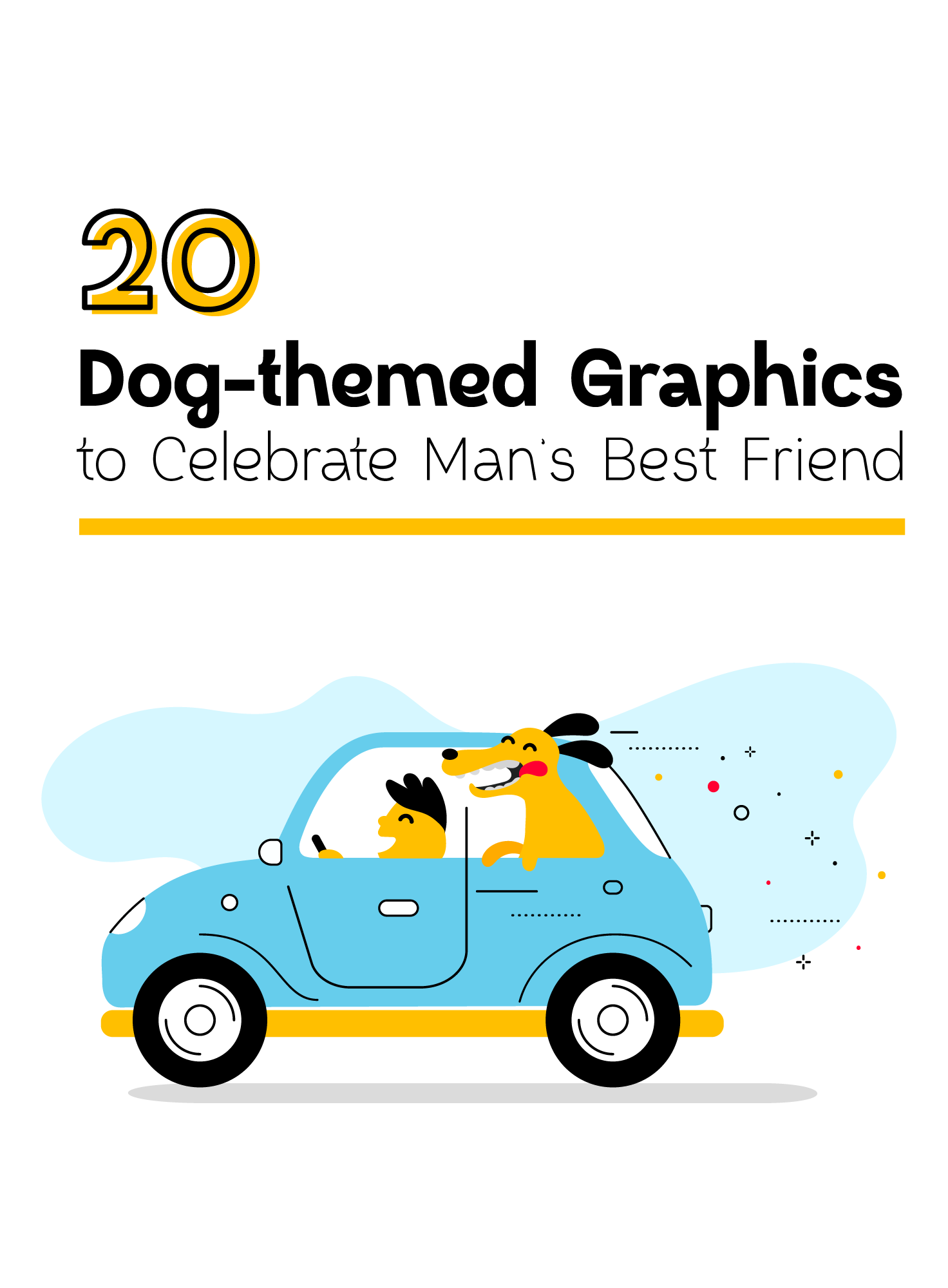 People like dogs. In 2015, the Harris Poll estimated that 71% of households had at least one dog. So it makes sense to have dog-motif graphics in your design arsenal. Whether you are designing signage for a pet grooming salon, a promo kit for a doggy daycare service, or making fun clothing or bedding, these stunning dog graphics bundles have what you need to make eye-catching designs.
Fashion Hipster Pets Set
The Fashion Hipster Pets Set by Crowhouse includes 4 seamless patterns, 12 separated and isolated characters, and 2 dog and cat cards. Each comes in EPS and high-resolution JPG files. The pack also includes a high-resolution PNG file with separated characters on transparent backgrounds, which lets you easily place images into any scene.
Cute Pug Emoticon
The Cute Pug Emoticon set by Yellowline will add a little pizazz to any design. It includes 20 emoticon expressions each in editable and resizable EPS, PNG, and SVG files. https://creativemarket.com/yellOWLine/3848904-Cute-Pug-Dog-Emoticon
Dogs Collection
The Dogs Collection gives you Adobe Illustrator and Photoshop compatible hand-drawn dog images. The cartoon-style dogs are useful in a variety of designs including fabric print, clothes, linens, cards, posters, and more. The pack includes 10 seamless patterns, 10 dog line drawings which you can color and edit, 9 color dog drawings, and 1 ready-made postcard. Elements come in EPS, JPG, and PNG formats.
Who Let the Dogs Out
Who Let the Dogs Out Design Pack by Bibela presents 300 dpi JPG and PNG dog graphics. The dog doodles, pre-made patterns, and pre-made logos in EPS files are easy to resize and edit in most vector graphics programs.
Hand-Painted Dog and Cat Illustrations Bundle
Now at 20% off, the Hand-Painted Dog and Cat Illustrations Bundle by Cynthia Arre contains illustrations of 18 dogs and 11 cats. The bundle also includes hand-painted accessories like hats, scarves, bowties, and glasses to customize your pet designs. Elements are zipped in 300 dpi PNG files, and 2 Doc files with information and special instructions.
Dog Breeds Vector Collection
Andres M Rodriguez brings you 20 cute cartoon dogs in vector EPS files in Dog Breeds Vector Collection. You get both color images and line drawing which you can color and customize. The pack includes 300 dpi PNG files and EPS vector files for each set.
Yoga Dogs
Annykos recently updated the Yoga Dogs bundle to include high-resolution PNG files and 3 new seamless patterns. A spotted cartoon dog is featured in 15 yoga poses in sketch and color versions. You also get sketch and color versions of the dog in the 12 Sun Salutation poses and 4 pre-made cards.
Dog Color Vector Icons
Jisun Park's Dog Color Vector Icons includes 25 color dog images in profile view. Vectors are in EPS and Adobe Illustrator format. The bundle also includes the dog icons in high-resolution JPG format.
Different Kinds of Dog Breeds on White
Happy cartoon-style dog vector illustrations in color are what you get in Different Kinds of Dog Breeds on White. Files are in JPG and EPS format.
20 Puppies
For designs that need a more true-to-life look, Life on White created 20 Puppies. The high-resolution PNG cut-out photos are on a transparent background so you can easily add them to any project.
Dog Shop
Quickly and easily make category buttons for an online doggie supply store with Dog Shop.
Dog Digital Papers
Dog Digital Papers offers a low-cost way to design decorative scrapbook layouts, invitations, greeting card, labels, gift tags, stickers, and more with printable digital backgrounds from JennyL Designs.
Hand Drawn Dogs and Puppies
Add a vintage look to your project with Hand Drawn Dogs and Puppies from Mr. Vintage. All the drawings are in vector EPS and Adobe Illustrator format.
Watercolor Dogs
This exclusive design bundle includes 10 darling watercolor dog portraits and 28 funny accessories. Create your own unique image or use one of the 62 pre-made portraits to make comical dog characters. Watercolor Dogs by Catherine Wheel lets you design distinctive greeting cards, wall art, nursery decor, children's clothes, and more. Adobe Photoshop CS3+ is required to use this pack.
Muddy Paws Volume 2
Muddy Paws Volume 2 by Twigs and Twine comes with 38 hand-drawn color dog portraits with and without ground shadow on transparent background. You also get 22 accessory illustrations, 14 object illustrations, 25 floral drawings, 4 scene creation landscapes 10 frames, 10 repeatable borders, and 9 repeat pattern tiles. You get all the elements you need to build up a complete scene with 300 dpi images on transparent backgrounds.
Cats and Dogs
You'll find a large collection of cartoon-style pets with Cats and Dogs. The bundle contains a unique hand-drawn pet-themed alphabet, and distinctive dog and cat drawings. It includes clipart with 35 cute dogs and cats, 25 seamless patterns, and 6 pre-made prints.
Puppy Dog Seamless Pattern
It's easy to create custom wallpaper, wrapping paper, party favors, custom gift bags and more with the Puppy Dog Seamless Pattern. The pattern comes in high-resolution JPG and Adobe Illustrator files.
Dog Breeds Sketches and Lettering
Dog Breeds Sketches and Lettering has 16 black-and-white and 16 color hand-drawn dogs, 16 hand-lettered dog breed names against black dog silhouettes, 5 dog show certificates with hand-drawn dogs, 5 seamless hand-drawn patterns, a dog walking service advertisement, and a pet grooming card with a hand-drawn poodle. Elements are in both EPS and JPG format.
Hand Painted Dogs Clip-Art
Another hand-painted collection from Cynthia Arre, Hand Painted Dogs Clip-Art includes 18 dog paintings, 15 accessories so you can customize your dog image, and 12 bonus elements to create frames, patterns, and more.
Dog Breeds
The Dog Breeds bundle features 58 breeds. The images are in EPS, PNG with transparent background, and JPG formats. In this bundle, you get drawings of different breeds, dog portraits in round frames, label samples, and label samples with drawings of different dog breeds.
Wrapping it Up
Creative Market shop owners have created hundreds of unique dog-themed graphics so you can quickly and easily build stylish print and digital designs. Check out the bundles shown here and finish your creative projects in no time.
---
Products Seen In This Post:
Getting started with hand lettering?
Free lettering worksheets
Download these worksheets and start practicing with simple instructions and tracing exercises.
Download now!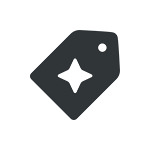 Creative Market