Don't Forget These Five Critical Steps Before Sending a Design to a Client
A professional always dots her I's and crosses her T's. Designers are often their own proof-checkers and business managers as well, so they have a lot to cross and dot all on their own.
Don't let the devil beat you in the details! If you are an independent designer, you most certainly should be prepared with these five steps prior to unveiling designs to your esteemed client.
1. Watermark Your Design
I'm proud of my work and I tend to work with clients that I know and trust. This solves a lot of potential problems, but I watermark anyway because other people that may get their hands on my designs shouldn't be trusted.
Trust your clients, but remain skeptical of strangers that may happen across your handiwork. Watermark everything but the master copy.
2. Protect Your Designs
This is related to #1 but not the same. If you have a verbal agreement with your reputable client, it's still important to put everything in writing. The ideal scenario is you have a contract up front, and if this is the case, then you'll be ready to accept their final payment upon sending them your completed design. If you are sending finalized designs, now is the time to also bill them for the final payment.
If you sadly only have a verbal understanding on your project's terms, you will need to write your copyright notice somewhere on the design. It can read like this: "Artwork © Joseph Darnell, All Rights Reserved."
This helps avoid any doubt that you own the design in the development, so they won't take your designs to some other maker for completion.
3. Name Your Files Clearly
Let there be no doubt what the artwork is intended for. I put the date at the beginning of all my digital design file names, like this: 2014-05-16. It's a quick hint to clients that tells them if they have the latest version.
On occasion, professionals use abbreviations in file names, like FPO (For Position Only). Do you think that your average client who hires a designer to help them will know what FPO stands for? Heck, no. Try to avoid confusing abbreviations and designer jargon. Then tell the client that it's FPO in your email, phone call, or face-to-face meet up.
4. Save for Web
Whether the finished design is purposed for the web, print, or video, I always save for web. You don't want to crash your email client or theirs trying to send files over 20 MB.
Sometimes you do need to send huge files though. Design files can get way too large for email, or sometimes even the likes of Dropbox. That being said, trim off all the digital flab. If you can compress your file to a percentage of its original quality and can't tell the difference, that's awesome!
The only time you shouldn't save for web is when you're ready to finalize the master. The master should be formatted to best suit its use case.
5. Set Client Expectations When Possible
Be specific and share your plans with the client along the journey to the completed work. When I'm sending files to my clients, I don't see every day, so I need to lay the grounds for the next step. I want them to know what's unfinished, what I expect next from them; anything to keep the project's goals set as our target.
In the end, you can never be too prepared, but you'll never feel prepared, so just do your best and learn from your experience.
What Steps Do You Take?
Now that you've read my list of reminders, it's your turn. What steps do you take before clicking 'send' on a design project?
Header photo by Paige Winn Photo
---
Joe Darnell has a special set of graphic design skills. He directs everything from websites to book covers to brand identities. As a lifelong tech fan, Joe spends his spare time screencasting at JoeDarnell.com. When he needs an espresso, he drinks Thrasher Coffee.
Getting started with hand lettering?
Free lettering worksheets
Download these worksheets and start practicing with simple instructions and tracing exercises.
Download now!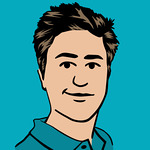 Joe Darnell
Joe is a UI and graphic designer with prior experience as the creative director for three media-based businesses. He has a passion for both web design and graphic design with about 15 years of experience in the media industry. Joe likes delighting people and making ideas and things simpler for them.
View More Posts