Unlocking Creativity: Explore This Month's Awesome Design Drop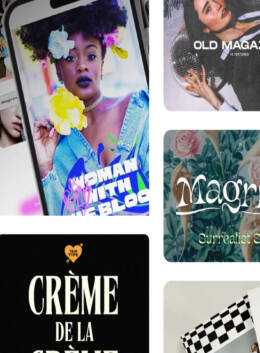 In the world of digital innovation, fresh and inspiring assets can be the catalyst that elevates your designs from ordinary to extraordinary. This month, Creative Market presents a curated collection of the finest digital assets plucked right from the heart of our thriving marketplace. The best part? All our cherished Creative Market Members enjoy an exclusive 20% off on our entire catalog of digital products.
From the whimsical charm of handcrafted fonts to the immersive allure of holographic textures, our latest Drop promises a fusion of nostalgia and innovation. Whether you're an ardent designer or a brand seeking rejuvenation, this selection offers something for every creative spirit. Dive in and discover the treasures that await in this month's Drop.
The Ink Stamp Distresser One-Click
Immerse yourself in the vintage aesthetics with this brilliant asset from One Click Boutique. Perfect for giving your designs that distressed ink-stamp feel. A must-have for lovers of retro designs.
Ink Lettering Brushes for ProCreate
Katsia Jazwinska offers ProCreate artists a fabulous set of ink lettering brushes. Enhance your digital artistry with these four precise, versatile brushes and two inky bonus splashes.
Big Chub: An Old-School Italian Font
Dive into the nostalgia of old-school Italian typography with this font from Mitch Wiesen's. Big Chub is a delightful amalgamation of vintage charm and contemporary design.
Flatface Beams
Illuminate your graphic designs with Flatface's Beams display font. This collection is vibrant, modern, and sure to add some luminosity to any project.
SERE Ebook Creator Kit
A haven for ebook creators, this kit from Wildnun Studio is the ultimate toolkit for crafting captivating e-books. With SERE, bring fluidity and charm to your digital book designs.
Vaxen Rounded Variable Font
An epitome of versatility and elegance, the Vaxen font by Font For Zula is a true game-changer for designers. Perfect for any context – from headers to content.
Cysan Modern Serif
Dive deep into the world of serifs with Cysan by Hindia Studio. Its modern touch, combined with classic serifs, makes it suitable for a range of designs.
NOVA PowerPoint Template
Elevate your presentations with NOVA by ShapeSlide. With a professional look, clean design, and 113 unique slides for PPT and PPTX files, it's a boon for all presenters.
Vintage Hand
A nostalgic journey to the era of hand-drawn designs, this asset by Sam Merrigan Design is a treasure for vintage enthusiasts.
Magritte Surrealist Serif Font
Molly Suber Thorpe introduces a font inspired by the surreal world. Magritte is a conversation starter and perfect for those artistic projects.
Reform Modern Display Font
Laramai's Laras Wonderland is a modern font that balances design and readability effortlessly—a must-add to your font collection.
Plump: A Bubble Letter Font
Bubble fonts have a unique charm, multiplied by Mitch Wiesen's Plump. It's perfect for fun and lively designs with upper-case letterforms, numbers, and a smattering of punctuation and special characters.
REFORM Fitness Social Media Kit
Promote fitness with a style. Studio Dara offers a social media kit tailored for fitness enthusiasts and businesses.
TAN Harmoni
TanType introduces a font that brings harmony to designs. TAN Harmoni is fluid, modern, and suitable for contemporary projects.
UI Dashboard Builder
For tech-savvy designers, KL Webmedia presents a dashboard builder that's both user-friendly and efficient. There are over 500+ UI components, elements, and widgets available in this product, allowing you to create an unlimited number of designs.
ISA Social Media Kit (III)
Revamp your social media presence with this kit from Wildnun Studio. ISA ensures a uniform and captivating design across social platforms.
Pop Rebellicious Instagram Story
Add a pop to your Instagram stories with this asset from Sixtysix Labs. Perfect for those who love to stand out with rebel and urban Y2K style.
Link-In-Bio Framer Template
Simplify your Instagram link-in-bio with this sleek template by Blue Monkey Media. Organized and elegant, it's perfect for influencers and businesses alike.
Snoke Display Font
Explore the world of display fonts with Snoke by Uncarving—a combination of boldness and design precision inspired by the Y2K theme with a futuristic touch.
Minimal Instagram Carousel
Row Market ensures your Instagram carousel designs are sleek, minimalistic, and eye-catching. There are 15 sets of high-quality Instagram Carousel Posts and matching Instagram Carousel Stories included in this product.
TRIPPY SYMBOLS
Add some psychedelic vibes to your designs with these symbols from Bosotochka Art. Perfect for artsy and unconventional projects.
Vegetarian Recipes Cookbook Template
For culinary artists, DeLaGranSiete offers a template that's perfect for showcasing vegetarian recipes in style.
This 50-page template is an excellent way to share recipes and the processes you use with clients and audiences. The template is fully editable and comes in A4 page sizes. The only thing you need to edit this template is a free Canva account.
La Nuit Rose Gold Textures
Experience the elegance of rose gold textures with La Nuit by Vintage Digital Textures—a touch of luxury for your designs.
Bright Posts & Stories Instagram Kit
Illuminate your Instagram presence with this kit from SHROOM HOUSE. Ensuring vibrant and engaging posts and stories.
GREETING CARDS MINI MOCKUP SET
Craft delightful greeting cards with this mockup set from LENA LAPINA. Perfect for personal and professional use.
WildWide Width Variable Typeface
Kandella's Art offers a typeface that's versatile and distinct. WildWide ensures your text stands out. It is suitable for all kinds of design, including social media and visual content, web and UI design, posters and collages, branding and logos, wedding typography, and other contemporary designs.
Mixed Font! Handmade! Bold! Texture!
This font from Studio Funshop by Kelli is a delightful mix of handmade charm and bold textures (with plenty of alternates)—a creative delight for all logos, quotes, art, signs, and titles.
ACIDWASH Font
Experience the grunge and rawness with ACIDWASH font by Cameron Humphries. Perfect for projects that require a touch of ruggedness.
Petale
Elegance meets design with Petale by LH Designs. This asset promises sophistication and charm. Embrace brutalist feminism with Petale in magazine designs, posters, websites, packaging, branding, and logos.
Retro browser computer window in 90s
Travel back in time with this retro browser window design by Simple Patterns. Perfect for nostalgic projects and 90s-themed designs.
Street Posters Mockup Glued Wall
Transform your designs with this realistic street poster mockup from 2M GRAPHICS DESIGN. Perfect for showcasing street promotions and urban aesthetics.
GLASS METAL Trendy Frame Mockup
Elevate your presentations with this sleek glass and metal frame mockup by Yuliy Lyhan. A blend of modern design with unparalleled sophistication.
Simple Blog Dark Framer Template
A minimalistic delight, Lauri Lannenmaki offers a dark-themed blog template. It was tailored for writers who love a sleek and focused interface (plus, it's fully responsive with no coding required!).
127 Vector Arrow Bundle & Arrow Font
Breathe life into your designs with these diverse vector arrows curated by David Ansett. It is ideal for navigation, infographics, and designs demanding direction.
Canva Retro 90s Aesthetic Pack
Travel back in time with Guavamelo Studio and embrace the 90s aesthetic. This Canva pack is an infusion of nostalgia and modern design capabilities. Build your audience and add value to your followers with 130 engagement-boosting, highly sharable designs.
Garden Party Illustrations!
Celebrate the beauty of nature with these enchanting (and fully vectorized) garden illustrations from Studio Funshop by Kelli. Ideal for invitations, cards, and nature-themed designs.
Fairy Tale Kaleidoscope Patterns
Dive into a magical realm with these fairytale-inspired kaleidoscope patterns by nadispasibenko. Perfect for fantasy-themed projects and designs.
Branding Patterns Samples
Reinvent brand aesthetics with these versatile branding patterns from kavoon. It is ideal for businesses looking to establish a unique identity.
Old Magazine Offset Overlay Textures
Relive the charm of old magazines with these overlay textures from Goodies.Buro. These ten textures are all high-res (JPG 2000x3000px) and an easy-to-use nod to vintage print design.
Squera Minimal iPhone Mockup
Capture the elegance of modern mobile design with Squera's iPhone mockups by Creavora. A set of sleek, high-resolution 3D rendered objects in JPG format that you can use for headers, posters, advertisements or any web or print project.
3D Holographic Glass Texture Pack
Venture into a realm of futuristic designs with this 3D holographic texture pack by simayyaman. Ideal for projects that demand a futuristic touch.
Ginza Cosmetic Bottle Mockups
Showcase your beauty products in style with the Ginza cosmetic bottle mockups by JafarNation. A pack of four minimal bottle mockups with elegant organic shadows, Ginza is explicitly designed for beauty and skincare brands. The mockups can easily be customized with Adobe Photoshop to showcase cosmetic and apothecary labels.
Holographic Sticker Pack 2
Add a touch of holographic allure to your designs with these ten digital stickers and background stickers by Jesse Makes. Perfect for projects demanding a vibrant twist.
Jewelry Brand Email Template
Elevate your brand communication with this luxurious email template designed for jewelry brands by klyxx. Combine Photoshop or Canvas blocks infinitely to customize it to your needs.
Fashion Lookbook Frank
Crafted for the fashion-forward, this lookbook template by OpulentStu blends style and sophistication. This 28-page Indesign document template will make creating your next lookbook an absolute breeze.
Interior Architecture Web Template
Bring your architectural vision to life online with this web template from AE.design. Ideal for interior designers and architects. Designed in Sketch and Figma, this template includes three high-detailed screens, 10+ sections, and a 12-column grid.
Soap Bubbles Font
Dive into the whimsical world of bubbles with this font by Handmadefont. Light, airy, squeaky clean, and perfect for fun projects.
PASTEL neutral painted backgrounds
Embrace the tranquillity of pastels with these hand-painted backgrounds by Yuliya Derbisheva. Perfect for soft and subtle design themes. Each illustration is 300 DPI, and the PNG files are compatible with most graphic programs, including Adobe Photoshop.
Refraction Distortion Glass Effect
Experiment with visuals using this refraction distortion effect by Pixelbuddha. With six scratch textures, this pack gives you extra creativity and realism for any project that requires a unique visual twist. In other words, a noble vintage look is easily achievable as the glass shape can be fully customized.
---
Seize the Creative Advantage
The design world thrives on fresh inspiration and every month, Creative Market strives to offer you a taste of the extraordinary. As you've seen in this Drop, the spectrum of possibilities is endless, only bounded by the limits of imagination.
If you're not part of our community, now is the perfect time to join!
By getting a Creative Market Membership, you can access a treasure trove of unique digital assets and enjoy a remarkable 20% savings on your finds. Empower your design journey, capture the essence of creativity, and take advantage of these exclusive benefits. Join Creative Market today and craft the future with every pixel.
Getting started with hand lettering?
Free lettering worksheets
Download these worksheets and start practicing with simple instructions and tracing exercises.
Download now!