Featured Shop: Emily Spadoni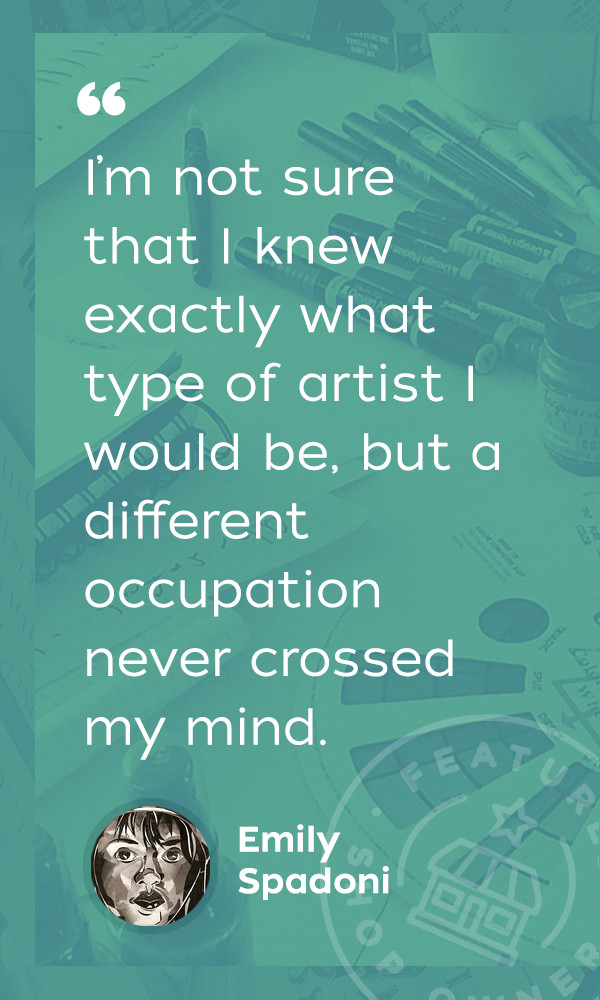 For those in our community who love fonts, and graphics, Emily Spadoni is a name that probably rings a bell. This Creative Market shop and owner is a force to be reckoned with. Today, we're lucky enough to get to chat with Emily in order to learn more about her and her journey into the creative world.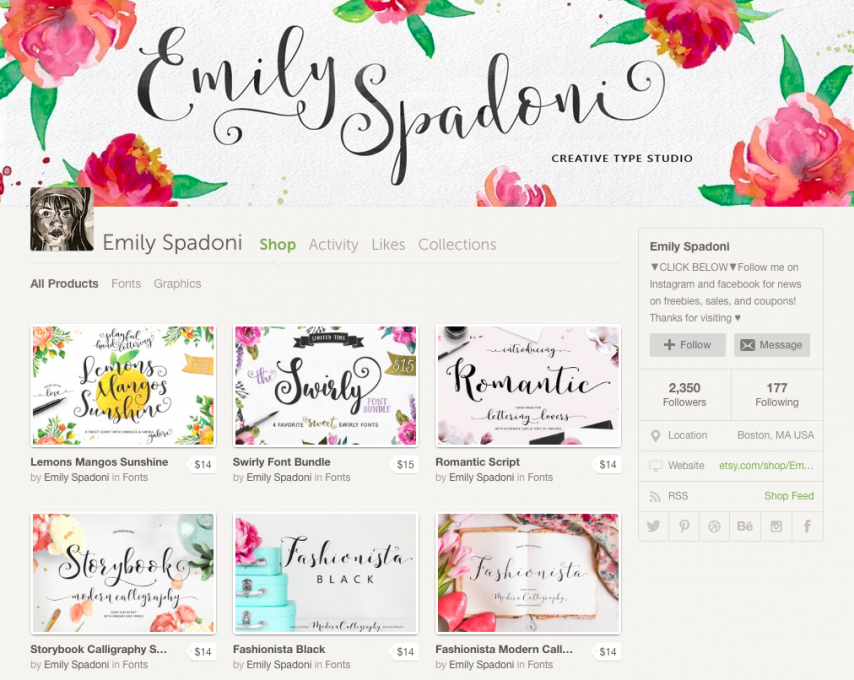 Can you start off by telling us a little bit about yourself and your story?
My name is Emily Spadoni and I live in Plainville, MA, which is a tiny town between Boston and Providence. I'm really kind of a "Plain Jane." I love creating – anything. A few of my favorite things are spring, summer, and working in the garden. You can often find me working and renovating my adorable little house. There's always at least one room torn apart, so my work is never done.
How did your creative journey start? Is this a path you always knew was meant for you?
I was very fortunate to have creative people around me. From as early as I can remember, I was involved in crafts with my mom. My dad was very clever and mechanical, and my grandfather was a genius toolmaker and craftsman. There was never a shortage of supplies, in fact, they hoarded. If I needed a certain tool, my family would be able to provide it by rummaging through their belongings. It's safe to say t

here was never a shortage of supplies for my wildest tinkering imaginations.

I'm not sure that I knew exactly what type of artist I would be, but a different occupation never crossed my mind. By the time I reached high school, crafty projects slowly evolved into art projects. I started practicing drawing, painting, printmaking, and other fine art mediums. I also spent my summers taking classes at Rhode Island School of Design and attended the pre-college foundation program.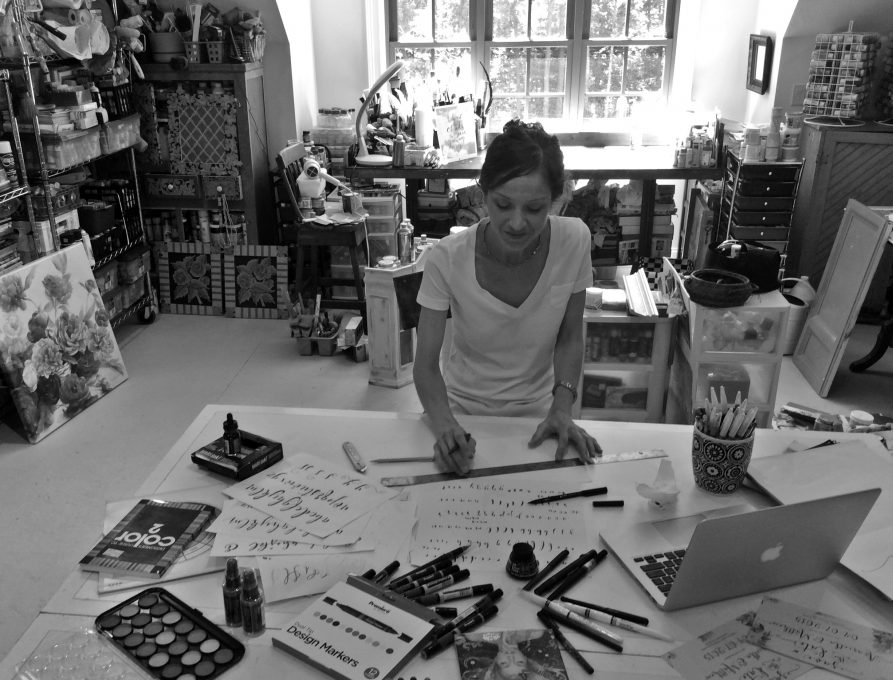 As an artist, were you self-taught or did you have a formal education?
After high school, I went off to Mass Art but was really unhappy with, what I felt, was purely sculptural fine arts. I wanted to build things– functional things. Since it wasn't something that I enjoyed, I decided to head off to a small school called the Worcester Center for Professional Crafts and spent two years in their fine woodworking/furniture program. It was such a great experience. From there, I hopped on down to the Savannah College of Art and Design to further my furniture design education. Like many students during or after school, I ended up back in my home town. I was broke and had been struggling with addiction (10 years sober now, woop!). I never had the confidence to pursue an art related job and was scared to death of computers! This is weird to say seeing how we live in a world that relies on technology, but the reason was because I never took any design related computer courses and felt unqualified. I took on many jobs, retail, restaurant, etc but ended up at my family's business as a bookkeeper. After about 5 years of that misery, one day I stumbled across the thought that enough was enough. I was stuck—really stuck! My creativity was stale, and my life got to the point where something had to change. I had to make a change—and did. I quit! I spent over a year unemployed but started getting back into wood working, just for fun. I was pretty lost, but I knew life is way too short to be unhappy every day. Font creation happened completely by accident. I was always a font addict, and even tried my hand in paper crafts for awhile. It was really just one Sunday afternoon when I decided to "google" how to make fonts then download some free software, watched a few tutorials, and I was instantly hooked. I was in love with the entire concept and haven't left my desk since that day! I submitted some of my fonts to websites for people to download for free, and they were actually being downloaded—thousands of downloads! I was beyond pleasantly surprised. I just kept making more; practicing letter forms over and over. It wasn't long before people were contacting me for commercial use. Needless to say, it did boost my confidence, and I was off and running.
How did you first get into hand-lettering?
My hand-lettering skills are still young. Much of my design time is directly on the computer, one letter at a time, just me and my mouse. It's definitely time consuming but so gratifying.
What's the inspiration behind your creativity?
Feminine, sweet, and functionality. Basically anything that is pretty and girly and many people would want!
What has contributed most to your growth as a designer?
That's easy: my family. When you go into art, you don't have dollar signs in your eyes. You do it because you love it. Despite all the setbacks I've had, my family was always there with an endless amount of love and support and I'm beyond lucky to have them.
Can you explain the process that you go through when designing something?
I do a lot of sketches and doodling. Most of my design time is directly on the computer. I spend anywhere from one week to more than a month on a font, and I love every minute of it.
What's your favorite project so far and why?
Lemons Mangos Sunshine because it turned out exactly how I wanted it to: playful, bouncy, swirly, feminine, and sweet. I love using it, which doesn't happen that often. Most of the time, I finish a font and then move on to the next, but Lemons Mangos Sunshine is a blast to play with.
How did you and Creative Market find each other?
A friend sent me a link to Creative Market, and my heart almost skipped a beat when the site popped up. I had no idea there was design happening like this! I was awestruck. The same friend was the one who ultimately gave me the confidence, support, and technical help to get started. If it wasn't for him, I probably would have procrastinated or not even taken the leap to start selling my products.

Creative Market has truly changed my life. Having creatives on the core team really helps them understand us better and know what to do in order to make the service tailored to designers. 

A huge thanks doesn't even say enough for what they've done for me.
What made you decide to take the leap and open a shop on Creative Market?
I was impressed by the quality of the work posted on Creative Market. The marketplace is full of useful and fresh content made with love from talented artists. And, it's a great community, not just another market. I'm very grateful that I joined and I haven't looked back since.
What's your favorite thing about being a part of the Creative Market community? Have you found it beneficial to you?
What's not to love? I have met some of the amazing people. I've made friends and colleagues all over the world, and I'm surrounded by the world's best designers with access to the knowledge-base of the community. The staff rocks! They have built a creative marketplace that reaches millions of people, including some of the world's biggest companies. There's a very sweet and funny feeling I get from the community. We sit in our studios all around the world, yet there is this one place that brings us together. It really feels like we're all in one place. We become friends here and on social media, and some people collaborate on projects. Everybody provides support and feedback on products for each other. It's like nothings else I've experienced. Creative Market is a very special place, and I'm so lucky to part of it.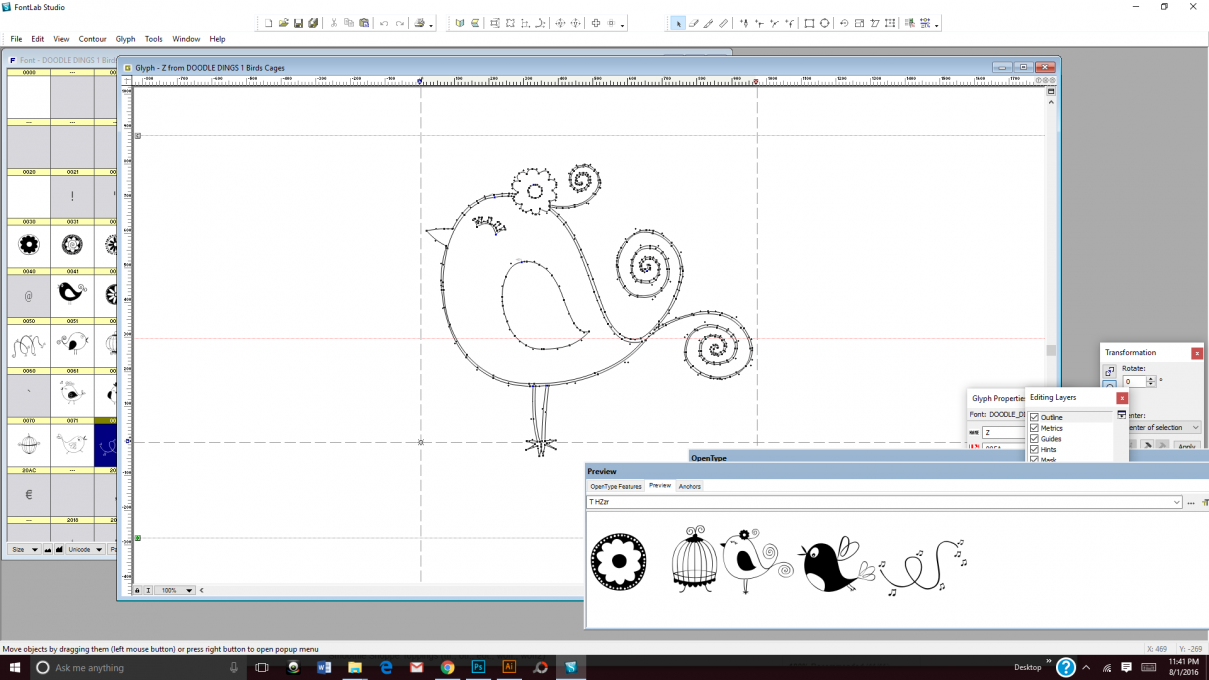 Looking back on your creative journey, is there anything you wish you could have done differently?
Sure, I made a lot of mistakes. Big mistakes; that ultimately effected my health and my family, but it's hard to say what I would really change. After all, those things brought me to who I am today and I wouldn't change today. I feel lucky to be doing what I love every day.
Keep the conversation going!
This chat doesn't have to end here! Can you relate to Emily's creative journey or process? Did you learn something new? Chat with Emily in the comment section below. Products Seen in This Post:
Getting started with hand lettering?
Free lettering worksheets
Download these worksheets and start practicing with simple instructions and tracing exercises.
Download now!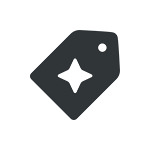 Creative Market