Featured Shop: Vintage Voyage Design Co.
From a young age, Paul was attracted to very vintage styles based on his surroundings. Because of his love and passion for all things vintage, he started creating vintage inspired work. As a member of our community since 2014, his shop Vintage Voyage Design Co. has grown over the years with beautiful fonts and graphics. Today, we had the opportunity to speak with the Paul to learn more about him and how his journey started.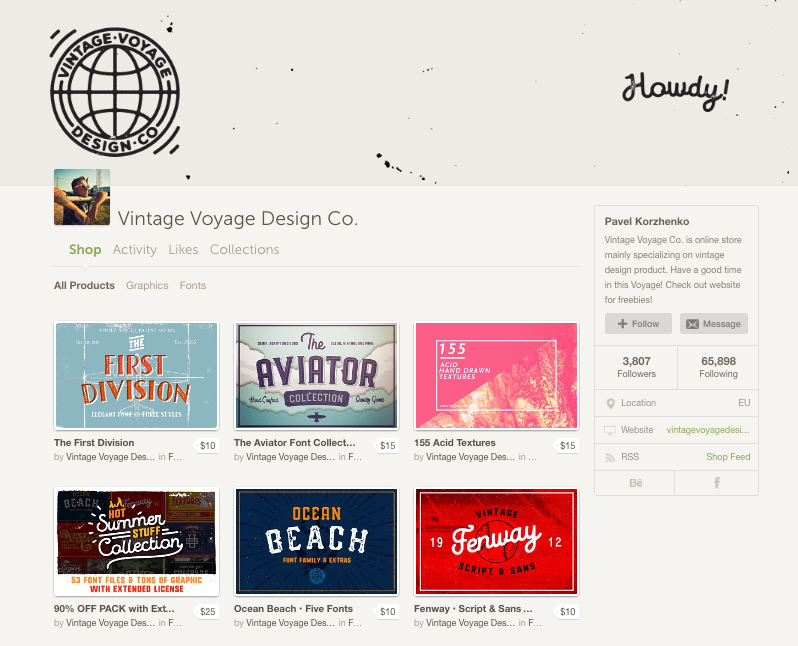 Can you start off by telling us a little bit about yourself and your story?
My name is Paul. I'm 28 years old and my home country is Russia. At the moment, I live in Russia but never stop searching for a better place to live for my family—adorable wife, Maya, and gorgeous 9 years old son, Daniel.
How did your creative journey start? Is this a path you always knew was meant for you?
My creative path started, I guess, at the moment when I was born. I used to draw on the walls at home, on the walls of city streets, at school diaries, and on the desks—it was something that I took for granted and didn't think much of it. Everyone has a hobby.

As an artist, were you self-taught or did you have a formal education?
Nobody ever taught me to draw, except for the lessons at primary school, but I never paid much attention to them. When I needed to choose my future major at university, it was obligatory to pass the Russian history exam if you wanted to go to university to study art or architecture—that's why I just ran CorelDraw and Photoshop and started to create something. Although I wanted to get a degree in that field, it's not easy to do in Russia. This is the reason why I only used books, online lessons, and life experiences as a teacher.
How come you decided to specialize in vintage designs? Was there a reason behind it?
Three years after I was born, the Soviet Union collapsed. Communistic build became the thing of the past and capitalism started its time. Counters began to be filled with imported food in beautiful packages, and television became a good advertisement of the American lifestyle with potato chips, chocolate, Coke, and so on. All the kids became reluctant hostages of this seduction. Cinematography was also catching up, where the United States and the American life itself were demonstrated in a beautiful and impressive way. It couldn't help but tempted dreamy Russian kids and that's how I got the passion for American style.
At the age of five, I was listening to Offspring's album, Ignition, nonstop and became a big Nirvana fan when I was seven. Like most kids, my friends and I put a band together. Our main guidance was the American punk rock stage, and to this day I still have a passion for that genre. The difference is that now it's conscience and the scale of it has grown.
I also explored American culture from the inside, reading American classical literature like Steinbeck and London; studying the classics of American cinema and the beginning of musical culture–jazz, soul, rhythm and blues, rock and roll, punk, and hip hop; and I kept up with American clothes and brands, which only get better throughout the years. I also keep all the labels too. So many vintage fonts!

What's the inspiration behind your creativity?
I'm inspired by any kind of vintage advertisement and art from 1920-1980. This can be books, vinyl, music album covers, movie posters, or just old company logos.
What has contributed most to your growth as a designer?
You never know exactly what contributes to your growth, because anything can inspire you. That's why the best inspiration for me is traveling. When you travel, you see a lot and take in new surroundings. It gives you fuel for thoughts and inspires. Who knows how a walk to the Berlin flea market will end? Maybe you'll get inspired to make a project. Nobody knows, and that's what the beauty of life is.

Can you explain the process that you go through when designing something?
It depends on the type of the project. It can be a font, graphics, or something else. I never plan to "do some work." I just live and take the information in from everywhere: books, Internet, television. Then, one day your brain starts to work and the process begins. So you take a pencil and paper, and get ready to draw whatever comes to mind. You scribble, searching for truth, and maybe your idea will actually work out the way you imagine.
What's your most favorite project so far and why?
Unfortunately or fortunately, I don't have many "favorites." I don't have a favorite movie, favorite book, favorite band, or favorite project. To everything, there is a season. I love it when people use my work at the right time.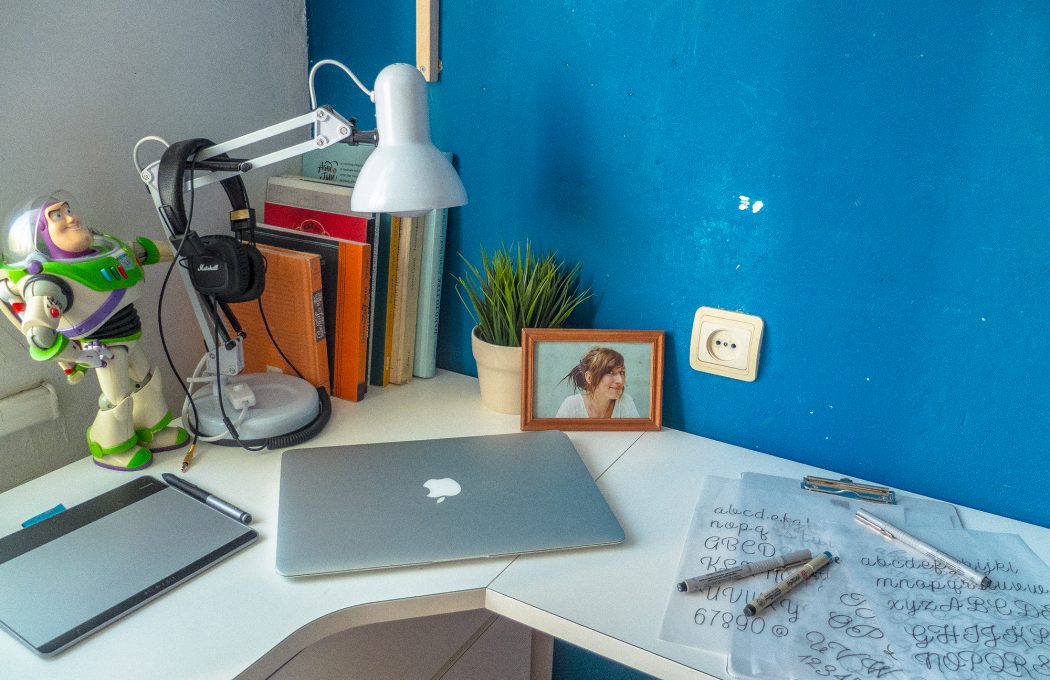 Do you have any new exciting projects in the works?
I don't have any far reaching plans. Though right now I'm working on a vintage font. It's not going to be the work of my life, but you have to do something or you lose your skills.
How did you and Creative Market find each other?
My friend told me about it in 2014. I immediately hit the ground running because of how interesting the idea seemed. My first work was something like vector graphics of sneakers. I didn't know what to make and who to make it for, so I just made what came to my mind.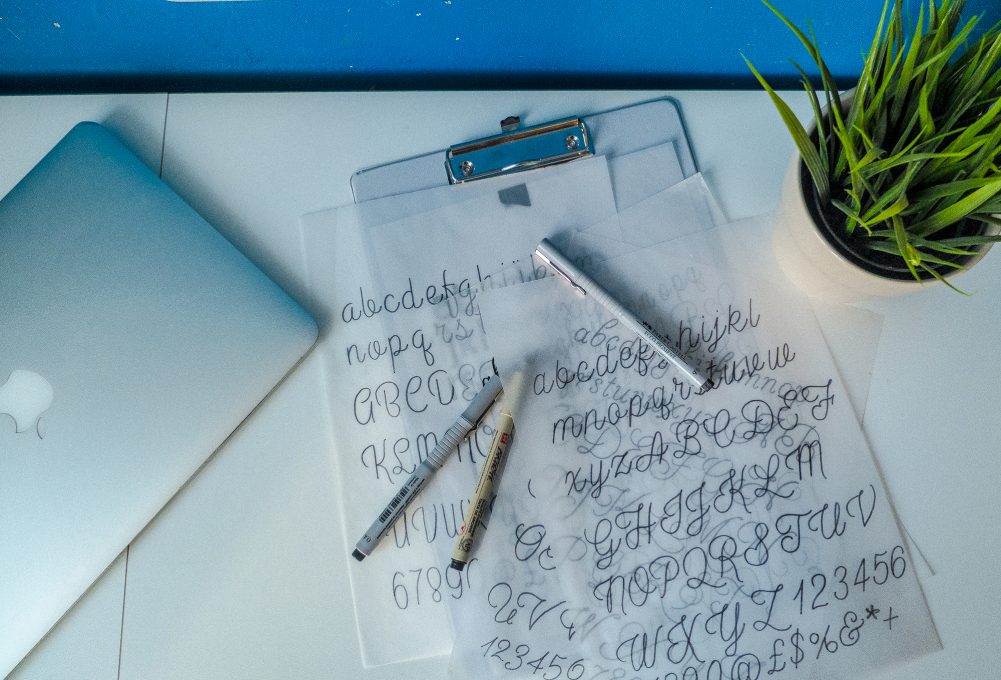 What made you decide to take the leap and open a shop on Creative Market?
It has always been important to me to do what I love, and quite frankly, I don't understand people who do the opposite. They work without love, without passion. What's the point of wasting time on work like that? On Creative Market, I saw the point: Never settle, follow your heart, and live the life that you want. Do what you think is important, what you love, and live your life happily. We all have only one life.
Looking back on your creative journey, is there anything you wish you could have done differently?
I regret nothing, because the actions you take play a role in how you develop as a person. Your mistakes give you soil to grow up from.
What's one piece of advice you would give to your younger self?
I don't think I have any. Even if I gave my younger self advice, I wouldn't follow it. Still, I'm thankful to the punk rock spirit I had as a child. It taught me to be myself, no matter what. Follow your heart, and sooner or later, you'll hit your target.
Keep the conversation going!
This chat doesn't have to end here! Can you relate to Paul's creative journey or process? Did you learn something new? Chat with Paul in the comment section below. Products Seen in This Post:
Getting started with hand lettering?
Free lettering worksheets
Download these worksheets and start practicing with simple instructions and tracing exercises.
Download now!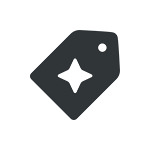 Creative Market